Jump to Recipe
This 3 ingredient vanilla ice cream is great! I love that you don't need an ice cream maker to make it as well as so few ingredients!
Vanilla Ice Cream is the most popular ice cream flavor in the United States, maybe even the world. You can enjoy it plain or with so many toppings. It goes well with root beer floats, banana splits, sundaes, on top of pies, etc. It is really fun and easy to make at home, if I can do it, you can do it. Let's get started!
Step 1: Gather the ingredients and tools
You will need just 3 ingredients to make this vanilla ice cream:
Heavy Whipping Cream – You can't make ice cream without cream!
Vanilla extract – This is what gives it that yummy vanilla flavor.
Sweetened Condensed Milk – It will add sweetness to the ice cream and help with the texture.
Tools
Spatula
plastic wrap (optional)
Bowl with lid
Step 2: How to make 3 Ingredient Vanilla Ice Cream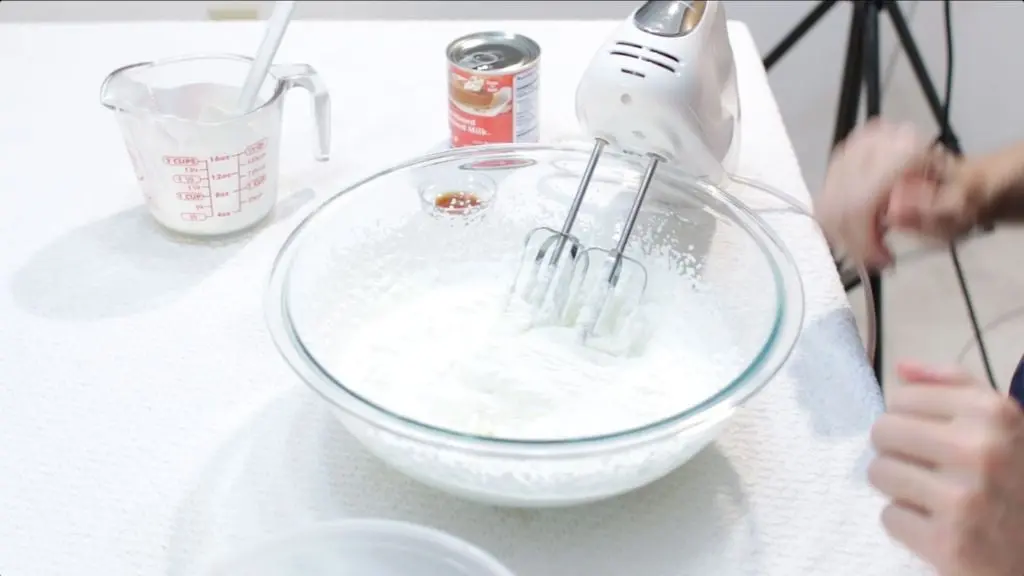 In a large bowl add the heavy whipping cream. Use a hand mixer or stand mixer and mix the cream until fully whipped with stiff peaks.
Step 3: Vanilla and Sweetened Condensed Milk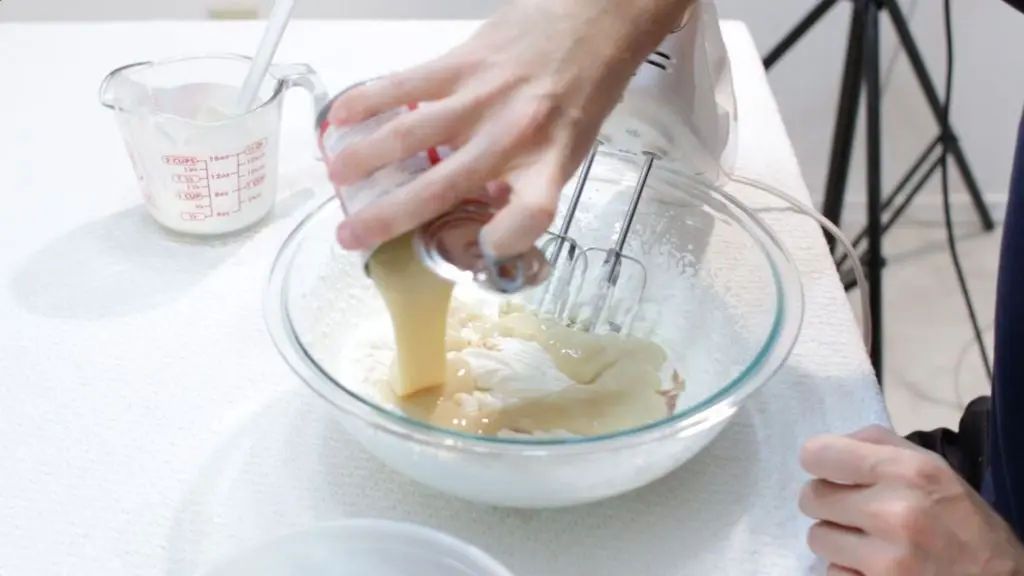 Once the cream has been whipped, add the can of sweetened condensed milk. Add the vanilla extract as well. Mix the ingredients together with the mixer until just combined.
Step 4: Freeze that vanilla ice cream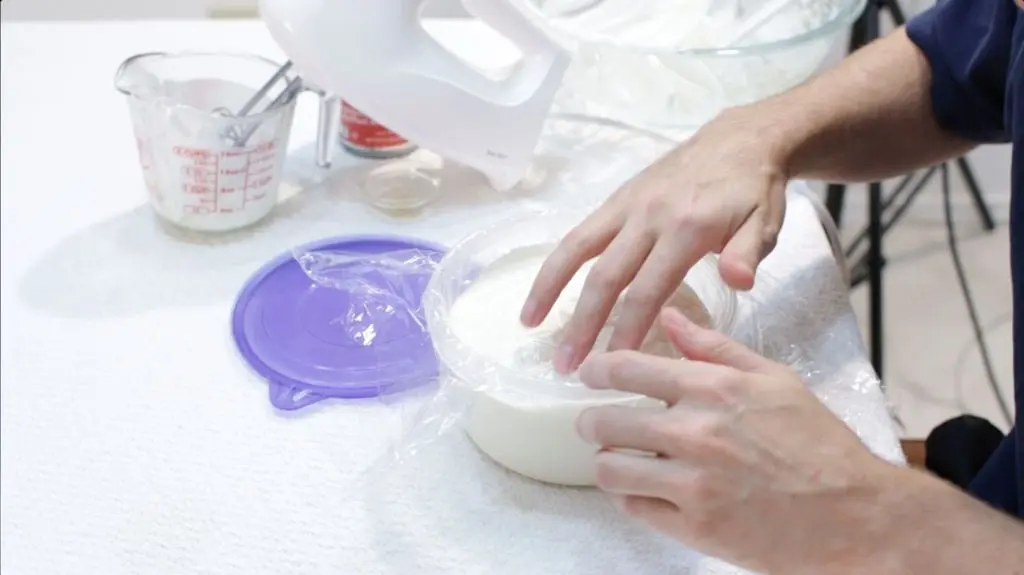 Add the 3 ingredient vanilla ice cream base to a plastic bowl. Then add a piece of plastic wrap on top. Make sure to push it down so it touches the top of the ice cream. This will help prevent ice crystals from forming. Add a lid to the bowl and stick it in the freezer.
After about 4 hours the consistency will resemble soft serve vanilla ice cream. Leave it in for a few more hours or overnight for a more traditional ice cream consistency.
Step 5: Scoop that homemade vanilla ice cream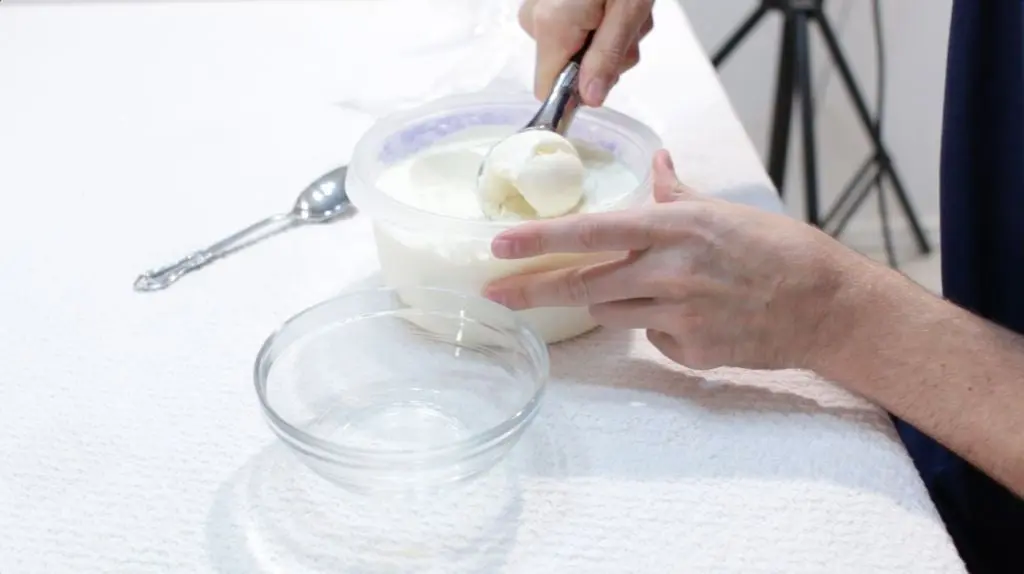 Once the ice cream has hardened scoop it out and serve it however you like.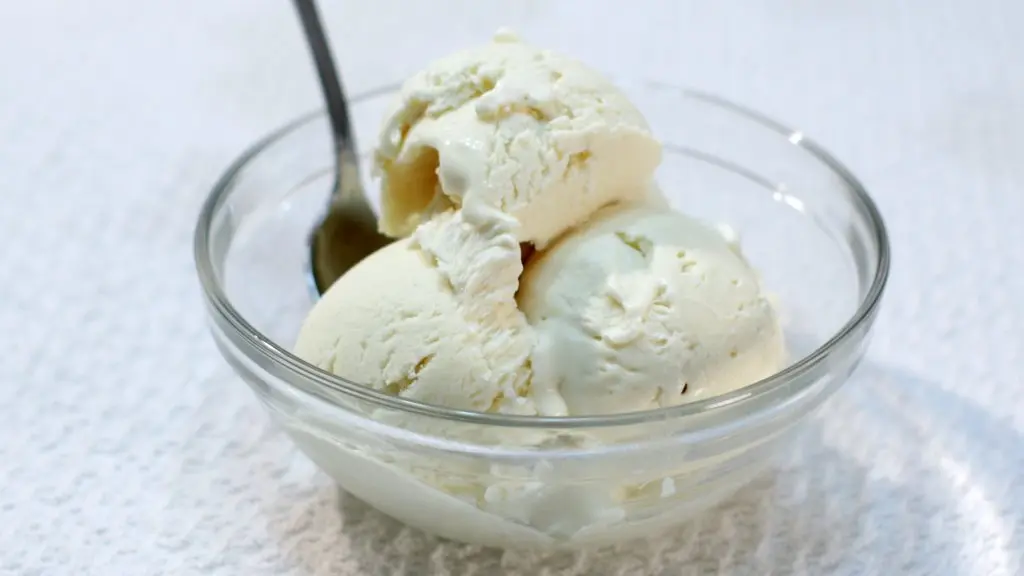 Now it is time to serve up that ice cream. It will taste a bit different than a traditional custard-style ice cream that was made and churned in an ice cream maker. But hey it still tastes great and is super duper easy to make. Give it a try some time! Enjoy.
How long does homemade 3 ingredient vanilla ice cream last?
If stored in an airtight container in the freezer the ice cream will last a few weeks before crystallization happens.
3 Ingredient No-Churn Vanilla Ice Cream
This 3 ingredient vanilla ice cream is super duper easy to make, and no ice cream maker or bag shaking is required! If you like homemade treats you have got to try this. It tastes different than traditional ice cream but still very yummy.
Equipment
Mixer

Spatula

Plastic wrap (optional)

Bowl with lid
Ingredients
2

cups

of heavy whipping cream

500ml

1

tsp

of vanilla extract

5ml

14

oz

of sweetened condensed milk

397g
Instructions
Begin by adding the heavy whipping cream to a large bowl and mixing it until stiff peaks form.

Add the vanilla extract and sweetened condensed milk and mix until just combined.

Pour the vanilla ice cream base into a freezer-safe bowl. Add plastic wrap so it covers and touches the top of the ice cream. Add the lid and place it in the freezer for 6 hours or more. If you like soft-serve it will be ready in about 4 hours.

Serve the ice cream with your favorite toppings. Enjoy!
Video
How to Make Ice Cream - Homemade Ice Cream Only 3 Ingredients - Without Ice Cream Maker
Notes
Nutrition
Do you like the recipe? Please give it a rating and comment down below, I really appreciate it. If you make it tag me on Instagram @inthekitchenwithmatt. Also, sign up for the newsletter so you won't miss out on any of my new posts and recipes.
Here are a few other recipes you may like:
Homemade Chocolate Ice Cream In a Bag
Eggless Chocolate Chip Cookies