Hello and Welcome to In the Kitchen With Matt. I am Matt Taylor. I have a passion for cooking and baking, with well over 30 years of experience. I also have a passion for video production, so it was only fitting that I blended the two passions together and started making how-to videos on Youtube and now have combined that content into a food blog where people can come and print off their favorite recipes.
My goal is to teach you how to cook really good food at home for cheap. Eating out every day can get expensive, but it doesn't have to be! You can learn how to cook gourmet tasting food, to rival the restaurants, right in your own home! Cooking can be an incredible experience, for me, it is my happy place, it relaxes me, let's me gather my thoughts, and then when the dish comes together oh so perfectly and you take the first bite, mmm amazing! Then to see the look on your family or friends' faces when they taste the homemade treats you brought them, quite incredible really.
How did I get my start with cooking?
I got my start with cooking when I was very young, probably around 5 or 6 years old. I would come home from school and my mom would be baking or cooking in the kitchen.
My older siblings weren't around, so to keep from being bored I would help my mom – mostly because she would let me lick the beaters, although she had a knack for cleaning the beaters in such a way, I barely got a taste. But that taste was enough to keep me coming back for more.
I was thrilled to take a cooking class in the 8th grade. We learned how to make cinnamon rolls, snickerdoodles, and Dutch babies, among other things.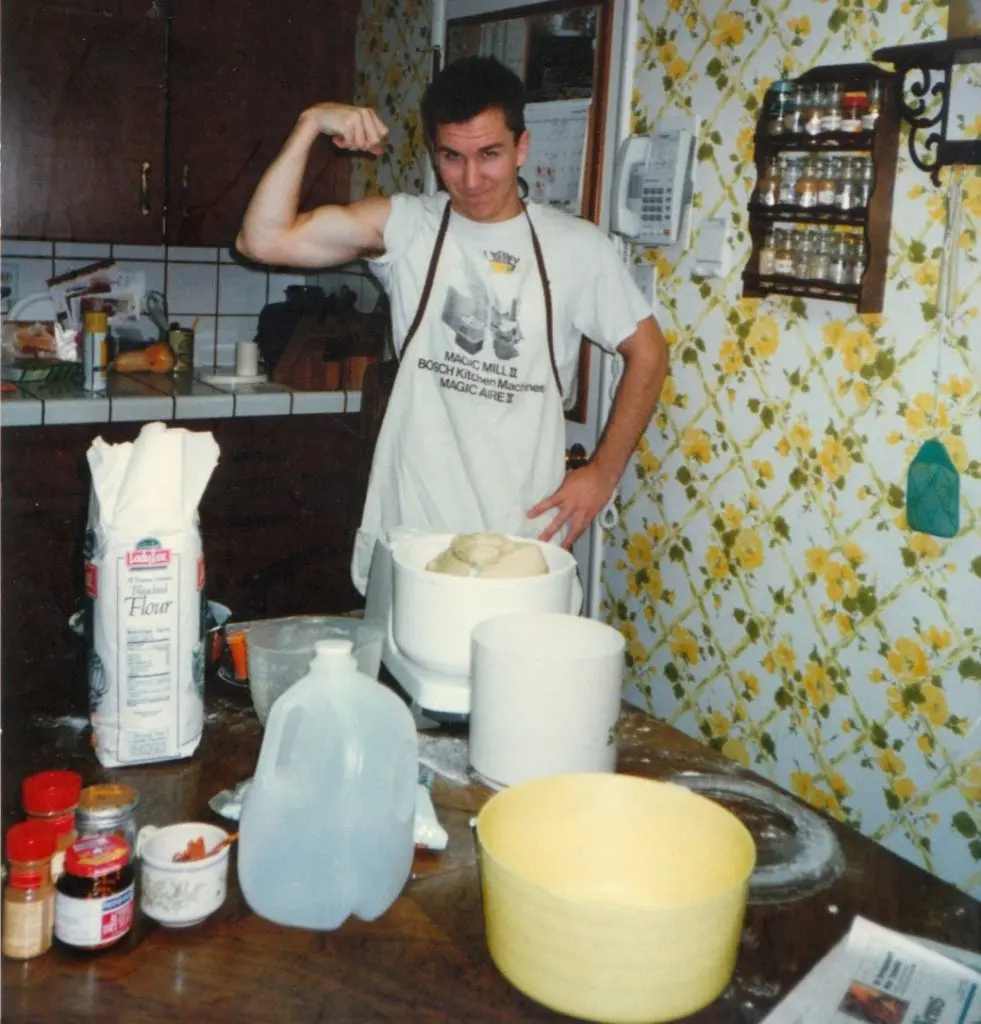 In high school, in order to earn money around Christmastime, I would bake cinnamon raisin bread and my mom would take them to her work and sell them for me. She also bought all the ingredients; moms are the best! I kept up with cooking, here and there, during college, and after I graduated.
Now I do it more and more and teach others how to make various things on YouTube and of course here. 🙂
I also posted my first cookbook on Amazon. It is entitled "All Things Chocolate: 30 of my favorite chocolate recipes" which you can find here if you like. You can also visit my shop where I have a link to the book as well as a link to my Etsy store where I have a PDF version which has a different layout than the kindle version.
What are some of my interests besides cooking?
I am a bit of a nerd/geek, and not a closet nerd – I have no problems sharing with the world that I grew up playing Dungeons and Dragons and still play about twice a month today.
To get a glimpse into the world of D&D, check out this video which documents our epic 4th of July weekend which we do every year.
Sports
I also love playing sports. I play basketball once or twice a month. Volleyball is one of my favorite sports to play. I took a handful of classes in college and played regularly in leagues for quite some time. My preference is 2 on 2 sand. I grew up in California and have many fond memories of going to Santa Cruz and playing volleyball.
Fishing, I love to fish. I grew up going fishing with my dad. Fly fishing is probably my favorite type of fishing, but don't get to go that often. Whenever I am in San Jose visiting my dad, we grab the rods and head to Aptos and fish off the old pier over there.
Outdoors and TV
I enjoy being outdoors playing disc golf or hiking or walking around the park. I probably spend too much time watching TV. Cooking shows like "Beat Bobby Flay," "Guys Grocery Games," "Chopped," and "Diners, Drive-ins, and Dives" are some of my favorites. And of course shows like "Stranger Things," "Suits," "Supernatural," "The 100."
Board games
Board games are something I really enjoy playing. A rousing game of Settlers of Catan, yes, please. I don't normally play classic games like Monopoly that much, although I still enjoy them. Usually, games like Lords of Waterdeep, King of Tokyo, Five Tribes, 7 Wonders, and Smallworld are what I play.
Of course food
I also enjoy trying new restaurants and am part of a foodie group that gets together once a month and tries out new places to eat. While I don't go to movie theaters that often anymore, it still holds a sense of magic for me: the big screen, the crowds, the reclining chairs.
Dating
As of now I am still single and enjoy going out on creative dates. Something other than the standard "dinner and a movie" date idea. In fact, I published a book on Amazon called, "101 Creative Dates: ideas, tips, and personal experiences from the life of a hopeless romantic" which you can find here if you like or in my shop or visit my 101 Creative Dates website.
I am fairly well-rounded when it comes to my interests.
If I can do it, you can do it!
I love to cook and bake, join me on this journey as we enter the world of creating edible masterpieces, let's get cooking/baking!!