Jump to Recipe
Do you have a few large oak trees in or around your property? Are you lucky enough to gather some up before the squirrels and weevils get to them? Did you know you can process them and eat them? Okay so assuming you followed my post on how to process acorns to eat and now have some acorn flour you need some ideas to make with it. There are all kinds of things you can make with acorn flour and acorn bread is one of my favorites. Homemade acorn bread is healthy and hearty and is great to eat during the holiday season when acorns are in season. If I can do it, you can do it. Let's get started!
Step 1: Gather ingredients and tools
First, in order to make this yummy acorn bread, you need to gather up those ingredients and tools. You will need the following:
Water – It is always a good idea to use filtered water unless your tap water tastes good.
Yeast – I normally use active dry yeast but you can use rapid rise or instant yeast as well.
Oil – Vegetable oil, canola oil, olive oil, and coconut oil are all good choices for this bread.
White Granulated Sugar – adds a bit of sweetness to the bread.
Honey – the honey will enhance the flavor and add some natural sweetness.
Salt – the salt brings out the flavor of the other ingredients
Acorn Flour – This is the star of this dish, you can make acorn bread without acorn flour. Do you need to know how to process your acorns into acorn flour? Read this post.
Flour – Bread four or all-purpose flour is needed as the base otherwise the bread won't turn out correctly.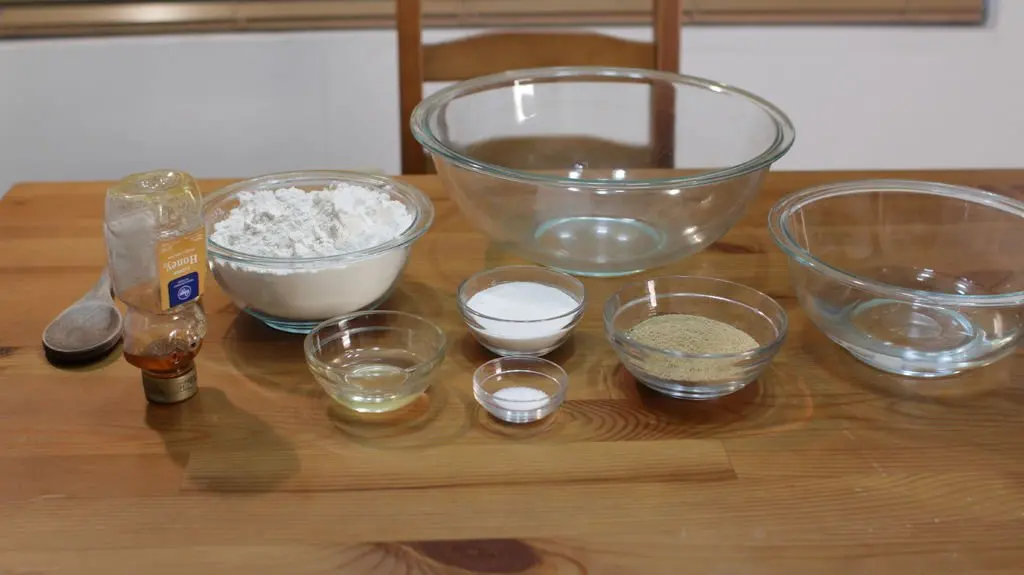 Tools
Step 2: Get the yeast started
Now we want to get the yeast started. In one of your bowls heat up the water until it is between 105 and 115 F (40 to 44 C). You can heat it up on the stovetop or in the microwave. Next, add in about 1 tsp. of your white granulated sugar. The sugar will be food for the yeast and help it thrive. Agitate the mixture with a fork or whisk, then set it aside and let the yeast do its thing. After 5 to 10 minutes the yeast should be nice and foamy or frothy. If after 10 minutes the yeast hasn't done anything then it means the yeast is old, or maybe the water was too hot or too cold. You will need to start again.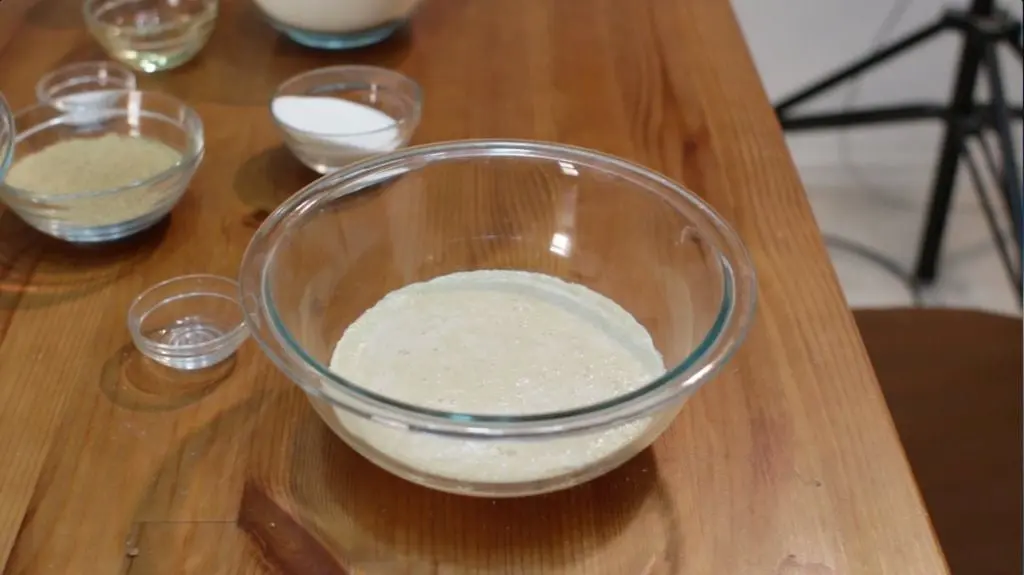 Step 3: Add in the rest of the ingredients
Once the yeast has been activated we add the rest of the white granulated sugar to the bowl of yeast. Then add in the oil, honey, and half of the all-purpose or bread flour. Use a wooden spoon to mix all those ingredients together. Next, we add in the acorn flour and combine it with the wooden spoon. Or you can certainly use a stand mixer too if you like. The dough will be forming at this point. Now add some more of the flour and the salt. Leave some flour left over for kneading. Once the dough has come together and is a bit tacky, but not too sticky it is reading to be kneaded.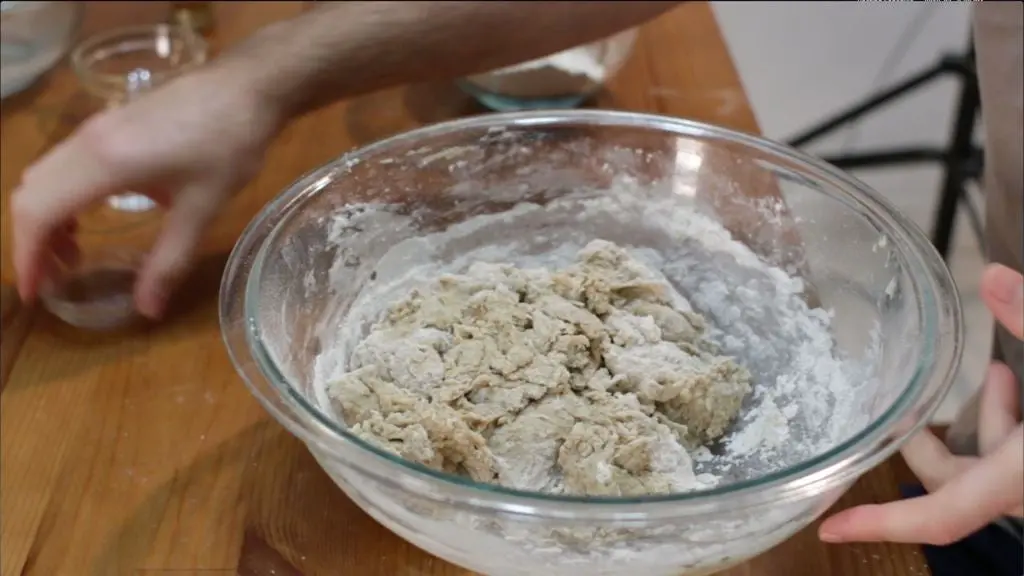 Step 4: Knead the acorn bread dough
Time to knead the dough. If you have a stand mixer with a dough hook you can certainly use that. To this day I still hand knead all of my doughs. I enjoy it. Place the dough on a floured counter or table. Knead the dough for about 8 minutes. Add more flour to the dough as it gets sticky again. To knead the dough fold it over onto to itself and then push down and out with the palm of your hand stretching the dough slightly. Then turn it a quarter turn and repeat. When you are done you may or may not have a little bit of all-purpose four left.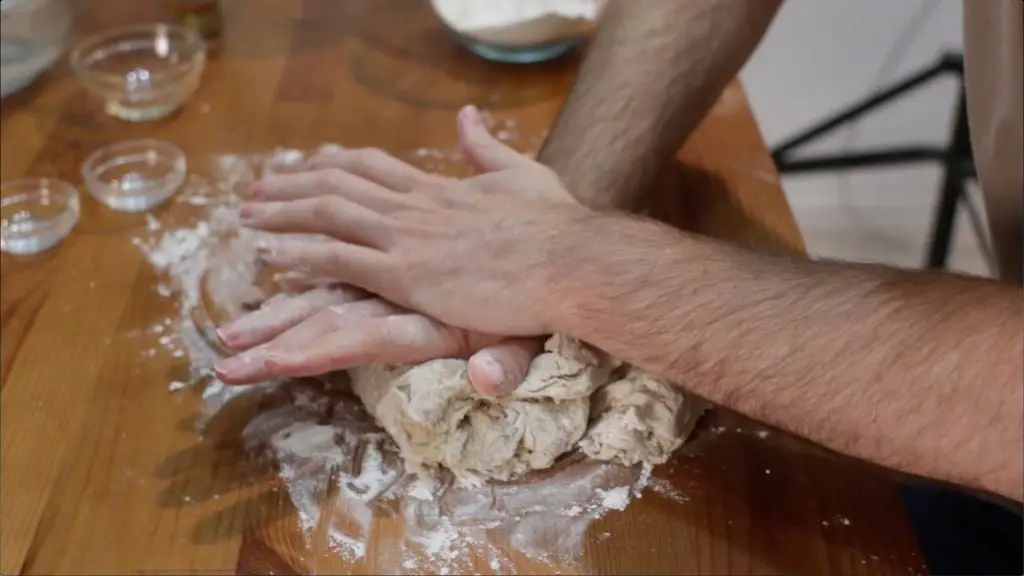 Step 5: Let it rise
Now we need to let the dough rise. Place the dough in a large bowl that has been sprayed with kitchen spray or use a tsp. or so of oil. Cover it with a damp cloth and set in a warm place to rise for 1 to 1 1/2 hours. Alternatively, you can place the dough in a dough proofer, which I always do, I love my dough proofer.
Step 6: Shape, Rise, and Bake the acorn bread dough
Once the dough has at least doubled, punch it down with your hand and place it on a floured counter or table. Shape the dough with your hands into a loaf and place in a sprayed 9×5 bread pan.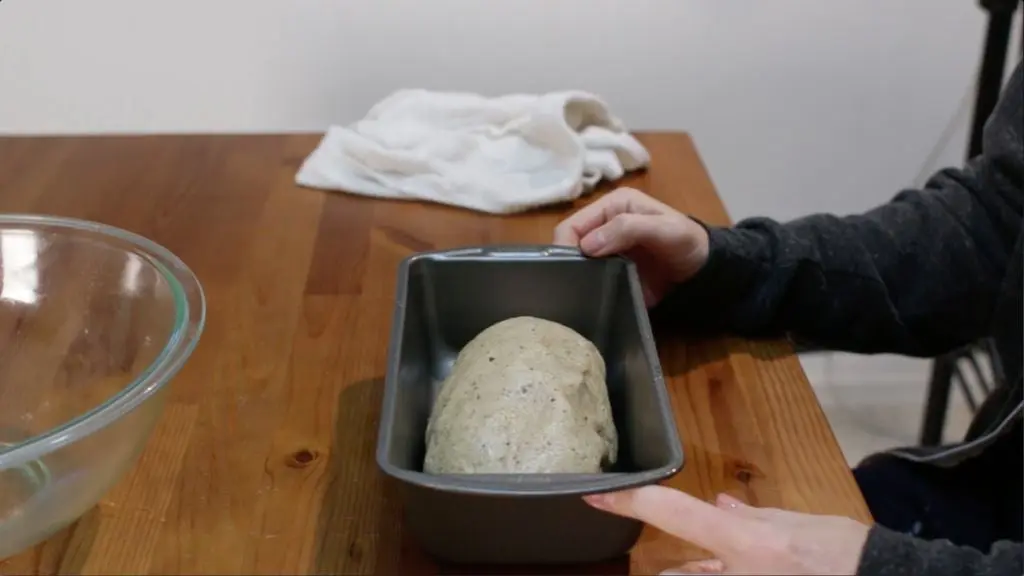 Cover the dough again with the damp cloth and let it rise for another hour or so. Again you can put it back in the dough proofer if you have one of those. After that bake the bread in a preheated oven at 350 F (176 C) for around 35 minutes. Check it after 25 minutes and if it is getting too brown on the top cover it with some aluminum foil. It should have a light golden brown color on top. Next, take the bread out of the oven and let it cool in the pan for a few minutes.
Step 7: Serve up that yummy bread!
Now remove the loaf from the pan and place it on a wire rack to cool completely. Once the acorn bread is cooled, slice into it and serve it with some butter, honey, jam or whatever else you like. It is scrumptious plain as well. Enjoy!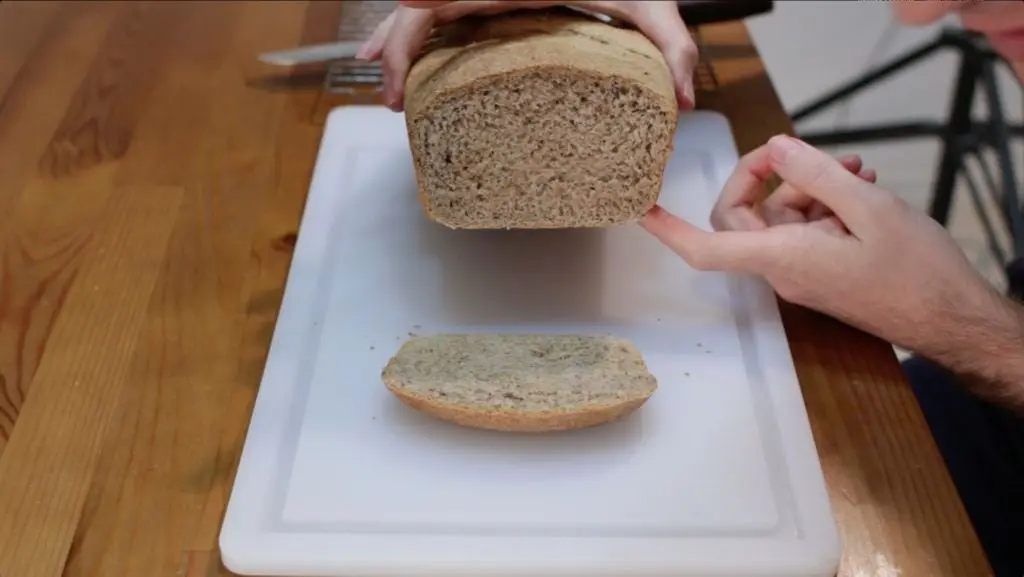 Acorn Bread
Have some acorns that you don't know what to do with? Make some yummy homemade acorn bread. You will first need some acorn flour. Acorn bread is easy to make and is healthy and hearty.
Equipment
Bowl

Wooden spoon

Damp cloth

5×9 bread pan

kitchen spray
Ingredients
1

cup

of water

240mL

2 1/4

tsp.

of active dry yeast

11g

2

Tbsp.

of oil

vegetable, olive, coconut, etc. (30mL)

1/3

cup

of white granulated sugar

45g

2

tsp.

of honey

14g

1

tsp.

of salt

5g

1/2

cup

of acorn flour

75g

2 1/2 to 3

cups

of bread flour or all-purpose

300 to 360g
Instructions
Heat up the water in a bowl to 105 to 115 F (40 to 44 C). Add in a pinch of sugar and the yeast. Set it aside until it gets foamy (5 to 10 minutes)

Add in the rest of the sugar, oil, honey, and about 1 cup of the all-purpose or bread flour. Combine together with a wooden spoon, unless you are using a stand mixer.

Now add the acorn flour and mix it in. Next, add in another cup of the all-purpose or bread flour with the salt. The dough should form by now and be a little tacky.

Dump the dough onto a floured counter or table and knead the dough for about 8 minutes adding extra flour as needed.

Place the kneaded dough in a lightly sprayed bowl and cover with a damp cloth. Let the dough rise in a warm place for 60 to 90 minutes until doubled.

Once the dough has risen punch it down and then shape it into a loaf. Place the loaf into a lightly sprayed 9×5 inch bread pan. Cover and let rise for another 60 minutes.

Bake in a preheated oven at 350 F (176 C) for 35 minutes. After 25 minutes check the bread. If it is browning too much, cover it with aluminum foil. Once baked, remove the bread and allow it too cool for a few minutes in the pan. Then remove the acorn bread loaf from the pan and allow it to cool on a wire rack. Then serve it with butter, jam, or honey and enjoy! I also love it plain.
Video
How to Make Acorn Bread | Easy Acorn Bread Recipe
Notes
Nutrition
Do you like the recipe? Please give it a rating and comment down below, I really appreciate it. If you make it tag me on Instagram @inthekitchenwithmatt. Also, sign up for the newsletter so you won't miss out on any of my new posts and recipes.
Here are a few other recipes and posts you may like: