One of my favorite things to eat, ever since I was a kid, is bacon. I just love it! Give me chocolate and give me bacon and I am a happy camper. There are so many ways to cook it, pan fried, in the oven, microwave, and the air fryer. Air fryer bacon is awesome!
Sometimes when cooking bacon in the pan it is hard to get it evenly cooked. You may have the middle super brown and crispy and then the ends are barely cooked at all. The air fryer solves that issue. Also, it is nice, when the other burners are being used, to break out the air fryer.
Air fryer bacon is great, turns out perfect every time, and it is super easy to do. The only drawback is the basket can't hold a ton of bacon like a griddle can, but if you are doing 4 to 6 slices no problem. Or you can always just do a few batches. If I can do it, you can do it! Let's get started.
Step 1: Gather the ingredients
In order to make air fryer bacon you need bacon and an air fryer, imagine that. I have used this air fryer from Secura and really like it. Read this Secura Air Fryer review, to find out more about it.
The bacon is up to you. My favorite kind is thick-cut applewood smoked bacon. The Wright brand and Oscar Meyer are a few of my favorite brands to choose from, but I am happy with pretty much any brand, haha. Honestly, it doesn't take too much to make me happy when it comes to bacon.
You can certainly use other bacon too if you want, like Turkey bacon.
Step 2: How to cook bacon in air fryer
In order to make air fryer bacon begin by setting the temperature on your air fryer. Mine has a dial that you turn. Set it to 375 F/176C. Air fryers will vary, some have dials like this, and others are digital. Do whatever you need to do to set the proper temperature.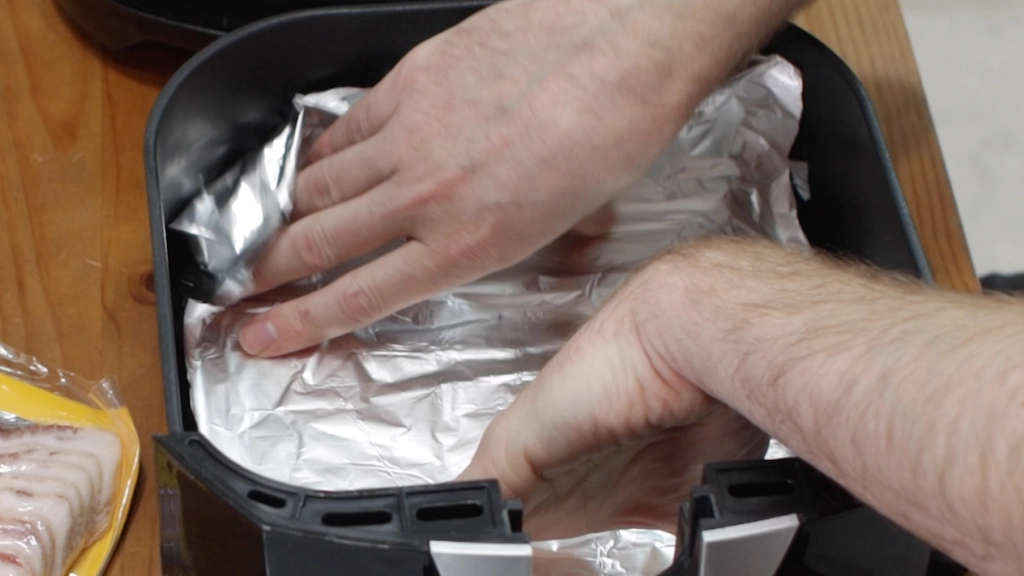 Remove the basket from the air fryer. Most of the time the basket will have two parts, the outer basket, and the inner which removes.
Mine has a little button that you push which releases the top basket. Now line the bottom basket with aluminum foil. This step is optional but it makes cleanup pretty easy.
NOTE: If you want to save the air fryer bacon grease for later, don't use the foil. You can just pour the grease/oil out into an empty can.
Reattach the top part of the basket.
Step 3: Cook that bacon
Now add strips of bacon to the basket. If you are only doing a few strips you can place them diagonally. If you are going to do more, you probably will have to cut the strips in half, depending on the size of your air fryer.
Slide the basket with the bacon back into the air fryer.
Now turn the time to 8 to 11 minutes. On my air fryer once you turn the dial for the time, it starts the air fryer. Others may have a start button, etc.
Let the air fryer do its thing and cook that bacon!
After 8 minutes slide the basket out and check the bacon. This will turn the air fryer off automatically. If you want it more crispy just replace the basket and cook it some more. Super duper simple. In my air fryer with the Oscar Meyer brand thick-cut applewood smoked bacon, 8 1/2 minutes is perfect every time.
Remove the cooked bacon with tongs and place it on some paper towel. Fold the paper towel over and pat the bacon to soak up any extra grease.
And there you go the bacon is cooked and ready to be used for whatever you like. I love making bacon, eggs, and hash browns, one of my favorite all time meals. Enjoy!
How to clean the air fryer after cooking bacon
Once the grease cools a bit, you can pour it into a can to save later, or to throw out. Then separate both baskets. Wipe out any excess oil/grease with a paper towel. Then you can wash each basket piece with hot soapy water. Check the guide that came with your air fryer first, to see if there are any other cleaning tips, etc.
Here are some other recipes you make like:
Easy Crispy Air Fryer French Fries
Air Fryer Bacon
Learn how to cook bacon in an air fryer. It is cooked evenly and turns out perfect every time. So yummy, I love bacon!
Equipment
Paper Towel

Aluminum foil (optional)
Ingredients
4 – 6

strips

bacon, hickory smoked, applewood smoked, etc.

Use your favorite kind of bacon!
Instructions
Set the temp on your air fryer to 375 F/176 C

Slide the air fryer basket out and separate the two pieces. Then line the bottom with foil and replace the top basket piece. This step may vary depending on your style of Air fryer. The foil is also optional.

Add 2 to 6 strips of bacon, to the bottom of the basket. If needed, cut the strips of bacon in half so they fit.

Slide the basket back into the air fryer and set the time for 8 minutes. Cook for 8 minutes and then check it. If needed cook for a few more minutes to get your desired level of crispiness.

Once cooked remove the basket from the air fryer. Use tongs and grab the bacon out of the basket and place it on a paper towel. Blot it dry and serve. Easy as that, enjoy!
Video
How to Cook Bacon in Air Fryer | Easy Air Fryer Bacon
Notes
Note: The nutritional facts will vary depending on the strips of bacon that you use. 
The foil is optional but helps make cleanup a little easier.
Nutrition
Do you like this recipe? Share and Pin it! Please give it a rating and comment down below, I really appreciate it. If you make it tag me on Instagram @inthekitchenwithmatt. Also, sign up for the newsletter so you won't miss out on any of my new posts and recipes.