Jump to Recipe
Did you know you can use an air fryer for a number of different dishes? One, in particular, I am fond of is this air fryer cake recipe. Wait, what? You can make a cake in an air fryer? Yes! Absolutely! The best part is the cooking time is also faster than in a traditional or conventional oven.
Maybe you live in a small flat or have a motor home, or a tiny house and don't have a traditional oven, pick one of these up. Or maybe it is summertime and you don't want to turn that oven on. Using this tool to make a cake is a genius idea and a perfect way to put that cool kitchen gadget to good use.
What is an air fryer?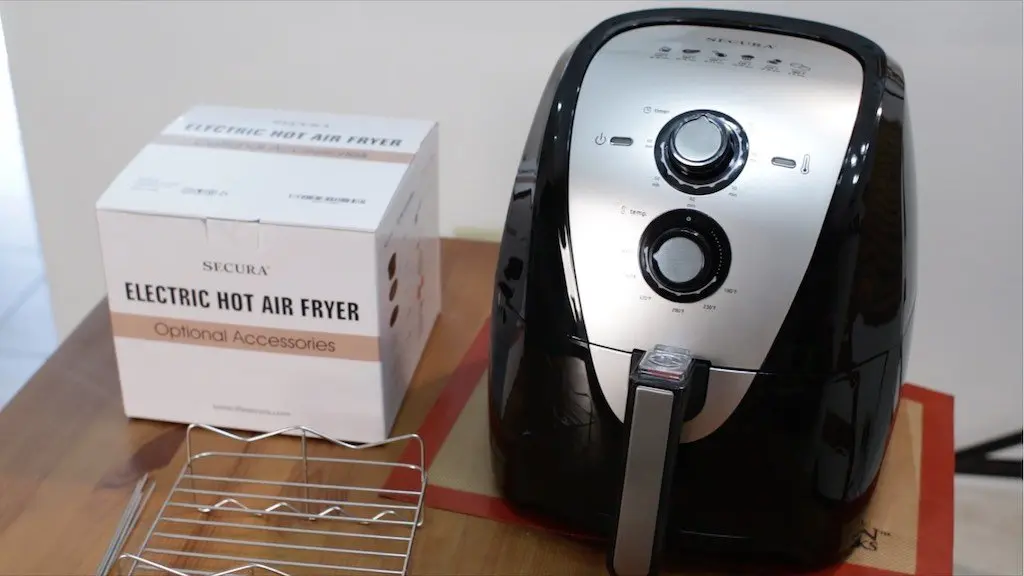 First, let me explain exactly what an air fryer is. Air fryers are medium-sized kitchen appliances that are essentially mini convection ovens. They have a coil heating element at the top inside the unit which heats up.
There is a mini fan above the heating coil which blows air passed the coil causing the air to heat up. The hot air then circulates all around on the inside cooking the food which is different than a regular oven. And the result is healthier food since you don't have to use much oil at all.
It does however kind of mimic the deep frying process producing a result that is similar to that of a deep fryer. And that is where the term air fryer came from.
How to make a cake in an air fryer
Now it is time to bake a cake using this neat little contraption. First, you will need a few ingredients and tools.
Cake batter – Use your favorite homemade cake batter or get a store-bought boxed cake mix.
Air Fryer – The star of this recipe is, of course, the air fryer. There are different brands out there to choose from. Some of the most popular ones are the Ninja Foodi, Cosori, Gourmia, Emeril Lagasse, and Instant made by the same people that make the Instant Pot.
Cake pan – that fits the air fryer. You don't have to use the one in a kit, just measure the inside of your air fryer basket and use a round pan smaller than that. I do happen to have a special air fryer cake pan which works really well. It is already the perfect size and has a handle.
Cake Strips – are nice but they are optional. They help to keep the cake level when baking instead of doming in the middle.
Step 1: Make the cake batter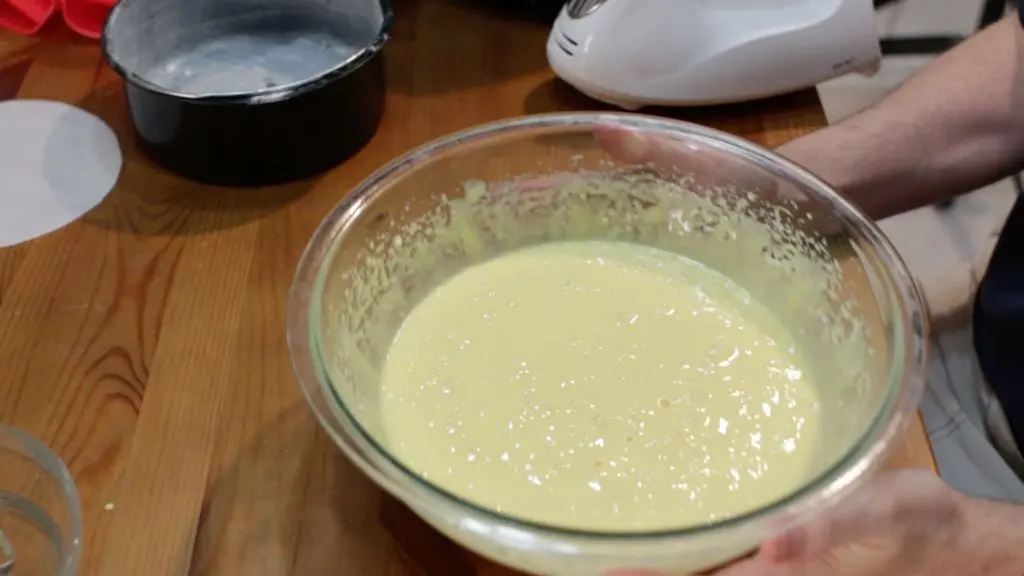 First, make the cake batter whether you are following your favorite cake recipe or you have a cake mix. Just follow the instructions on the back of the box. You pretty much just add all the dry ingredients and any extra ingredients in a large mixing bowl and then whisk or use a hand mixer. The cake batter pictured above comes from a vanilla cake.
Most likely you will need some oil, olive oil, canola oil, vegetable oil, etc., eggs, and water for it. It may call for milk as well, you can use whole milk, skim milk, or even almond milk for cakes.
You may want to add a splash of vanilla extract as well. If you like chocolate cake check out this recipe and then make an air fryer chocolate cake.
Step 2: Prepare the cake pan
Next, prepare your cake pan. I use a special cake pan that came in my air fryer accessory kit which works perfectly. You don't have to use that particular cake pan. But the size of your air fryer does matter.
Any cake pan or cake tin that will fit inside the basket will work just fine. Prep the pan by adding shortening all around on the inside. Then add in some flour and tap the pan around allowing the flour to coat the shortening.
Also as an extra precaution, you can put a round piece of parchment paper on the bottom of your pan. We don't want the cake to stick to the bottom!
Step 3: Fill up the pan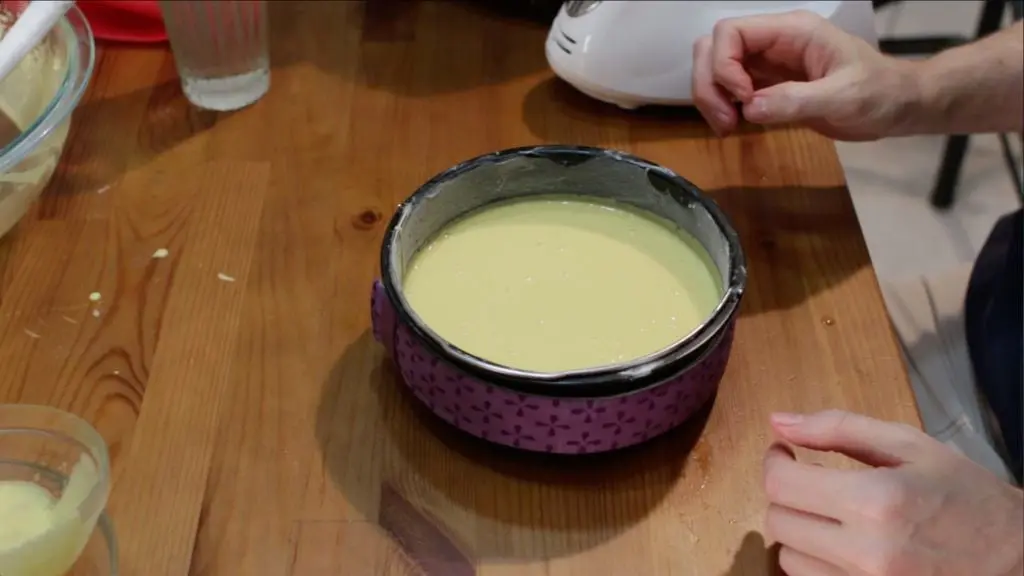 Now just fill up the pan with your cake batter until it is a little over halfway full. If you have a cake strip, soak it in water, wring it out, then place it around your pan.
Cake strips help to ensure even baking, so the outsides of the cake don't get more done than the middle. They also help to prevent the cake from doming and cracking in the middle.
If you have any cake batter leftover you have a few options, you can just fill up the cake pan only half full and then once it is cooked, remove it and fill up the pan again with the remaining batter, or what I usually do is just make some cupcakes with the leftovers.
Step 4: Air Frying time!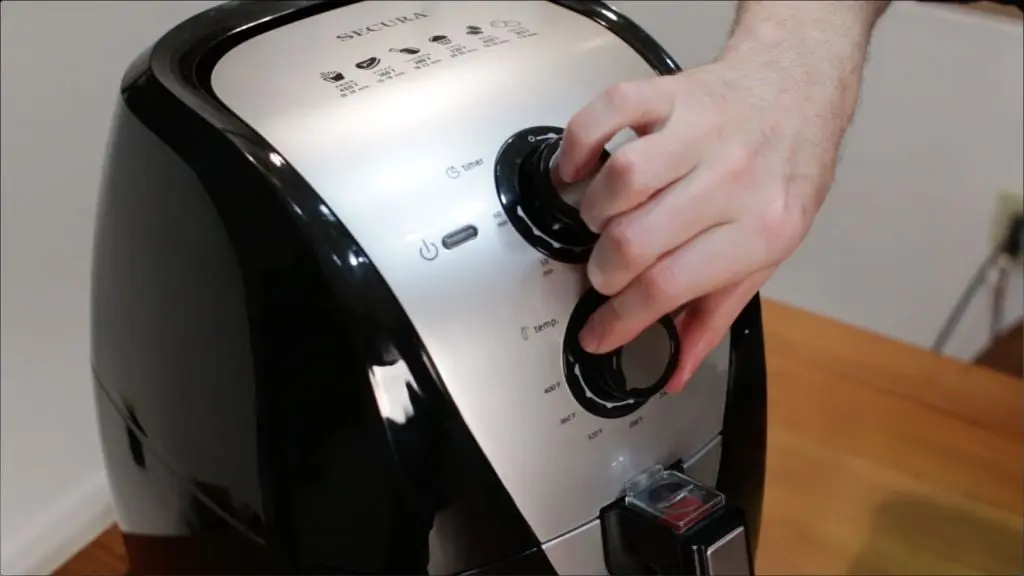 Set the air fryer to 350 F (176 C). There will also be a timer on it. Set the timer to 20 minutes. Allow the air fryer to heat up for 1 to 2 minutes, then pull out the basket. Place the cake pan full of batter inside the basket and then slide the basket into the air fryer.
Step 5: Checking the easy air fryer cake for doneness
After 17 to 18 minutes slide the basket out of the air fryer. Now do the toothpick test. Poke the top in the middle of the cake with a toothpick. If it comes out clean the cake is ready to go.
Most likely it will not be done with this short of baking time and you will need to cook it longer even though it is a small cake, it will be fatter than a traditional 8 or 9-inch round cake. Around 25 minutes tends to do the trick. But it all depends on the type of cake you are cooking.
If not, slide the basket with the cake back into the air fryer and turn it on for another 5 minutes or so. Be very careful handling the basket and cake pan, they will be extremely hot!
If the cake is not done and it is getting too brown on top, place aluminum foil over it before cooking it a bit longer.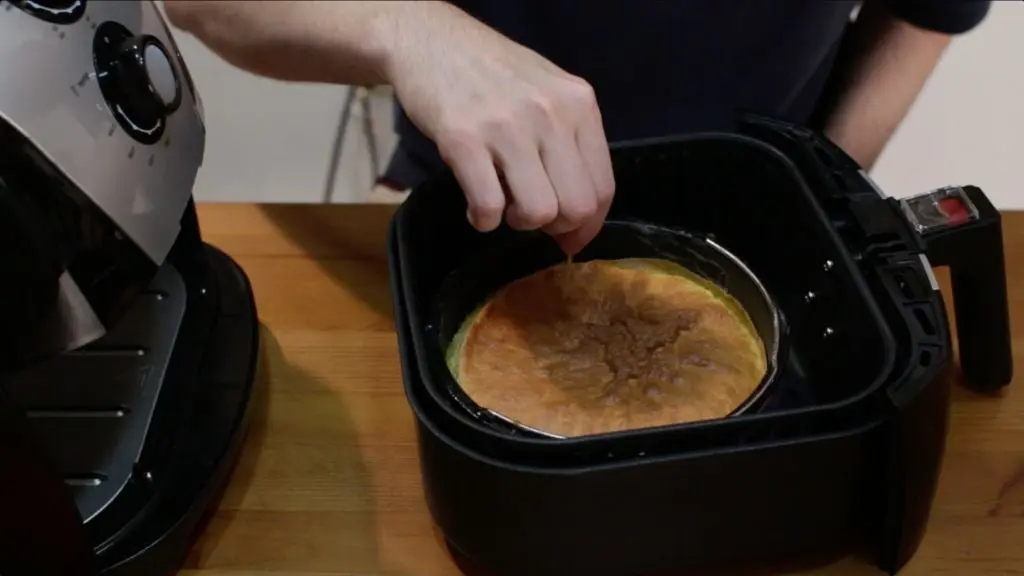 Step 6: Allow the air fryer cake to cool
After the cake has finished baking, remove it from the air fryer and place the pan on a hot pad. Allow the warm cake to cool for about 10 minutes.
Next, flip the cake over and remove the cake, it should come right out. Remove the parchment paper, then place the cake on a wire cooling rack, and let it cool completely.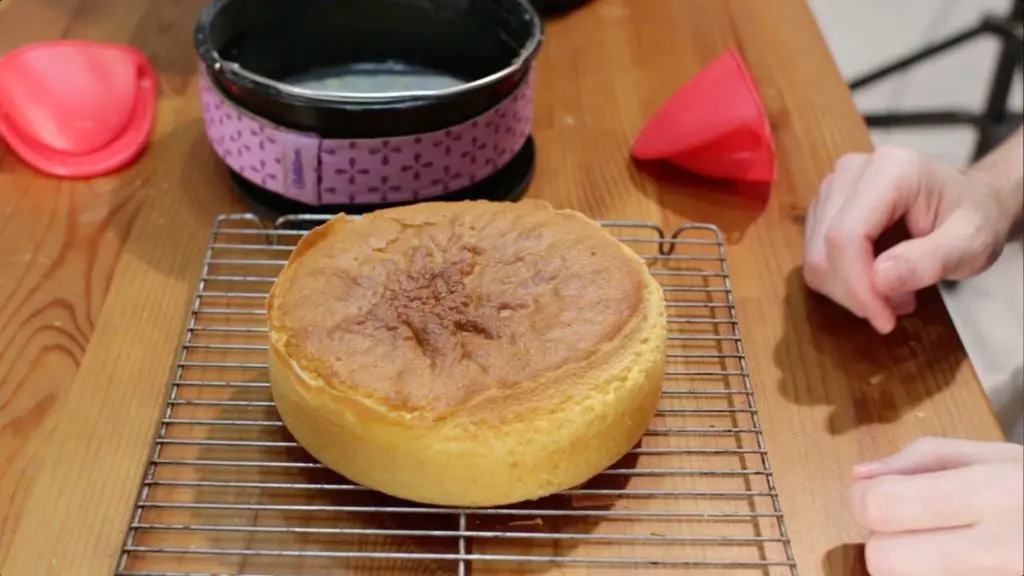 Step 7: Cake decorating time
Once the cake has cooled you can decorate it however you like. Add some yummy homemade buttercream frosting or use your favorite frosting from the store.
Place some chocolate sprinkles, chocolate chips, or other types of sprinkles on top, whatever you would like to do, it is your cake. Enjoy!
Common Questions when using an Air Fryer to bake a cake
How long will this cake last?
If you take the unfrosted cake and wrap it with plastic wrap or place it in an airtight container it will last a few days at room temperature or about a week in the fridge. If it is frosted, it is best to cover it loosely with plastic wrap or foil and keep it in the fridge for about a week.
Can I freeze this air fryer cake?
Yes! Wrap the unfrosted cake in plastic wrap and freeze it for several months. If it is frosted, place it in the freezer on a freezer-safe sheet pan uncovered and allow it to freeze for 4 to 5 hours. Then wrap it with plastic wrap or foil and freeze for several months.
Air Fryer Cake
Did you know you can bake your cake in an air fryer? It is super simple to do, and perfect if you don't have a traditional oven, or if you just don't want to turn that oven on.
Equipment
Cake pan that fits the air fryer

Cake Strips (optional)

Wire rack

cake spatula
Ingredients
Cake batter of some sorts

I have plenty here on my show

Frosting

Other toppings

Shortening for pan

Ingredients for the cake batter
Instructions
Prepare your cake batter by following a homemade recipe or the back of the cake mix box.

Fill up the pan a little bit over halfway full. If you have any cake batter remaining you can make cupcakes with it. If using cake strips, soak them in water, wring them out, and then encircle the cake pan. This will help to evenly bake the cake and prevent doming.

Turn the air fryer temp to 350 F (176 C). Set the timer for 20 minutes. Allow it to heat up for a minute or two. Remove the basket and put it in your cake pan. Put the basket back inside the air fryer and let it do its thing. The cake will cook for 18 to 19 minutes but could take as much as 30 minutes.

After the timer goes off check it with a toothpick. Poke the cake in the middle; if the toothpick comes out clean it is ready to go. If there is still a bit of cake batter on it, cook the cake for 5 to 8 more minutes. If it is getting too brown but still not done, place foil on the top and continue cooking it. BE CAREFUL when handling the cake pan it will be hot. If the pan has a handle do not grab it without wearing an oven mitt or silicone mitt.

Once baked, allow the cake to cool down in the pan for 10 to 12 minutes. Then remove it from the pan and place it on a wire rack to cool completely. Frost and decorate the cake however you like. Enjoy!
Video
How to Make a Cake in Air Fryer | Easy Air Fryer Cake
Notes
*Note – Nutritional facts will vary depending on the cake and frosting that you use. The below information is for a common yellow cake mix and white frosting. 
Nutrition
Do you like the recipe? Please give it a rating and comment down below, I really appreciate it. If you make it tag me on Instagram @inthekitchenwithmatt. Also, sign up for the newsletter so you won't miss out on any of my new posts and recipes.
Here are a few more recipes you may like: