Jump to Recipe
Are you a fan of corn on the cob? If so, you have got to try this air fryer corn on the cob recipe, it is such a yummy way to prepare it. It is buttery flavorful and oh-so-delicious. Another great way to use that air fryer.
And if you are looking for a super quick way to cook 1 or 2 ears of corn, check out this microwave corn on the cob recipe. It is one of my favorite ways of cooking corn on the cob with no shucking and no pesky silks to deal with.
Let's get started!
Ingredients
In order to make air fryer corn on the cob you need just a few ingredients and equipment:
Corn – You can't make corn on the cob without the corn. Pretty much any fresh corn still on the cob will work. You can buy the preshucked corn or corn that is still in its husks.
Butter – The butter adds flavor and helps keep the seasonings to stick on the corn.
Salt – adds flavor
Pepper – an optional seasoning I always like to add.
Garlic Powder – I am a huge fan of garlic so I always add garlic powder. you can also mince up a clove or two of garlic to go in the butter.
Paprika – This will add a pop of red color and also give it a nice flavor.
Other spices include cayenne, chili powder, etc.
Tools/Equipment
How to make corn on the cob in the air fryer
Begin by prepping the corn. Rinse the corn first, then go about shucking them and removing as much of the silk as possible. I really am not a huge fan of shucking corn haha.
And when I really don't feel like shucking corn I just do the microwave corn on the cob. No shucking required.
Then add the softened butter to a small bowl along with all of your spices. Now just mix those all together with a fork or spoon. You are left with a nice seasoned butter for the corn on the cob.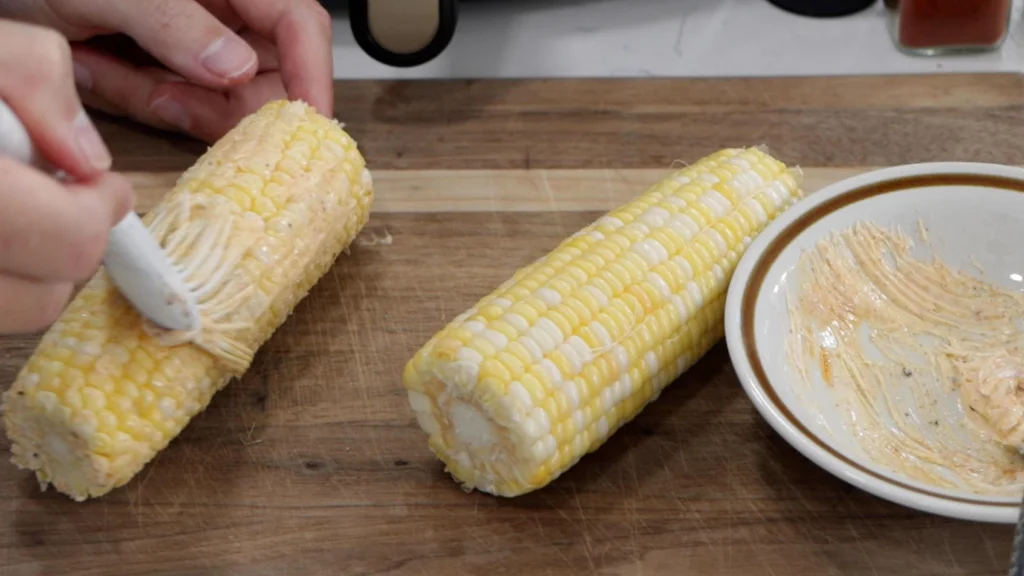 Next, take a basting brush and brush the butter all over each ear of corn. You can also wait and do this after they are cooked, but I like to do it beforehand.
Use tongs to place the seasoned ears of corn in your air fryer basket. Add the basket to the air fryer and then set the temp to 400F/205C.
Cook the corn for 10 minutes then remove it and roll it to the other side and then cook it again for about 10 minutes. It should only take around 20 total minutes to cook air fryer corn on the cob.
Find the air fryer I own and have used for over 4 years down below:
Once cooked you can use tongs to take them out of the air fryer and serve them. Be careful they will be hot.
And just like that the air fryer corn on the cob is ready to be eaten. Super easy right?
How long does corn on the cob last?
Before it is cooked it will last 3 to 7 days in the fridge. After that, you may begin to see mold growing and it should be thrown out. After it is cooked it definitely tastes best eaten right away, but you can keep it for another day or two in the fridge.
Here are other corn recipes you may like:
Air Fryer Corn on the Cob
Learn how to cook corn on the cob in the air fyer.
Ingredients
2 to 4

ears of corn

2 to 3

Tbsp

of softened butter

28 to 42g

pinch

of salt

pinch

of pepper

pinch

of garlic powder

pinch

of paprika
Instructions
Rinse the corn on the cob then shuck it and remove all the silks.

Mix together the softened butter and the spices in a small bowl.

Baste the shucked ears of corn with the seasoned butter.

Add the corn to the air fryer basket. Set temp to 400F/205C. Cook for 10 minutes then pull the basket out and turn the ears of corn to the other side and then cook another 10 minutes.

Remove with tongs and allow them to cool for a few minutes, then serve. Enjoy!
Notes
NOTE: The list of nutritional facts is for 1 ear of corn. 
Nutrition
Do you like this air fryer corn-on-the-cob recipe? Pin it! And please give it a rating and comment down below, I really appreciate it. If you make it tag me on Instagram @inthekitchenwithmatt. Also, sign up for the newsletter so you won't miss out on any of my new posts and recipes.