Jump to Recipe
Growing up I ate a lot of grilled cheese sandwiches, and I still eat them today. I love grilled cheese! Honestly, they should be called pan-cooked cheese sandwiches because most people don't actually make them on the barbecue grill, but let's not argue semantics. There are so many methods for making grilled cheese and one of my favorites is air fryer grilled cheese.
Making grilled cheese sandwiches in the air fryer is awesome! From start to finish it takes about 10 minutes. The outside bread is nice and crunchy and toasted, with a rich buttery flavor, unless you use mayo of course. And the inside is all melty cheesy goodness. I just love it!
If you love grilled cheese sandwiches check out my classic grilled cheese recipe as well. Pair this air fryer grilled cheese with a bowl of homemade tomato soup, and you have very popular comfort food.
Let's get to it! Time to learn how to make grilled cheese in the air fryer. If I can do it, you can do it!
Step 1: Gather the ingredients and tools
For me, the perfect grilled cheese sandwich is all about the type of bread, cheese, and butter. In order to make air fryer grilled cheese sandwiches you will need the following ingredients:
Bread – I am a sucker for bread, just love it. One of my favorite types of bread to use is my homemade white bread. The other bread I really like using is a thick-sliced loaf of brioche bread from Nature's Own. This post isn't sponsored by them, I just really like their bread, haha.
Cheese – Oh yes the cheese. I love cheese too. I am a bit of a cheese addict. Most days I eat a few slices of it. My favorite cheese to use for grilled cheese is Tillamook cheddar. I am not claiming this is the best cheese for grilled cheese sandwiches, I just really like it. Growing up we always used American cheese.
Butter – My spread of choice is softened real butter. Some people prefer mayo, and that is a great choice as well. You can also just use an avocado oil spray or olive oil spray.
Optional Ingredients – Some other popular ingredients are thinly sliced ham, bacon, jalapeno, etc. I usually stick to the classic three ingredients.
Tools
Air Fryer – You can't make air fryer grilled cheese without an air fryer, otherwise it would just be grilled cheese, haha. I like this highly-rated air fryer, but you can pretty much use whatever air fryer that you want.
Butter knife
Spatula
Step 2: How to make air fryer grilled cheese sandwiches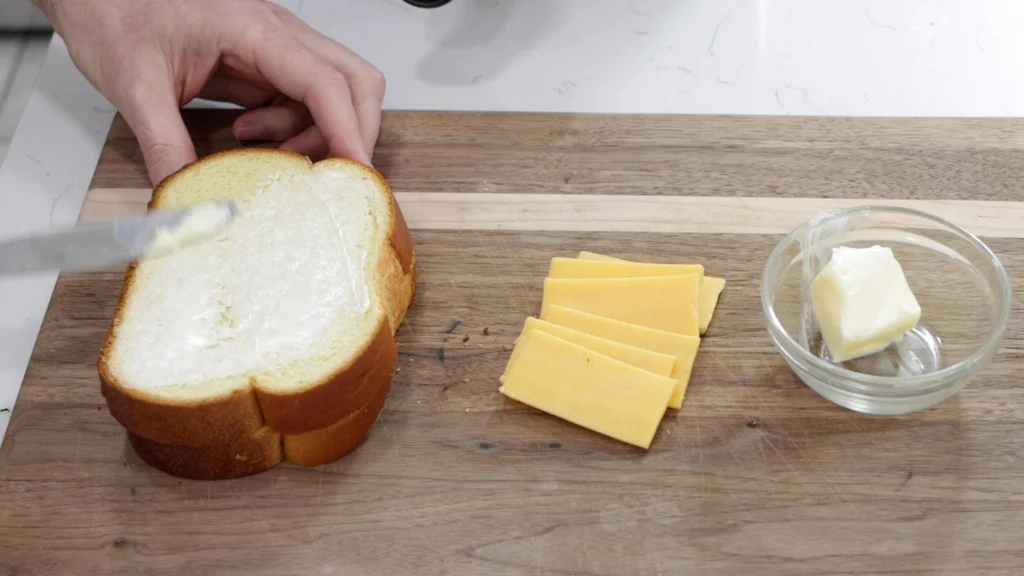 Begin by spreading on butter, mayo, or spray a little avocado or olive oil on one side of each slice of bread. My air fryer basket can hold two sandwiches. So depending on the size of your air fryer, will determine how many you can make at one time.
NOTE: You can use whatever kind of bread that you want. I have made it with the cheapest dollar loaf store-brand white bread, potato bread, 12-grain bread, whole wheat bread, etc.
Step 3: It's all about the cheese, grilled cheese that is
Now slide out the air fryer basket, if you happen to have that style. Some air fryers look like mini ovens.
Slice your cheese, or use pre-sliced cheese. Shredded cheese, also works really really well. Some people actually prefer to use shredded.
Place one slice of bread butter side down. Then put on your favorite kind of cheese, in this case, I am using Tillamook cheddar. Definitely try out a variety of cheeses, each one will melt a little different as well. Growing up we always used cheap American cheese. It melts really well, I just am not a fan now as I am older.
Feel free to combine different cheeses too if you like. The popular cheeses are American, Cheddar, Brie, Jack, Pepper Jack, Gouda, Havarti, Fontina, Gruyere, Provolone, Mozzarella, and Blue Cheese. I have made it with most of those. So fun trying different cheeses.
Place the other slice of bread with the buttered side up, on top of the cheese layer. It is ready to cook.
Step 4: Cook the grilled cheese sandwich in the air fryer
Slide the basket back in place and set the heat to right around 350 to 375F. On my air fryer, I use the 360F setting, because that is what is labeled on the air fryer.
Turn the timer on, which will also turn on your air fryer, depending on the model. Set it for 3 to 4 minutes.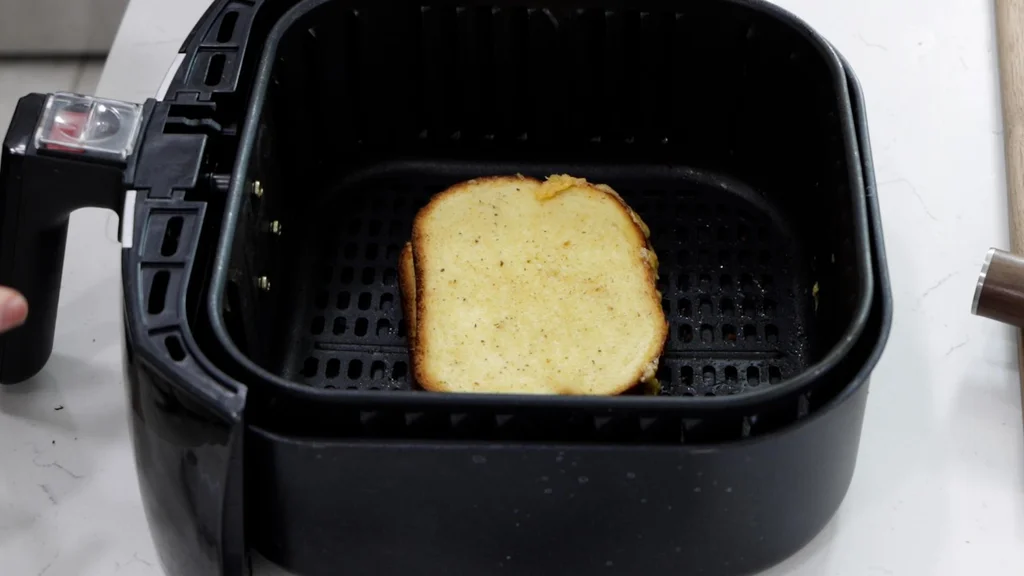 After the time is up, slide it out and check it. The top slice should be nice and golden brown. Flip it over with a spatula. The bottom slice probably won't be brown yet.
Slide the basket back into the air fryer and cook for another 3 to 4 minutes. The times will vary depending on your air fryer and depending on how brown you like your grilled cheese.
Pull the basket out, and remove the sandwich with a spatula. Slice it in half if you like and serve. If you use too much cheese or put it really close to the edge, it may ooze out while it is cooking. Don't be alarmed! That cheese gets nice and crispy on the outside of the sandwich and tastes absolutely amazing.
Enjoy!
How long does grilled cheese last?
They are most certainly best eaten fresh out of the air fryer. But you can store any leftovers in an airtight container in the fridge. Heat it back up in the air fryer when you want to eat it.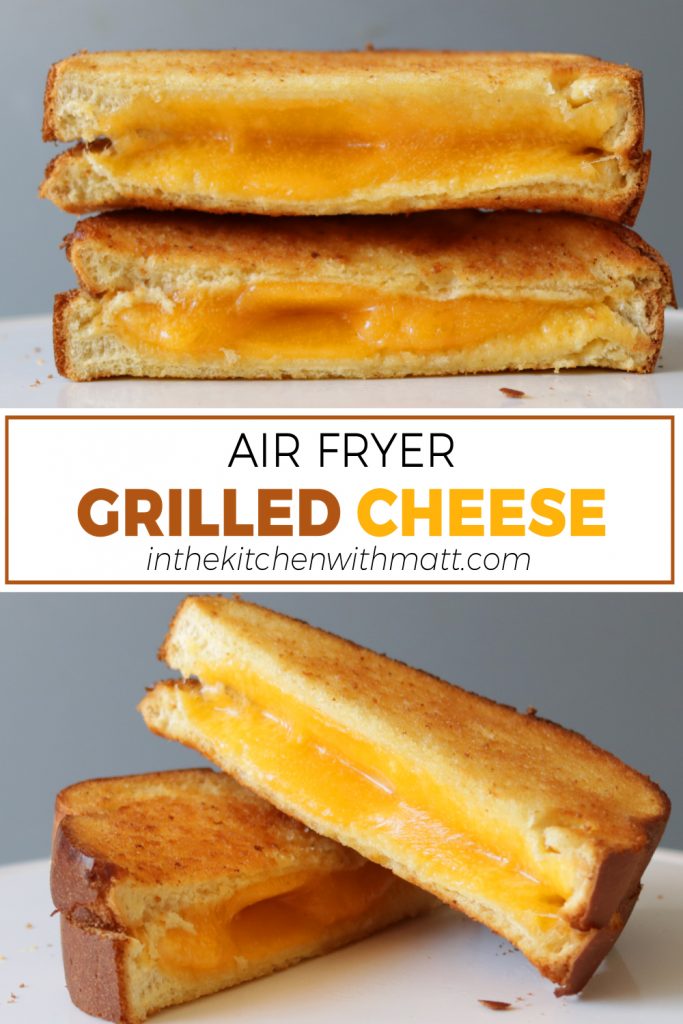 Here are other recipes that you may be interested in:
How to Cook Green Beans in Air Fryer
Air Fryer Grilled Cheese
Learn how to make a super yummy grilled cheese sandwich in the air fryer. The bread is nice and crispy and crunchy and the cheese is nice and melted. So yummy!
Ingredients
2

slices

of bread

used your favorite bread

1

slice

of Cheese

use your favorite cheese, cheddar, American, Gouda, Jack, etc.

2

tsp

of Butter

Mayo, avocado, or olive oil
Instructions
Slice or shred your chosen cheese.

Spread softened butter or mayo on one side of each slice of bread. You can also use avocado or olive oil spray. Or just leave it off completely.

Place one slice of bread butter side down in the air fryer basket. Then add the cheese, followed by the other slice butter side up.

Put the basket in the air fryer and set heat to 360 to 375 F. Cook for 3 to 4 minutes.

Remove the basket and check the top. It should be nice and golden brown. If you need to, put it back in and cook another minute for the desired brownness. Flip the grilled cheese other and cook for another 3 to 4 minutes.

Remove grilled cheese with a spatula, slice, and serve. Enjoy.
Video
How to Make a Grilled Cheese Sandwich in the Air Fryer
Notes
NOTE: The nutritional facts will vary depending on the cheese, bread, and spread that you use.
Nutrition
Do you like the recipe? Please give it a rating and comment down below, I really appreciate it. Save the Pin to Pinterest! If you make it tag me on Instagram @inthekitchenwithmatt. Also, sign up for the newsletter so you won't miss out on any of my new posts and recipes.
Check out my other website 101 Creative Dates for fun date ideas. Food and dating go hand in hand!