Jump to Recipe
Ambrosia salad, also known simply as Ambrosia, or Ambrosia Fruit salad is a creamy, sweet, and tangy fruit salad filled with all kinds of yummy ingredients like mandarin oranges, grapes, coconut, pineapple, mini fruity marshmallows, and more.
I love fruit and I love fruit salads and Ambrosia salad has probably got to be my all-time favorite fruit salad. I love how incredibly easy it is to make.
There is no baking or cooking required and the whole thing comes together in about 10 minutes or less.
Why is it called Ambrosia Salad?
Ambrosia comes from the South/Southern United States. It is very common around the holidays, Christmas, Easter, and it is nice and refreshing to have during the hot summer months as well. The name "ambrosia" comes from Greek mythology, referencing the food the Greek gods would eat. And hey, if this is good enough for the Greek Gods, it is good enough for me, haha. I jest, but seriously it is pretty amazing.
If you are a fan of fruit salad like me, you have got to give this Ambrosia Fruit Salad recipe a try. Some people might call this a dessert or a pudding, whatever you want to call it, I seriously think you won't be disappointed. If I can do it, you can do it. Let's get started!
Step 1: Gather the fruit salad ingredients and tools
In order to make ambrosia salad you need the following ingredients and tools:
Sour cream – I love sour cream and fruit it is such a great combination. Growing up we used to dip strawberries in sour cream then dip them in brown sugar. So yummy! Use store-bought sour cream or make a homemade sour cream substitute. Don't like sour cream? No worries, swap it for plain or vanilla yogurt.
Whipped topping – Use the generic brand or use the famous Cool whip brand. Or if you like make your one whipped topping from heavy whipping cream.
Mandarin oranges
Green or Red seedless grapes
Sweetened coconut flakes – Make sure they are the sweetened kind!
Fruity mini marshmallows – If you can't find the fruity kind, just use regular mini marshmallows.
Pineapple tidbits
Maraschino cherries
Chopped nuts (optional)
NOTE: The traditional recipe for Ambrosia salad uses all canned fruit with exception of the grapes, sometimes grapes weren't even used. But you are more than welcome to use fresh fruit in lieu of the canned kind.
Tools/Equipment
NOTE: All the ingredients are optional. If you don't like one of them, leave them out, or substitute it with something else. Feel free to add berries like blueberries, raspberries, strawberries, etc. The above recipe is pretty close to the original Southern Ambrosia salad as far as the types of fruit added.
Step 2: How to make ambrosia salad from scratch
Start by prepping the fruit.
Any fruit that comes in the liquid should be drained first. Save that juice and drink it or use it in other things. I always mix the mandarin orange juice with the pineapple juice. So yummy! The cherries will need to be drained too.
Rinse and dry the grapes if you haven't previously done so. If they are really large you may want to slice them in half. Pull the stems off the cherries if they have them.
Next, add the sour cream and whipped topping to a large bowl and mix them together. If you don't want to use sour cream, feel free to substitute it with plain or vanilla yogurt or Greek yogurt.
You can also make homemade whipped cream and use that instead of store-bought whipped topping. This is your ambrosia salad, make it however you like. 🙂
Step 3: Combine all the ingredients together
Now just add the fruit, marshmallows, coconut flakes, and nuts if you want to add those. There is no certain order in which you need to add them.
And don't worry about being extremely precise with the measurements. Feel free to experiment according to your tastes. Maybe you want more grapes, or less coconut, or more marshmallows, etc.
Save a few of the maraschino cherries to put on top of the homemade Ambrosia.
Step 4: Fold and serve that yummy homemade ambrosia fruit salad
Now simply fold the ingredients together. Don't stir vigorously, we don't want to damage the fruit. Just gently fold and stir all of them until well combined.
Cover and chill in the fridge until you are ready to serve.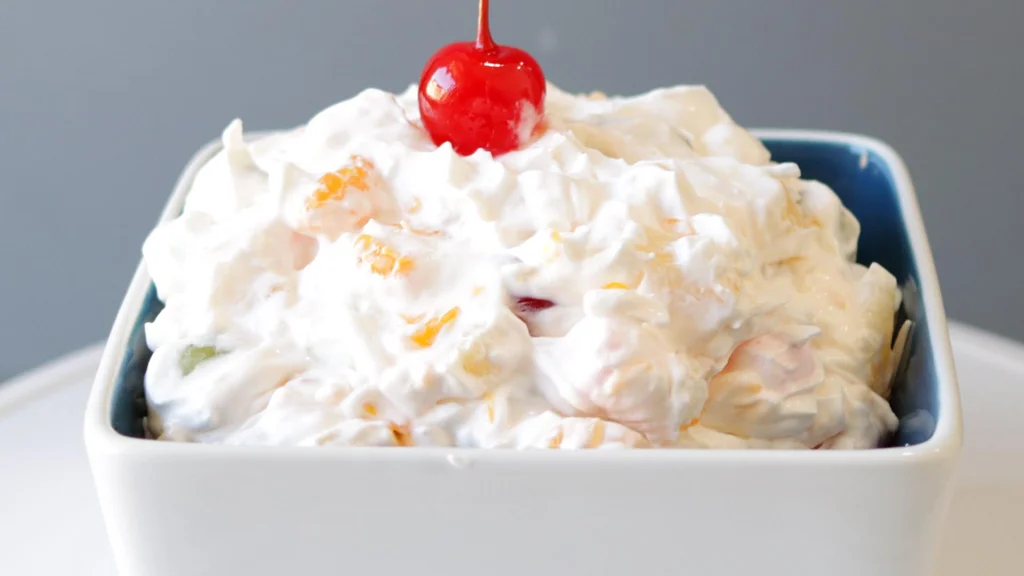 Scoop some into a bowl and top with a cherry to serve. Enjoy!
NOTE: I encourage you to try the recipe as is first. Then play with the recipe according to your tastes. Maybe you don't want as much whipped topping and sour cream and want the fruit to shine a little more, maybe reduce it in half.
How long does ambrosia fruit salad last?
This incredible fruit salad will last up to about 3 days if covered and kept in the fridge. While you can freeze it, I don't recommend freezing it. It just doesn't turn out very well after it thaws.
Here are other recipes you may like:
Strawberry Icebox Cake Only 3 Ingredients
Ambrosia Salad
This Ambrosia salad is my favorite fruit salad recipe. It is sweet, tangy, and oh so delicious. If you like fruit salad give this a try!
Ingredients
1

cup

of sour cream

8 oz or 226g or use something like plain yogurt or Greek yogurt.

2

cups

of whipped topping

8 oz or 226g

1

cup

of mandarin oranges

16 oz

1

cup

of green or red seedless grapes

8 oz or 150g

1

cup

of sweetened coconut flakes

95g

1 1/2

cups

of fruity mini marshmallows

90g

1 1/2

cups

of pineapple tidbits

20 oz or 567g

3/4

cup

of maraschino cherries

10 oz

1/4

cup

of chopped pecans

optional
Instructions
Prep the fruit by draining the ones that come in the cans. Save that juice! If the grapes are really large, you may want to slice them in half.

Remove the stems from most cherries, but keep some intact to top the salad when served.

Add the sour cream and whipped topping to a large bowl and mix.

Then add all the other ingredients, the mandarin oranges, grapes, sweetened coconut flakes, fruity marshmallows, pineapple tidbits, and maraschino cherries, and fold until well combined. Don't stir really hard.

Cover and chill in the fridge until ready to serve. Serve in a bowl with a cherry on top, if desired. Enjoy!
Video
How to Make Ambrosia Salad | Easy Fruit Salad Recipe
Notes
Note: The nutritional facts will vary depending on the ingredients you use. These are based on this specific recipe and the amounts of each ingredient.
Nutrition
Do you like the recipe? Please give it a rating and comment down below, I really appreciate it. Save the Pin to Pinterest! If you make it tag me on Instagram @inthekitchenwithmatt. Also, sign up for the newsletter so you won't miss out on any of my new posts and recipes.
Check out my other website 101 Creative Dates for fun date ideas. Food and dating go hand in hand!