Jump to Recipe
Growing up I remember going to the Wonder Bread/Hostess store with my mom and getting all sorts of goodies, one of which were the fruit pies. This apple hand pies recipe is a copycat of those beloved delicious pies.
These apple hand pies are the perfect treat or snack for kids or even adults. I still love them! And if you love making goodies at home and love apple pie, you have got to try these homemade apple hand pies. How can you now like a little folded over pie, covered in a yummy glaze?
They are so easy to make, with just a few ingredients. If I can do it, you can do it. Let's get baking!
Step 1: Gather the ingredients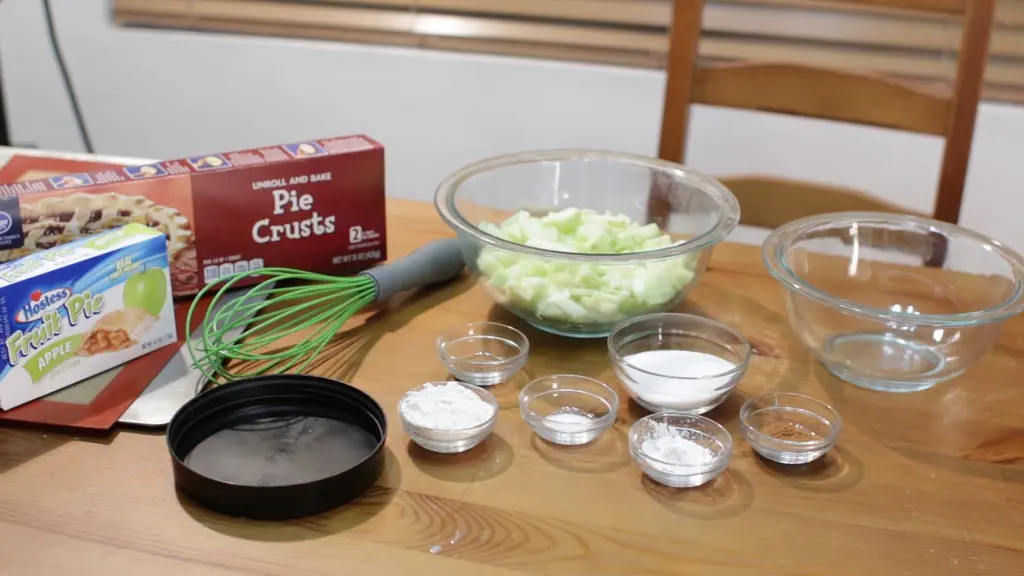 In order to make these delicious apple hand pies from scratch you need a handful of easy to find ingredients:
Pie crust – You can use store-bought pie crust or use this yummy homemade pie crust.
Apples – I generally use Granny Smith apples, but you can use any apples that you want.
Sugar
Cinnamon
Cornstarch
Salt
Flour – All purpose/plain flour
Nutmeg
Powdered sugar
Milk – You can also just use water or almond milk.
Tools
Step 2: How to make copy cat Hostess apple hand pies at home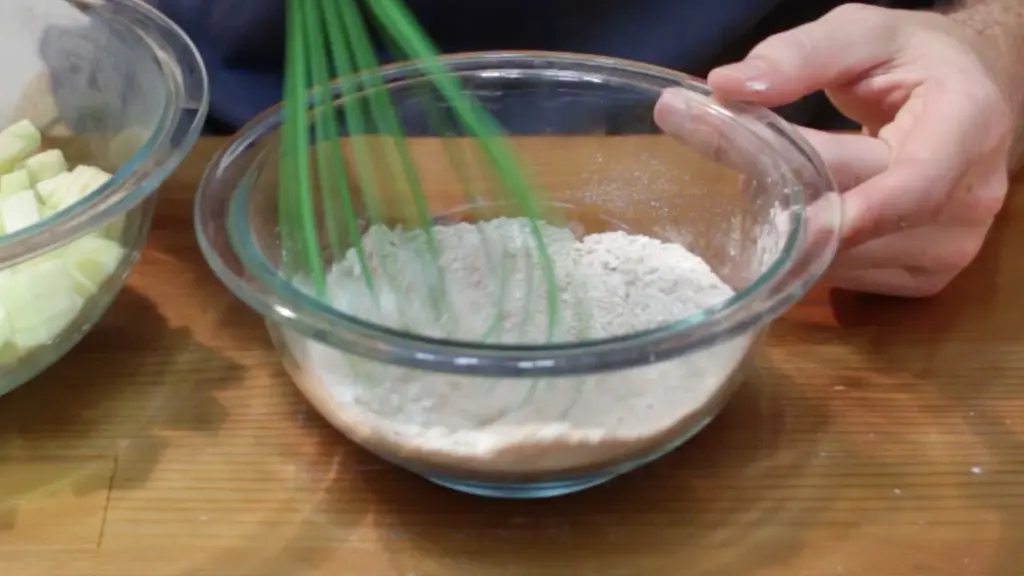 Begin by preheating the oven to 375 F/190 C.
In a medium bowl whisk together the flour, sugar, cinnamon, salt, nutmeg, and cornstarch.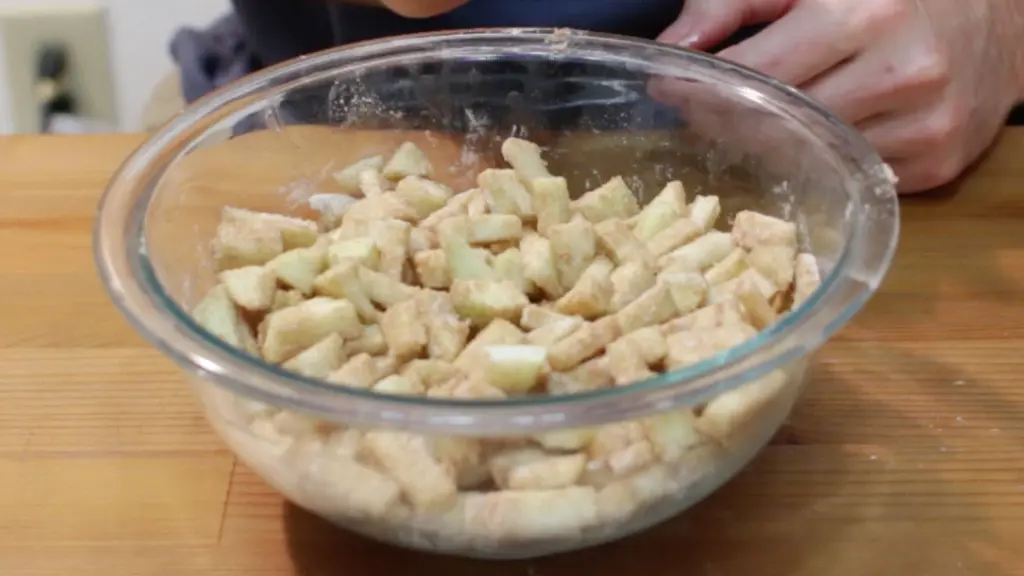 Now wash and dry your apples. I like to use Granny Smith because they are a nice tart apple and very commonly used in traditional apple pie recipes. But you can use whatever apples you like.
Peel and core the apples, then chop them up into little chunks. Add the bowl of dry ingredients to the bowl of apple chunks. Use a wooden spoon, tongs, or clean hands and mix the apples until evenly coated in the mixture.
Step 3: Prep the pie crust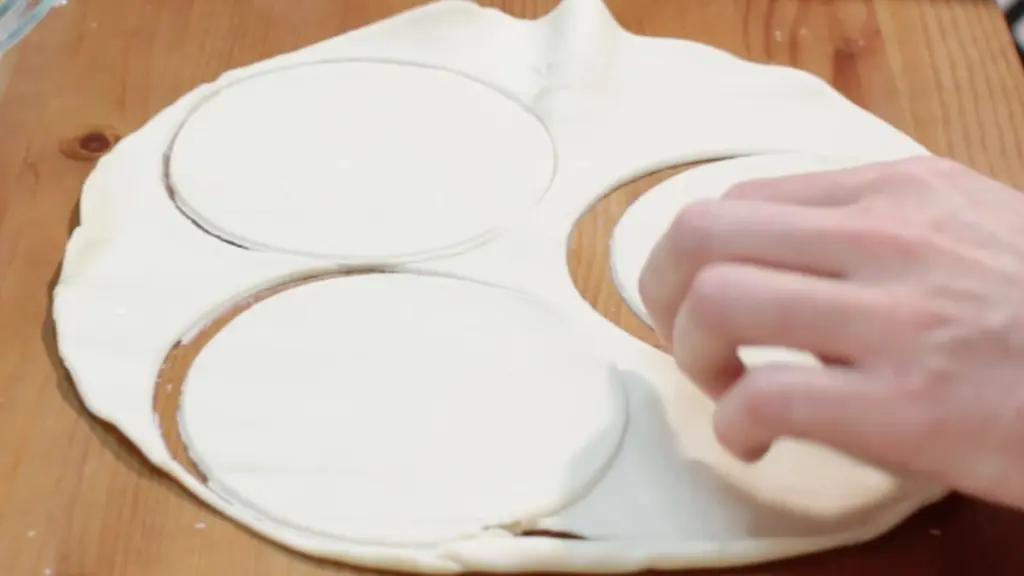 Use a ready-made pie crust or make this homemade pie crust, or your favorite pie crust. If you are making the pie crust from scratch, make that first, and then chill the dough while you are prepping the filling.
Roll out the pie crust until it is about an 8th of an inch thick. You may need to dust the work surface with flour first.
Now take a 5-inch cookie cutter or lid and cut out some circles. Most likely you will only get about 3 of them, then you can bundle up the pie crust dough and roll it out and get another one. So about 4 per 9-inch pie crust.
If you like you and just cut out 5 by 5 inch squares as well it doesn't have to be a circle.
Step 4: Bake the homemade apple hand pies
Take about two heaping teaspoons of the apple pie filling and place it in the middle of one of the round pieces of pie crust dough.
Fold it over and then use a fork to seal the seams.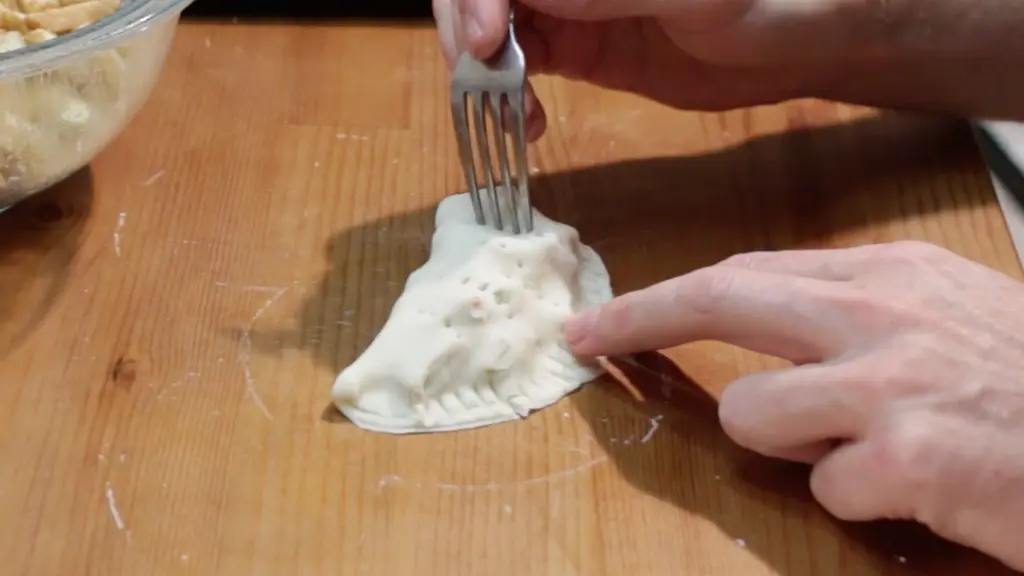 Make sure to poke holes in the tops of the crusts. This will allow steam to be released while baking.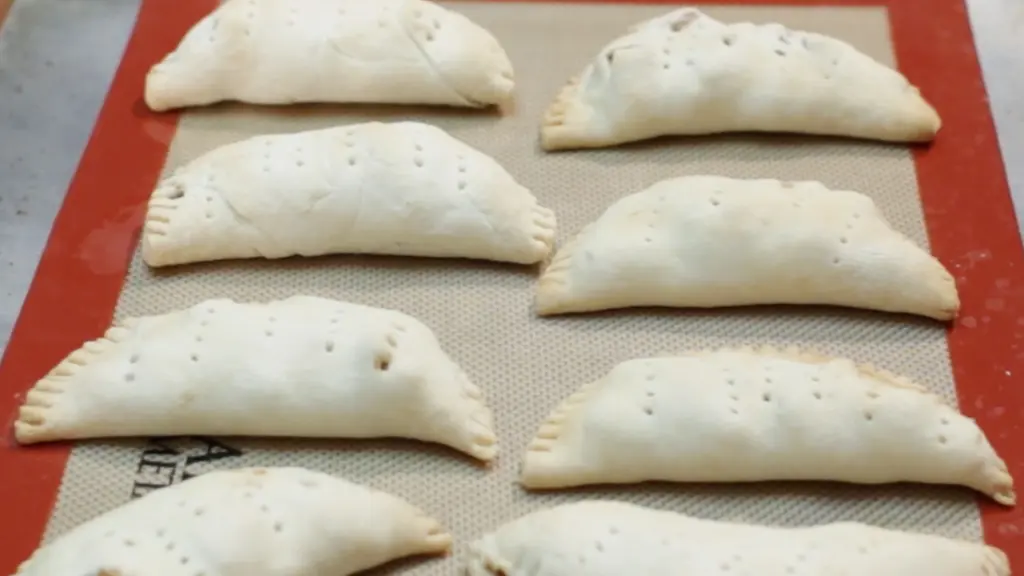 Place the unbaked apple hand pies on a sheet pan or cookie sheet line with a silicone baking mat or parchment paper.
Bake them in the oven, middle rack position, for 20 to 25 minutes until they are lightly golden brown. Remove them from the oven and allow them to cool for 15 to 20 minutes.
Step 5: Make the sugar glaze
Once the baked apple hand pies cool you can make the glaze. The glaze is optional, but I always add it. Let's face it, I love sugar.
In a small bowl, add the powdered sugar, then start adding the milk or water. Stir the mixture until it is nice and runny, add more water or milk as needed to get the consistency you want. I like it to be really thin, perfect for dipping.
Step 6: Finish the homemade apple hand pies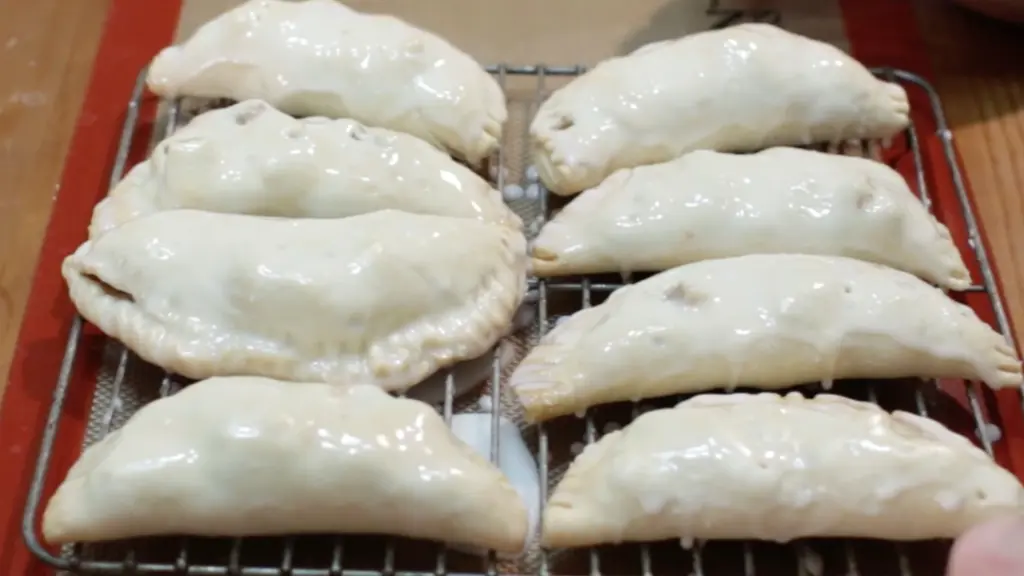 Now just fully dip the pies in the sugar glaze and then place them on a wire rack to dry. It is a good idea to have the rack on a sheet pan, silicone baking mat, or piece of parchment paper to catch the excess dripping glaze.
If you don't want to dip them in the glaze you can just baste it on as well. Totally up to you. Allow them to dry for 10 to 15 minutes and then they will be ready to eat.
And there you go, copy cat homemade Hostess fruit pies, in this case apple hand pies. Enjoy!
How long do apple hand pies last?
The pies will last about 3 days stored in an airtight container or ziplock bag at room temperature or about a week in the fridge. You can also freeze them for a few months.
Can I deep-fry the apple hand pies?
Yes! Fried pies are awesome. Take a large pot and fill it 1 and 1/2 inches deep with oil. Use canola, vegetable, lard, shortening, peanut, coconut, etc. Turn the heat on the burner to medium to medium-high heat and bring the oil to 350 F.
Gently dip the pies in the oil and let them cook for 4 to 5 minutes until evenly browned on each side. Flip them over as necessary in the oil so each side is cooked. Then remove with tongs or a spider ladle and place on a wire rack to cool and dry. Then dip them in the glaze.
Here are a few other pie recipes you may like:
Apple Hand Pies
If you love apple pie, try these homemade apple hand pies! They are the perfect serving size and taste so yummy covered in the glaze. Kind of like a copycat Hostess Fruit pie! And they are super easy to make.
Equipment
Whisk

Fork

Wire rack

silicon mat or parchment paper

Cookie sheet or sheet pan

5 inch round cookie cutter or plastic lid

Basting brush
Ingredients
2

cups

of diced peeled apples

I use Granny Smith, about 2 apples (235g)

1/4

cup

of granulated sugar

50g

1

tsp.

of cinnamon

5g

1

tsp.

of cornstarch

5g

1/4

tsp.

of salt

1.5g

2

tbsp.

of all-purpose flour

18g

1/4

tsp.

of nutmeg

1g

1

package of pie crusts

or make homemade pie crust see below for an instructable on homemade pie crust

1 1/4

cup

of powdered sugar

155g

2

Tbsp.

of milk or water

22 ml
Instructions
First preheat the oven to 375 degrees F. or 190 degrees C. Then combine your dry ingredients in a bowl – Granulated sugar, cinnamon, flour, salt, nutmeg, and cornstarch. Then using a whisk or a fork blend them all together.

Take 2 granny smith apples or any tart apple and peel and dice them up, then add the dry ingredient mixture to the apples. Make sure to stir them all together, I just use my hands, but you could use a spoon or something else if you like.

Unroll a store-bought pie crust or roll out homemade pie crust dough. If you are making the crust from scratch, do that as the first step. Use a large round cookie cutter and cut out circles from the pie crust dough, or cut them into 5-inch squares. Honestly, you can make them whatever size you want.

Take the pie filling and place about 2 heaping tablespoons of it on the center of the crust. Then fold it over and seal it with a fork.

Next poke holes in the top with your fork, this will allow steam to be released during the baking process.

Place the unbaked hand pies on a baking sheet lined with a silicone mat or parchment paper.

Bake them in the oven for 20 to 25 minutes until they are nice and light golden brown. Then let them cool for 10 to 15 minutes or longer.

Once the pies cool, make the glaze. Take your milk or water and add about a half of it first to the powdered sugar then stir, then add enough to get the consistency you want, I like it really running, perfect for dipping.

Dip the pies in the glaze and place them on a wire rack to dry. You may want a piece of parchment paper or something under the pies. It will take 5 to 10 minutes to dry. All done, enjoy!
Video
How to Make Apple Pie - Easy Apple Hand Pies Recipe
Notes
Note: You can also deep fry these if you wanted. Heat a pot with about 1 and 1/2 inches deep of canola, vegetable, shortening, lard, etc. until it is 350 F. Gently place a few of the pies in the hot oil and let them cook, flip them over as necessary until they are evenly golden brown. It will take 4 to 5 minutes total. Remove with tongs or a spider strainer and cool, then dip in the glaze.
Nutrition
Do you like this recipe? Pin it if you like. Please give it a rating and comment down below, I really appreciate it. If you make it tag me on Instagram @inthekitchenwithmatt. Also, sign up for the newsletter so you won't miss out on any of my new posts and recipes.