Jump to Recipe
One of my favorite showstopper desserts to me are these apple roses pastries. They taste amazing and are super cool looking.
I love eating pastries. Ever since I was a little kid I couldn't get enough of them. These awesome apple roses are the perfect pastry to serve at parties or if you just want to wow your friends and family. The best part is, they are incredibly easy to make. If I can do it, you can do it. Let's get baking!
Step 1: Gather the ingredients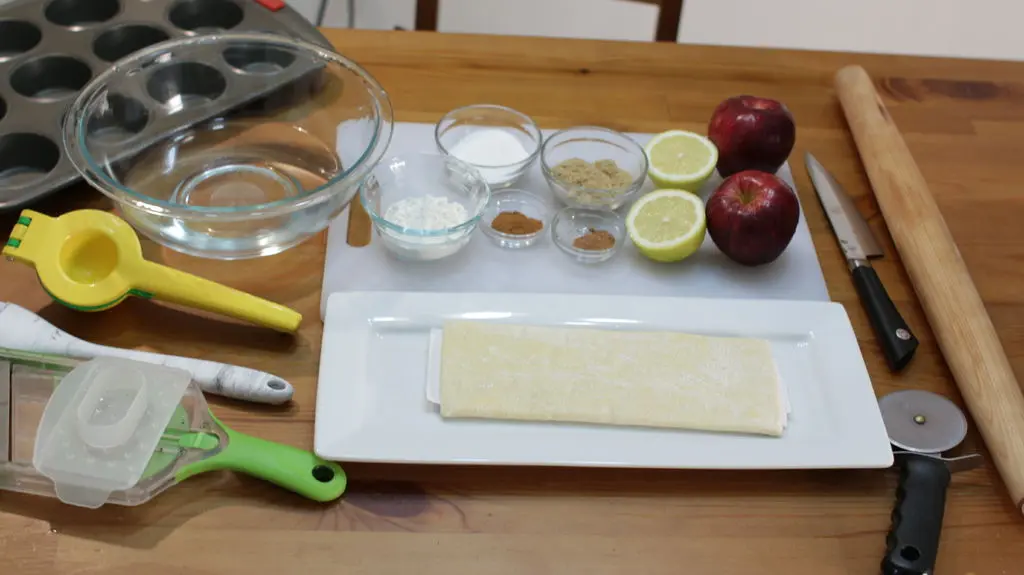 In order to make these elegant apple roses you will need the following ingredients:
Water – I like to use filtered water since my tap water tastes terrible.
Lemon – The lemon is used to prevent the apple slices from browning.
Brown Sugar – This is one of the sweet elements for these pastries. It can be substituted with white granulated sugar if desired.
Granulated Sugar – Like the brown sugar this will add sweetness to the pastry.
Cinnamon – The spice of life!
Nutmeg – The nutmeg will give these pastries some depth and complexity of flavor.
Apples – Depending on what color you want your roses you can pick a variety of apples. I usually pick Red Delicious, Pink Lady, or Gala apples. For a green rose, the Granny Smith apples would be perfect.
Puff Pastry – I can use frozen puff pastry from the store or you can make homemade puff pastry too if you like. Homemade tastes better in my opinion.
Jelly – The jelly will act as a glue for the apples. Since they are apple roses I like to use apple jelly.
Powdered sugar – Also known as confectioners sugar or icing sugar, is used to sprinkle on top of the apple roses.
Step 2: How to make apple roses pastry
Begin by preheating the oven to 375 F/176 C. Then take a large bowl and add the water to it. Squeeze the juice from one lemon into the water. You can just use your hands or use a handy Citrus juicer.
Next, using a knife or mandolin slicer slice the apples in half and really thin. The apple slices should be no more than 1/8th of an inch thick. Place the apple slices in the lemon water, which will help to keep them from browning.
Step 3: Heat up those apple slices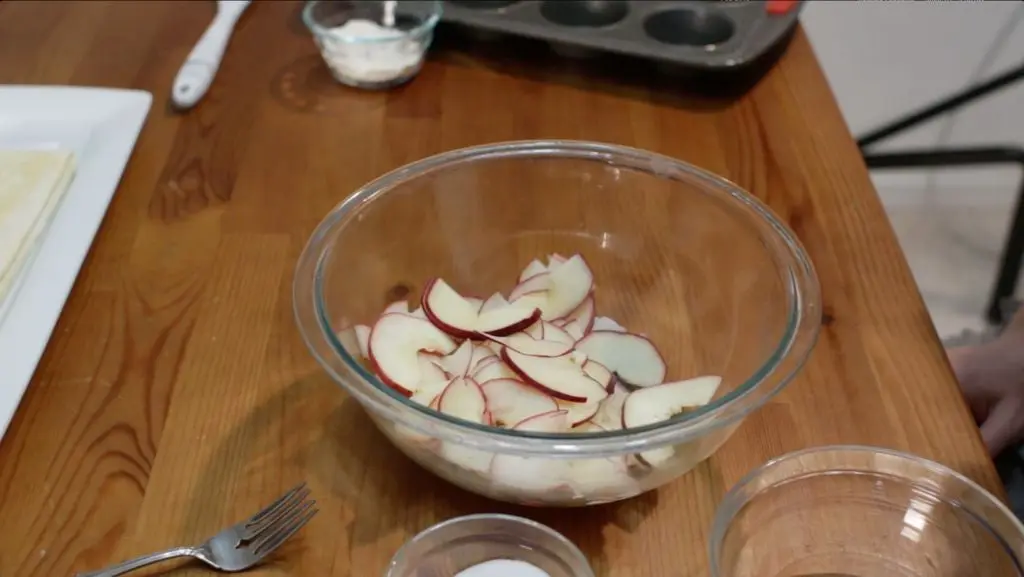 Next, place the bowl of water and apple slices in the microwave. Heat them on high for about 3 minutes. The hot water will make the apples more pliable and easier to bend. If you don't have a microwave just heat them up in a pot on the stovetop until you see little bubbles form. It doesn't have to boil. Afterward, drain all the liquid from the apples.
Step 4: Sugar and Spice makes these apple slices nice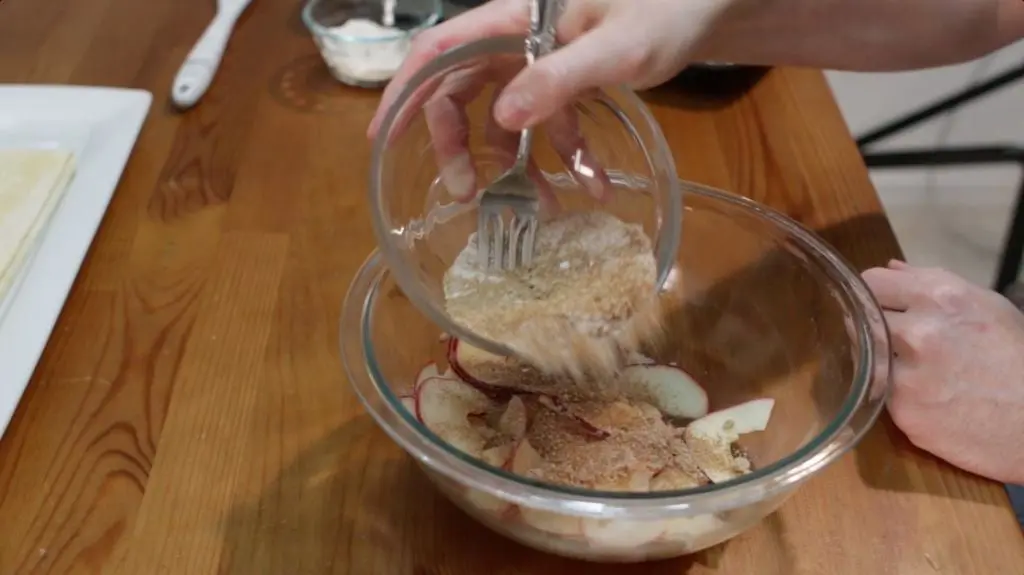 In a small bowl mix together the brown and white sugar along with the nutmeg and cinnamon. Use a whisk or small fork. Then add about half of the sugar mixture to the drained apple slices. Use clean hands and mix them around until they are nice and coated.
Step 5: Apple Roses puff pastry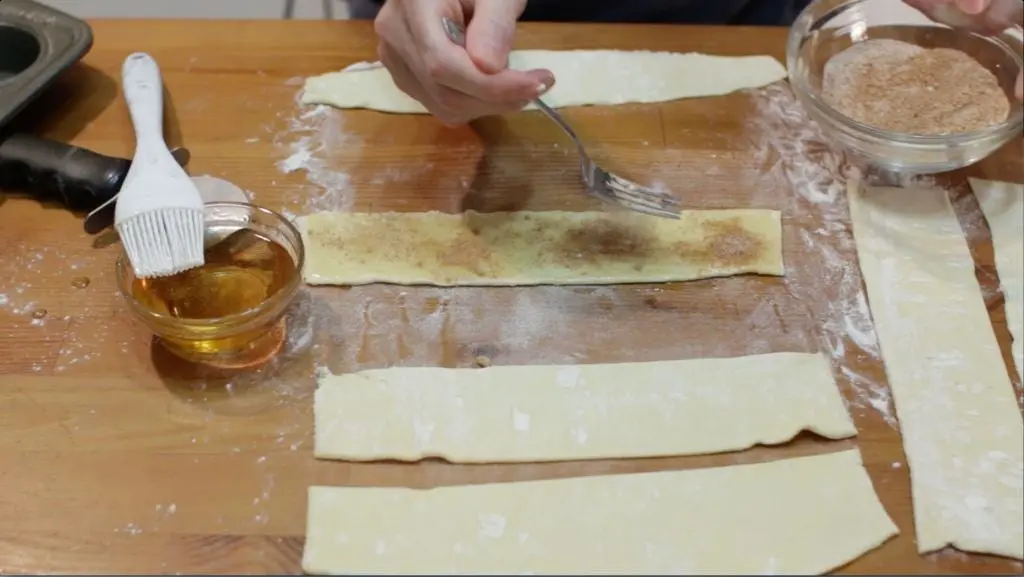 On a floured surface roll out the puff pastry sheet. You should be able to get 6 long strips from it. You can even use a pie crust if you like, but I definitely prefer the puff pastry.
Brush any extra flour that might be on the tops of the pastry and then slice them with a knife or pizza roller to get the strips. You want the strips roughly 2 inches wide.
Now melt the jelly in the microwave, it will only take 15 to 20 seconds. Baste the jelly on the strip of puff pastry and then sprinkle on the cinnamon and sugar.
Step 6: Roll up those apple roses
Place several slices of apple on the top half of the puff pastry strip.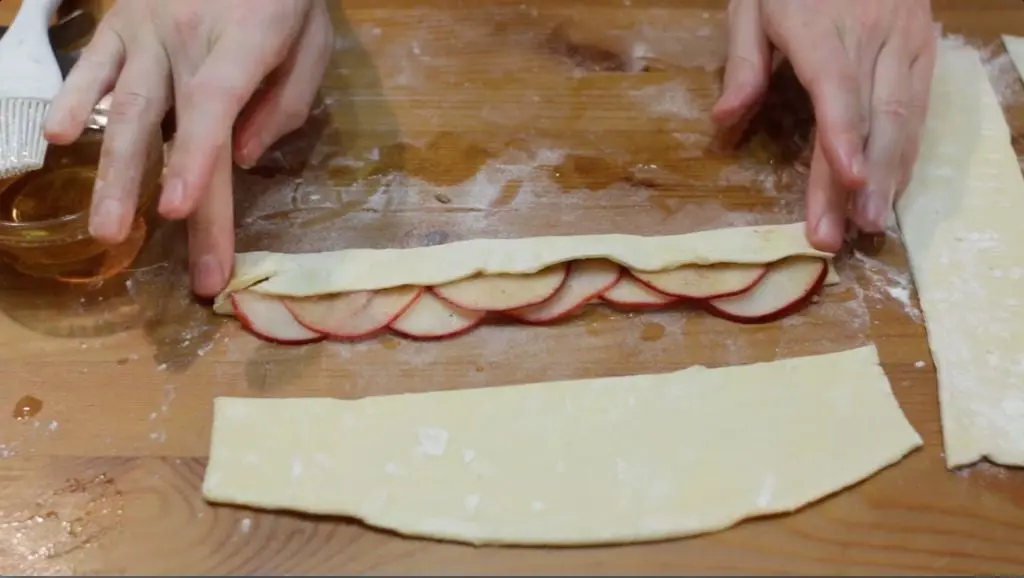 Then you can fold the bottom half over the apple slices.
Starting at one end tightly roll up the puff pastry and apples forming the unbaked apple rose. Pretty easy right?
Step 7: Bake those apple rose pastries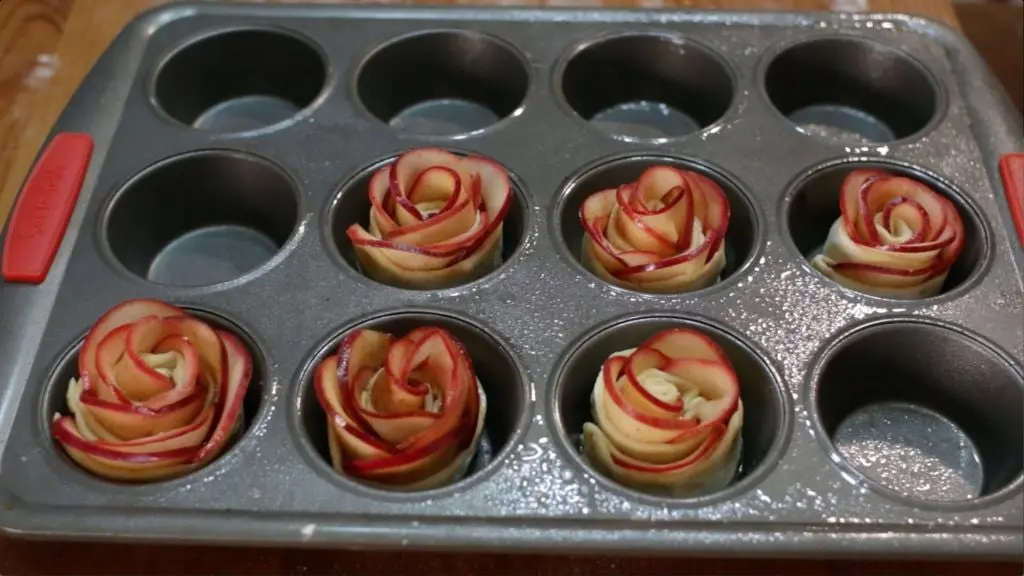 Place the apple rose pastries in a muffin pan that has been sprayed with kitchen spray. Next, place the pan on the middle rack and bake them for 30 to 40 minutes. Check them after 30 minutes and if they are getting too brown you can place aluminum foil over the top of the pan.
They will be nice and golden brown when they are done. Remove them from the oven and allow them to cool for 2 to 3 minutes. Don't leave them in the pan for too long because then they will stick to the pan.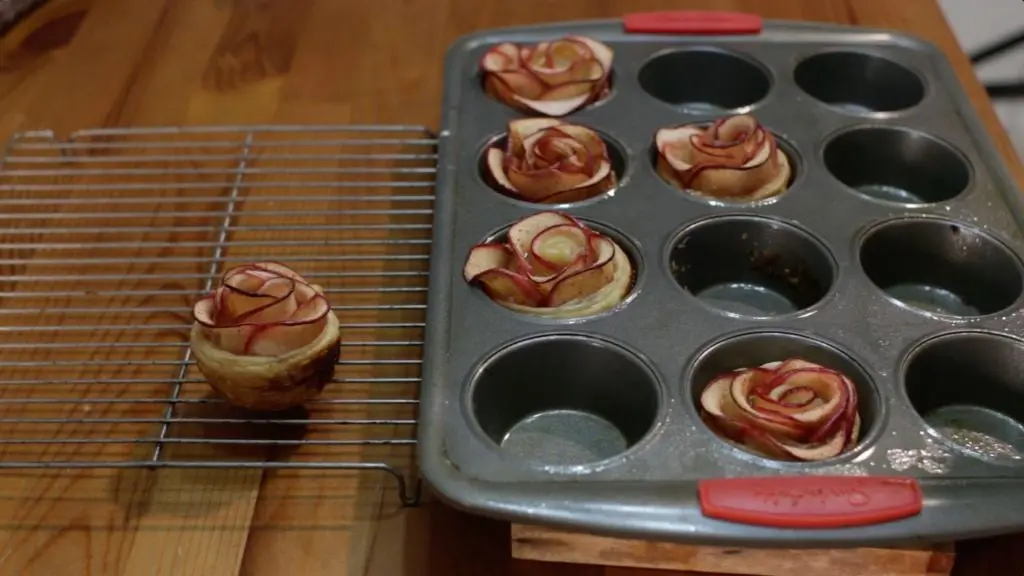 After a few minutes run a butter knife or small cake spatula around the apple roses to loosen them from the muffin pan. Place them on a wire rack to cool completely.
Step 8: Powdered sugar topping on the apple roses
Dust the top of the apple rose pastries with powdered sugar and serve. You can also drizzle a caramel sauce on top if you like, add whipped cream, a small scoop of vanilla ice cream, whatever you like. Enjoy!
How to store the apple roses
You can place these apple rose pastries in an airtight container and store them in the fridge for a few days. They are definitely better if served the same day.
Apple Roses
These amazing apple roses pastries are sure to impress your friends and family. Not only do they look cool but they taste amazing and are super easy to make!
Equipment
Citrus juicer (optional)

Knife or mandolin slicer

Apple corer

Bowls

fork or whisk

spoon

Basting brush

Muffin Pan (greased or sprayed with kitchen spray)
Ingredients
2

cups

of water

1

medium to large lemon

halved

2

Tbsp

of brown sugar

30g

2

Tbsp

of white granulated sugar

30g

1/2

tsp.

of ground cinnamon

3g

1/2

tsp.

of ground nutmeg

3g

2

red apples

red delicious, Pink Lady, gala, etc.

1

Frozen puff pastry dough or pie crust dough

or use homemade

3 to 4

Tbsp.

of apple jelly

or your favorite jelly or jam (45 to 60g)

Powdered sugar for dusting
Instructions
Preheat the oven to 375 F/176 C. Add the water to a large bowl and squeeze the juice from the lemon into the water.

Thinly slice the apples with a knife or mandolin slicer. Place the thin apple slices in the bowl. Heat the bowl in the microwave on high for 3 minutes. This will soften the apple slices and make them more pliable. Or you can heat them up on a stovetop in a pot. Drain the water.

In a small bowl combine the sugars, cinnamon, and nutmeg. Then pour half of it over the bowl of sliced apples, save the other half for later. Using clean hands mix everything together or use a spatula. Just make sure to not tear the apple slices.

Unfold a puff pastry sheet and roll it out a bit with a rolling pin until it is about 12 inches wide. Use a knife or pizza roller to cut the puff pastry into 6 2-inch wide strips.

Melt some jelly in a small bowl in the microwave for a few seconds. Then baste the melted jelly onto the strips of puff pastry. Sprinkle on the reserved cinnamon and sugar mixture, as much as you like.

Place apple slices overlapping each other on the top half of the puff pastry strip. Then fold the bottom half up over the apple slices. Then start at one end and tightly roll them up creating the apple roses.

Place the unbaked apple roses in a muffin pan that has been sprayed with kitchen spray. Bake it in the oven for 30 to 40 minutes until golden brown.

After they are done baking, allow them to cool for just a few minutes before removing them from the pan. If you let them cool too long in the pan they may stick to the pan, even though you sprayed it. Run a thin butter knife or cake spatula around the edges of the pan. Place them on a wire rack to cool completely.

Dust the tops with powdered sugar and serve. Enjoy!
Video
How to Make Apple Roses | Easy Apple Rose Pastry Recipe
Notes
Nutrition
Do you like this recipe? Please give it a rating and comment down below, I really appreciate it. If you make it tag me on Instagram @inthekitchenwithmatt. Also, sign up for the newsletter so you won't miss out on any of my new posts and recipes.
Here are a few more recipes you may like: