Jump to Recipe
Thanksgiving and Christmas dinner usually has a big bowl of creamy mashed potatoes on the table. And I can see why it is a great side dish and a crowd-pleaser. But what do you do with the leftovers? Well, you can reheat it the next day, or make this bacon and cheese mashed potato balls recipe!
It is always fun taking leftovers and creating something completely different from them. You kind of feel like one of the chefs on the Food Network show, Chopped, haha.
And one thing I love to do with leftover mashed potatoes is make these easy bacon and cheese mashed potato balls. I mean, bacon and cheese, what is not to like about that? They are incredibly simple to make and a great way to repurpose those cold leftovers. If I can do it, you can do it. Let's get started!
Step 1: Gather the ingredients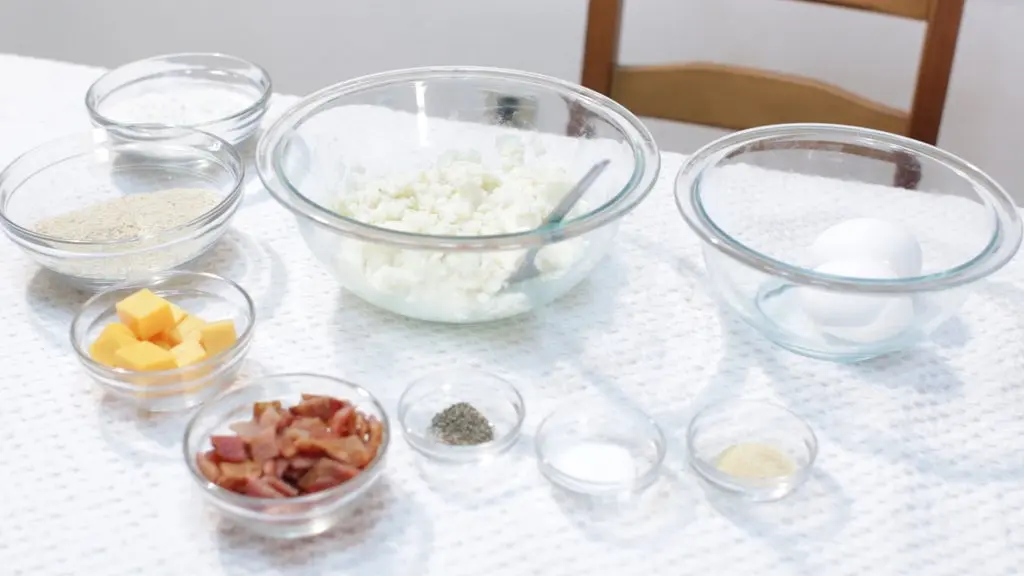 In order to make these amazing bacon and cheese mashed potato balls, you need just a handful of easy to find ingredients:
Mashed potatoes – Of course, you can't make mashed potato balls without mashed potatoes. Make sure to check out my creamy mashed potatoes recipe.
Bacon – Oh yeah, gotta love bacon. But if you don't love bacon, you can use ham, or something else, or just leave that meat out.
Cheese – Yes, I love cheese. I normally use mild cheddar cheese, but you can use whatever cheese that you like.
Eggs
Breadcrumbs – You can use any flavor of traditional breadcrumbs or panko breadcrumbs.
Flour
Salt
Garlic powder
Ground black pepper
Chopped Green onion – Optional
Oil for frying – Vegetable, canola, coconut, avocado, etc.
Tools
Medium bowls
Fork
Knife
Skillet to cook the bacon
Deep skillet or pot to fry the mashed potato balls
Candy thermometer to check the oil temperature
Tongs or spider ladle
Step 2: How to make bacon and cheese mashed potato balls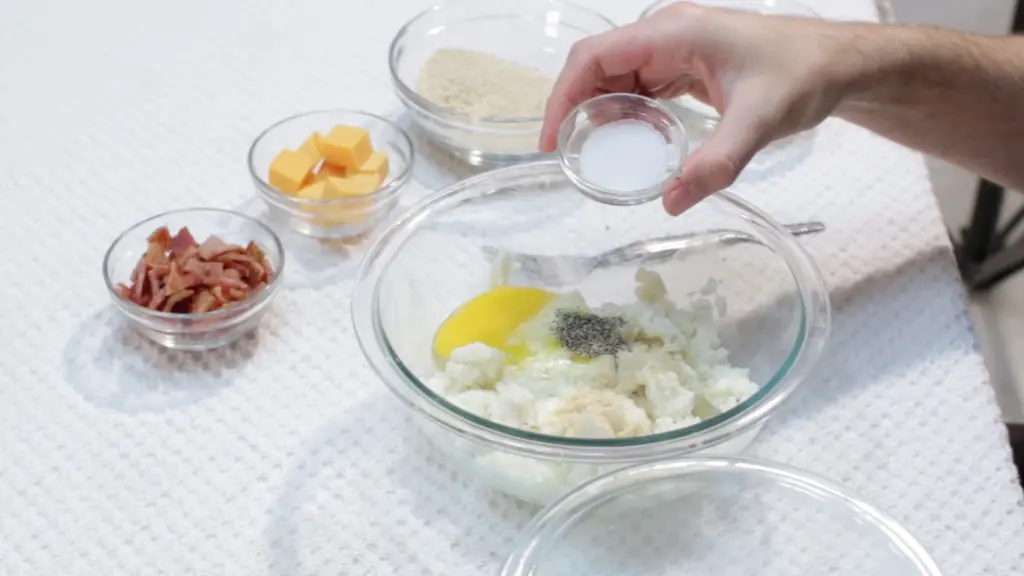 If you are going to use fresh bacon, cook that first. And cut up the cheese into small cubes.
Take a medium to large pot and pour enough oil in it so it is about an inch to an inch and a half deep. Set the heat to medium and allow it to start heating up. You will want the temperature in between 325 F and 350 F (162 to 176 C.)
Add one egg to the bowl of mashed potatoes. Then add in the pepper, garlic powder, and salt. If your leftover mashed potatoes are already heavily flavored with salt and pepper, you can leave that out.
Mix those ingredients together until well combined.
In a separate small bowl, add the other egg, and whisk to create the egg wash. You can add a little bit of water or milk to thin it out a bit, if needed.
Chop up the bacon into little pieces and add it to the mashed potato mixture. You can make as much bacon as you like to go inside, or use ham pieces instead. Or you can just leave it out as well. Add chopped green onion too if you like.
With clean hands take a small handful of bacon mashed potato mixture and then add a cube piece of cheese in the center. Form it into a ball around the cheese. If you need to add a bit more mashed potato mixture, then do so.
Dip the ball in flour and roll it around. Then place it in the egg wash and make sure it gets completely covered. Allow any excess to drain off, then into the bread crumbs. You can leave them like that, or double coat, by going back into the egg wash and then back into the bread crumbs.
Placed the rolled and dipped bacon and cheese mashed potato balls onto a sheet pan lined with parchment paper or a silicone baking mat.
Step 3: Fry the bacon and cheese mashed potato balls
Now it is time to fry these up! Once the oil gets to temperature, add a few mashed potato balls to the pot. Don't over crowd them. Turn them every 20 seconds or so, so they get evenly fried.
Fry them until they get a nice golden brown to dark brown color. Once done, place on a paper towel-lined plate and do more of them, until they are all finished.
TIP: If the oil is too hot, they will brown too quickly and not give it time to melt the cheese in the middle.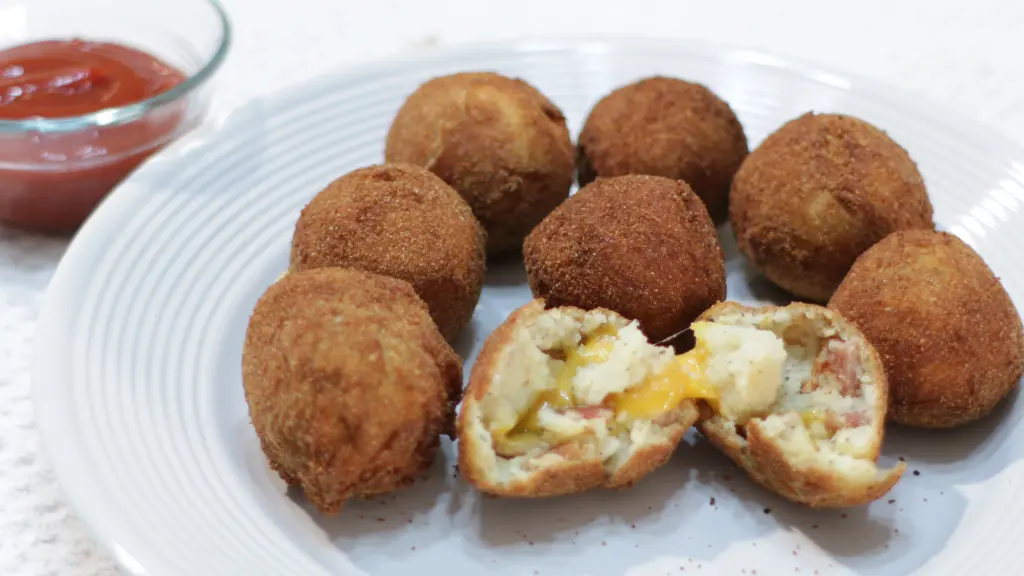 Now it is time to serve them up. I like to dip mine in ketchup, haha. But you can use ranch dressing, and other dips too if you like. Enjoy!
How long do the mashed potato balls last?
They are best eaten fresh. But they can be stored for a few days in an airtight container in the fridge. Then reheat them in the microwave or better yet, in the oven at 350 F until warm.
Here are some other recipes you might like:
Bacon and Cheese Mashed Potato Balls
These bacon and cheese mashed potato balls are amazing. They are a great way to use up those leftover cold mashed potatoes.
Equipment
Bowls

Skillet

pot

Fork

Paper Towel

Sheet pan with parchment paper or a silicone mat

Tongs or spider ladle
Ingredients
2 to 3

cups

of mashed potatoes

500 to 750g

3 to 4

strips of bacon or about 1/2 cup

100g

1/2

cup

or so of cubed cheddar cheese

about a half-inch cube (63g)

2

eggs

1

cup

of breadcrumbs

any flavor, I use traditional (120g)

1/2

cup

all-purpose flour

60g

1/2

tsp.

of salt

2g

1/2

tsp.

of garlic powder

2g

1/4

tsp.

of ground pepper

1g

other potential ingredients, green onion, white onion, etc.

Oil for frying

Canola, Vegetable, Coconut, Peanut, Avocado, Shortening
Instructions
Cut the cheese into cubes. Cook the bacon until done and then chop it into little pieces.

Add a pot or deep skillet to the stovetop. Pour enough oil so it is between one and one and a half inches deep. Set the heat to medium. The temp needs to get to 325 to 350 F (162 to 176 C)

Add one egg, the black pepper, garlic powder, and salt to the mashed potatoes and mix until well combined. If the mashed potatoes are already heavily seasoned, you can leave the seasonings out.

Add the other egg to a small bowl and whisk. Add a tablespoon of milk or water if needed to thin it out. This will be the egg wash.

Now mix in the bacon bits with the mashed potato mixture. Using clean hands grab a small amount of the mashed potato mixture and form it around a cheese cube. Then shape it into a ball. It will be about the size of a golf ball or a little larger.

Next, roll the balls in a small bowl of flour. Then in the bowl of egg wash, then in the bowl of breadcrumbs. If you want an extra-thick shell, repeat by dipping in the egg wash and then the breadcrumbs again. Place them on a sheet pan lined with parchment paper or a silicone mat, until the rest are done.

Once the oil comes to temp, add a few of the balls to the oil, don't overcrowd them. Roll them every 20 seconds or so to make sure they are evenly cooked. Fry until they are a nice dark golden brown. Remove with tongs or a spider ladle and place on a plate lined with a paper towel.

Serve them warm with ketchup, ranch, or just eat them plain. They make a nice breakfast, or side dish. Enjoy!
Video
How to Make Mashed Potato Bacon and Cheese Balls
Notes
NOTE: The 351 calories is for 2 of the mashed potato balls. Each ball has roughly 150 calories.
Nutrition
Do you like this recipe? Share and Pin it! Please give it a rating and comment down below, I really appreciate it. If you make it tag me on Instagram @inthekitchenwithmatt. Also, sign up for the newsletter so you won't miss out on any of my new posts and recipes.