Jump to Recipe
There aren't many things I love more than bacon wrapped steak. Bacon and steak? Yes please! This recipe for bacon wrapped steak is super flavorful and just melts in your mouth.
One thing I love about living here in Arizona is that it is grilling season pretty much all year round, well except the couple of months when it is hotter than hades outside. Even then, you can drive a few hours to the mountains and go camping or stay in a cabin.
And one thing I love to do outside is have a barbecue. And when it comes to my barbecues, they just aren't complete without yummy easy to make bacon wrapped steak. If I can do it, you can do it. Let's get grilling!
Step 1: Gather the ingredients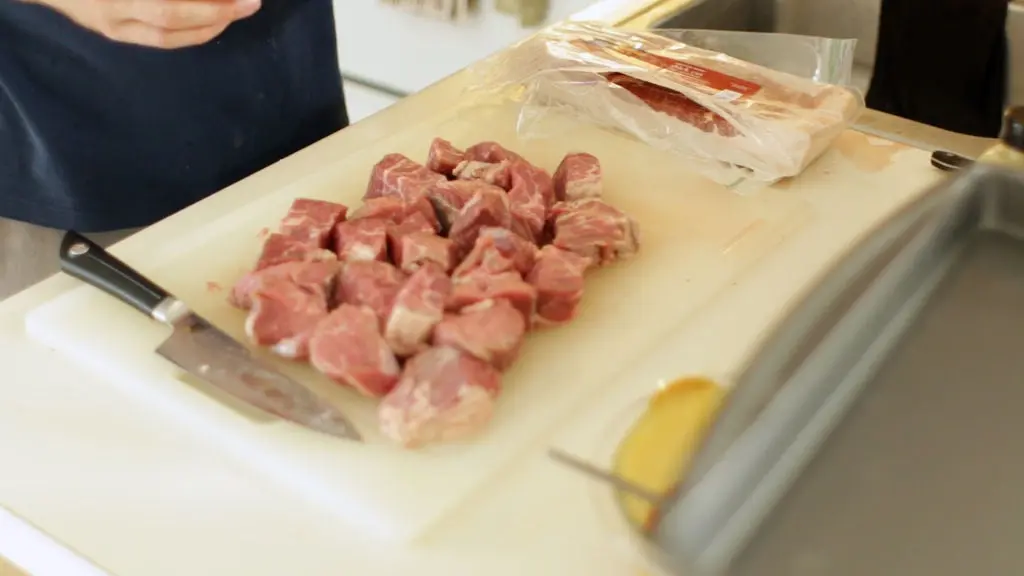 In order to make bacon wrapped steak you need just a few easy to find ingredients:
Steak – First you need a good cut of beef. I love to use Tri-Tip because it has great marbling of fat that lends to the flavor. Plus it grills very well and pairs perfectly with the bacon. You can use your favorite cut of beef that you like to grill, of course.
Bacon – I LOVE bacon. My favorite kind of bacon to use is this wright brand thick-cut applewood smoked bacon. Although you really can't go wrong with any choice of bacon. This brand is easy to find at my supermarket and places like Winco and Walmart.
Salt – It is always a good idea to season the beef with salt, although the bacon will add salt as well.
Pepper – Salt's best friend is pepper, make sure to add some!
Garlic powder – One of my favorite seasonings.
Oil – Although the bacon and the meat have fat in them, I still like to use a bit of olive or vegetable oil on the steak.
Tools
Metal Skewers or bamboo skewers
Knife
Tongs
Grill
Briquets or wood, or gas, etc.
Step 2: How to make bacon wrapped steak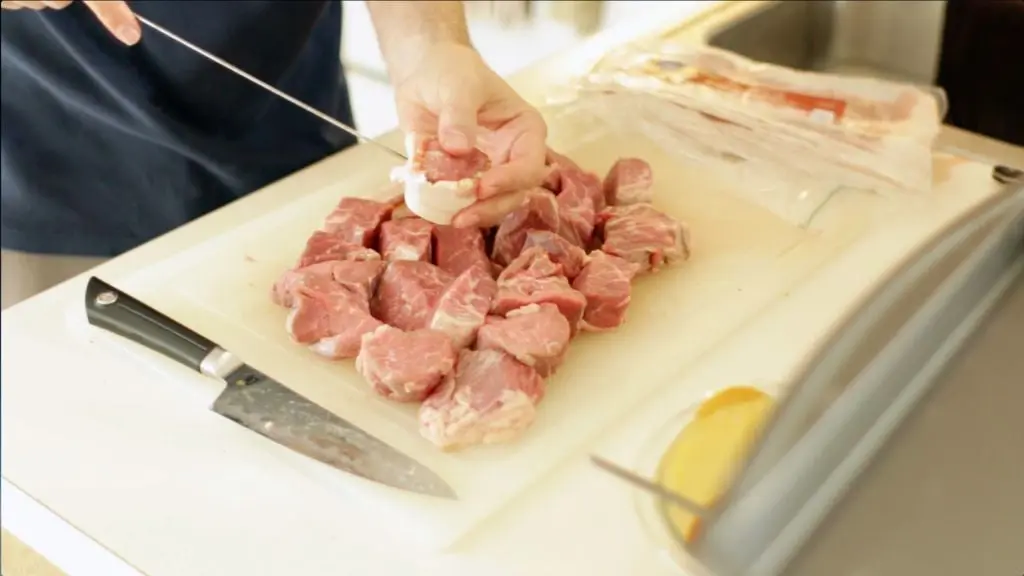 Begin by getting the grill started, whether that is prepping and lighting the charcoal, or turning the gas on and lighting it. Next, wash your hands.
Take your cut of beef or steak and cut it into large chunks about 1 inch to 1 and 1/2 inches in size. Now season the steak with oil, salt, pepper, and garlic powder.
I will admit, sometimes I leave the seasoning off because the bacon adds a ton of flavor, but you can never go wrong with seasoning the meat first. So I like to do it most of the time.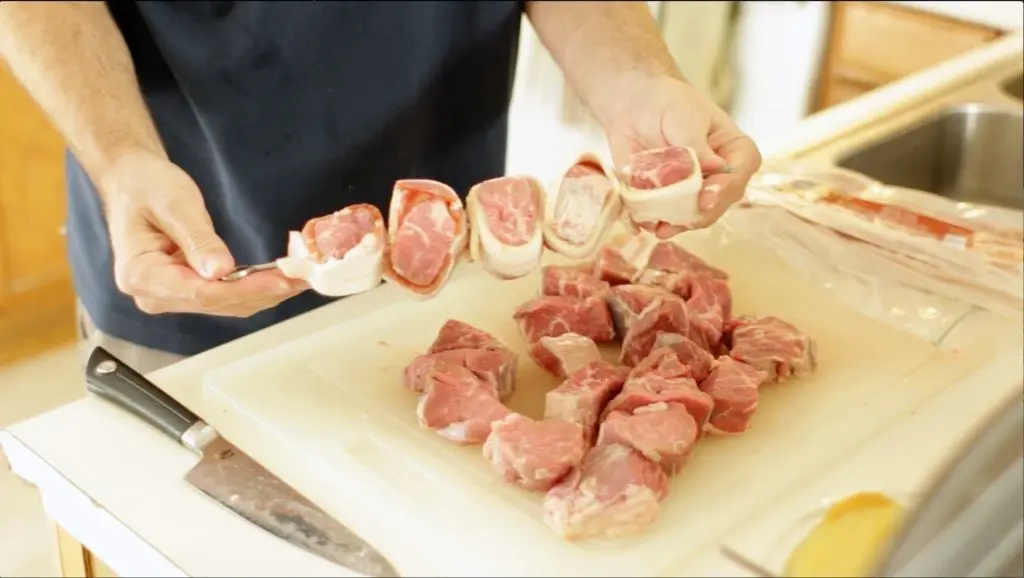 Cut each strip of bacon in half and then wrap it around a chunk of steak. Take the metal skewer and skewer the bacon side of the meat all the way through. This will hold the bacon in place. You can use other types of skewers as well.
You should be able to fit 5 or 6 chunks of bacon wrapped steak on one standard metal skewer.
Step 3: Grill those skewers of steak and bacon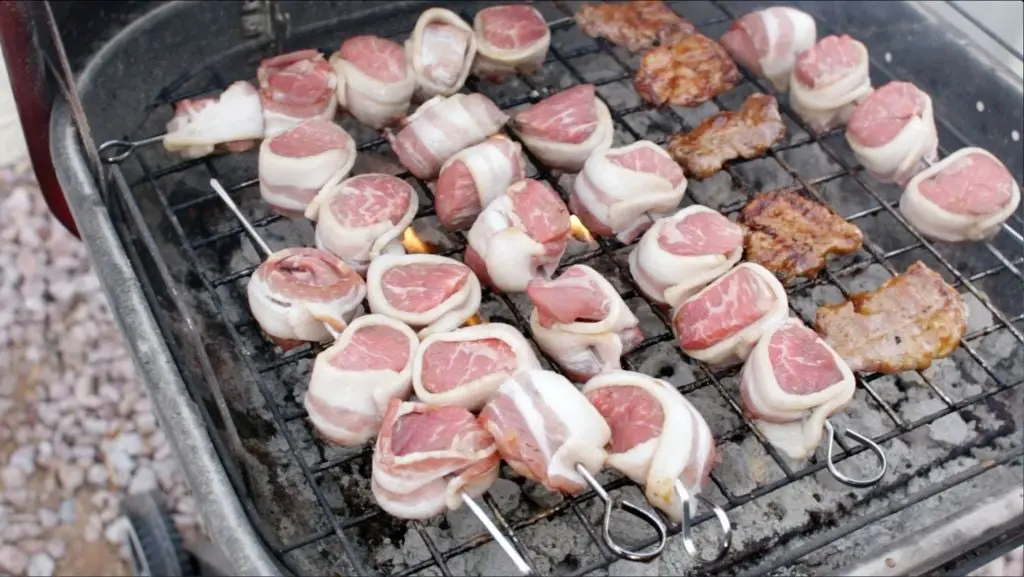 Make sure your grill is around medium heat (350F/176C). If it is super hot, raise it up away from the coals. It if isn't hot enough lower the rack closer to the coals.
One way to tell is you place your hand about an inch away from the top of the grill, you should only be able to hold your hand there for about 5 seconds before it is too hot.
If the grill is too hot bacon juices for make it flare up and burn the bacon and the steak. If that starts to happen just close the lid to the grill for a moment.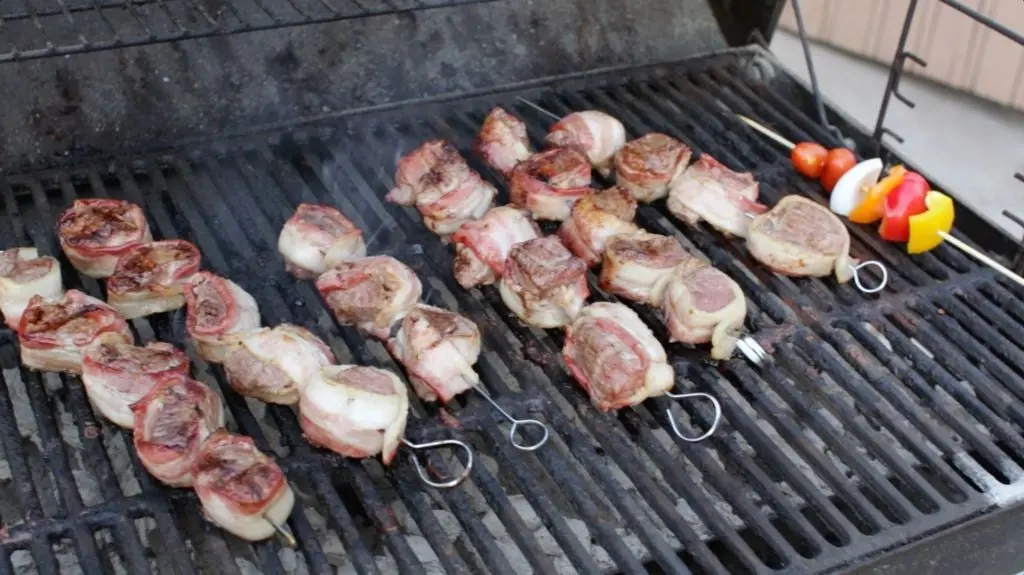 Grill the bacon wrapped steak for 3 to 4 minutes per side, so for a total of 12 to 16 minutes until they are all nicely browned and the bacon is crispy.
Make sure to use tongs to turn them, DON'T use your fingers, the metal skewers will be extremely hot! Once they are done remove them and place them on a plate or in a dish to rest for 5 minutes or so before serving. Enjoy!
How long does bacon wrapped steak last after it is cooked?
Once it cools down, store it in an airtight container in the fridge, where it will last a few days. Although it is definitely better when fresh. You can reheat it in the microwave for a few seconds or in the oven at 350 F/176 C for a few minutes.
Here are a few more recipes you may like:
Roasted Brussel Sprouts with Bacon and Garlic
Bacon Wrapped Steak
This bacon wrapped steak grilled to perfection is so delicious and easy to make. Next time you are grilling, make some of these, you won't be dissappointed!
Equipment
Metal Skewers or bamboo skewers

Knife

Tongs

Grill

Briquets or wood, or gas, etc.
Ingredients
4

lbs

Beef

I used Tri-tip, but you can use whatever you want, Filet, New York, London Broil, etc.

1 1/2

lbs

Thick Cut Bacon

I love applewood smoked bacon

2 to 3

tsp.

Salt

10 to 15g

2 to 3

tsp.

Pepper

10 to 15g

2

tsp.

Garlic Powder

8g

3

Tbsp.

oil

olive oil, avocado oil, vegetable, etc.
Instructions
Heat up the grill, whether it is a gas or charcoal grill. The heat should be around medium heat (350 F/176 C)

Cut up the beef into 1 to 1 and 1/2 inch chunks. Slice the thick cut bacon in half. Season the steak with the salt, pepper, garlic powder, and oil.

Wrap each chunk of steak with bacon and place it on the metal skewer, keeping the bacon in place. You should be able to get 5 to 6 chunks per skewer.

Place the skewers on the hot grill and cook each side for around 3 to 4 minutes until nicely browned. Use tongs to turn the skewers don't touch them with your hands, they will be super hot. If the grease from the bacon flairs up too much, shut the lid to the grill for a moment.

Once each side is nice and browned and the bacon is crispy remove them from the grill and place them on a pan to rest for about 5 minutes before serving. Enjoy!
Video
How to Make Bacon Wrapped Steak - Easy Steak Recipe
Notes
Nutrition
Do you like the recipe? Please give it a rating and comment down below, I really appreciate it. ? If you make it tag me on Instagram @inthekitchenwithmatt. Also sign up for the newsletter so you won't miss out on any of my new posts and recipes.