Jump to Recipe
I have many fond memories eating a banana split. They are a family favorite and a perfect activity to do together in the summer or any time of the year you are craving ice cream!
As far as desserts go, the banana split is one of the most popular desserts in the United States, and it is easy to see why. It is a classic dessert that you don't have to cook or bake and it is ready in just a few minutes. And you can make so many variations easily to suit lots of different tastes. Love it!
If I can do it you can do it. Let's get started!
What is a banana split?
First of all if you aren't familiar with banana splits, they are an essentially and ice cream sundae with bananas. You got to make that ice cream healthy somehow right? haha. The bananas are split in two and different kinds of ice cream are place in the middle, then topped with a number of toppings.
Step 1: Gather the ingredients
You don't really need a recipe since banana splits have so many variations and you can put whatever you want on them, but the basics start with bananas and ice cream. Here are example ingredients that you may use:
Bananas – You can't have a banana split without bananas. I recommend using bananas that are just barely completely yellow and still firm. Soft ripe bananas won't do. Well unless you like those of course.
Ice cream – You can use any number of ice cream flavors. Also, you can use store-bought or homemade ice cream. Some of my favorite flavors are vanilla, chocolate, and strawberry. I don't normally buy expensive ice cream either, but you certainly can.
Chocolate syrup
Strawberry syrup
Caramel topping – You can use store-bought or this yummy homemade caramel sauce.
Whipped cream
Nuts, cherries, mini chocolate chips
Tools
Step 2: How to make a banana split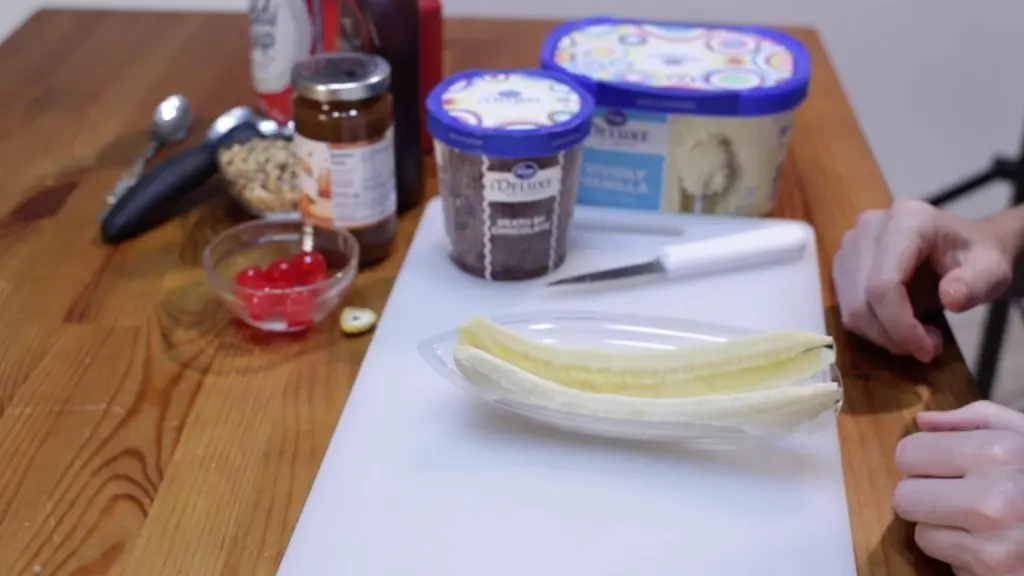 Begin by peeling the banana and then slicing it down the middle lengthwise. Place the banana halves in a bowl or a specific banana split container. I love using those little plastic boat containers, they are pretty cheap to buy and can be washed and reused if you like.
Now add the scoops of ice cream in the middle of the sliced bananas. You can add as many scoops as you like, depending on the size of container you are using. I don't usually go too crazy and only add three scoops.
As far as the ice cream goes, add your favorite kinds. I like to do chocolate and vanilla, and sometimes strawberry ice cream.
Step 3: What toppings go on a banana split?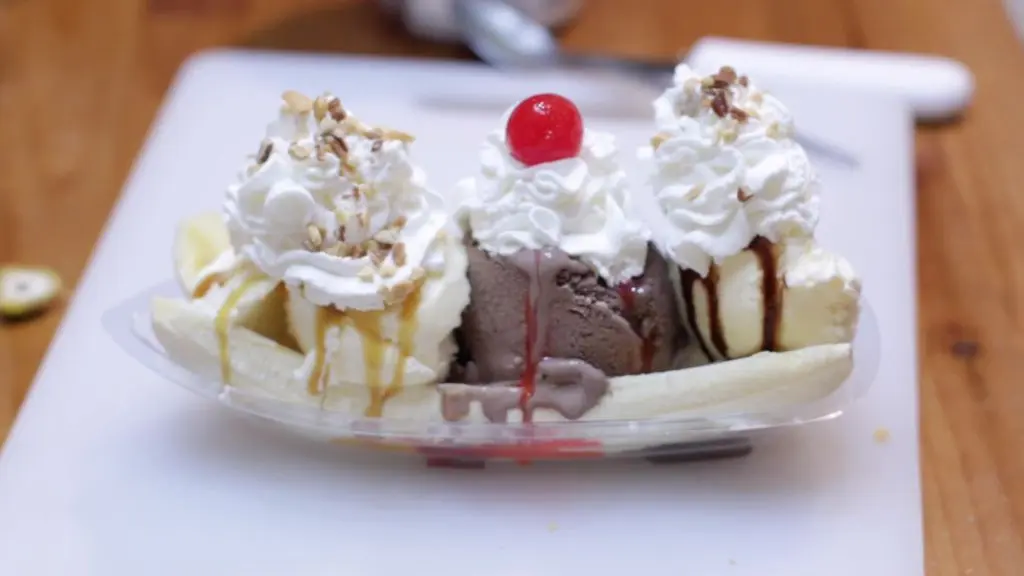 Now it is time to add the toppings. There are so many different toppings that you can put on a banana split. There is not only one way to serve them.
I like to drizzle some caramel sauce over the vanilla ice cream as well as chocolate syrup. Then since I love the combination of chocolate and strawberry I add strawberry syrup over the chocolate ice cream. You can do it like that or differently.
Can't forget the whipped cream! Add some on to each scoop of ice cream and then top it with nuts, maraschino cherries, mini chocolate chips, coconut flakes, sprinkles, graham cracker crumbs, fresh fruit, and so much more. Place a spoon with the dish and serve. Enjoy!
Here are some other recipes you may like:
Banana Split
One of the most popular desserts in the United States. Banana splits are super easy to make with pretty much ice cream, bananas, and your favorite toppings!
Equipment
Ice cream scoop

Bowl or banana split boat container

spoon

Knife

Cutting board
Ingredients
3

scoops ice cream

1

medium banana

2

tsp.

strawberry syrup

10ml

2

tsp.

chocolate syrup

10ml

2

tsp.

caramel sauce

10ml

1/2

cup

whipped cream

120g

2

tsp.

chopped nuts

7g

1

maraschino cherry
Instructions
Peel and slice the banana lengthwise. Use a banana that is ripe but still firm. Place it in a bowl or banana split container.

Scoop on 2 to 3 scoops of your favorite ice cream. Some common flavors are vanilla, chocolate, and strawberry.

Now finish off the banana split with a variety of syrups like caramel, strawberry, and chocolate. Then add some whipped cream, topped with nuts, coconut, maraschino cherries, mini chocolate chips, etc. Enjoy!
Video
How to Make a Banana Split at Home | Easy Banana Splits Recipe
Notes
Note: The nutritional facts will vary greatly depending on what ice you use and how much of it you use, as well as the toppings. 
Nutrition
Do you like the recipe? Please give it a rating and comment down below, I really appreciate it. If you make it tag me on Instagram @inthekitchenwithmatt. Also, sign up for the newsletter so you won't miss out on any of my new posts and recipes.