Jump to Recipe
When it comes to amazing beef stews you can never go wrong with an amazing Beef Bourguignon or the correct French spelling is Boeuf Bourguignon. It also goes by the name of Beef Burgundy.
This classic French stew is absolutely a delight to eat. It is by far my favorite stew of all time. I have eaten many a stew in my day and they all pale in comparison.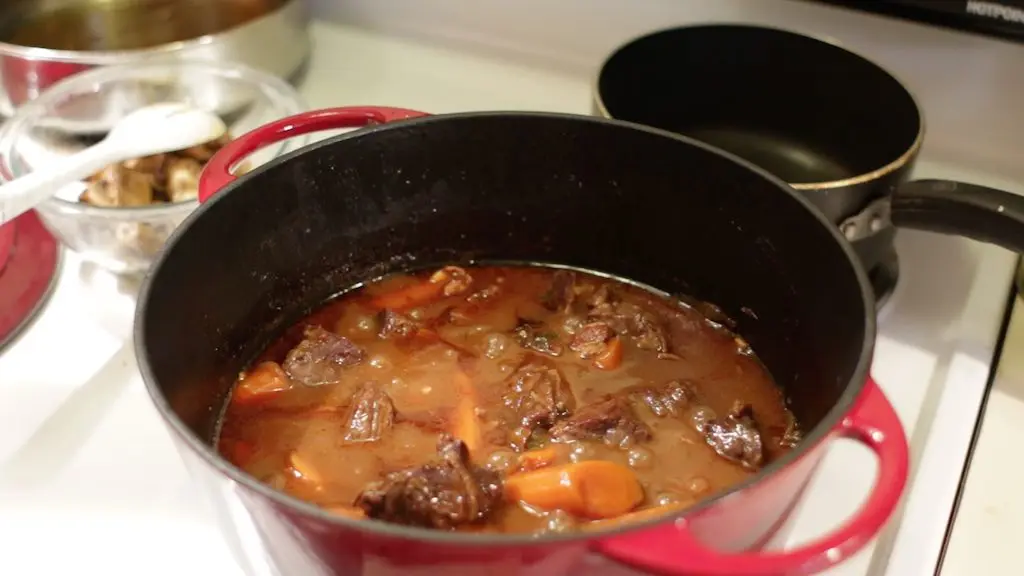 This stew is often braised in red wine or burgundy, hence the name. The braising along with the other ingredients provides layers of flavor that will dance on your taste buds.
Julia Child had high praises for this stew and if it is good enough for her, then it is absolutely good enough for me. It is fairly easy to make, if I can do it, you can do it. Let's get started!
Step 1: Ingredients and Tools
First, in order to make this amazing stew, you need will need the following list of tools and ingredients:
Chuck Roast – This cut of beef is perfect for this stew. Make sure to cut off any large pieces of fat. Chuck roast tends to have the perfect balance of fat and meat and gets incredibly tender while braising.
Bacon – I don't really need to say much about this, bacon makes everything better! I tend to use a thick-cut applewood smoked bacon, but any kind will suffice.
Onion – Onions work great in stews because they help to enhance the other ingredients and then they take on the flavor of everything. Use a white or yellow onion.
Carrots – Carrots will add flavor and texture to the stew as well as nutrition.
Garlic – Garlic adds an additional layer of flavor.
Tomato Paste – This will add a bit of flavor and body to the stew.
All-Purpose Flour – Flour helps to thicken up the stew.
Red Wine – I generally use a Pinot Noir, but any red wine will work. I don't drink alcohol but the alcohol burns off leaving the great flavor. Don't leave this out!
Parsley– for garnish and added flavor
Thyme – adds to the aroma and hint of flavor
Bay leaves – The bay leaves while simmering will break down a little bit adding a slight bitterness that cuts through the heaviness of the stew.
Beef Broth – The beef broth adds immense flavor, don't leave this out.
Water – This is needed for boiling the pearl onions.
Pearl Onions – More onions for amazing flavor, will be cooked separately.
Olive Oil – This is needed to sauté the onions and mushrooms.
Mushrooms – I like to use small whole mushrooms if possible or cut larger ones in half.
Salt and pepper – For flavor
Tools
Enameled Dutch Oven – While not necessary these dutch ovens are generally used to make beef bourguignon. You can do everything with this one pot. There is a variety of them out there my favorite is a Le Creuset but they are fairly expensive. The one I use here is a less expensive one by Uno Casa. In the recipe video below I do a review of the Uno Casa dutch oven as well as talk about these types of dutch ovens and why you may want to own one.
Tongs
Slotted spoon
Bowls
Skillet
Step 2: How to Make Beef Bourguignon
Start by trimming the excess fat from your chuck roast and then cutting the meat up into chunks. Don't make the chunks too large a couple of inches is fine.
Add some kosher salt and pepper to the meat and mix them around with your tongs so each piece of meat gets seasoned. Set the bowl of meat aside for now.
Step 3: Cook the bacon
Now over at the stovetop, heat up a dutch oven on medium heat. Cut up your bacon slices into small squares about one inch wide. Next, add the bacon to the dutch oven and cook it until it gets crispy. Once the bacon is finished use a slotted spoon and remove the back pieces and place them on a paper towel-lined plate.
Step 4: Sear the beef for the Bourguignon
Next, it is time to sear the beef in the bacon grease. The searing process helps to flavor the meat. If you have too much bacon grease in the pot you can remove some of it. 2 to 3 tablespoons, of bacon grease is ideal.
Or if you would like to be extra healthy you can remove all of the grease and replace it with a bit of olive oil. Place several chunks of beef on the bottom of the dutch oven. Don't overcrowd them, if you do the beef winds up getting more steamed instead of a nice sear.
Brown each side for a few minutes. It will take 2 to 3 batches to sear 2.5 to 3 pounds of beef. This whole process will be about 15 to 20 minutes. Once done you can place the beef on the same plate with the bacon.
Step 5: Onions, Carrots, Garlic, And Tomato Paste
Add the onions and carrots to the pot. Optionally you can also add potato chunks at this state. Beef Bourguinon traditionally does not have potatoes in it, rather it is served over mashed potatoes or with a side of boiled potatoes.
You should not need to add any additional oil or grease at this point. After about 5 minutes the onions will start to soften up and caramelize a little bit.
At this point add in 5 to 6 cloves of fresh minced garlic. Don't add it in too soon because it will burn. Let the garlic cook for a few minutes then add in the tomato paste.
Cook the tomato paste along with the other ingredients for another 2 to 3 minutes.
Step 6: Flour and Fond
Next, add in the flour and stir it around cooking the flour for a few minutes. The flour will help to thicken the stew later on and give it body.
After that, you will notice a few crusty bits of meat flour and veggies stuck to the bottom of the pan. This is called "Fond" which is French for "base". The fond is a big source of flavor and we want to get that up and into the stew.
Step 7: Deglazing the pot with red wine
In order to get that flavorful fond up into the stew, we need to deglaze the dutch oven. This is usually done with some sort of liquid. In this case, Beef Bourguignon uses red wine or burgundy for deglazing and adding immense flavor.
Don't be alarmed if you don't drink alcohol like me, the alcohol will cook off leaving just the flavor. If you don't want to use red wine, you can use a bit of grape juice instead, or use beef broth.
I use Pinot Noir, just an inexpensive box wine. If you want to use really expensive wine, go nuts! I won't stop you. Pour the wine into the pan and let it cook for a few minutes.
Stir the mixture and scrape the bottom of the pan to help release the fond. Use a wooden spoon or silicone spoon, don't use metal.
Step 8: Add rest of ingredients to make the Beef Bourguinon
After the red wine has cooked down a bit add in the seared beef, crispy bacon, chopped parsley, fresh chopped thyme, and a few bay leaves.
Then add in the beef broth just until it almost covers the whole stew. Now add the dutch oven lid. Preheat the oven to 325 F (162 C).
Place the dutch oven into the oven and braise the stew for 2.5 to 3 hours. Check the stew after 90 minutes if there was significant evaporation of liquid add in a bit more beef broth.
Step 9: Mushrooms and Pearl Onions
After about 2 hours of braising, we need to make our pearl onions and mushroom side, or some people just add those in right before braising the stew.
The traditional method is to cook them separately and then add them in at the end. Boil a small pot of water and then add the pearl onions into it, whole with peels on.
We only need to boil them for about 1 to 2 minutes. After that cut off one end of the onion and pinch the other end, this will allow the whole onion to come right out. It is a handy trick for removing the skins.
Step 10: Sauté pearl onions and mushrooms
In a separate skillet add a few tablespoons of olive oil. Set the stovetop to medium and allow the oil to heat up. When the oil kind of shimmers, it is ready to go.
Add the pearl onions to the skillet and cook them for about 5 minutes or so. Stir them occasionally so they sauté evenly.
Next, add in the mushrooms and continue to cook them until they get slightly caramelized. Deglaze the pan with about a half of a cup of beef broth. Allow the onions and mushrooms to cook in the broth for about 20 minutes.
Step 11: Serve the Beef Bourguignon
If you can time the onions and mushrooms to be done right when the stew is complete. Take the Beef Bourguignon out of the oven, using oven mitts of course.
Add in the mushrooms and onions all at once or serve them as a side, in case people don't like mushrooms. Top off the bowl of this classic French stew with some fresh parsley and it is ready to be served.
What if I don't have a Dutch Oven can I still make Beef Bourguignon?
Yes, you absolutely can! While an enameled dutch oven is the classic pot of choice you can cook everything in your normal big stew pot, then transfer it into a traditional baking dish or pan to braise in the oven. The dutch oven is nice because it acts like serval pans in one.
How long will Beef Bourguignon last?
If stored in an airtight container in the fridge it will last 3 to 4 days. To prolong the life you can also freeze the beef bourguignon in airtight containers or freezer bags.
Beef Bourguignon
Beef Bourguignon is a classic French stew that is packed with flavor. This is by far my favorite stew ever. Next time you are thinking of making a stew try out this yummy dish. You can serve with on top of mashed potatoes or add potatoes right into it if you like.
Equipment
Enameled Dutch Oven

Skillet

Wooden or Silicone spoon

Knife

Bowls
Ingredients
2.5 to 3

pounds

of chuck roast

approx 1200g, doesn't need to be exact

3 to 4

slices

of bacon

1

medium onion

6

medium carrots

peeled and cut

5

cloves

of garlic

minced

2

tbsp.

tomato paste

30g

3

tbsp.

of all-purpose

plain flour (45g)

Red Wine

Pinot Noir, etc (500ml)

3

tbsp.

fresh chopped parsley

11g

1

tbsp.

fresh chopped thyme

4g

2 to 3

bay leaves

3

cups

beef broth

600ml

Water for boiling

1

cup

pearl onions

125g

2

tbsp.

olive oil

24ml

1 1/2

cups

of mushrooms

120g

1/2

cup

beef stock/broth

100ml

fresh parsley for garnish

salt and pepper to taste
Instructions
Cut the chuck roast into pieces not bigger than 2 inches. Season with kosher salt and pepper.

Heat a dutch oven on a stovetop. Cut the bacon into 1-inch squares and then cook the bacon. Once the bacon is nice and crispy remove it from the pan and place it on a plate with a paper towel.

Sear the beef chunks in the bacon grease. Brown the meat in batches so they are overcrowded in the bottom of the dutch oven. This will take about 5 minutes per batch. Once the beef is browned remove and add to the plate with the bacon.

Slice up your onions and carrots and add to the dutch oven. Sauté them for about 5 minutes until they start to get some caramelization on the edges. Then add the minced garlic, and cook for a few more minutes.

Add the tomato paste and mix it in with the other ingredients. Allow it to cook for a couple of minutes. Now add in the flour, again mixing it around. Cook down that flour to get rid of the "flour" taste. You will notice lots of crusty bits on the bottom of the pan. This is called fond and is full of flavor.

Add in the red wine to "deglaze" the dutch oven. This will pull off that fond on the pan and add that flavor to the stew. The red wine will also add flavor and help to make the beef tender. The alcohol will burn off in case you don't drink alcohol, like me.

After cooking the stew with the red wine in it for about 5 minutes, add in the beef, the bacon, the fresh parsley, fresh thyme, and a couple of bay leaves.

Stir the stew together then add enough beef broth to almost cover the entire stew. It winds up being about 3 cups. Cover the Dutch oven with the lid and place in a preheated oven at 325 F (162 C) for 2 1/2 to 3 hours. Check it at the 90-minute mark and give it a good stir. Use hot mitts!

When there is only 45 minutes or so left, prepare the pearl onions and mushrooms. Boil the onions in a pot for a couple of minutes to loosen the skin. Cut the ends off and pinch out the onions. Sauté the onions in a skillet with 2 tablespoons of olive oil, for about 5 minutes until just barely caramelized. Add the mushrooms in with the onions and cook for a few minutes. Add in 1/2 cup of beef broth to deglaze the pan and allow them to simmer in the broth for 20 minutes.

Remove the stew and serve in a bowl with the mushrooms and pearl onions added. Or serve them separately and allow people to add them if they wish. You can also serve the beef bourguignon over a plate of mashed potatoes. Enjoy!
Video
How to Make Beef Stew | Beef Bourguignon | Uno Casa Dutch Oven Review
Notes
Nutrition
Do you like the recipe? Please give it a rating and comment down below, I really appreciate it. If you make it tag me on Instagram @inthekitchenwithmatt. Also, sign up for the newsletter so you won't miss out on any of my new posts and recipes.
Other recipes that you may like:
Fall off the Bone Instant Pot Baby Back Ribs
Penne Noodles with White Pasta Sauce