Jump to Recipe
Every year for my birthday, I get a group together of family and friends and do an over-the-top barbecue at my house. I don't do hamburgers or hotdogs. Don't get me wrong, I enjoy each of those a lot, but that is classic bbq food. I go all out and do this yummy beef kabobs recipe, bacon-wrapped steak, honey mustard pork tenderloin, and usually several sides and desserts.
There is something special about meat on a stick, haha. What I really enjoy about cooking beef kabobs in a group setting is that everyone has the opportunity to make their own. They can put whatever they want on it. If all they want is meat, they can do the beef and something like kielbasa sausage. Or maybe they like tomatoes but not mushrooms, etc.
You really have a complete well-rounded meal on a stick. This beef kabobs recipe is always a crowd-pleaser at my barbecues. And they are very easy to make, if I can do it, you can do it. Let's get grilling!
Step 1: Gather the ingredients
In order to make Beef kabobs you need a handful of easy to find ingredients:
Beef – I usually use a top sirloin for this, but you can use several different cuts of beef. I don't recommend using the stew meet, it winds up tough and chewy.
Tomatoes – I always like to use cherry tomatos, they are the perfect size for beef kabobs.
Mushrooms – Use the whole mushrooms, the sliced mushrooms don't stay on very well.
Onion – I love when the onion caramelizes a bit on the grill, so yummy.
Bell peppers – The peppers add a nice touch.
Pineapple – Grilled pineapple adds the perfect amount of juicy sweetness which blends nicely with the other ingredients.
Salt
Pepper
Garlic Powder
Oil – Olive, Canola, Vegetable, Avocado, Coconut, etc.
Tools
Skewers – I use either bamboo or metal skewers, but my preference for beef kabobs are the bamboo skewers.
Tongs
Plate
Grill – You will want to use some sort of barbecue grill, although you can make these on a George Foreman as well.
Step 2: How to make beef kabobs at home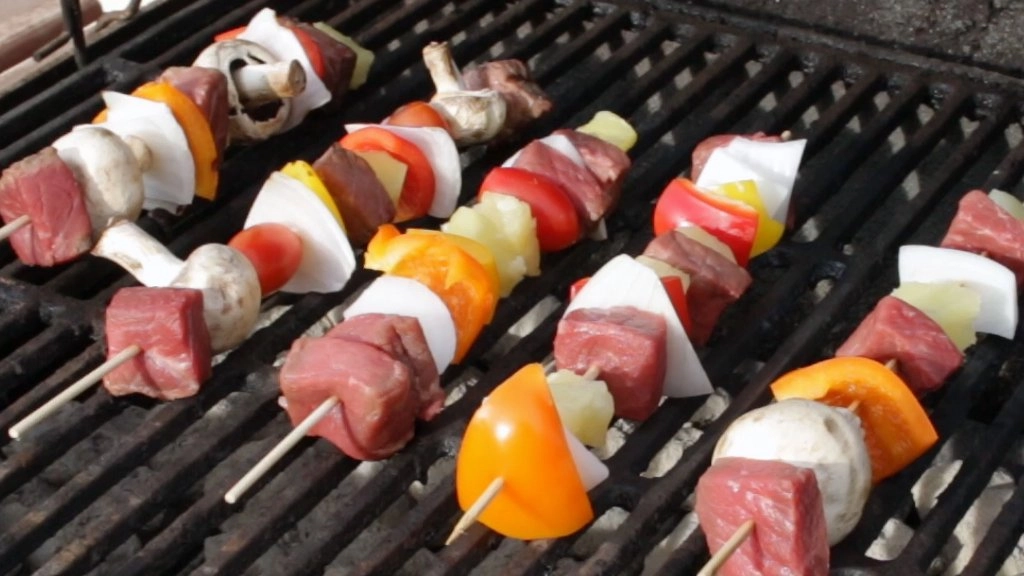 Start by soaking your bamboo skewers in water for about 30 minutes before you want to grill your beef kabobs. The damp skewers burn less easily while on the hot grill. If you are using metal skewers then don't worry about it.
Then start the coals or turn on the gas and get the grill heating up.
Slice the steak/beef into bite-sized pieces. Sirloin, New York Strip, London Broil, are all excellent choices for beef kabobs.
Place the pieces of beef in a bowl and then drizzle a bit of oil over them. Add some salt, pepper, and garlic powder as well. If you don't use the oil, the meat may stick to your grill.
Slice up the rest of your ingredients, some of my favorites include, kielbasa sausage, pineapple, onions, bell peppers, tomatoes, mushrooms, etc. Put those ingredients into separate bowls.
Now assemble the beef kabobs by adding different ingredients to the skewer. Spread each ingredient apart by about a quarter of an inch, they will cook better.
When I do this at my parties people line up and assemble their beef kabobs exactly how they want them, with the ingredients they choose. If I am in a rush, sometimes I just assemble several varieties of kabobs myself. It all depends on how interactive I want it to be.
Step 3: Cook those kebabs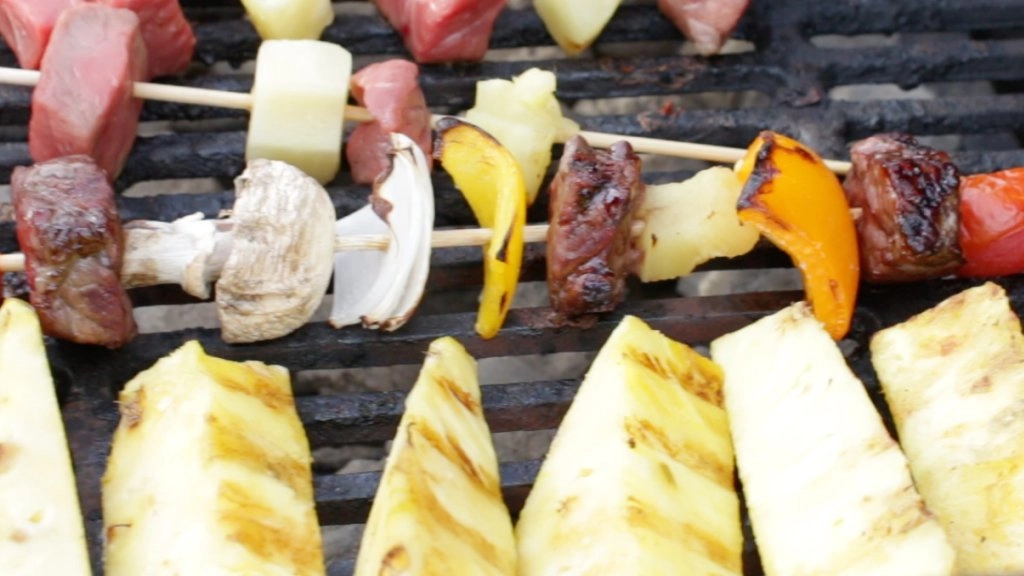 Once the grill is hot enough, you can tell by placing your hand about 6 inches above the grill, you should only be able to hold your hand there for 5 seconds, before removing it.
Place the beef kabobs on the hot grill and allow them to cook. Cook them until each side of the beef is browned. You will want to turn the kabobs about 4 times so each side gets cooked. They take around 6 to 10 minutes depending on your grill.
If you like your meat well done, you can cook them a little longer. The veggies and fruit are usually perfect when the meat is done.
And there you go, the beef kabobs are ready to serve. Serve them warm on the stick, or use a fork to slide the pieces off and pile them up on a platter for family-style serving. Enjoy!
How long do Beef Kabobs last?
They are best when served warm. Any leftovers can be placed in a zip lock bag or Tupperware and stored in the fridge for a few days. Reheat in the oven or microwave.
Here are some other recipes and articles you may be interested in:
Chocolate Sponge Cake Only 4 Ingredients
Beef Kabobs
If you like grilling, you will love these beef kabobs. They are perfect for gatherings!
Equipment
Metal or Bamboo Skewers (soaked)

Knife

Grill

Cutting board

Tongs
Ingredients
1

lb

of Beef cut into bite-sized chunks

London Broil, Sirloin, New York, etc.

1 to 2

Large Onions

2

Large Bell Peppers

Handful of Whole Mushrooms

10

oz

Cherry Tomatoes

1/2

lb

Fresh or canned Pineapple

1

lb

Kielbasa Sausage

optional

1

tsp

Salt

1/2

tsp

Black Pepper

1 to 2

Tbsp

of Canola or Olive Oil
Instructions
Begin by soaking the bamboo skewers in water if using those.

Start the grill, whether gas, pellet, or charcoal.

Cut the beef into bite-sized chunks and place into a bowl.

Cut all other ingredients into bite-sized chunks and place into separate bowls.

Drizzle oil over the beef, and sprinkle on the salt, pepper, and garlic powder. Give it a good mix. You may elect to drizzle oil and season the veggie chunks as well.

Assemble the beef kabobs by adding a variety of the chunks of ingredients to the skewer leaving 1/4th inch of room in between.

Add the kababs to the hot grill and cook each side for a few minutes until they are nice and browned. If you like your meat well-down cook them a little longer on each side.

Remove and serve warm on the skewer, or use a fork and slide the pieces off onto a platter for family-style eating. Enjoy!
Video
How to Make Beef Kebabs - Easy Steak Kabobs Recipe
Notes
NOTE: The nutritional facts will vary depending on how you create your kabob. 
Nutrition
Do you like the recipe? Please give it a rating and comment down below, I really appreciate it. If you make it tag me on Instagram @inthekitchenwithmatt. Also, sign up for the newsletter so you won't miss out on any of my new posts and recipes.
Check out my other website 101 Creative Dates for fun date ideas. Food and dating go hand in hand!