Jump to Recipe
I can't get enough of these homemade Belgian sugar waffles. The dough is incredible and the pearl sugar makes the waffles taste amazing. Sometimes I don't even add any toppings they are that good!
Belgian sugar waffles, also known as Liege Waffles, originated in Belgium and are made with yeast dough instead of batter. I was first introduced to them here in Arizona. A company called Waffle Love had a food truck dedicated to serving waffles. My friends and I went and got one, and I was hooked after the first bite. I was used to traditional American-style Belgian waffles. And I still love those waffles, but these sugar waffles are next level!
Since then more and more waffle trucks and companies have popped up here in Arizona as these waffles are getting more and more popular here. Maybe I should start a food truck! They are easy to make if I can do it you can do it, let's get started!
Step 1: Gather the ingredients and tools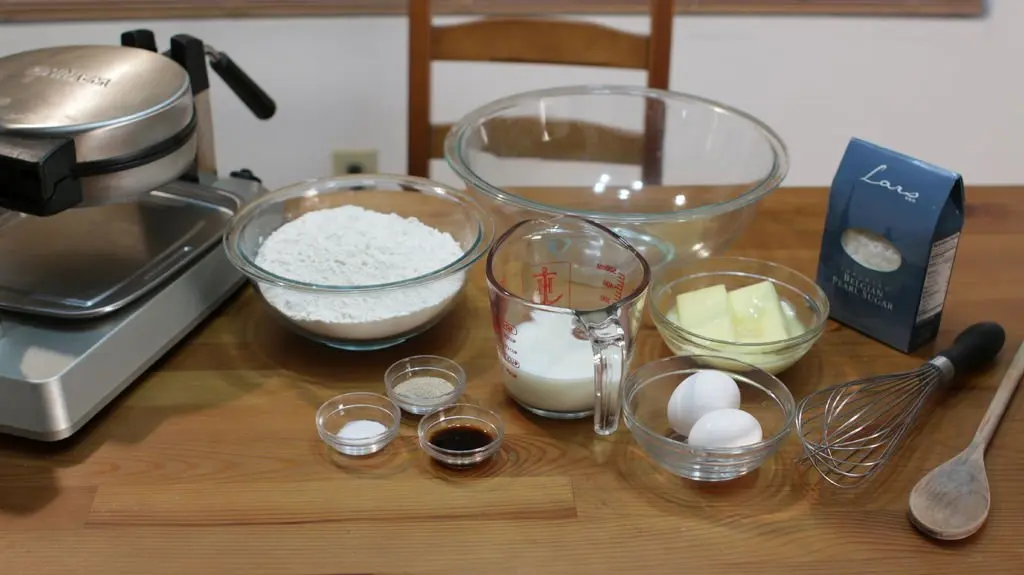 In order to make these amazing Belgian sugar waffles you will need the following ingredients and tools:
All-Purpose flour – Also known as plain flour in other countries.
Yeast – I typically use active dry yeast, but instant or rapid-rise yeast will work as well.
Milk – Whole milk is amazing in this recipe but other milk may be used as well.
Butter – We will be using quite a bit of butter which will make the dough that much better. I use unsalted but salted butter will work as well.
Eggs – The eggs will help with the structure of the waffle as well as add moisture and texture to the finished product.
Salt – Just a bit of salt to balance out the sweetness of the waffle.
Vanilla extract – This will add flavor as well as enhance the flavor of the other ingredients.
Pearl Sugar – Pearl sugar is the star of Belgian sugar waffles. It is a refined white sugar that is very coarse and doesn't melt at normal temperatures. You are left with some nice sugar chunks in the waffle, which is absolutely delightful. It is a very common ingredient in Scandinavian countries and some countries in Europe.
Tools
Waffle iron – You really want a waffle iron with deep pockets.
Wooden spoon
Bowls
Whisk
Tongs or fork
Dough cutter or knife
Plastic wrap
Step 2: How to make Belgian sugar waffles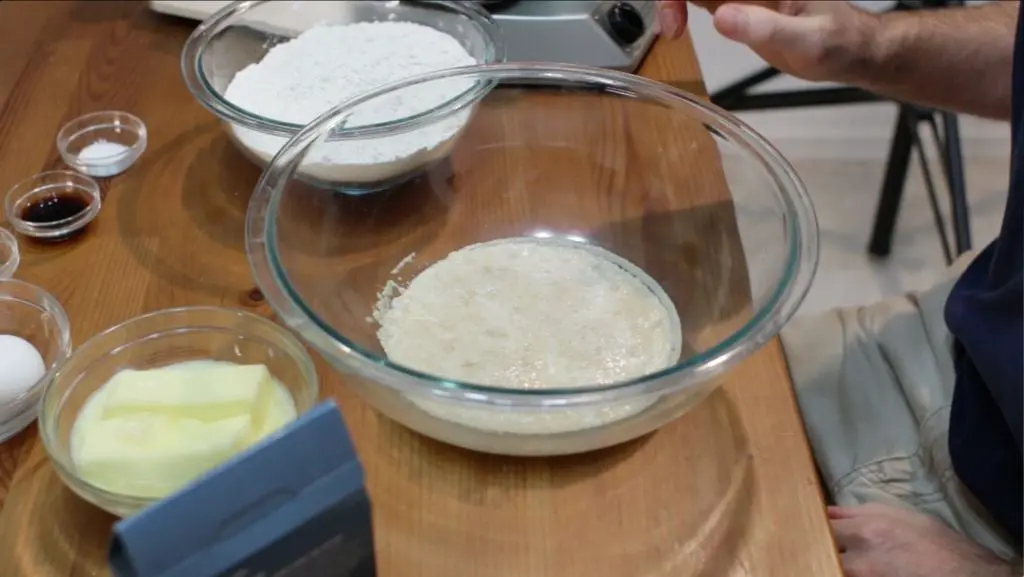 Begin by starting the yeast. Heat up the milk to 100 F to 110 F (40 to 44C). I normally just heat it up in the microwave, but a pot on a stovetop will work as well. Then add in the yeast.
Let the yeast mixture sit for 5 to 10 minutes until it gets nice and foamy. After 10 minutes the yeast isn't foamy, then start again. The yeast is probably bad or old or maybe the milk was too hot or too cold.
After using all the ingredients the last thing you want is for the dough to not rise, so it is better to be safe than sorry.
Step 3: Eggs, butter, and vanilla time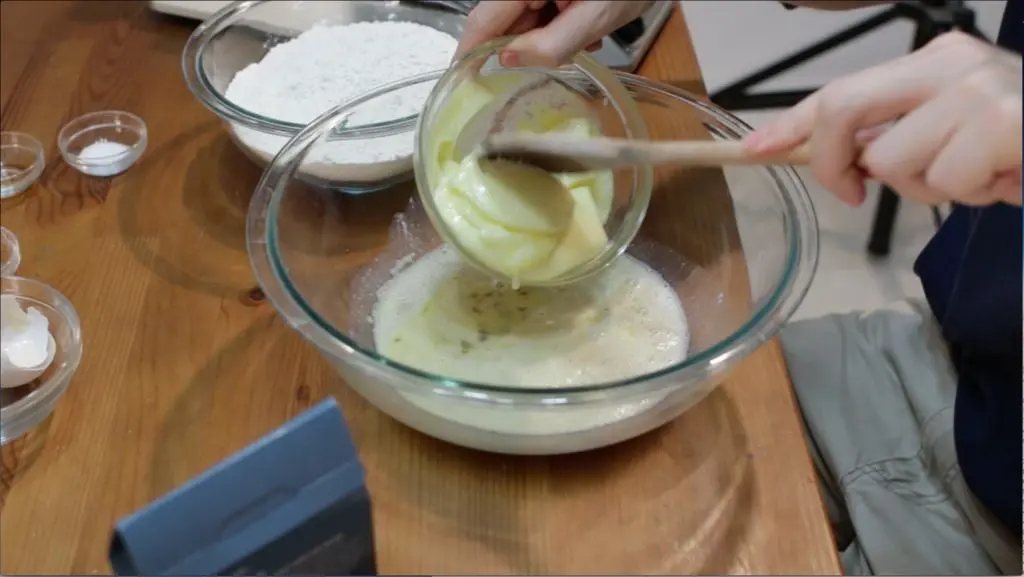 Once the yeast has been activated add in the vanilla extract and eggs and whisk those ingredients together. Next, add the softened room-temperature butter.
I normally use a wooden spoon for this, but a stand mixer will work too, especially if you are going to use the dough hook to knead the dough.
Step 4: Complete the Liege waffle or Belgian sugar waffles dough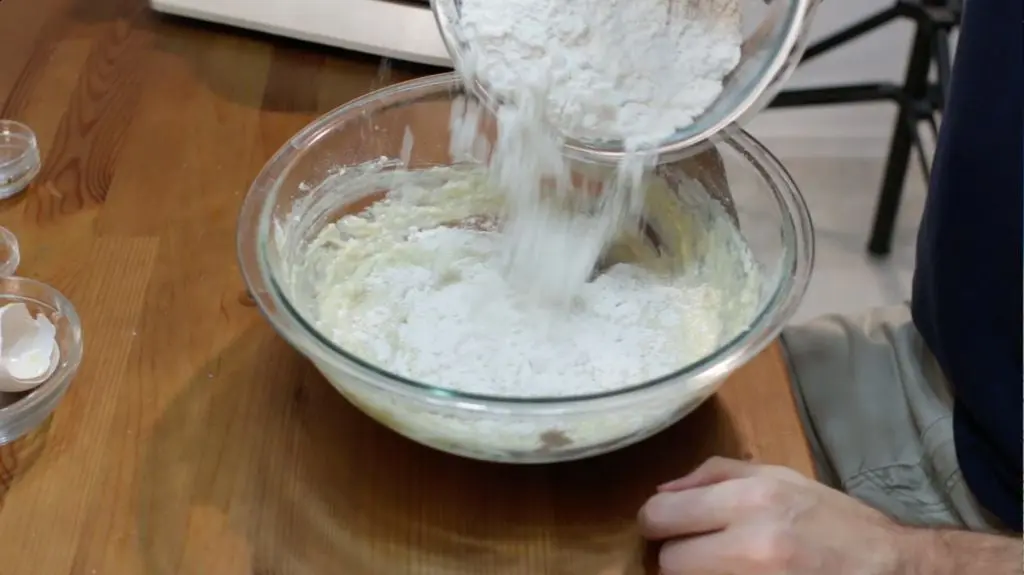 In a separate bowl whisk together the salt and the flour. Then add the flour a little bit at a time incorporating it into the dough.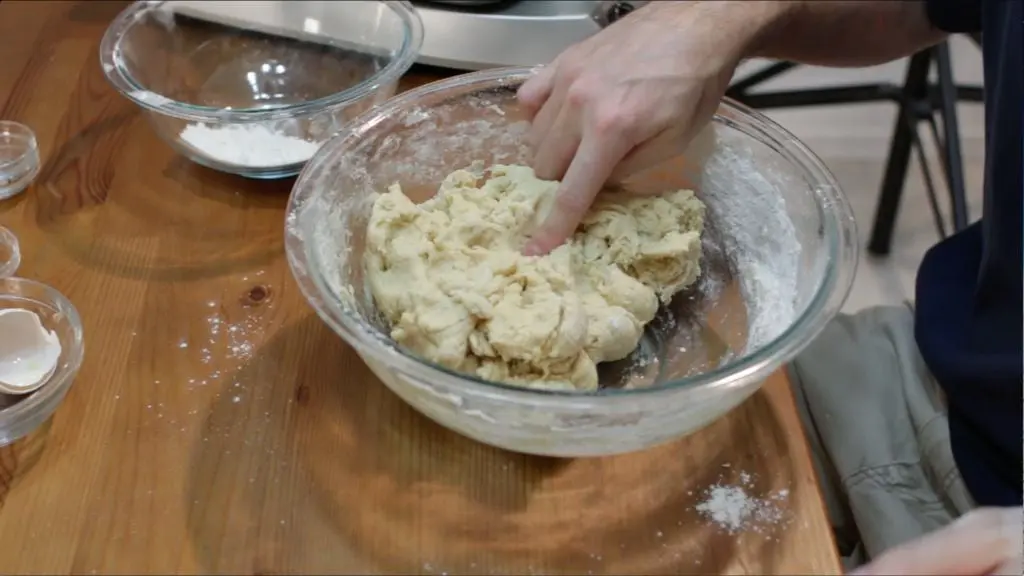 Keep adding the flour until when you press on the dough it doesn't stick to your finger.
Step 5: Knead that sugar waffles dough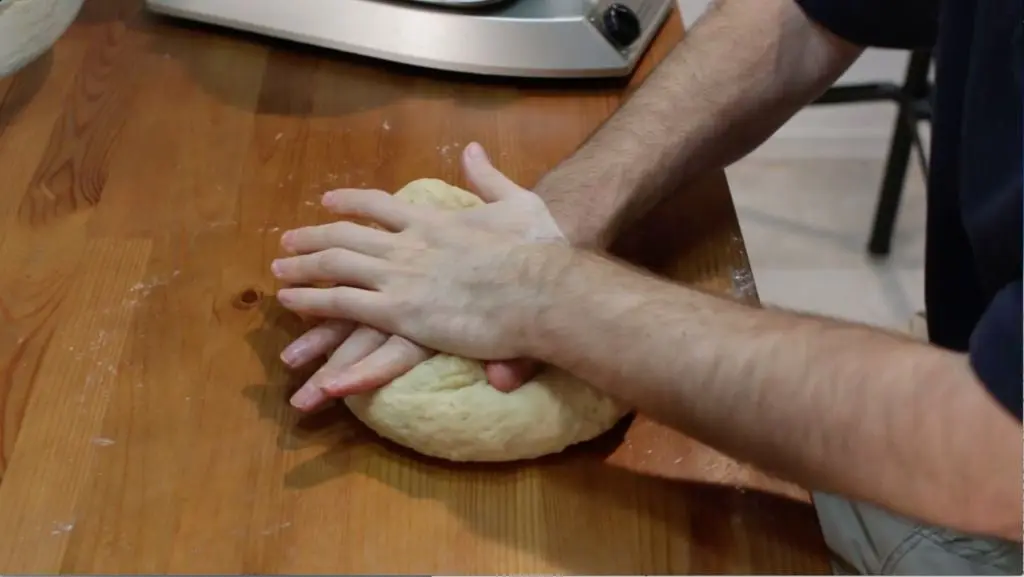 Place the dough onto a surface and knead it for 6 to 8 minutes. Add more flour as necessary to keep it from sticking to the surface or your hands. Or you may use a stand mixer with a dough hook too if you like.
Once the dough has been kneaded, add it to a bowl that has been sprayed with kitchen spray or lightly oiled.
Cover the dough with a damp cloth or plastic wrap and place it in a warm place or dough proofer to rise for an hour or until doubled.
Step 6: Add in the Pearl sugar
Now add the pearl sugar to the dough. Knead the dough for a minute or two to make sure the pearl sugar gets incorporated throughout the dough.
Next, cut the dough into 8 equal pieces using a dough cutter or a knife. If you shape the dough into a log it is easy to get the same size pieces. Shape each piece into a thick disc.
Step 7: Cook those Belgian sugar waffles
Heat up your waffle iron and spray it with cooking spray. And then place one of the sugar waffle dough pieces onto the waffle iron.
If your iron has a heat setting, set it to medium heat. If it doesn't have a heat setting, just keep your eye on it so it doesn't get too brown.
Make sure to use tongs when getting the sugar waffle off of the iron. The melted sugar on the waffle is extremely hot.
When the waffle is completely golden brown remove it from the iron and serve it warm. You can eat them plain or add traditional waffle toppings like strawberries, whipped cream, maple syrup, etc. Enjoy!
What is your favorite way to eat a waffle? Drop a comment down below and let me know. 🙂
How long do Belgian sugar waffles last?
Store uneaten sugar waffles in an airtight container in the refrigerator. They will last for a few days. Or you can freeze them and they will last a few months.
Can I make Liege Waffles without pearl sugar?
Pearl sugar is definitely the best thing to use for these waffles, but if you can't find any, you can take sugar cubes and break them up into pieces.
Here are a few more recipes you may like:
German Pancakes (Dutch Babies)
Belgian Sugar Waffles (Liege Waffles)
Belgian Sugar waffles or Liege Waffles are so amazing. They are made from a yeast-based dough instead of a batter and packed with pearl sugar. If you love waffles you need to try these!
Equipment
Waffle Iron

Wooden spoon

Bowls

Whisk

Tongs or fork

Dough cutter or knife

Plastic wrap
Ingredients
3 1/2

cups

of all-purpose flour

420g

2 1/4

tsp.

of active dry yeast

1 packet of instant yeast will work too (7g)

3/4

cup

of warm milk

1%, 2%, Whole, etc. 100 to 115 F. (177mL)

8

ounces

or 1 cup

softened butter (226g)

2

large eggs

1/2

tsp.

salt

2g

1

tsp.

vanilla extract

5ml

1-8

oz

bag of Pearl Sugar

225g
Instructions
Begin by starting the yeast. Warm the milk to 100F – 110F (40 to 44C). Then add the yeast. Allow it to foam, it will take 5 to 10 minutes.

Add in the vanilla extract and eggs. Whisk them together until well combined. Then add in the softened butter and mix.

In a separate bowl whisk together the flour and the salt. Then slowly incorporate the flour with the other ingredients. Eventually, the dough will form. Keep adding and mixing the dough until it isn't sticky to the touch.

Place the dough on a floured surface and knead it for 6 to 8 minutes. Or use a stand mixer with a dough hook. Cover the bowl of dough with a damp cloth or plastic wrap and allow it to rise for 1 hour or until doubled.

Once the dough has risen, punch it down and add in the pearl sugar. You may or may not want to add the full 8 ounces, sometimes I only use about 6 ounces of if. Knead the pearl sugar into the waffle dough for 1 to 2 minutes.

Divide the dough into 8 equal pieces and then shape them into thick discs. Heat up the waffle iron and spray it with kitchen spray. If you have a temp setting set it to medium heat.

Add some waffle dough to the iron and let the waffle cook for 3 to 4 minutes until it is nice and golden brown. Be careful the melted pearl sugar will be super hot! Use tongs to remove the waffle. Serve with your favorite waffle toppings or eat it plain. Enjoy! 🙂
Video
Belgian Sugar Waffles | Easy Liege Waffle Recipe
Notes
Nutrition
Do you like this recipe? Please give it a rating and comment down below, I really appreciate it. If you make it tag me on Instagram @inthekitchenwithmatt. Also, sign up for the newsletter so you won't miss out on any of my new posts and recipes.