Jump to Recipe
I won't lie I am a bit addicted to peanut butter and chocolate. Growing up I loved eating Reese's peanut butter cups. But, when I found out how to make a homemade version, I was blown away. This is one of my most requested treats to make for parties. This recipe is truly better than Reese's peanut butter cups.
At least in my opinion. But let's be honest, homemade candy and treats usually are better than mass-produced store-bought candy. I don't even buy Reese's anymore, I just make my own, they are cheaper, bigger, and definitely tastier. And the cool thing is, you can make them however you want, use whatever chocolate you want, whatever peanut butter you want, etc. And they are super easy to make! If I can do it, you can do it. Let's get started!
Step 1: Gather the tools and ingredients for those tasty peanut butter cups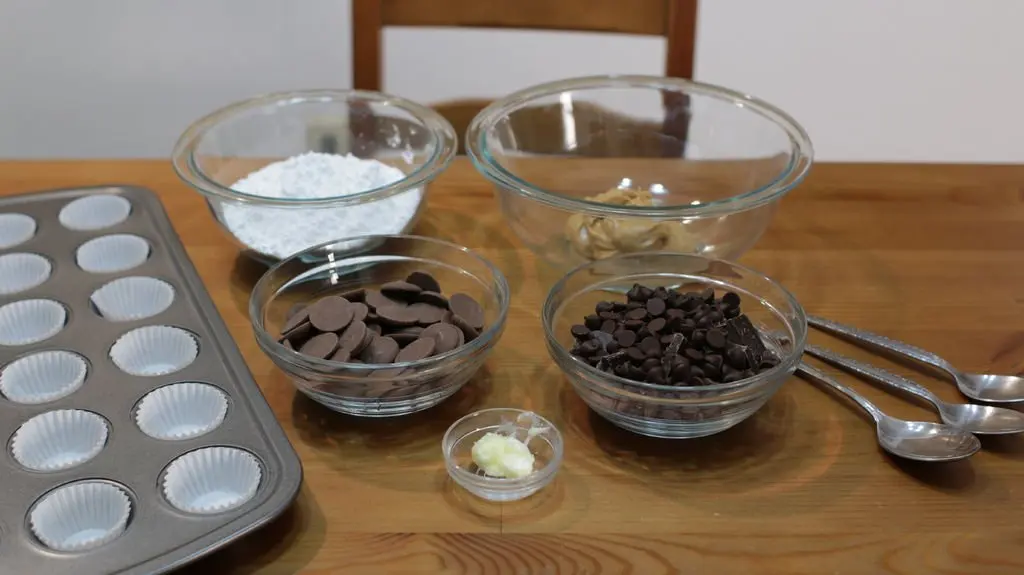 In order to make these fantastic treats you will need the following ingredients and tools:
Peanut Butter – Use storebought or homemade peanut butter. Or you can use whatever nut butter you like.
Butter – This is an optional ingredient that I always add.
Powdered Sugar – Also referred to as confectioner's sugar or icing sugar.
Salt – A pinch of salt is optional but will help add a balance to the sweetness.
Chocolate – Got to have chocolate in peanut butter cups! If I am taking them to a party and they will be left out at room temperature for a long period of time I will use chocolate candy melts. If I will just have them around the house and store them in the fridge I will use real chocolate usually I will make some with dark chocolate and some with milk chocolate and some with semi-sweet. Sometimes I like to drizzle white chocolate on top as well.
Tools
Muffin pan, large or mini
Mini paper cups for the size of pan you use
Bowls
Spoon
Double boiler or microwave to melt the chocolate
Step 2: How to make better than Reese's peanut butter cups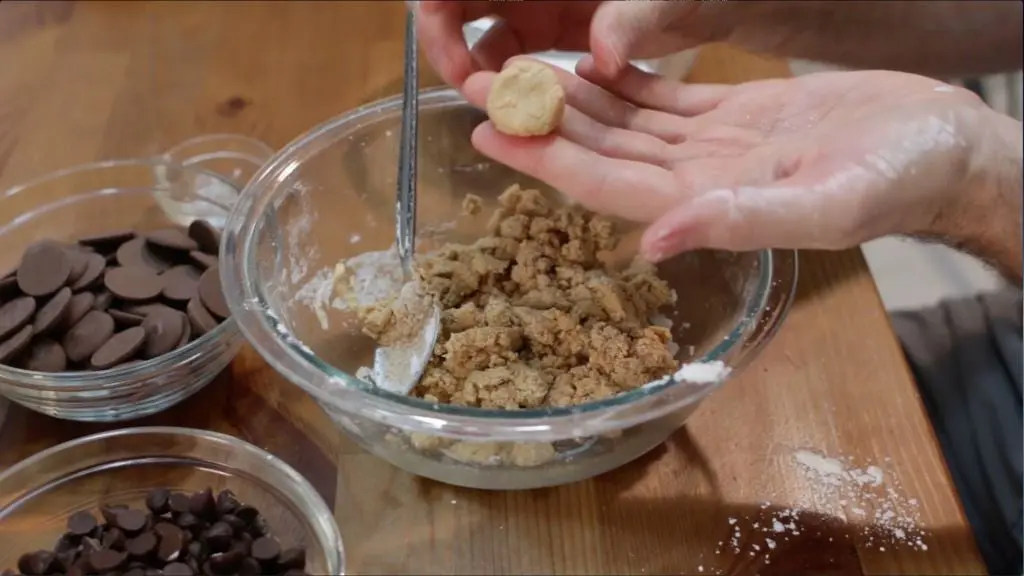 The peanut butter cup filling is made by taking the peanut butter and placing it in a medium bowl. Then add the softened or melted butter.
If you are going to add the salt do it at this step. Next mix in the powdered sugar a little bit at a time until you get get a nice "playdough" consistency.
You should be able to mold it into small discs in your hand. Of course, make sure your hands are clean or wear gloves when handling the peanut butter mixture.
Step 3: Melt the chocolate and fill the paper cups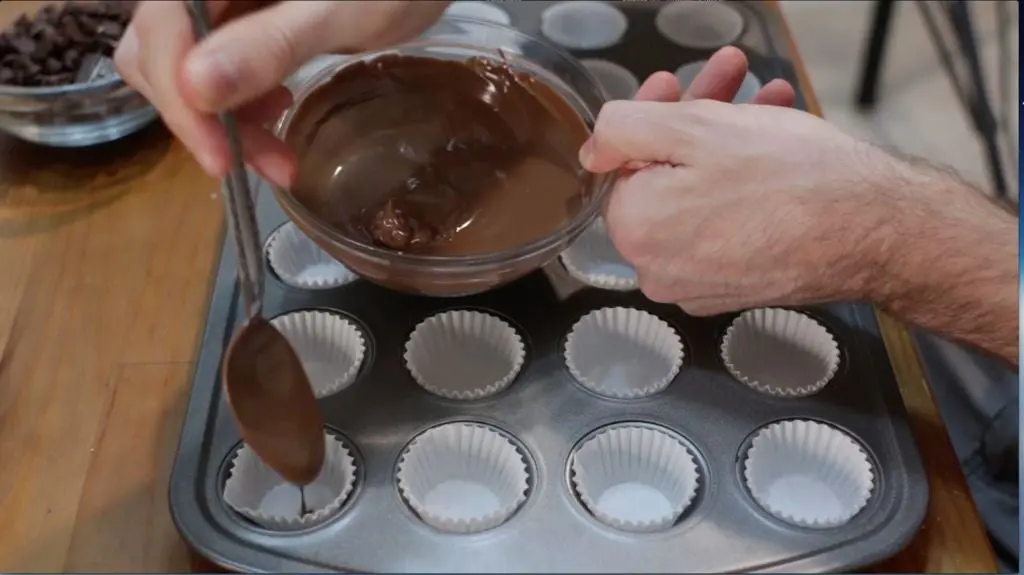 Now, place the appropriate size paper cup in the muffin pan. I make either the large ones or the small ones, depending on my mood, and if I am bringing them to a party. Usually, the mini ones are better for parties, in my experience, but it really doesn't matter. 🙂 Then melt the chocolate.
It is totally up to you what kind of chocolate you use. I have made this with chocolate bars, chocolate chips, and chocolate candy melts, from dark chocolate and semi-sweet to milk chocolate or white chocolate. My favorite is a mix of a chocolate bar and chocolate chips. I LOVE milk chocolate.
Melt the chocolate in either the microwave or using the double boiler method. If using the microwave, place the chocolate in a microwave-safe bowl and use bursts of 25 seconds in between stirring, until the chocolate is all melted.
NOTE: The double boiler method is where you have a pot of water about one inch deep or so, and then a bowl, usually metal, placed on top.
Turn the stovetop on to medium heat. The steam from the hot water will warm up the bowl, gently melting the chocolate.
Once your chocolate is melted, place enough chocolate in each cup to cover the bottom, about 1/8th to a 1/4th of an inch deep.
Sometimes I will add a bit of peanut butter and melt it along with the chocolate for even more peanut butter flavor.
Step 4: Add the peanut butter discs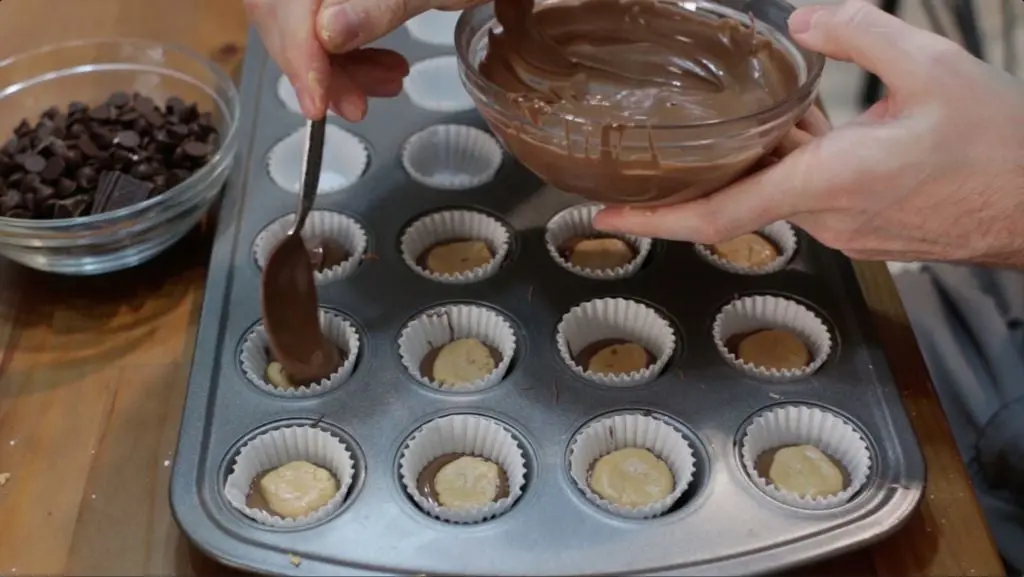 Next, just place the peanut butter discs in the cups on top of the first chocolate layer. Then come back and fill up the cups with chocolate.
This completely incases the peanut butter created the peanut butter cup. Pretty simple right? Sometimes I will do milk chocolate on the bottom and then dark chocolate or white chocolate on the top or vice versa.
Step 5: Chill those peanut butter cups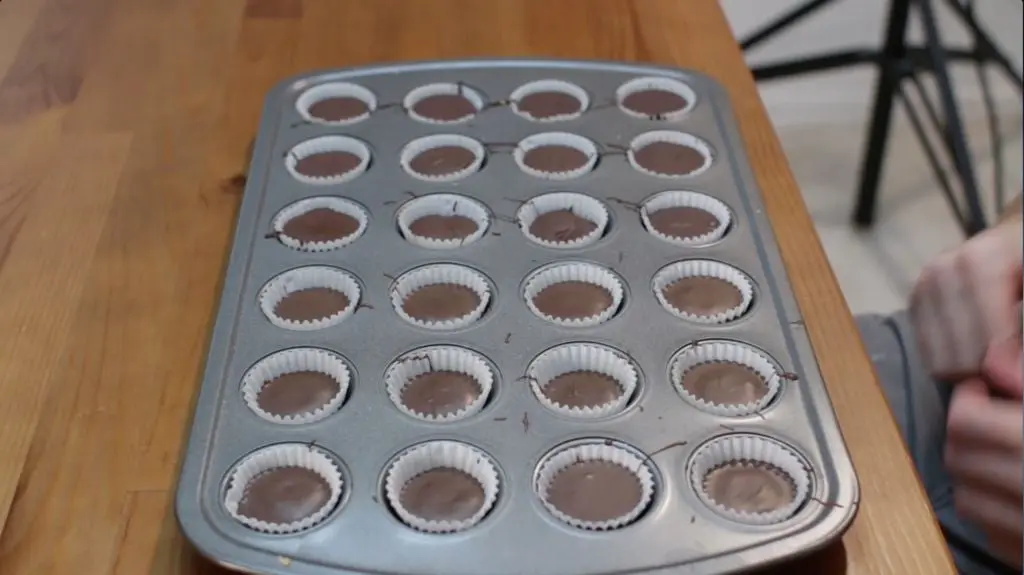 Next, place the pan in the fridge and allow the chocolate to set. Usually, it sets in 20 to 30 minutes, or sooner if you are using chocolate candy melts.
Step 6: Enjoy those better than Reese's peanut butter cups
No the only left to do is unwrap one and eat it! Enjoy! I have never met someone that didn't like these super easy homemade treats.
How do I store homemade peanut butter cups?
To store these, just place them in a ziplock bag or Tupperware and keep them in the fridge for up to a month or freeze them for 3 to 4 months.
Can I use something other than peanut butter?
Sure you can use any nut butter that you like. You could make almond butter cups or cashew butter cups, etc.
Here are a few other recipes you may like:
No-Bake Chocolate Oatmeal Cookies
Better Than Reese's Peanut Butter Cups
Chocolate and peanut butter, what could be better? Not much! These simple homemade peanut butter cups are so yummy and better than Reese's! They are really easy to make using ingredients you probably already have in your house. Peanut butter cups are my go-to treat to make for parties.
Equipment
muffin pan, large or mini

mini paper cups

Bowls

spoon

microwave or double boiler
Ingredients
1/2

cup

peanut butter

or any nut butter like almond butter (125g)

1

Tbsp.

of softened butter

optional (15g)

1

cup

powdered sugar

added gradually, may need a little more or less (125g)

1

cup

milk chocolate candy melts

175g

1

cup

dark chocolate

a combination of chocolate bars and chocolate chips, etc (175g)

1/2

tsp.

salt

2g
Instructions
In a medium bowl combine the peanut butter, salt, and softened butter.

Gradually add the powdered sugar until it comes together and forms a dough with a "playdough" consistency. You should be able to form it into a disc without it sticking to your fingers.

Melt your chosen chocolate in the microwave using bursts of 25 seconds, then stir, 25 seconds then stir, until it is melted. Or use a double boiler which consists of a small pot of water, and a metal larger bowl resting on top. Place the chocolate in the metal bowl and turn the stovetop on to medium. The steam from the hot water will heat the bowl melting the chocolate.

Fill the bottom of each paper cup with some chocolate. Then form the peanut butter mixture into discs and place those on top of the first layer of chocolate.

Pour a top layer of chocolate creating the peanut butter cup. Once all are filled, place the pan in the fridge to allow the chocolate to set. It only takes 20 to 30 minutes. Now enjoy! Very easy right?
Video
How to Make Peanut Butter Cups | Better Than Reese's Peanut Butter Cup Recipe
Notes
Note: A serving includes 2 of the mini sized peanut butter cups.
Nutrition
Do you like the recipe? Please give it a rating and comment down below, I really appreciate it. If you make it tag me on Instagram @inthekitchenwithmatt. Also, sign up for the newsletter so you won't miss out on any of my new posts and recipes.