Jump to Recipe
This yummy homemade brigadeiro recipe is soft and full of chocolate flavor. And it only requires three ingredients to make!
What is brigadeiro? It is a traditional Brazilian chocolate treat or candy that is very popular to have for birthdays but it is made anytime of the year.
There are so many variations of sprinkles that you can decorate them with and they are bursting with flavor. It is a type of chocolate truffle. The name comes from Brigadier Eduardo Gomes and gained popularity in the mid to late 1940s.
It is such a simple and yummy chocolate treat to make, if I can do, you can do it. Let's get started!
If you like Brazilian food make sure to try this Brazilian cheese bread recipe!
Step 1: Gather the ingredients
Brigadeiro is made with just these three basic ingredients, and then topped with toppings if desired.
Butter
Sweetened Condensed Milk
Unsweetened Cocoa Powder
Toppings (optional)
Chocolate sprinkles
Coconut flakes
Nuts
Step 2: How to make homemade brigadeiro
Begin by adding a non-stick pot to the stovetop and set the burner to Medium-Low heat. Add the butter and allow it to melt.
Once the butter melts add in all of the sweetened condensed milk. Now time to stir. You will be doing a lot of stirring. From this point forward you will be stirring for about 15 to 20 minutes.
Step 3: Cocoa powder time
While stirring sift in the cocoa powder. You can also sift the cocoa powder beforehand. It helps to break up any lumps. Keep stirring incorporating that cocoa powder.
If you stop stirring it is prone to burning, and you definitely don't want that. Stir, stir stir. After awhile it will start to thicken up.
How will you know when the brigadeiro candy is ready?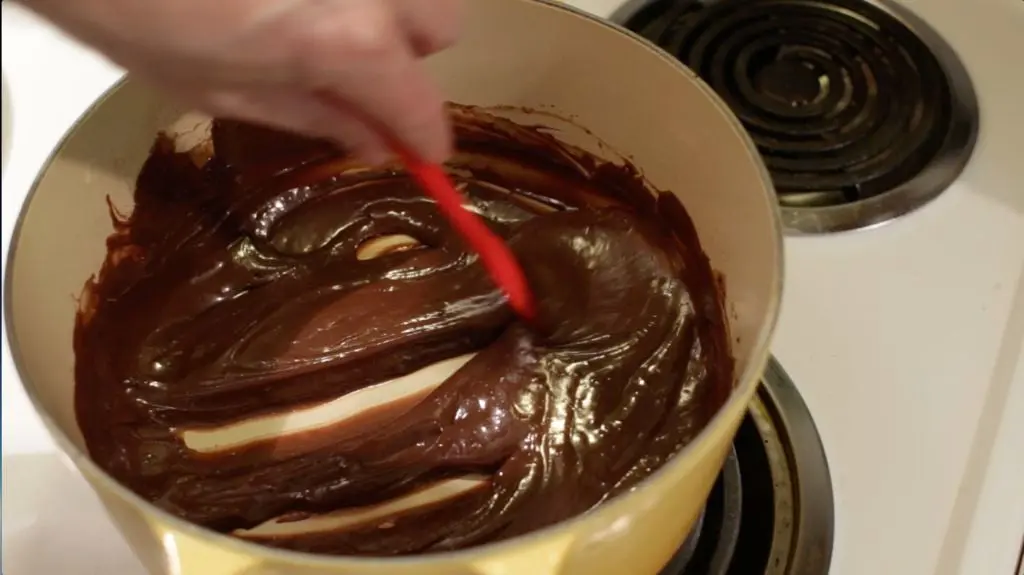 They way you tell it is ready is when you scrape the bottom of the pot, it will create a crevasse in the chocolate, and the walls of chocolate stay put and only slightly seem towards the center.
Now it is ready to go.
Step 4: Plate it!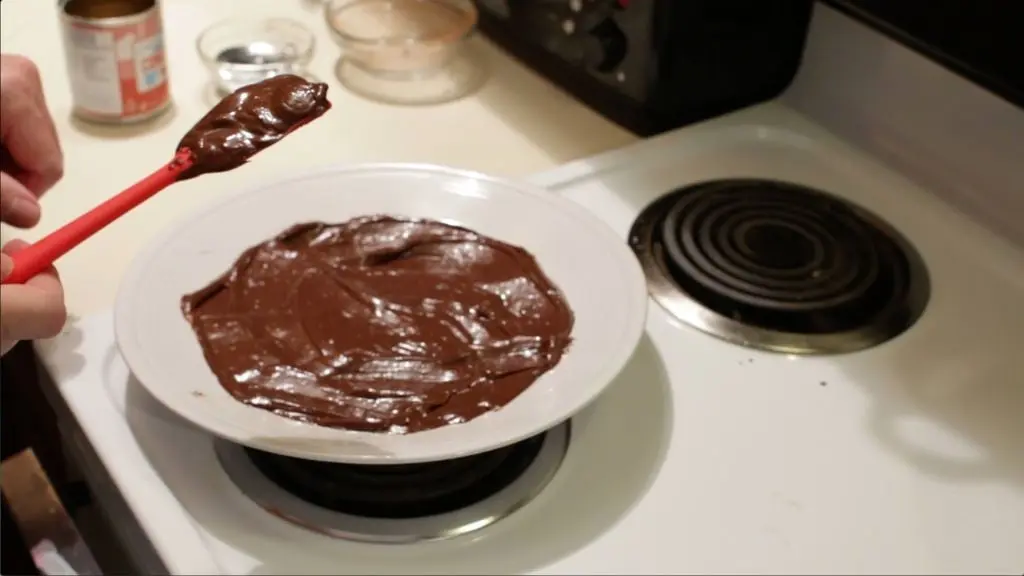 Pour the brigadeiro candy onto a plate and smooth it out until it is even. Let it cool to room temperature and then place the plate in the refrigerator for at least 30 minutes. You may also eat it as is warm.
Or serve it like a ganache with some ice cream or drizzle it over a cake.
Step 5: How to make brigadeiro balls
Once the plate comes out of the fridge and the chocolate candy has set it is time to form the balls. Take some butter and rub it on your hands. Make sure your hands are clean!
Use a spoon and scrape some chocolate and put it in your hands and then roll it into a ball. Dip the ball into your choice of sprinkles if you like. Chocolate sprinkles are the traditional toppings to use. You can also dip and roll them in coconut flakes or nuts.
Place them into a paper mini muffin cup and then once you are done, put them back in the fridge for 15 to 20 minutes to firm up.
Now it is time to serve up those yummy homemade gooey brigadeiro. Enjoy!
How long do brigadeiros last?
They will last up to 3 days at room temperature or about a week in the fridge.
Can I use chocolate chips or chocolate bars to make Brigadeiro?
Yes, you sure can! Use a nice dark or semi-sweet chocolate, like the Godiva or Ghiradelli brand. Even the store brand will work. This works great if you don't have cocoa powder.
Brigadeiro
This yummy homemade brigadeiro recipe is a class Brazilian chocolate candy, very popular for birthdays. It is so very easy to make and only requires 3 basic ingredients. If I can do it, you can do it!
Equipment
Nonstick pot (I use my dutch oven. You can use any pot really though.)

spatula or wooden spoon

Paper cups

Plate
Ingredients
2

Tbsp.

of butter

unsalted or salted (28g)

1

can 14oz of sweetened condensed milk

396g

1/3

cup

of unsweetened cocoa powder

32g or 1/2 cup of chocolate milk powder (50g)

chocolate sprinkles

coconut flakes

nuts
Instructions
Place a nonstick large pot on the stovetop and set the heat to medium-low.

Add the butter and melt it. Then add in the sweetened condensed milk. Start stirring and keep stirring the whole time until the brigadeiro chocolate mixture is done.

Sift the cocoa powder into the pot or sift it into a bowl beforehand. Add it a little at a time while stirring until it is all incorporated.

Keep stirring for 15 to 20 minutes. It will start to get thicker and thicker. Keep stirring until when you scrap your spoon along the bottom the crevasse it makes holds its shape, and then walls of chocolate barely creep back into place. It is done. You can serve it warm or pour it over a cake or proceed to the next steps.

Remove it from the heat and pour it onto a plate and spread it out on the bottom of the plate. Then chill the plate in the fridge for at least 30 minutes.

Take the plate out of the fridge. Add some butter to your clean hands and scoop up some of the candy with a spoon. Roll it into a ball and then roll it into your choice of sprinkles. Place it into a mini muffin cup and then finish the rest of them.

Put the plate of brigadeiros back into the fridge and chill them for 15 to 20 minutes. Time to serve them. Enjoy!
Video
How to Make Brigadeiro | Easy Brazilian Chocolate Treat Recipe
Notes
Nutrition
Do you like this recipe? Please give it a rating and comment down below, I really appreciate it. If you make it tag me on Instagram @inthekitchenwithmatt. Also, sign up for the newsletter so you won't miss out on any of my new posts and recipes.
Here are a few more recipes you may like: