Jump to Recipe
In this simple step by step tutorial you will learn how to make classic vanilla buttercream frosting. Buttercream frosting is the king of frosting and is so versatile!
It is so easy to use and pipe and only requires a few easy ingredients. You just may not want to buy store-bought frosting anymore after making it at home.
Use it on your cupcakes and cakes and any other recipes you may have. If I can do it, you can do it! Let's get started.
Step 1: Gather the ingredients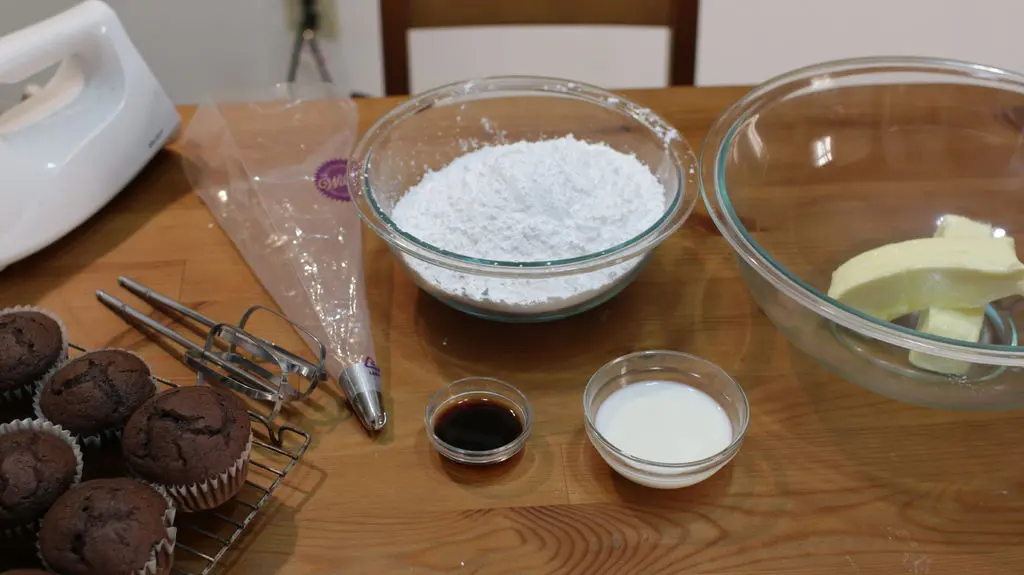 In order to make this easy homemade buttercream frosting you will need just four everyday ingredients. Chances are you already have them at home:
Butter – I generally use unsalted butter but salted butter will work fine too. You can't have buttercream frosting without butter! If you are Vegan, use Vegan butter.
Vanilla extract – Vanilla extract gives vanilla buttercream its specific taste. You can switch it out with other flavored extracts too like almond, strawberry, etc.
Powdered sugar – This is the main sweet component in the frosting, just like other frostings. Did you know you can make your own powdered sugar with this homemade powdered sugar tutorial?
Milk or Heavy Cream – I like using whole milk, but other milk will work fine. Heavy cream works great as well. Leave this out if you are Vegan.
What is buttercream frosting?
The easiest way to describe buttercream frosting is a frosting that has butter and powdered sugar creamed together with added flavoring and milk for consistency. It is used for decorating cakes and cupcakes and also sometimes used as filling for pastries. The name come from the butter.
Step 2: How to make classic vanilla buttercream frosting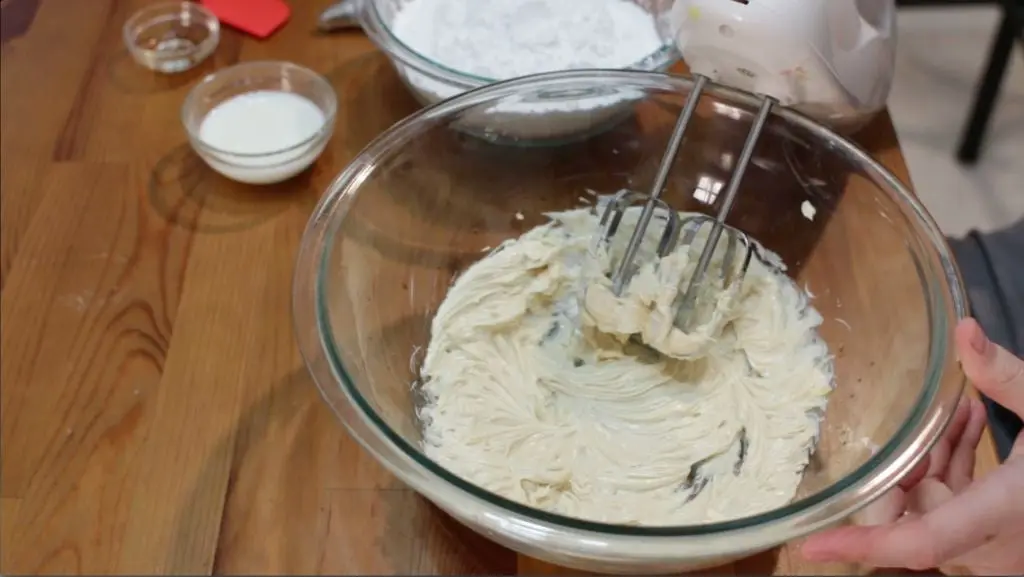 Begin by adding softened room temperature butter to a large bowl. Blend it well with the vanilla extract using a hand mixer or a stand mixer. You can also use a stiff whisk if you like.
If you have another flavor that you would like to use, use that instead of the vanilla. There are all kinds of different flavors that you can use. Add food coloring to match the flavor as well if you like.
Scrape the sides of the bowl with a spatula as needed.
Step 3: Finish the homemade buttercream frosting
Now add in the powdered sugar or confectioner's sugar or icing sugar little by little to the buttercream. Once it is all incorporated you will be left with very thick frosting.
Don't have powdered sugar on hand? That is okay you can make your own in about five minutes with this powdered sugar tutorial.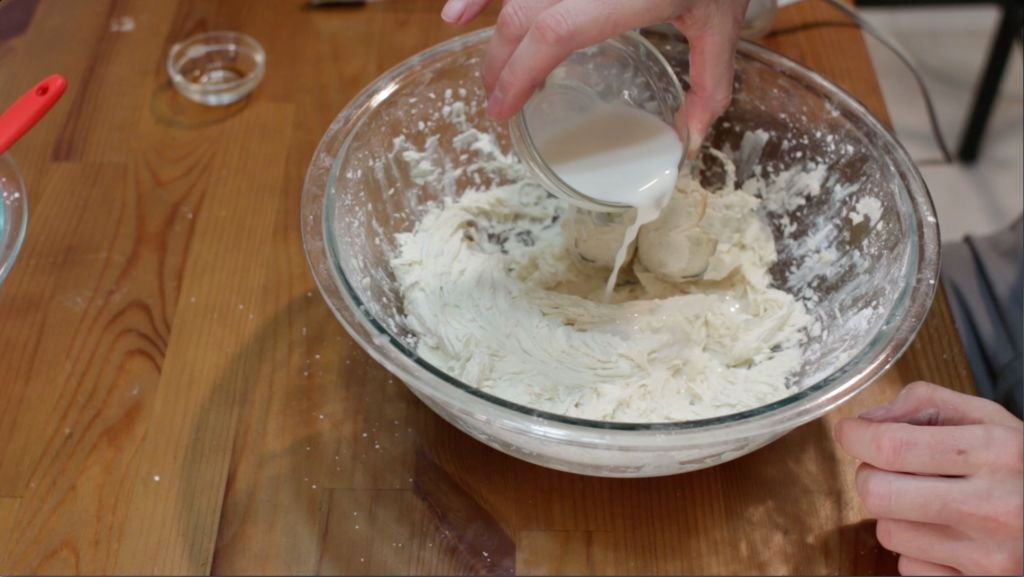 Thin out the frosting add in the milk or cream a little bit at a time until you get the desired consistency. Also, food coloring can be added at this point if not added earlier. Or add additional coloring to make the color deeper.
Now you are left with a large bowl of vanilla or whatever flavor you made buttercream frosting. Use it however you like! Enjoy.
How to use a piping bag with frosting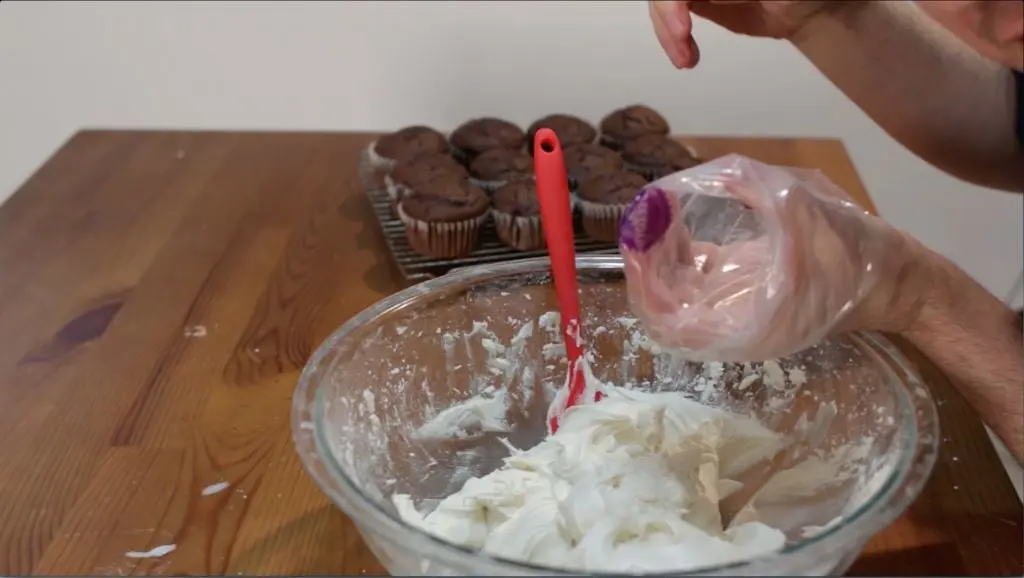 You can use your spatula to frost your cake or cupcakes and you can use a piping bag to make designs. There are a variety of piping bag options that you can use. A lot of times I just use disposable piping bags so I don't have to wash them after.
A large gallon-sized ziplock bag will work as well. Or you can always buy a professional piping bag that you can use over and over again, but you will need to wash it. I use all three options regularly.
To use the bag you can fold it over your hand so it creates a large opening that you can stuff the frosting in, or you can fold it over a large diameter tall glass as well. Make sure to add whatever frosting tip you want to use.
After filling the bag, twist the top and squeeze, and the buttercream frosting or other frosting will come out through the tip.
I love the contrast between the white buttercream frosting and the chocolate cupcakes. And the flavor combination it provides. A classic look and taste for a classic kind of guy.
How to store homemade buttercream frosting?
Store the frosting in an airtight container in the fridge where it will last about 2 weeks. To use it, remove it from the fridge and allow it to soften at room temperature.
Classic Buttercream Frosting
This classic buttercream frosting is perfect for all your cake and cupcake decorating needs. And it is super simple and quick to make at home. It will probably take you less time to make it at home then it does to drive to the store and buy some premade frosting, provided you already have the ingredients of course. If I can do it, you can do it!
Equipment
Piping bag

Tips

Bowl

Mixer

Spatula
Ingredients
1

cup

softened room temp unsalted butter

227g

2

tsp.

of vanilla extract

10ml

4

cups

of confectioner's sugar

powdered sugar (500g)

2 – 3

Tbsp.

of milk

30 to 45ml
Instructions
Begin by creaming the butter with the vanilla or other flavoring extract in a large bowl with a hand mixer, stand mixer, or sturdy whisk. If you forget to leave out the butter beforehand to soften, just put it in the microwave for a few seconds to soften it. Or soften it in the oven on warm.

Slowly mix in the powdered sugar until all combined. The result will be a very thick frosting.

Thin the frosting out by adding a little bit of milk at a time until you get your desired thickness. Now your frosting will be ready and you can use it in a piping bag or just use a spatula to put it on your cakes or cupcakes. Enjoy!
Video
How to Make Buttercream Frosting | Classic Buttercream Frosting Recipe
Notes
The recipe easily makes enough buttercream frosting for 24 to 36 cupcakes depending on how much you pipe on. Or 1 to 2 layered cakes. 
Store remaining frosting in an airtight container in the fridge for a few weeks.
Nutrition
Do you like the recipe? Please give it a rating and comment down below, I really appreciate it. If you make it tag me on Instagram @inthekitchenwithmatt. Also, sign up for the newsletter so you won't miss out on any of my new posts and recipes.
Here are a few more recipes you may like: