Jump to Recipe
Two of my most favorite things in this world are chocolate and caramel. This caramel sauce is so amazing, it is silky smooth and bursting with caramel flavor.
Also I love how easy this caramel sauce is to make. It only requires five everyday ingredients, that you may already have in your house.
Caramel is the perfect topping for ice cream or maybe you want to dip apple slices in it. If I can do it, you can do it. Let's get started!
Step 1: Gather the ingredients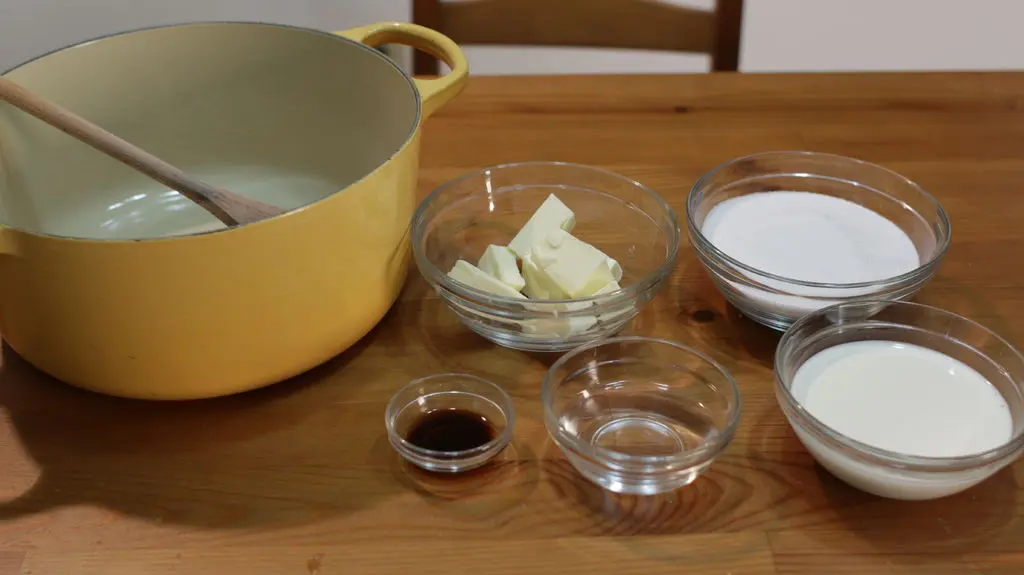 In order to make this homemade caramel sauce from scratch you need the following simple to find ingredients:
Sugar – Sugar is the main component of the caramel. Although there are other variations that don't use sugar, classic caramel, and caramel sauce is made with white granulated sugar.
Butter – The butter helps to add a chewy texture instead of a hard candy texture. The butter also adds flavor.
Heavy Whipping Cream – Cream is also added for texture to keep the caramel smooth, soft, and from turning into a hard candy.
Water – I always use filtered water when cooking and baking because my tap water tastes terrible. The water in this case is added to the pan to melt the sugar evenly. Technically it isn't needed, you can add sugar right to the pan to melt, but it may not melt and caramelize evenly.
Vanilla – Vanille extract is an optional ingredient I always add for flavor and to enhance the flavor of the other ingredients.
Tools
Heavy bottom saucepot with high walls
wooden spoon
basting brush
Bowls
Step 2: How to make caramel sauce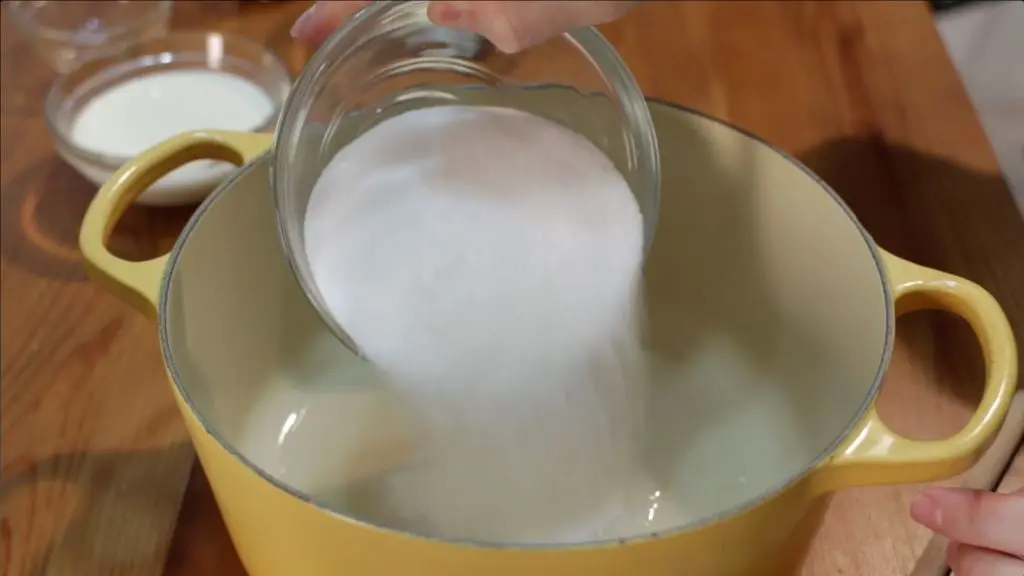 Begin by adding the water and the white granulated sugar to a heavy bottom pot, such as an enameled dutch oven. These kinds of dutch ovens are fantastic you can use them for a variety of tasks.
They are a good workhorse pot for the kitchen and the heavy bottom helps promote even cooking and melting.
In a small bowl, combine the cream and the vanilla extract and set aside for now.
Step 3: Melt the sugar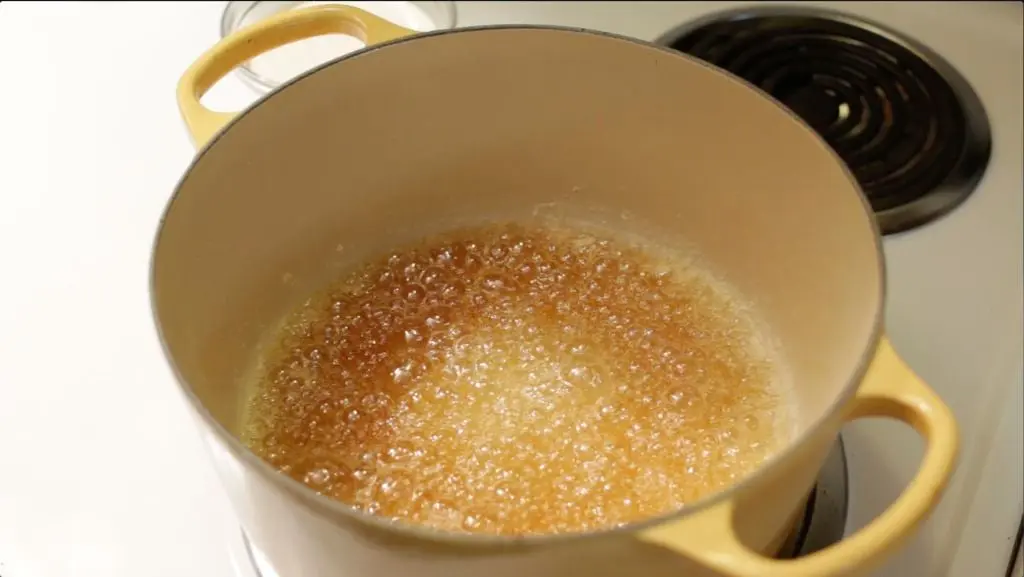 Place the pot on the stovetop burner and set the heat between medium-low and medium. Now just let the pot sit, don't stir it, don't mess with it. The sugar crystals will melt.
If you see sugar crystals forming on the sides of the pot, use a basting brush with a tiny bit of water and brush them down. The sugar crystals on the sides of the pot may mess up the caramel sauce later on.
After several minutes the sugar will bubble and start to turn colors. First it will be a yellowish blonde color, then light brown, and finally amber. Once it turns amber you can swirl the pot a bit to allow the color to spread, but it really isn't necessary.
Wait until you have a deep amber color then remove the pot from the heat.
Step 4: Finish the caramel sauce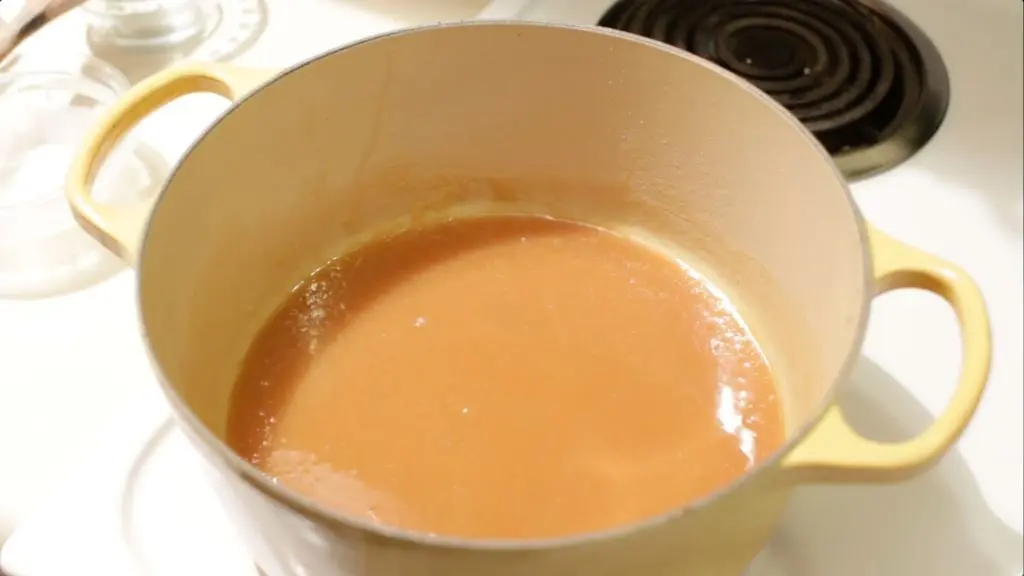 Next, stir in the cream and vanilla extra mixture a little bit at a time until it is all incorporated. The hot caramel will bubble and sometimes get kind of violent.
Just be careful, if it splats up and hits your hand it will stick and be painfully not. If you are worried about it, you can where an oven mitt during this part. Generally you don't have to worry about it with a high walled pot.
After the cream is incorporated stir in all the butter until it is melted and incorporated. The caramel sauce is done. Let it cool for a bit and if you want it to cool faster, transfer it to another bowl.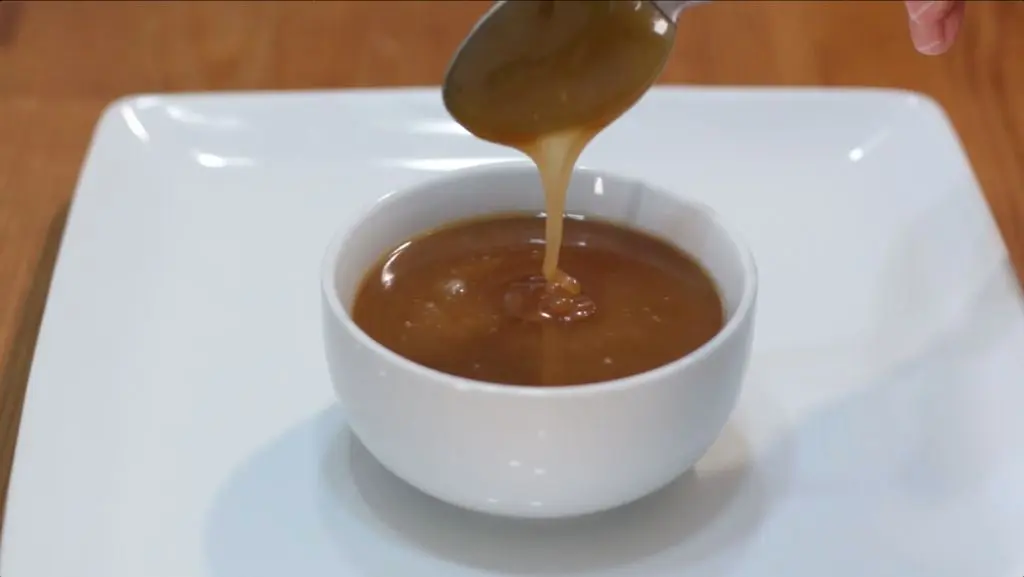 You caramel sauce is done and ready to be used on ice cream, cakes, as a dip for fruit, etc. Enjoy!
How to store homemade caramel sauce
Because it has butter and cream in it, the sauce should be stored in the fridge. It will get really thick when cooled, so just reheat it when you want to use it again. The homemade caramel sauce will last a few weeks if stored in an airtight container, such as a mason jar with a lid.
Here are a few more recipes you may like:
Caramel Sauce
This homemade caramel sauce is so silky smooth and delicious. It is perfect as a topping for ice cream or other desserts, for as a dip for fruit. All you need are five easy everyday ingredients to make it. If I can do it, you can do it!
Equipment
Heavy bottom saucepot with high walls

Wooden spoon

Basting brush

Bowl
Ingredients
1

cup

white granulated sugar

200g

1/4

cup

filtered water

60ml (the water doesn't have to be exact)

1/2

cup

heavy cream

120ml

1

tsp.

vanilla extract

5ml

6

tbsp.

of butter

85g
Instructions
In a large pot add the water and sugar. Set the burner on the stove between medium-low and medium heat. Allow the sugar to melt undisturbed for several minutes. Brush down any sugar crystals that form on the sides of the walls, with a basting brush and a tiny bit of water.

The sugar will melt and then the whole mixture will bubble. Allow it to continue cooking without stirring. The color will change from yellowish to amber. Once the caramel is a dark amber color remove the pot from the heat.

Mix together the cream and the vanilla extract and then slowly add it little by little stirring it into the caramel with a wooden spoon. The hot caramel may bubble pretty crazy when adding the cream so be careful. If you are worried, wear an oven mitt while stirring the cream in.

Next, add in the butter until it is completely melted and incorporated. Then allow the caramel to cool for 10 to 15 minutes before transferring it to a serving bowl. It will thicken up more as it cools.

Once it cools, it is ready to be used on ice cream, other desserts, or as a dip for fruit.

Store it in an airtight container like a mason jar with a lid, in the fridge for a few weeks. Reheat it when you want to use it. Or just scoop the cool caramel sauce out of the jar and go right into your mouth with it. Enjoy!
Video
How to Make Caramel | Easy Homemade Caramel Sauce Recipe
Notes
You can easily make more servings which would reduce the calorie count. 
Nutrition
Do you like this recipe? Please give it a rating and comment down below, I really appreciate it.  If you make it tag me on Instagram @inthekitchenwithmatt. Also, sign up for the newsletter so you won't miss out on any of my new posts and recipes.