Today I have a little different blog post for you. I had the opportunity to go on my first-ever cruise about a week ago and I wanted to share my experience with you as a first-timer and also just if I liked it or not, and if I were to do it again. In this Carnival cruise ship review, I talk specifically about the Mardi Gras, which is the ship I was on.
I will cover the:
The size of the ship, and the ship itself
Dining options and food aboard the cruise ship
Amenities and activities and things to do on the Carnival Mardi Gras cruise ship
Port Excursions: Puerto Rico, Dominican Republic, and Grand Turk
Again, this is from a perspective of a first-time cruiser. So, I don't have a lot of a reference, the only frame of reference was just from what friends and family have told me. As they said,
You're going to love the cruise. You're going to love the all you can eat food and excursions!
Let's dive into this awesome first-time cruise experience that I had.
Want to book a Carnival Cruise? Click here: https://bit.ly/44helw8 (affiliate link)
Carnival Mardi Gras Cruise Ship Review
This Carnival cruise ship review begins at Port Canaveral, Florida. We were to leave Port Canaveral and we were going to go to Puerto Rico, Dominican Republic, and Grand Turk Islands. I've never been to those places before. I was excited to see those places as well and do the excursions.
Also, this is also a little bit different from an experience from maybe that other people would have because I went with an enormous singles group.
A friend of mine, Cheri, puts together all these single excursions and trips, and so I joined this one.
There were already a lot of people I knew that were going, and I had a really good friend, another friend named Matt, that was going as well. He and I were able to hang out quite a bit together. That really helped me have a good experience.
So this perspective is a little different than it could have been if I went with a family or with a spouse.
Back to the ship. The first thing I noticed when I got to the port was this boat, this cruise ship was massive. Someone told me one of the workers on board told me that it was the equivalent of like an 18-story building.
At one of the ports, I had the opportunity to take a photo or video of our cruise ship next to one of the other Carnival cruise ships. And ours was so much bigger. Pretty interesting.
And I think our cruise ship was four or five times bigger than the Titanic, to give you a reference, which is insane. And again, I'd never been on a cruise ship before, so I wasn't I didn't know what to expect.
I liked that it was a huge cruise ship because there were a lot of places to explore.
Dining Options and Food aboard the Carnival Cruise Ship
Time to talk about my dining and food experience in this carnival cruise ship review. Firstly, there are plenty of food options that come included with the price of your cruise. And then there are higher-end options where you have to pay extra. I didn't visit any of the locations that required me to pay extra, because I wanted to experience the cruise from a perspective of what food was already included.
The first place I ate was the Lido Market Place on Deck 16 (there were 18 decks). This was a classic buffet-style eatery. There were lots of sitting next to the windows so you could see out to the ocean and they had a variety of food to eat. I ate there pretty much every day for breakfast. My favorite things to get were bacon, eggs, and potatoes, with fresh fruit, and a few pastries. They had an omelet station as well, but the line was always too long, so I didn't try that.
I ate at other places for lunch and dinner. Our big group always met in the Palm Restaurant for dinner each night. We rotated tables each time so we could sit with different people. It was a singles trip after all.
And they had other places like they had Guy's Burger Joint on board and I ate there twice I really liked guys burger joint. The burger was really, really good.
And then they had Shaq's Big Chicken that was on there, and that was pretty good as well. And they had Emerald's Bistro. I didn't go to Emeril's place, and they had several other specific restaurants. For a complete list of food options go here.
One thing that someone told me, a friend of mine said,
You're going to love the never-ending supply of soft-serve ice cream and frozen yogurt.
And I did! I probably had 4 to 5 ice cream cones a day. You could say I am an ice cream and frozen yogurt addict. But despite all the food I ate, I only gained 3 to 4 pounds that cruise week, haha. I walked so much, always took the stairs, and was getting 14,000 to 16,000 steps a day. So I like to think that helped me not gain the weight I could have.
One of my impressions of the food specifically, I mentioned some already, was in the main dining room, I wasn't super impressed. The food was just okay to me and really didn't live up to the hype I was hearing from my friends and family.
A lot of the appetizers like this strawberry bisque/cold soup were really good. It tasted like a melted strawberry milkshake.
The first entree that I had was fried shrimp and fried rice, which I enjoyed. I had a filet mignon one night, and it wasn't really a filet. They called it a filet, but it wasn't a filet. I've had a lot of filet mignon in my day. And this wasn't a filet.
The flavor was fine, but it wasn't really a filet, even though it tasted okay.
I had shrimp nearly every time they offered it and that was really good. They also served lobster tail one night, and I was impressed. I was expecting it to be rubbery and not very good, but it was really good.
Another entree. the chicken parm, kind of tasted almost like chicken jerky, it was really tough and overcooked.
They had a creme brulee and it just wasn't that great. The sugar layer was really thick and the custard just didn't have that great custard flavor that I'm looking for. It was just okay to me. I make a good a great creme brulee here on my website.
Overall, I think the appetizers were better than the main entrees, and then the desserts were just so-so, in my opinion. They could have been a little bit better.
And Carnival, I think, is known for being a little bit more of the bottom-of-the-barrel or entry-level cruise ship. I've heard that the food on Princess and Norwegian and the Disney Cruise line, have better food.
But all in all, the food was fine, some I really liked and others I didn't care for as much. I also just really liked the fact that I could eat as much food as I wanted, whenever I wanted, haha. And I didn't have to do any dishes!
Amenities, Activities, Shows, and More on the Mardi Gras
The amenities that they had were pretty awesome. There was so much to see and do on the ship. They had the following things to do and more:
Large multi-level pool deck area with a big screen. They showed movies each day on it.
Comedy shows, Musicals, Piano Bars, Bingo, and much more.
Large casino area.
Workout room, Spa, massages, etc.
Sports court
Arcade
Roller coaster
Miniature Golf
Lots of hot tubs around the ship
Water park with water slides
It was fun to do a roller coaster on a cruise ship.
I didn't go on the water slides because the water was too cold for me. On the other side of the ship, they had the Serenity area, which was for adults only and no kids were allowed. There were nice hot tubs and some special rooms that you could reserve if you wanted but had to pay extra.
And a lot of our friends from our group each evening would go to the hot tub and just hang out and have a good time.
Overall I was impressed with the number of amenities, activities, and things to do aboard the Carnival Mardi Gras cruise ship.
A big part of cruises is the port destinations and the excursions that you go on. Let me dive into those now.
Carnival Cruise Ship Port Stop 1: Puerto Rico
The first port that we visited was Puerto Rico. I'd never been to Puerto Rico before, so it was really fun to visit. The main excursion for the day was going to a large preserve/park to do ziplining.
There were 5 total ziplines that we did. We had to do a little hiking in between each zipline but it wasn't too bad. It was a nice way to see the amazing park that we were in. And off in the distance, we could see San Juan.
Then when we were waiting to leave the park, I was walking around the parking area and I was lucky enough to find one of my favorite fruits growing on some trees, the star fruit or Carambola. And one of the groundskeepers helped me pick a ripe one. And it was so good.
If you want to learn how to eat a star fruit and find out what they taste like make sure to head over to this star fruit article.
Another cool thing that I was not expecting is I was able to pet an emu, which was really fun!
I really enjoyed my experience there at the park ziplining, eating star fruit, and seeing some cool animals. And then when we got back to port and still had a couple of hours left. So we walked around town, the old town part of San Juan.
I wanted to eat some authentic Puerto Rican food. A few of us stopped at a local restaurant and ordered mofongo. Mofongo is a traditional Puerto Rican dish that consists of mashed plantain in the shape of a bowl. And then they put, like, beef or chicken inside. It was really good. That was one of the better things I've eaten on my whole trip. After that, we only had about 90 minutes left before we needed to be back on the ship, so we decided to walk around a little bit more.
We went and saw the main fort in San Juan. There wasn't enough time to go on the walkaround self-guided tour of the fort, so we just took a few pictures and then headed back toward the port. Along the way, we saw an awesome cathedral, a spot with loads and loads of pigeons, and some really scenic streets. That area was really awesome.
Finally, we made it back to our ship and concluded our Puerto Rico visit. I would have liked to have more time in Puerto Rico to see more things. That was one of my gripes about the cruise I wish we had maybe two days at each port, but I understand why the cruise ships don't do that long at each port.
Carnival Cruise Ship Port Stop 2: Dominican Republic
The next day we wound up in the Dominican Republic. Here we were going to do ziplining again but after we were done ziplining we were going to go down 7 waterfalls part of the very popular 27 waterfalls. It would include jumping and sliding in the water. This excursion and the one in Puerto Rico were not "Carnival" excursions, these were booked by our travel agent. So most of our group could be together.
One thing I will mention is Carnival has tons of excursions that you can book, with a huge variety, something for everyone.
After arriving at the parking lot we got our life vests and helmets and started out on a hike. The hike was about 45 minutes to reach the first of the 7 zip lines that we were doing.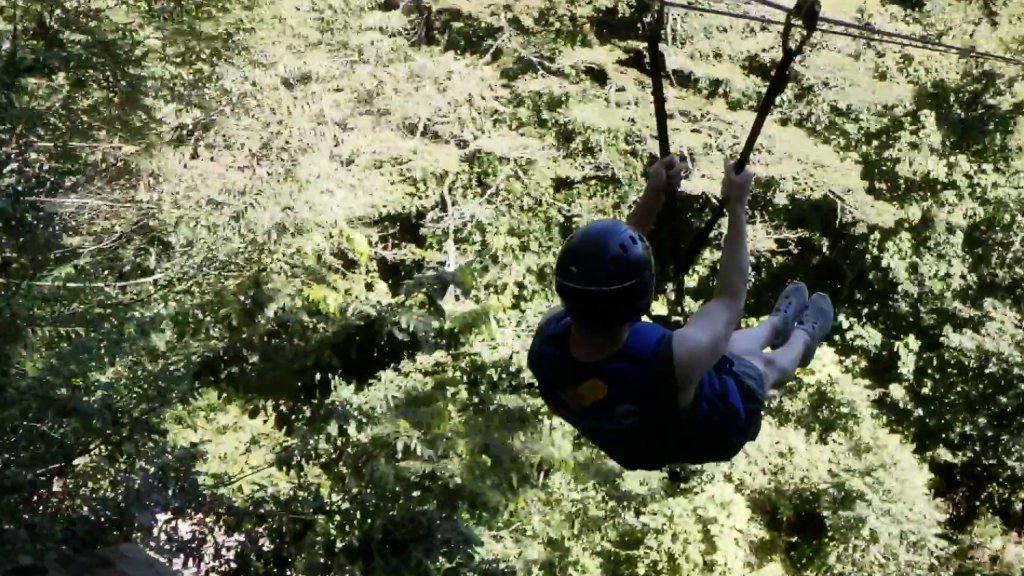 I loved the ziplines here in the Dominican, I think they were a little better than the ones in Puerto Rico. They were just so much faster and we didn't have to walk as far in between each zip line.
Once we were done ziplining, it was time for the waterfalls.
That wasn't my favorite part. The water was really cold, and I don't really like jumping into water that much. It was fun sliding down the natural slides, however.
And once we were done ziplining and jumping and sliding it was time for lunch. We had some authentic food there right at the park.
La Bandera is a classic dish there in the Dominican Republic. It has rice, beans, fried chicken, and some other things. It was really really good. Again, that was one of my favorite things that I ate the whole trip. Local food for the win!
After lunch, we headed back to port and were able to walk around for a little while before getting back on the ship.
Carnival Cruise Ship Port Stop 3: Grand Turk
And then the next port was Grand Turk which is the capital island of the Turks and Caicos. The first thing I noticed is the island wasn't very big. It is only like 6 square miles in size, with a population of around 5000 people. So when the cruise ships dock at the port if everyone gets off the ship the whole island population doubles for the day.
Here at Grand Turk, was my only Carnival Cruise Ship-specific excursion, which was booked through them. It consisted of going on a catamaran boat, snorkeling, and a private beach.
The catamaran ride was lots of fun. There were probably like 80 to 100 people on board. They had music, drinks, and snacks. We rode it for about 20 to 25 minutes before reaching the snorkeling location.
Snorkeling was awesome, the water was so clear but not really warm. It was like 78, 79 degrees F, but definitely a lot warmer than where I grew up in California and warmer than the waterfalls in the Dominican.
After snorkeling, we rode on the catamaran to a private beach and got to hang out and just enjoy the beach for a while. Pristine, white, sandy powdery beaches and super crystal clear blue water.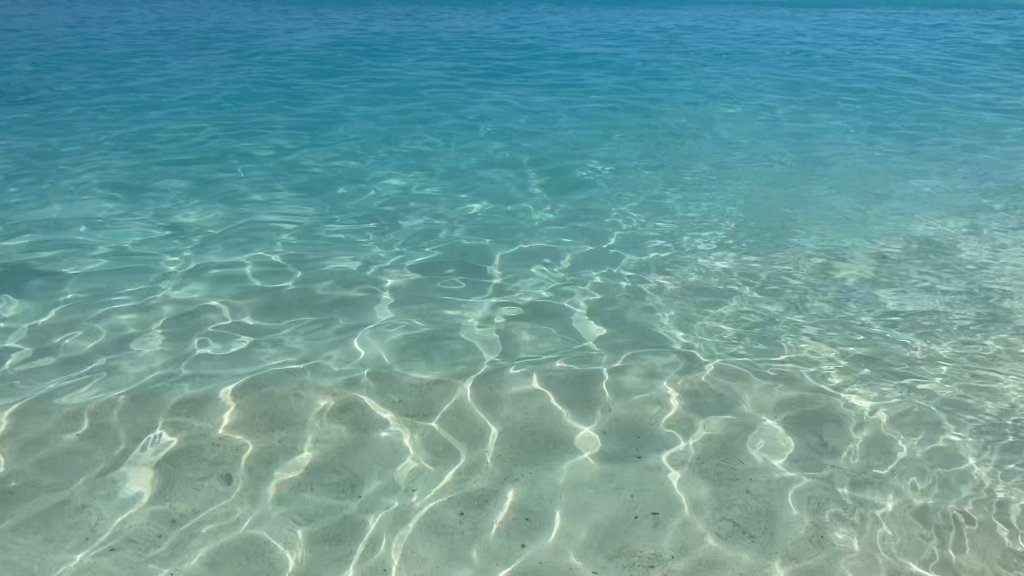 When we got back, we walked around the port area. We has 3 or 4 hours left before we needed to get back on the ship. I bought some local ice cream which was really really good. Yes, I love ice cream, haha.
I wanted some authentic local food. One of the locals said there was a jerk chicken place down the beach. So we walked down there and got some yummy jerk chicken.
The jerk chicken, yellow rice, and potato salad were so good. Again, this was one of the better things that I had in my whole trip. So the three local foods that I had at these local places were better than a lot of the stuff that I had on the cruise ship.
After eating lunch we walked around some more before getting back on the ship.
I will admit I was actually getting sad that I had to go home soon already.
To sum up this Carnival cruise ship review, I really, really enjoyed this cruise. I liked the ship a lot. It was a great first-time experience for me. I loved the excursions. I love the ports that we visited. The food was fine. Some things were better than others, but for the most part, I was satisfied with the food. And I really loved all-you-can-eat ice cream and frozen yogurt. I liked how you could just put plates, dishes, glasses, etc. pretty much anywhere, and someone would clean them up for you. An overall amazing experience!
I highly recommend it. If you've never done a cruise before, go on a cruise. Carnival cruises are cheaper than the other cruises, so it's a great first experience.
If you can't do a seven-day one, maybe try out a three-day one or four-day one. I can't wait to go again. Hope you enjoyed this Carnival Cruise Ship review, more specifically the Mardi Gras ship review.
Take care, everyone, and happy cruising.
How much did the Carnival Mardi Gras Cruise cost?
My 7-day cruise plus travel insurance was right around $1400. Not including the flight to Orlando, or the added stuff I did or bought on board, like the wifi package, massage, specialty mocktails, tips, etc. Cruises can be very cheap, however, and if you time it right, you can find some amazing deals. Some of the shorter cruises only cost $300 to $400.
Want to book a Carnival Cruise? Click here: https://bit.ly/44helw8 (affiliate link)
Watch my Carnival Cruise Ship Review Video!