Jump to Recipe
I love making and eating different soups, especially during the fall and winter months. Some of my favorite soup recipes are this black bean soup, ham and potato soup, easy tomato soup, and of course this super easy carrot soup recipe.
If you like quick and easy soup recipes that don't take a lot of time and don't require a ton of ingredients then you have got to try this delicious homemade carrot soup recipe. The cool thing is the whole thing is made in the Vitamix or other high-speed blender in less than 15 minutes from start to finish.
Or if you don't have a Vitamix or comparable blender I will explain how to do it in a pot on the stovetop burner or hot plate.
Let's get started!
How does this carrot soup cook in the Vitamix? Does it really work?
Blender soups work because of the high speed and high power they provide much more than other cheaper blenders. The high-speed uses friction to heat up and cook the healthy soup.
With that said, it doesn't provide the same depth of flavor that you get from a slowly long-cooked soup in a pot on the stovetop, but I will share a tip if you want to get a better flavor for your carrot soup. But as is, it is pretty tasty and incredibly quick, and easy to make. Yes, it really works!
Soup Ingredients
In order to make this creamy carrot soup you need just a handful of simple ingredients:
Carrots – Use traditional fresh carrots that you need to peel or use the cut and peeled baby carrots. I like to use those sometimes because they already come in the amount I want and they are all ready to go.
Onion – I like to use sweet onion but other fresh onions will work.
Olive Oil – You could also use avocado oil or coconut oil if desired. I like the flavor of the olive oil.
Garlic – I like to use a few cloves of fresh garlic, but you can certainly use garlic powder too if you like.
Thyme – I prefer using fresh thyme but dried thyme will work as well.
Vegetable Stock – Normally I will use vegetable stock or vegetable broth, but you can also try chicken broth or chicken stock, or beef broth or beef stock.
Ginger – Fresh ginger or ground ginger is an optional ingredient that you may want to add.
Tools/Equipment:
Blender/Vitamix
Cutting board
Knife
Pot – optional if you are not using a highspeed blender.
Peeler – if you want to peel the carrots.
How to make carrot soup in a Vitamix blender?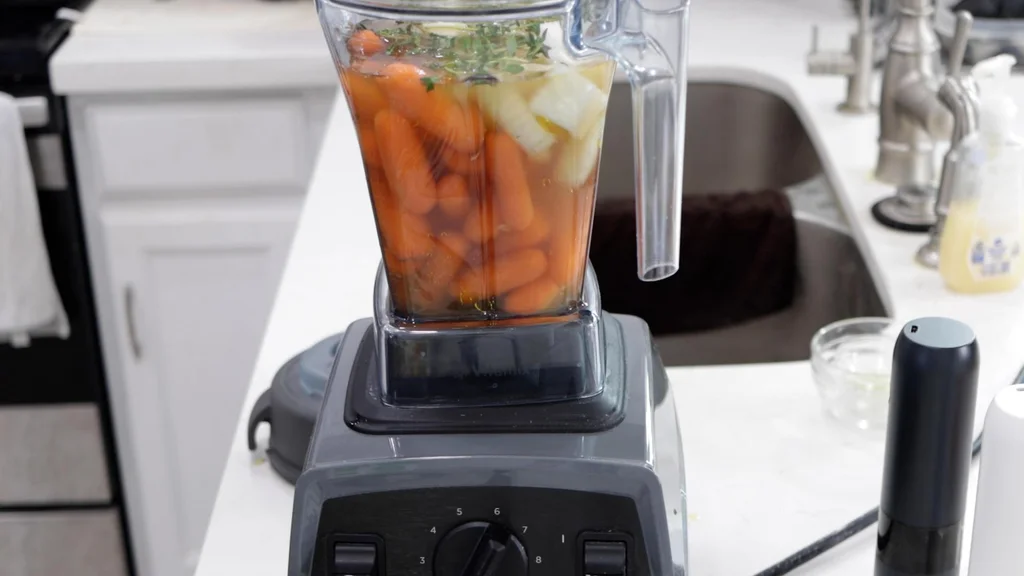 Seriously this delicious soup takes little effort. Begin by rinsing your bunch of carrots. Then it is up to you if you peel them or not. Then cut them into smaller pieces. If you are using the baby carrots then there is no need, they are ready to go as is.
Peel and roughly chop about a quarter of a large onion. You can always use more onion or less if desired. The onion helps add rich flavor to the homemade soup.
Prepare 2 to 5 cloves of garlic as well by removing the skin. You can leave them whole.
Add the carrots, onion, olive oil, garlic, thyme, and vegetable stock to the blender container. Whether or not you have a highspeed blender this step will be the same.
If your blender has a soup setting, just press that and let it do its thing. It will take 5 to 6 minutes. Or if your Vitamix doesn't have a soup setting like mine, start at the lowest setting and then gradually turn the speed to high and let it run for 5 to 6 minutes. The walls of the container will get hot and you may see steam coming out of the top.
And just like that the simple carrot soup is ready! "Souper" easy right? Haha. This has got to be the easiest way to make soup at home.
Now pour the hot soup into a mug or serving bowl. This easy recipe makes around 4 servings. Add some salt and black pepper to taste and maybe a sprig or two of fresh thyme on top and you are ready to eat it.
To further elevate it, maybe add crispy shallots or crispy bacon on top as well for a bit of crunch. Try adding a bit of acid like lemon juice, lime juice, or orange juice to liven it up and give it another flavor note. Enjoy!
How do I make the soup if I don't have a Vitamix?
If you don't have a Vitamix or high-speed blender, still throw all the ingredients in whatever blender you have and blend for a few minutes until smooth. Then pour it into a large pot or a Dutch oven and place it on your burner and set the heat to medium heat. Heat the soup until it is really hot.
Optionally after roasting the veggies first you can put them in the pot with all the other ingredients and use an immersion blender instead of a regular blender then heat it up until hot. Now you can serve it.
Time to enjoy your soup on a cold day or any time of the year. Such a yummy comfort food.
Pro Tip for Better tasting carrot soup
If you want a better depth of flavor for your soup then I recommend roasting the vegetables first and then you will have a roasted carrot soup. Add the carrots, onion, and garlic to a sheet pan or baking pan and roast in the oven at 375F or 190C for 30 to 40 minutes until you get some caramelization happening on them. Then proceed with the blending step. Roasting always brings out amazing flavor in those veggies.
FAQs
How long does this carrot soup last?
Store any leftovers in an airtight container for about a week in the fridge. You can also freeze the soup for 2 to 3 months if not longer. Then just reheat it in a pot on a burner or you can use the microwave if desired.
Can I use other veggies?
Yes! Try it like this first and then the next time you make it, I encourage you to try other veggies like corn, broccoli, cauliflower, peppers, sweet potato, butternut squash, etc. You can use them by themselves or a combination. But some of those fresh vegetables really need to be roasted first or at least blanched before using them for soup.
Can I add heavy cream?
Yes! For extra creamy carrot soup add about 1/4 cup of heavy cream in the blender as well. Or if you want to keep it a vegan soup add part of a can of coconut milk or try something like coconut cream.
Where can I get a Vitamix?
Purchase the Vitamix e310 Blender here. (Affiliate Link)
Here are other recipes you may like:
Pumpkin Chocolate Chip Cookies
Carrot Soup Recipe
Learn how to make a super easy carrot soup in a Vitamix or in a pot on a burner.
Equipment
Blender/Vitamix

Cutting board

Knife
Ingredients
1

lb

of carrots

453g

1/4

cup

of sweet onion

doesn't have to be exact (40g)

1

Tbsp

of olive oil

15g

2 to 5

cloves

of fresh garlic or use 1/4 to 1/2 tsp of garlic powder

3 to 4

sprigs of fresh thyme or use 1/2 tsp or so of dry thyme

3

cups

of vegetable stock

can use other stock like chicken stock, beef stock, etc. (710g)
Instructions
Prep the Veggies: rinse and peel the carrots. Peel and roughly chop the onion. And peel the garlic.

Throw all of the ingredients into your Vitamix and then use the soup setting if you have one otherwise start on the lowest speed and gradually raise the speed to the highest setting and let it run for 5 1/2 to 6 minutes until the soup is really hot.

Pour into mugs or bowls and serve. Enjoy!
Making the soup in a Pot on a burner.
After blending the ingredients until smooth with a regular blender pour it into a large pot and heat it on a burner until really hot, stirring occasionally.
Notes
PRO TIP: If you want a better depth of flavor I recommend roasting the veggies first BEFORE blending them. Take the carrots, onion, and garlic and place them in a baking pan, and then roast in the oven at 375F/190C for 30 to 40 minutes until soft and they get some caramelization on them.
Nutrition
Serving:
317
g
|
Calories:
96
kcal
|
Carbohydrates:
16
g
|
Protein:
1
g
|
Fat:
3.7
g
|
Saturated Fat:
0.5
g
|
Sodium:
493
mg
|
Potassium:
-3
mg
|
Fiber:
3
g
|
Sugar:
8
g
Do you like this easy soup recipe? Please give it a rating and comment down below, I really appreciate it.  If you make it tag me on Instagram @inthekitchenwithmatt. Also, sign up for the newsletter so you won't miss out on any of my new posts and recipes.