Jump to Recipe
I am a huge fan of experiencing and making different cuisines from around the world, especially desserts and treats! This Chocolate Crackles recipe hails from Australia and is another popular treat served at birthday parties along with the classic Honey Joys.
If you love chocolate and you love Rice Krispies or Rice Bubbles as they are known in Australia, then you will love Chocolate Crackles. They kind of remind me of a Nestle Crunch bar but with more crunch and less chocolate. They are so good and incredibly easy to make.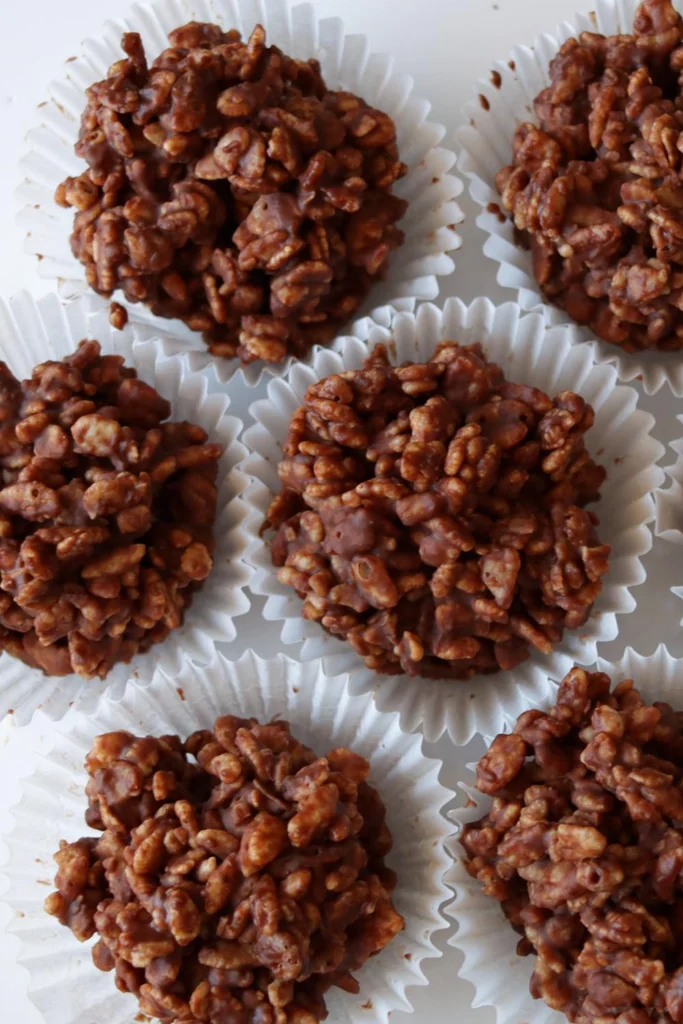 One reason I like chocolate Crackles so much is I always have chocolate chips, butter, shredded coconut, and cereal on hand. If I need a quick treat to make for a game night or to take to a party I can whip these up in no time.
And you can make them different each time using different kinds of chocolate chips, chocolate bars, etc.
One thing to keep in mind is that this is NOT the original authentic recipe for Chocolate Crackles. Kellogg's Australia has the authentic recipe posted there. It calls for ingredients like Copha (Vegetable shortening), powdered sugar, and cocoa powder, along with the desiccated coconut and Rice Bubbles.
But I like using butter and actual chocolate. Either way, they are simple to make, let's get started!
How to Make Chocolate Crackles at home
In order to make chocolate crackles you need just 4 ingredients, if you don't like coconut, then you only need 3 ingredients! And if you want to make the authentic version you only need 5 ingredients.
Butter – I always use unsalted butter, but you can use salted butter to if you like.
Chocolate – I typically use milk chocolate chips, but you can use any chocolate chips or break up chocolate bars and use those as well.
Desiccated Coconut – Desiccated coconut is just dried and shredded coconut. I put my shredded coconut in a food processor and blend it up a bit to make it smaller. Or you can just leave the coconut flakes whole as well if you like.
Rice Krispies – The Rice Krispies or Rice Bubbles are what give these crackles their signature crunch. You can use the plain or the chocolate rice Krispies if you want. Also, have fun using other types of dry cereal.
Tools/Equipment
Large pot
Wooden spoon or silicone spoon
Spatula
Muffin pan
Paper cups
Melt the Butter and the Chocolate
Begin by first blending up the coconut flakes in a food processor if you want the coconut finer. If you aren't using coconut then don't worry about it. Or if you want to just use the coconut flakes as is, then that is perfectly fine as well.
Add the butter and the chocolate to a large pot, remember you can use any chocolate that you want here, I like using milk chocolate chips.
Set the burner to medium-low heat. If the burner is too hot it will burn the chocolate. If you wish, you can use the double-boiler method instead for melting the chocolate and butter.
Stir gently but constantly until both the butter and the chocolate are melted and combined.
NOTE: You can make different kinds of chocolate Crinkles, semi-sweet, milk chocolate, dark chocolate, etc. Just use your favorite!
Finish the Chocolate Crinkles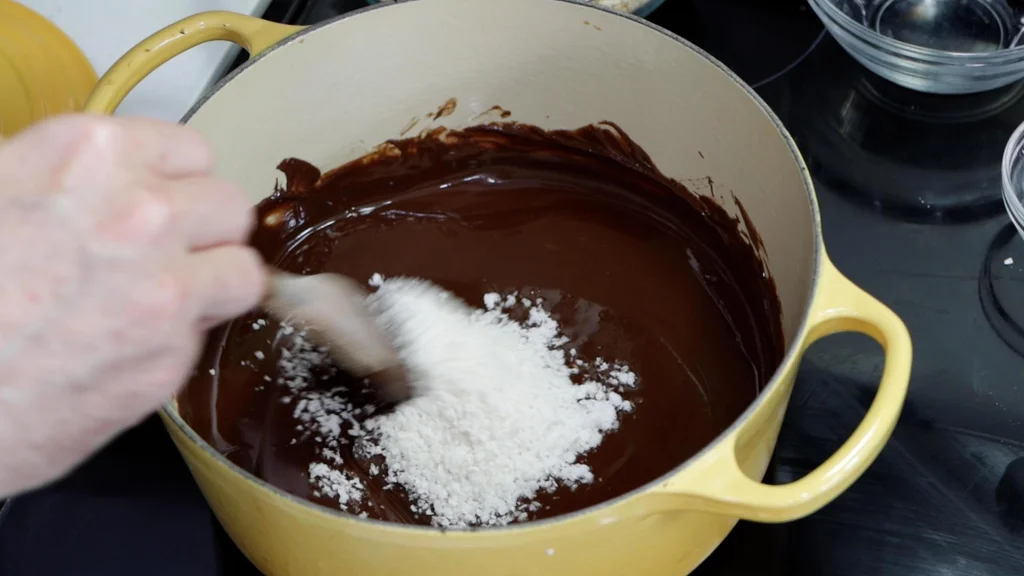 Once the butter and chocolate have melted completely dump in the desiccated coconut, or skip this step if you don't want to use the coconut.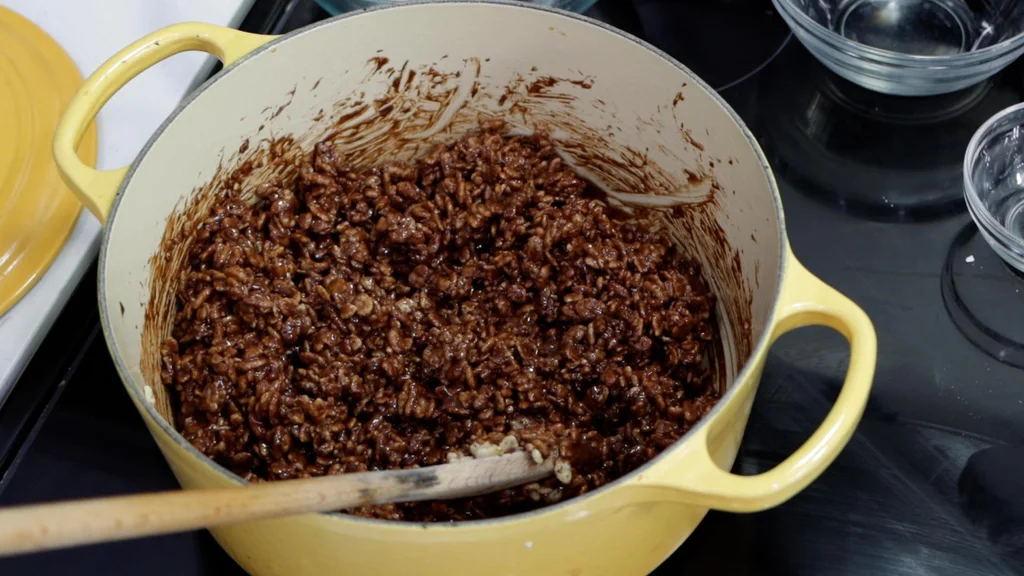 Stir that in and then dump in all the Rice Krispies (Rice Bubbles) and stir until well coated.
And just like that, it is ready. Simple huh??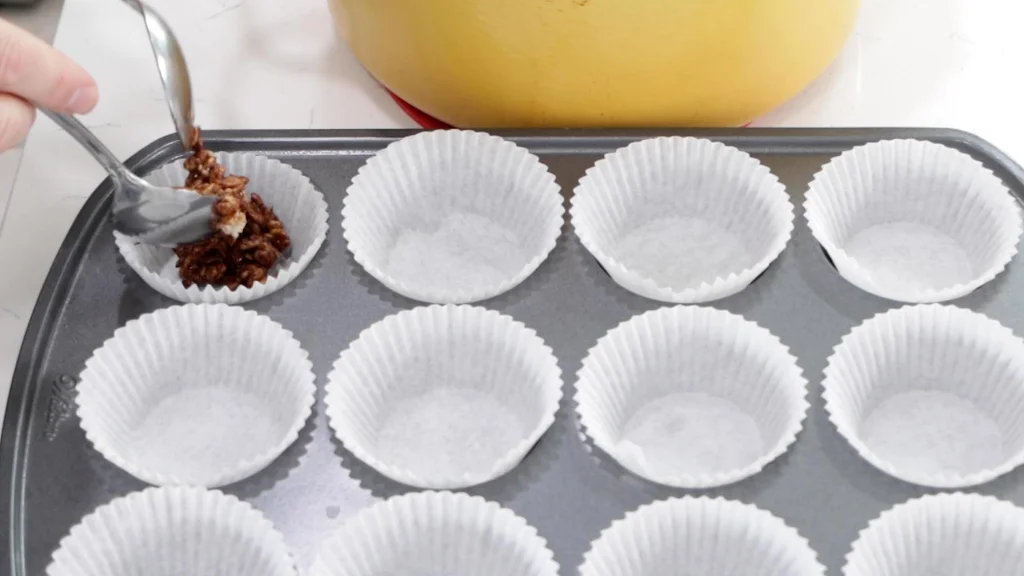 Line a muffin pan with 12 muffin cups. Or use 2 muffin pans and 24 cups. You can even use the mini muffin pans if you like to make several smaller bite-sized crackles.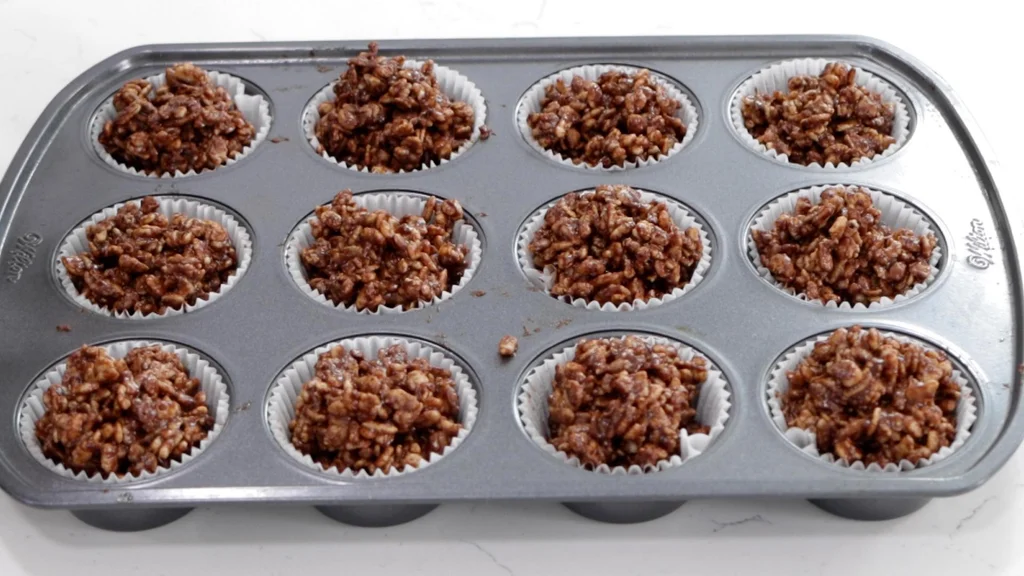 Use two spoons and scoop and mound up the mixture. I love making 12 large ones. But you can fill up the cups halfway and make 24 with this recipe if desired.
Once the cups are filled place the crackles in the fridge for about 30 minutes or so to set.
Now time to enjoy those chocolate crackles. Just remove the paper cups and bite into them. They make great treats for parties, or you can give them as gives during the holidays, or whenever.
And if you always have chocolate and cereal on hand, you can always whip up this fun treat for the family and friends whenever you want.
Enjoy!
How long do Chocolate Crackles last?
These tasty treats will last 3 to 4 days in an airtight container in the fridge. You can also freeze them for long-term storage.
Here are other treat recipes you may like:
Hamantaschen Pie Crust Cookies
Chocolate Crackles
These chocolate crackles are so yummy and incredibly easy to make. If you love chocolate and Rice Krispies, you will love these!
Equipment
Large Pot

Wooden spoon or Silicone Spoon

Spatula

Muffin pan

Paper cups

Spoons
Ingredients
1/2

cup

of unsalted butter

113g

1 1/4

cups

of chocolate chips

milk, dark, or semi-sweet (about 210g)

1/3

cup

desiccated coconut

finely chopped coconut flakes, add more if you like (32g)

3

cups

of rice Krispies cereal

rice bubbles (75g)
Instructions
Begin by chopping or blending up your coconut finer. Desiccated coconut is just dried and shredded coconut, but I like to make it even finer. Or just leave the shredded coconut as is and skip this step.

Add chocolate and butter to a large pot and place on the burner. Set heat to medium-low. Stir gently but constantly until the butter and chocolate have completely melted and are well combined.

Stir the coconut into the melted chocolate and butter then dump in all the Rice Krispies (Rice Bubbles) and stir until evenly and well coated.

Add muffin cups to a muffin pan and spoon the chocolate Crackles mixture into each cup. Mount them high or fill them about halfway and make double the amount (24 total). You can also use the mini muffin cups.

Place in the fridge and chill until set about 30 minutes.
Video
How to Make Chocolate Crackles | Easy Chocolate Crackles Recipe Australian Treat
Notes
NOTE: The chocolate and butter can also be placed in a microwave-safe bowl and melted in the microwave. Use bursts of 20 seconds and then stir, repeat, until melted. It goes pretty fast on the stovetop though.
For the original Authentic recipe from the Kellogg's AU site use these ingredients:
4 cups Kellogg's® Rice Bubbles®
1 cup icing sugar
1 cup desiccated coconut
250g copha®*, chopped
3 Tbsp cocoa
Nutrition
Do you like the easy shortbread cookies recipe? Please give it a rating and comment down below, I really appreciate it. Save the Pin to Pinterest! If you make it tag me on Instagram @inthekitchenwithmatt. Also, sign up for the newsletter so you won't miss out on any of my new posts and recipes.
Check out my other website 101 Creative Dates for fun date ideas. Food and dating go hand in hand!