Jump to Recipe
I have a slight obsession with chocolate, okay, maybe slight is an understatement. How can you not, chocolate is so yummy. I also love a good pancake. Combine the two and you wind up with some amazing chocolate pancakes that are perfect for any breakfast.
A perfect way to make the kids happy in the morning is to make them some chocolate pancakes. They are light, fluffy, from scratch, and incredibly easy to make. Top them off with strawberries or raspberries and powdered sugar and you will have one awesome plate of food. If I can do it, you can do it, let's get started!
Step 1: Gather the ingredients and tools
In order to make chocolate pancakes you need just a handful of ingredients:
Egg – The egg will act as a binder for the other ingredients and add a bit of moisture to the pancake, as well as add a slight bit of leavening.
Milk – I normally use whole milk for these but any milk will do including almond milk if you are lactose intolerant. The milk will add moisture and help make a softer crumb for the pancakes.
Butter – I like to use unsalted real butter, which will add flavor, but oil can be used as well.
Flour – Use either all-purpose flour or cake flour.
Granulated Sugar – The sugar will add sweetness and balance out the bitterness from the cocoa powder.
Unsweetened Cocoa Powder – The cocoa powder is the star of this dish. You can't have chocolate pancakes without the chocolate taste.
Baking soda – Baking soda is the main leavening agent, it will help to make the pancakes light and fluffy.
Salt – The salt will add flavor and balance and enhance the other ingredients.
Tools
Step 2: How to make chocolate pancakes
Begin by preheating the pancake griddle to 350 F/176 C or place your skillet on the stovetop and set it to medium heat. Next, mix together the milk, egg, butter, and sugar in a large bowl. Use a stand mixer or whisk to blend them together.
Step 3: Add those dry ingredients
Now take a sifter or sieve and add the flour, cocoa powder, baking soda, and salt. Then sift them into the batter. You definitely want to use a sifter or sieve because cocoa powder has a tendency to be lumpy. Either mix in the dry ingredients with a whisk or use a mixer, until the chocolate pancake batter comes out smooth. The batter should be fairly thick, but if it ever gets too thick, you can add a bit more milk to it.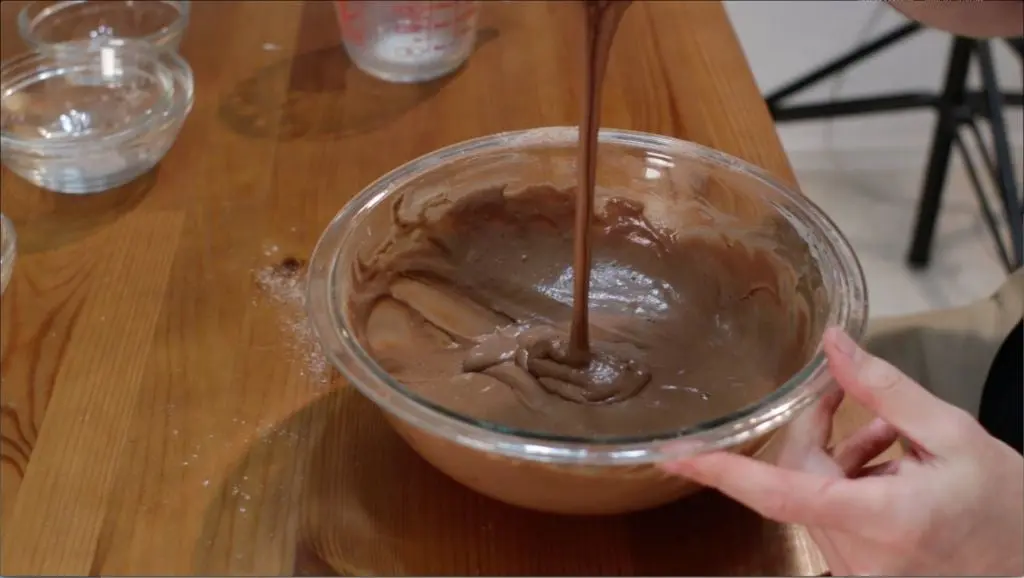 Step 4: Cook up those yummy chocolate pancakes
Give the griddle or skillet a spray with some cooking spray or you can drop in a bit of butter if you like. Once the griddle is hot, use a 1/2 cup measuring cup and pour some batter onto the griddle or skillet. It will spread out into a pancake shape. Allow the pancake to cook for 2 to 3 minutes. The edges will become dull and little bubbles will form on the top.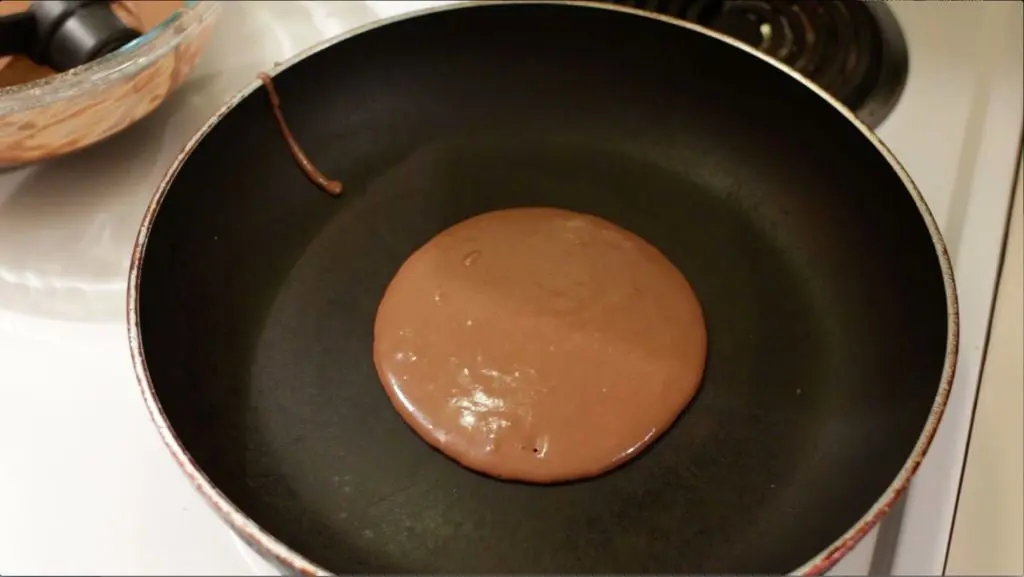 Step 5: Flip those pancakes
After the first side has cooked long enough use a spatula and flip it over to the other side. This side will take a little less time to cook, about 1 to 1 1/2 minutes. At any point if the pancakes start to stick to the pan, use some butter or kitchen spray again.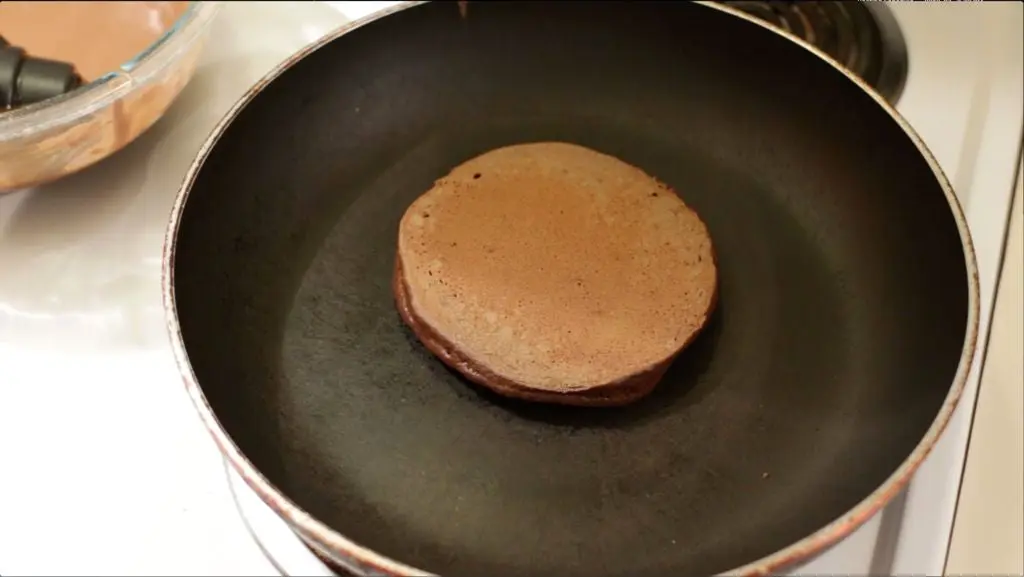 Step 6: Use your favorite toppings
Once your chocolate pancakes are finished cooking you can top them off with whatever toppings that you like. Some of my favorites are fresh fruit like strawberries, raspberries, and blueberries. Sprinkle it with a bit of powdered sugar and you are good to go.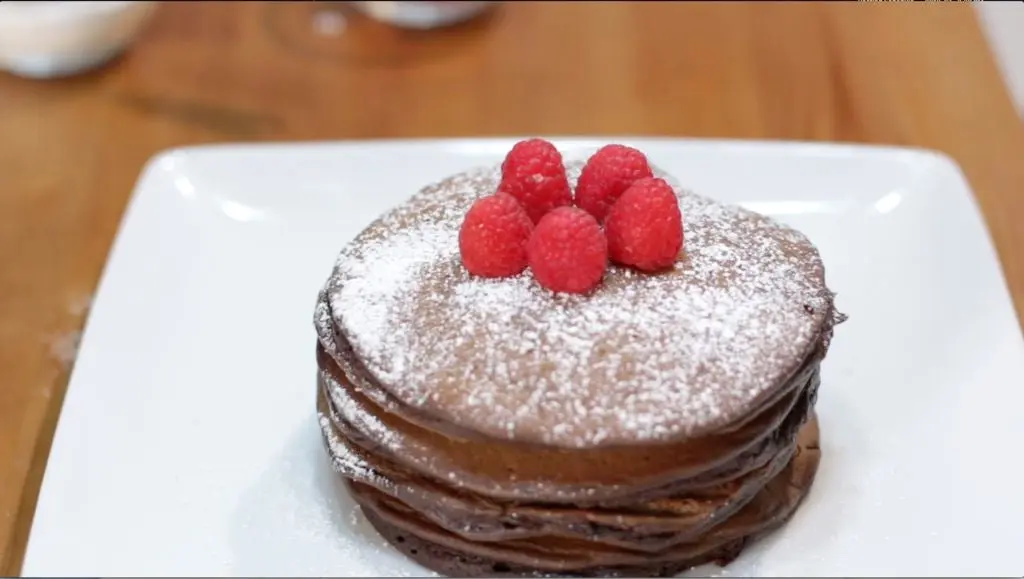 I normally don't put maple syrup on my chocolate pancakes but you certainly could if you like. Enjoy!
Chocolate Pancakes
If you love chocolate and you love pancakes you will love these homemade chocolate pancakes. They are light, fluffy, and oh so yummy! And they are incredibly easy to make.
Equipment
Large bowl

Sifter

Whisk

skillet or griddle

Spatula
Ingredients
1

large egg

1

cup

of milk

whole, 1%, 2%, skim, Almond, etc.(237mL) (can use 1 or 2 Tbsp. more for thinner batter)

2

Tbsp

of unsalted butter

melted (oil can be used as well) (30g)

1

cup

of all-purpose or plain flour

120g

1/4

cup

of white granulated sugar

50g

1/3

cup

of unsweetened cocoa powder

35g

1

tsp.

baking soda

5g

1/2

tsp.

salt

if using salted butter reduce to 1/4 tsp. (3g)
Toppings
Strawberries

Raspberries

Powdered sugar

Blueberries
Instructions
In a large bowl mix together the egg, milk, softened butter, and granulated sugar. Use a whisk or mixer.

Using a sieve or sifter, sift the flour, salt, baking soda, and cocoa powder into the large bowl with the batter. Mix those together with a spatula or mixer. Don't overmix with the mixer it could cause the pancakes to be less fluffy.

Heat a skillet or griddle to 350 F/176 C. Normally medium heat on a stovetop. Wait until the pan or griddle heats up completely. Test it with a drop of water, if it sizzles that means it is hot enough and ready to go.

Spray the pan or griddle with cooking spray. Then scoop out some batter with a measuring cup or ladle onto the hot pan. I typically will use my half-cup measuring cup.

Allow this side of the chocolate pancake to cook for about 2 to 3 minutes. Once the edges start to get dull and some tiny bubbles form on the top of the pancake you can flip it over. This side will take a little less time, only about 1 to 1.5 minutes.

Once the chocolate pancakes are done, you can serve them with fruit like strawberries, raspberries, blueberries, and powdered sugar, whipped cream, etc. Enjoy!
Video
How to Make Chocolate Pancakes | Easy Homemade Chocolate Pancake Recipe
Notes
You can make a few more pancakes if you thin out the batter with more milk.
Nutrition
Do you like the recipe? Please give it a rating and comment down below, I really appreciate it. If you make it tag me on Instagram @inthekitchenwithmatt. Also, sign up for the newsletter so you won't miss out on any of my new posts and recipes.
Here are a few more recipes you may like: