Jump to Recipe
Probably the most elegant of all cookies is the French macaron. I can't wait to show you how to make this classic French macarons recipe. They only use a few ingredients and did you know they are naturally gluten-free?
I love cookies! I have a whole section here on my blog dedicated to them. No cookie recipe collection is complete unless it includes an awesome French macaron recipe. Not to be confused with the "Macaroon."
Here in the United States, most people say "macaroon" when they are referring to "macarons." Macaroons are a cookie made with coconut and are very different than a macaron which is made with almond flour.
French macarons can be a little tricky to get them looking perfect, but even if you don't get it right the first time, second, or third time, the cookies will still taste great, they just may not look so pretty. If I can do it, you can do it. Let's get baking!
Step 1: Gather the ingredients and tools
In order to make this classic French macarons recipe you will need the following ingredients and tools:
Almond flour – You need a really fine almond flour or almond meal. Usually, it will say on the package if it is very fine. If your almond flour isn't fine enough you won't have a very smooth cookie. But they will still taste good.
Powdered sugar – Also known as icing sugar or confectioner's sugar. This is the main sweet component of the cookie.
Large Eggs or Aged Egg Whites – It is important that they are at room temperature.
Food Gel or Paste – Don't use food coloring, you really need to use a food gel or paste if you want to color the macarons.
Fine granulated sugar – For added sweetness. Caster sugar works great if you have it. Or just run normal granulated sugar in a food processor for a few seconds.
Vanilla extract – This will enhance the flavor.
Filling
Powdered sugar or confectioners' sugar
Softened butter – This will be a yummy buttercream frosting.
Milk – This will help get the right consistency.
Vanilla extract – Again for flavoring.
Tools
Hand Mixer or Stand Mixer
Sifter or fine mesh sieve
Parchment paper or silicone mat
Paper with rounds stencil (optional)
Bowls
Rubber spatula
Whisk
Food processor (optional)
Piping bag with tip or plastic bag
Step 2: How to make classic French Macarons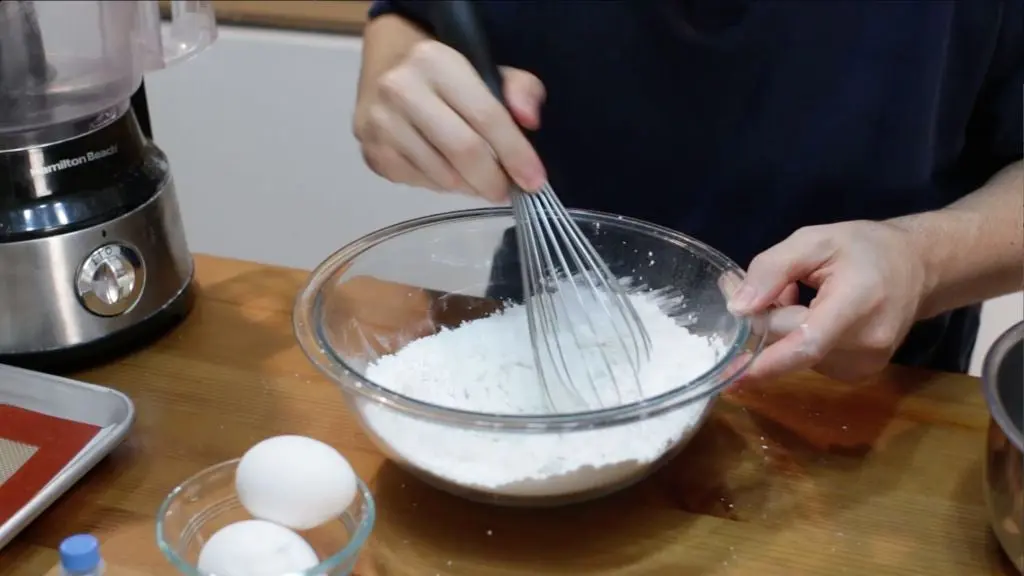 Begin by adding the almond flour to a sifter and sift it into a large bowl. You will probably be left with larger chunks of almond flour. Leave those out, you can just snack on them if you like. Then add in the powdered sugar and whisk the almond flour and powdered sugar together.
Alternatively, you can add the almond flour and powdered sugar together in a food processor and mix them together that way. This works well if your almond flour isn't very fine.
Step 3: Separating the egg whites from the yolks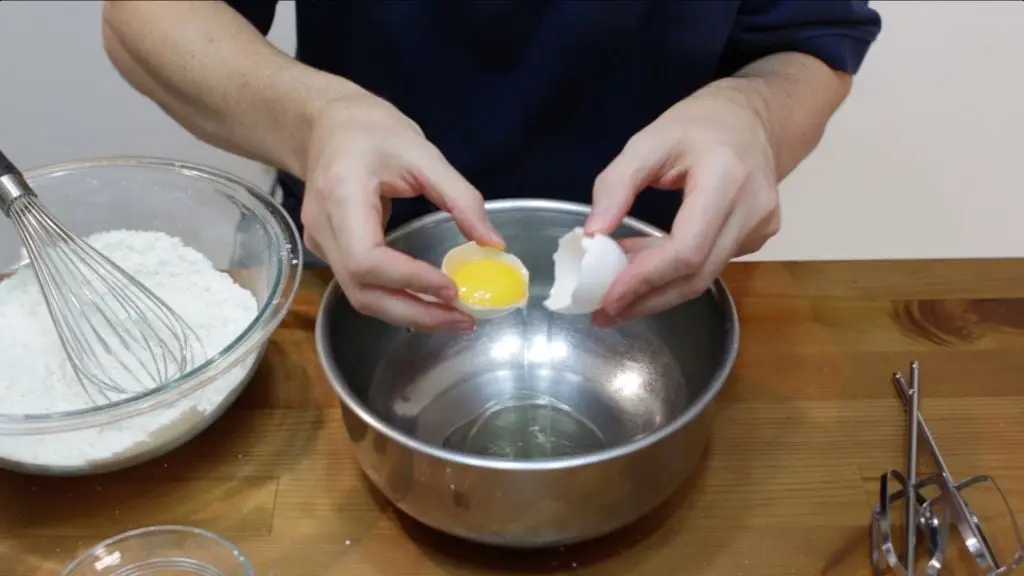 Now we need to separate out the egg whites from the egg yolks. Crack open the egg and then shuffle the egg yolk between the eggshells allowing the egg white to drop into your bowl. You can save the egg yolks and use them in another recipe if you like.
A lot of times the egg whites are "aged" meaning they are placed in a bowl and covered and then set in the fridge for 24 hours and then brought up to room temp. This technique makes the egg whites easier to whip.
I generally forget to do that and just use room-temperature egg whites right away and haven't had many issues. But I wanted to make sure you knew of that technique.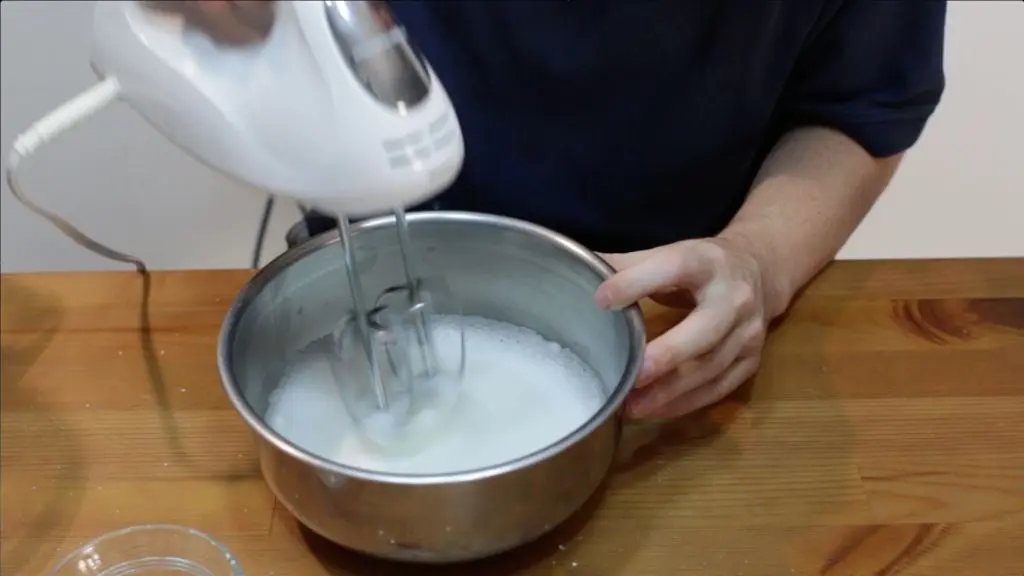 Next, beat the egg whites with medium speed until you get soft peaks. When you lift up the beaters the peaks will form but the tops will fold over easily.
You can use an electric hand mixer for this or a stand mixer with a whisk attachment.
Step 4: Add the sugar
Next, continue beating the egg whites and slowly add in the suprefine sugar until it is all incorporated. At this point, it will resemble heavy whipping cream. This is an important step do not just add all the sugar in at once.
Step 5: Coloring the macaron batter and get stiff peaks
After the sugar has been incorporated add in the vanilla extract and gel food coloring. You can use a variety of different colors.
Just make sure to use a food gel and not standard liquid food coloring. The food coloring may alter the consistency of the egg whites.
Continue mixing until stiff peaks are formed. Basically, when you pull out the beaters the egg whites will stay in place. You should be able to turn the bowl upside down and when you turn it back over the peaks will be pretty much the same. You are left with a nice meringue.
Step 6: Macaronage phase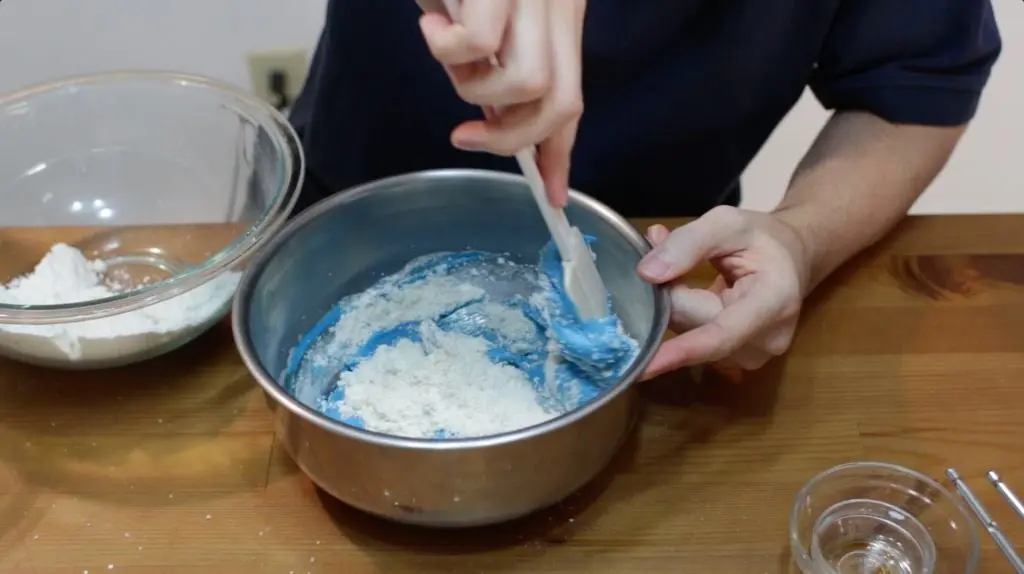 Now we have come to one of the most important stages. It is called the macaronage phase. Macaronage is a French method or technique referring to the process of folding in the dry ingredients or almond flour mixture with the egg whites/meringue.
A lot of homemade macarons have failed during this phase. Add in half of the dry ingredients and then using a spatula fold the batter, don't stir. Fold about 20 times. Make sure to count.
Then add in the rest of the dry ingredients and continue folding. The magical number of folds is between 50 and 60. Yes, I count them! Why count them? This ensures that we don't over mix the batter. The resulting consistency will resemble really thick cake batter. That batter should be thick but fall off the spatula.
Step 6: Piping that classic French Macarons batter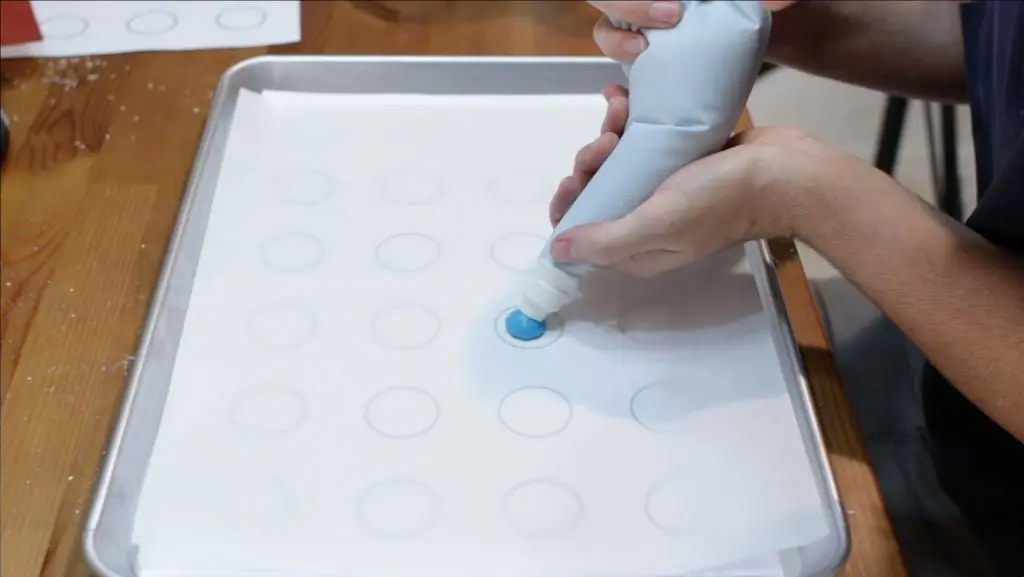 Next, print off a macaron template or make your own. It is essentially just a piece of paper with round circles on it, that can be used as a guide. Place the template on a baking tray and then lay parchment paper over it.
Fill up a pastry bag with your macaron batter with no piping tip or just a round tip. Pipe on the batter in each of the circles. The circles are a little over an inch in diameter.
Step 7: Tap and sit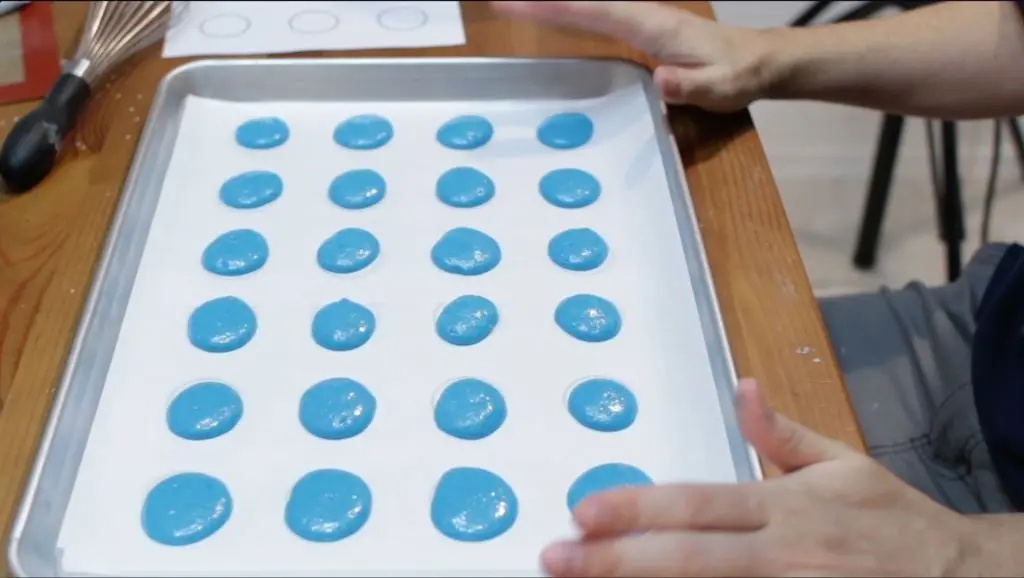 Now, tap the pan a bit on the table or counter. Two to three firm taps usually do the trick. This will help any air bubbles rise to the top. Which essentially makes for a smoother cookie.
Next, allow the unbaked macaron shells to sit for 20 to 30 minutes until a skin forms over the top of them.
Step 8: Baking the French macarons
After the macaron shells have sat for 20 minutes, preheat the oven to 300 F/148 C. REMOVE the paper template from under the parchment paper. Don't bake it with that still there. Then check the tops of the unbaked macaron shells.
When you lightly touch it, it should have a nice skin on top. Bake them in the middle rack position for 15 to 18 minutes. Start with 15 minutes first, everyone's oven is different.
It is always a good idea to get an oven thermometer and check to see if the temp your oven is set at is actually the temp you are getting. It is important to not overbake them, you don't want any brown color on the bake macaron shells. They will be almost the same exact color after baking as they were before baking.
Step 9: Perfectly baked macaron shells
After the macaron shells come out of the oven they should have risen slightly and nice "feet" formed. Let them cool on the baking sheet for 5 to 10 minutes then pick them up and transfer them to a wire rack to cool the rest of the way.
The bottoms of the shell should be nice and smooth. If when you pick them up there is a bit of sticky batter left, it means they weren't baked long enough. It may take some practice to get these down, but once you do it is so worth it. In my oven, 15 minutes is perfect baking time.
Step 10: Buttercream filling for the French Macarons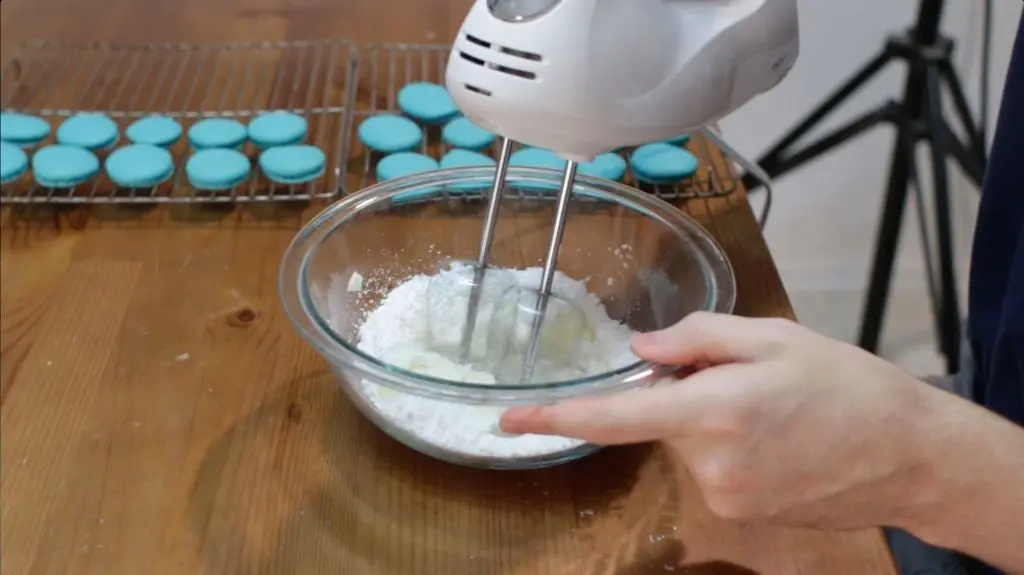 Time to make the filling for the classic French macarons. I like to make a buttercream filling but you can do a number of different fillings. In a medium bowl add the powdered sugar, softened butter, vanilla extract, and a little bit of milk. Mix those ingredients together, adding a little bit more milk as necessary to get the desired consistency.
Step 11: Finish off those classic French Macarons
You have made it! The only thing that is left is to fill up a piping bag or plastic bag and pipe on some buttercream frosting onto one macaron shell. Then place a similarly sized shell on top, which will finish those yummy French macarons.
Once they are done, you can eat them right away, or place them in an airtight container and chill them in the fridge for an hour up to 24 hours.
You can get fancy and add some chocolate drizzles on top dip them in chocolate ganache or add a little frosting on top and add sprinkles, lots of things you can do to decorate them if desired. Especially if you want to make them themed like for Christmas, Thanksgiving, Halloween, etc.
How long do macaron cookies last?
Macarons if stored in an airtight container will last up to 7 days in the refrigerator. Or you can freeze the macarons and they should last up to 4 to 5 months. Then just take them out and let them come to room temperature before eating them.
Why didn't my macaron shells have the "feet?"
There are a number of reasons why your macaron shells may have not formed the classic feet. The batter could be too thin. Meaning the egg whites were not stiff enough, or you may have used a liquid food coloring instead of a gel.
Also, this is where aging the egg whites comes in handy. Did you allow them to rest and form the skin? Did you let them rest too long? They really only need to rest for 20 to 30 minutes. Over 40 minutes is too long and can affect the end result.
Did you check your oven temp? Try raising the temperature to 10 degrees F. Did you open the oven door before 15 minutes to check them? Don't open the oven door too early, it can cause the feet to not develop correctly.
Why are my macaron shells hollow?
A few things can make your macaron shells hollow, too hot of an oven, the shells resting for far too long, and overbeaten egg whites. Don't go past the stiff peak stage.
Why are my macaron shells bumpy?
There are two main reasons for bumpy macaron shells. The almond flour wasn't fine enough. Make sure to sift it and remove any large chunks. Or use a food processor to make them finer. A coffee/spice grinder will also do the trick. Did you tap the pan? Make sure to tap the pan, otherwise, the air bubbles in the batter can cause lumps.
Here are a few more recipes you may like:
Classic French Macarons
The most elegant of all cookies has got to be the French Macaron. The awesome thing about these amazing cookies is they are naturally gluten-free! Time to impress your friends and family with these amazing French cookies.
Equipment
Hand Mixer or Stand Mixer

Sifter or Sieve

parchment paper or silicone baking mat

paper with rounds stencil (optional)

Bowls

Spatula

Whisk

food processor (optional)

piping bag with tip or plastic bag
Ingredients
Shells
1

cup

powdered sugar

icing, confectioners (125g)

3/4

cup

of fine almond flour

almond meal (75g)

2

large eggs

room temperature or 2 Aged Large Egg Whites (appox. 80g for just the egg whites)

Food Gel or Paste

optional 3 or 4 drops approximately

1/4

cup

of fine granulated sugar

50g

1/2

tsp.

vanilla extract

3 ml
Buttercream Filling
1

cup

powdered sugar

icing, confectioner's (125g)

1/4

cup

of softened butter

55g

1 to 2

tsp.

of milk

5 to 10 ml

1/2

tsp.

of vanilla extract

3 ml
Instructions
Start by sifting your almond flour into a large bowl. Remove any large chunks of almond. Or use a food processor. A coffee/spice grinder works well to get the almond flour very fine.

Add the powdered sugar and whisk the two ingredients together. Set bowl aside.

Separate the egg yolks from the egg whites. I don't normally age the egg whites, but it is always a good idea to age them. If you are going to age them, do this the day before. Place the egg whites in a small bowl and cover with plastic wrap. Allow it to sit in the fridge for 24 hours.

Beat the egg whites until soft peaks form. This usually takes 2 to 3 minutes, with the mixer on medium speed. Next, slowly incorporate the granulated sugar, a little at a time until completely incorporated.

Add the vanilla extract and any food gel now. Then continue mixing until you get stiff peaks. When you pull out the beater from the macaron batter the resulting peak will keep its shape.

Add half of the almond flour and powdered sugar mixture to the egg whites and fold it in, don't stir! Fold about 20 times. Then add in the rest of the dry ingredients and fold another 30 to 40 times. 50 to 60 total folds seem to be the magic number. Count the folds, this will make sure you don't over or under mix. The macaron batter will be like a thick cake batter and fall of the spatula but also be thick.

Fill up a piping bag with the batter. Place round templates under parchment paper on a baking sheet. This will help you get all the same size macaron shells. Pipe out the batter until all the circles are filled. Tap the pan firmly on the counter or table a few times to release any air bubbles. Allow the unbaked shells to sit for 20 minutes.

After 20 minutes preheat the oven to 300 F/148 C. Then bake the macaron shells in the middle rack position for 15 to 18 minutes. They shouldn't have any brown on them. Check them after 15 minutes.

Allow the shells to cool for a few minutes on the baking sheet and then transfer them to a wire rack to cool completely.

Now make the buttercream filling. In a medium bowl combine the powdered sugar, butter, vanilla extract, and milk. Mix with a hand mixer or whisk.

Pipe on the filling to one shell then place the other shell on top finishing the macaron. Once done they can be eaten right away or for better results chill them for at least an hour first. Store them in an airtight container for up to 7 days in the fridge or 4 to 5 months in the freezer. Enjoy!
Video
How to Make French Macarons | Easy Classic French Macaron Recipe
Notes
Nutrition
Do you like this easy macaron recipe? Please give it a rating and comment down below, I really appreciate it.  If you make it tag me on Instagram @inthekitchenwithmatt. Also, sign up for the newsletter so you won't miss out on any of my new posts and recipes.