Jump to Recipe
I am addicted to fudge. Not going to lie. It doesn't matter the type of fudge I will devour it. This cookies and cream fudge is super yummy and has a classic twist on a popular dessert.
If you love Oreo cookies you will love this fudge. It is rich and creamy and perfect for any fudge lovers out there. It also makes a great addition to any Christmas or Holiday dessert plate. And not to mention it is so easy to make using only five ingredients! What is not to like about that? If I can do it, you can do it. Let's get started!
Step: 1 Gather the ingredients and tools
In order to make cookies and cream fudge you just need a few every day ingredients:
White chocolate chips – You can use white chocolate bars as well for this.
Sweetened condensed milk – The sweetened condensed milk is what helps get the right fudge consistency. The fudge can also be made with marshmallows and evaporated milk.
Butter – Butter makes everything better and it definitely makes this fudge taste better.
Vanilla extract – The vanilla will add flavor and enhance the other flavors.
Oreo Cookies – The Oreos are the star of this dish. You can't have cookies and cream fudge without the cookies!
Tools
Pot
Spatula
Spoon
Parchment paper
Plastic wrap
8×8 pan
Kitchen spray
Step 2: How to make cookies and cream fudge
Begin by crushing up your Oreo cookies. You can place them in a plastic bag and just smash them up coarsely with lots of chunks of cookie. Or you can put them in the food processor and crush them up much finer. It all depends on the look that you want your cookies and cream fudge to have. Take an 8×8 pan and line it with parchment paper. Then spray the paper with some kitchen spray as an added precaution. Place half of the cookie crumbs or chunks on the bottom of the pan.
Step 3: Melting that chocolate and make the fudge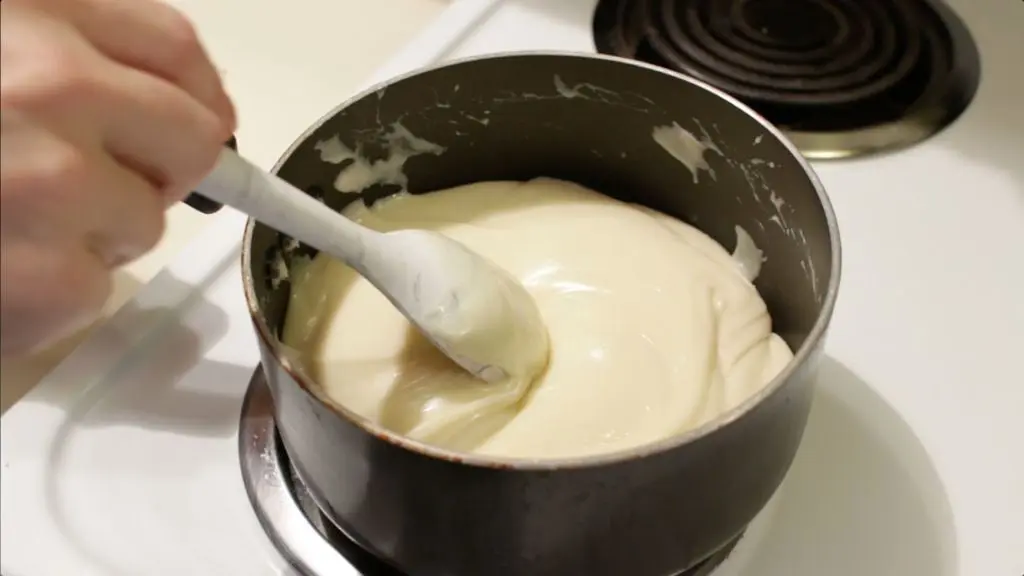 Now it is time to make the white chocolate fudge. In a medium sauce pot add the white chocolate chips and the sweetened condensed milk along with the butter. The butter is optional but I always add it. Place the pot on the burner and set the temp to low to medium-low. Slowly melt and combine all the ingredients together. Be careful not to heat it up too quickly otherwise it will burn. Once done the melted mixture won't really be too hot.
*Note: If you have really fine Oreo cookie crumbs once the chocolate has melted you can stir those in at this point if you like. Again, it all depends on the look you are going for.
Step 4: More cookies and flavor
Now that the white chocolate fudge is ready to go. Take it off the heat and stir in the vanilla extract. Then pour it all over the Oreo cookie crumbs in the pan. Once complete add the remaining Oreo cookie chunks on top. If you already stirred in the cookie crumbs you won't have any to put on top.
Trim down the edges of the parchment paper with scissors and then cover the pan with plastic wrap. Chill it in the refrigerator for at least two hours to allow the fudge to set.
Step 5: Cut and serve that cookies and cream fudge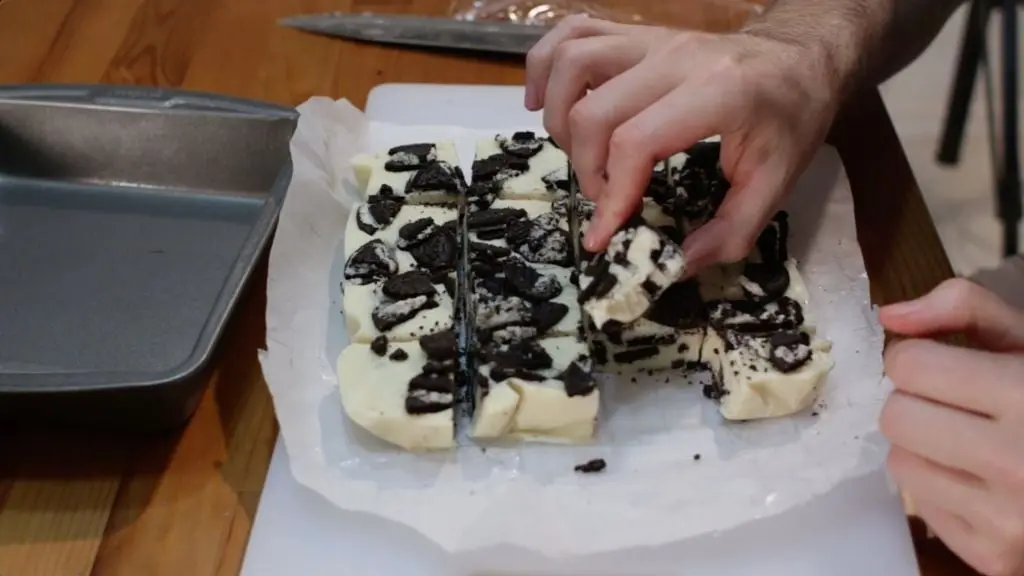 Once the fudge as set remove it from the pan and cut it up into squares with a knife. The fudge is extremely sweet and rich so you may make smaller pieces but that is totally up to you. Enjoy!
How long will cookies and cream fudge last?
If stored in an airtight container the fudge will stay fresh one to two weeks at room temperature. If you store it in the refrigerator it will last 3 to 4 weeks. But most likely you will eat it all before then.
Cookies and Cream Fudge
I am a big fan of fudge. I also enjoy Oreo cookies, combine the two and you have some amazing super easy to make, cookies and cream fudge. It is rich, sweet, and oh so delicious. The best part about this is that it only requires a few ingredients too.
Equipment
pot

Spatula

spoon

parchment paper

Plastic wrap

8×8 pan

kitchen spray
Ingredients
2 1/2

cups

of white chocolate chips

approx 510g

1 – 14

oz

can of sweetened condensed milk

approx 400g

1

Tbsp.

of butter

15g

1

tsp.

vanilla extract

5ml

16 to 20

Oreo cookies

crushed
Instructions
Begin by smashing up those Oreo cookies. You can use a bag or put them in the food processor or blender. Make the cookies chunks as big or as fine as you like.

Line an 8×8 pan with parchment paper and spray it with kitchen spray.

In a medium, saucepot, add the white chocolate chips, butter, and sweetened condensed milk. Heat it up on the stovetop on a low heat until everything has melted. Depending on the type of cookies and cream fudge that you want, you can add very fine oreo cookie crumbs to the fudge at this point.

Remove the pot from the heat and add in the vanilla extract.

Take about half of the cookie chunks and place them in the bottom of the pan. Next, pour over the white chocolate fudge. Then sprinkle the rest of the cookies crumbs on top. Or like I mentioned earlier you can just mix all the cookies crumbs in with the fudge, before pouring it into the pan. Experiment with different ways and find out which you like best.

Trim the parchment paper with scissors then cover the pan with plastic wrap and place the fudge in the fridge to set for a few hours. Once set remove it from the pan and cut it into small squares and enjoy! Store it in an airtight container at room temp or in the fridge.
Video
How to Make Cookies and Cream Fudge | Easy Fudge Recipe
Notes
These servings are fairly large, you may want to make them smaller, it is totally up to you. 
Nutrition
Do you like this recipe? Please give it a rating and comment down below, I really appreciate it. If you make it tag me on Instagram @inthekitchenwithmatt. Also, sign up for the newsletter so you won't miss out on any of my new posts and recipes.
Here are a few more recipes you may like: