Jump to Recipe
These yummy corn fritters are perfect as a snack, or for breakfast, or as a side dish for dinner. Make them sweet or make them savory, it is totally up to you.
If you aren't familiar with what corn fritters are, they are little fried cakes made with a batter that has corn in it. They are very popular in the Southern United States.
Corn fritters are so incredible easy to make as well. It is a great way to use that canned corn that has been sitting in your pantry for awhile. If I can do it, you can do it. Let's get started!
Step 1: Gather the ingredients
In order to make these delicious corn fritters, you need just a handful of everyday ingredients, you may already have everything on hand already at home.
Flour – All purpose/plain flour. You can also use self-rising flour. If you do, reduce the salt in half, and don't add the baking powder.
Baking powder
Salt
White granulated sugar – Reduce this if you want to have savory fritters.
Egg
Milk – Whole, 2%, 1%, Almond, etc.
Butter – You can use either salted or unsalted butter.
Corn – I always use canned whole kernel corn. But fresh corn from the cob works great too.
Oil – Use any traditional frying oil like, vegetable, canola, coconut, peanut, shortening, lard, etc.
Tools
Step 2: How to make corn fritters at home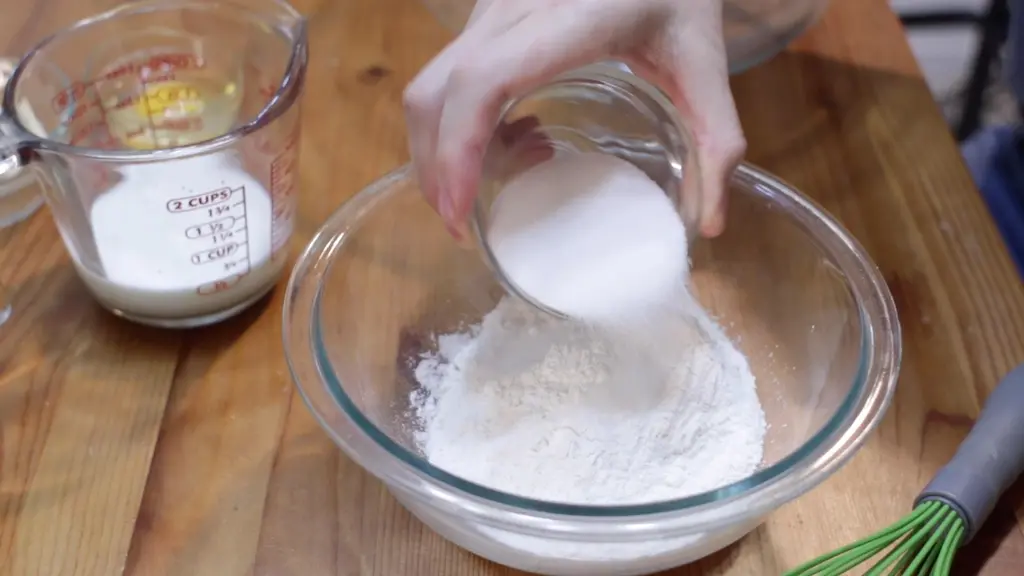 There are a couple of ways you can cook corn fritters, you can deep fry them or pan fry them. If you are going to deep fry them, take a large pot and fill it about 1 to 1 1/2 inches deep with oil. Set the burner to medium-high and let the oil heat up to 350 F/176 C while you make the batter.
In a medium bowl, combine the flour, salt, baking powder, and sugar with a whisk. Or you can sift them together with a sifter.
If you want to make savory corn fritters, reduce the sugar to only 1 teaspoon or so.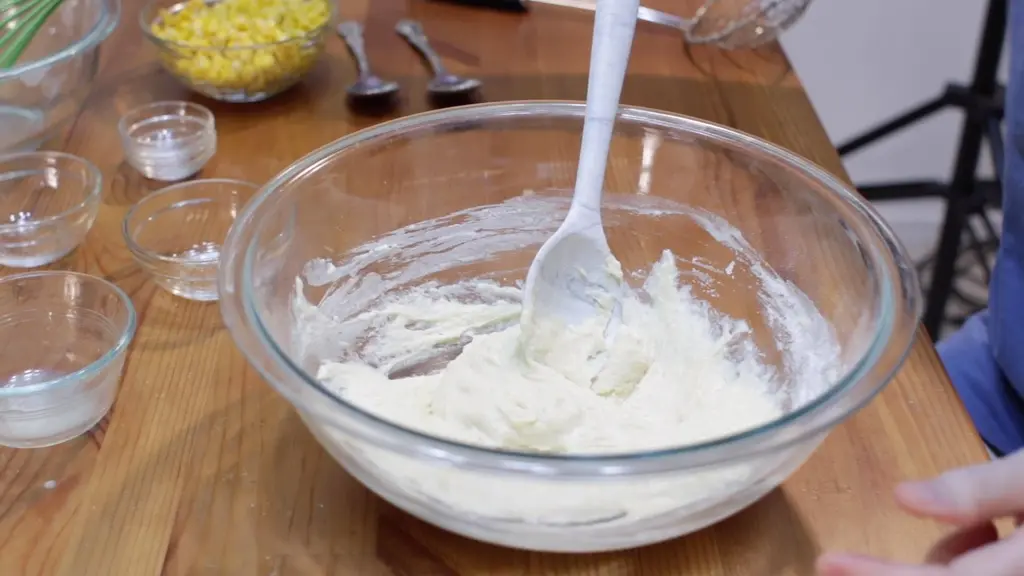 Take a large bowl and add the egg and whisk it. Then pour in the milk and whisk until combined. Melt the butter in the microwave or on the stovetop, until just barely melted, and not super hot.
Pour the melted butter in with the milk and egg and whisk to combine. Switch to a wooden or silicone spoon and stir in the flour mixture until all incorporated leaving you with a nice thick batter.
Time for that corn, the star of the dish. Dig out that can of whole kernel corn sitting in your pantry and open it up. Drain it, and then pour the whole can into the batter. Stir and fold until the corn is all combined.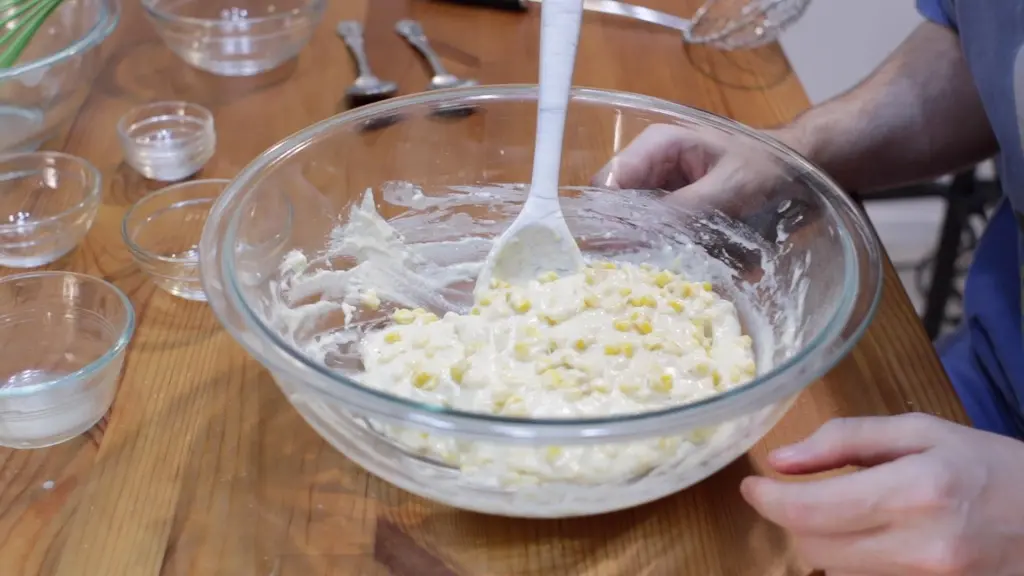 You may also take fresh corn on the cob and cut the kernels off and then use them instead of the canned corn. Canned corn is nice because you can use it all year round, and not wait for corn on the cob season. Plus it is a great way to use up the food storage.
Step 3: Frying the corn fritters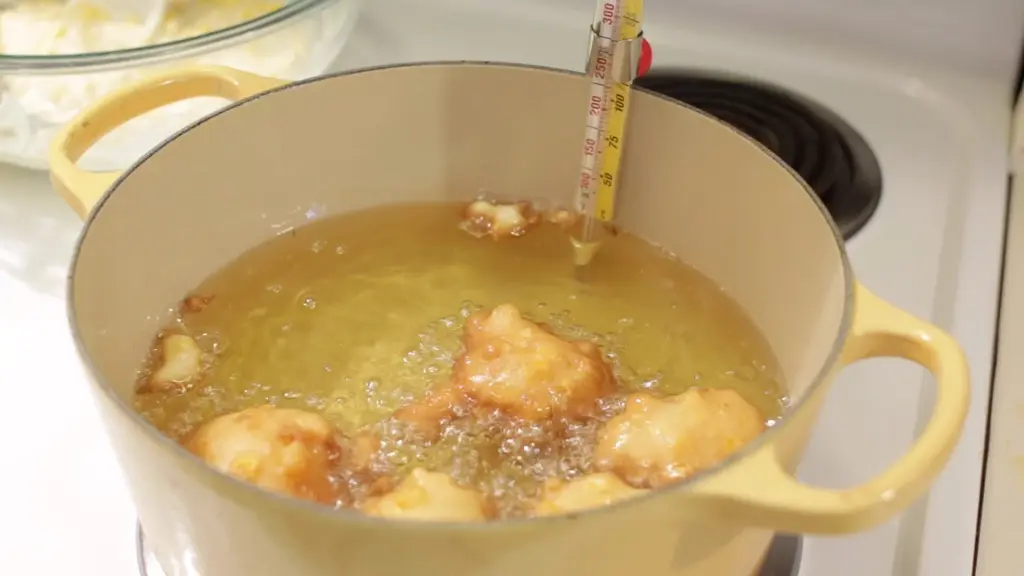 Once the oil reaches the temp, you can use two spoons and scoop in some corn fritter batter. Don't do more than 5 or 6, to keep them from getting overcrowded.
Fry them for a few minutes on each side until golden brown. Remove them with tongs, metal slotted spoon, or a spider strainer/ladle.
Place them on a plate lined with a paper towel to dry and drain. You can also place them on a wire rack if you like.
If you are using a skillet, just add about a 1/4th inch deep of oil to the bottom. Set the burner to medium heat and allow it to heat up for a few minutes. Drop the scoops of corn fritter batter into the skillet and flatten them a bit. Cook both sides until nice and golden brown. They will kind of resemble a pancake with corn in it.
Allow them to dry and cool for a few minutes before serving them. Some people will drizzle maple syrup over them or dip them in the syrup. Others like to sprinkle powdered sugar on top. The savory ones made with less sugar are sometimes dunked in an aioli or horseradish dip, or a number of other dips. Enjoy!
How long do corn fritters last?
They are best when eaten right away. However, you can store them in an airtight container in the fridge for a few days, or freeze them for a few months.
Here are some other recipes you may like:
Corn Fritters
These yummy homemade corn fritters are so good! They are great eaten plain, or with maple syrup, powdered sugar, or as a side dish with dinner. Corn fritters are very popular in the Southern United States, and I can see why.
Equipment
Bowls

Spoons

Wooden spoon

Paper Towel

Plate Tongs or spider ladle/strainer
Ingredients
1

cup

all-purpose/plain flour

120g

1

tsp.

baking powder

5g

1/4

tsp.

salt

1g

3

tbsp.

white granulated sugar

45g You can reduce it if you like. Especially for savory ones.

1

large egg

1/2

cup

of milk

whole, 2%, 1%, Almond, etc.

1

tbsp.

butter

melted (14g)

15

oz

can of whole kernel corn or kernels cut from fresh corn on the cob, drained

432g

Oil for frying

vegetable, canola, coconut, peanut, shortening, lard
Instructions
Fill a large pot about an inch deep with cooking oil and set the burner to medium-high. Bring the temp up to 350 F/176 C.

In a medium bowl whisk together the flour, baking powder, salt, and white granulated sugar.

Now in a large bowl beat an egg with a whisk. Then pour in the milk and melt the butter just until barely melted, in the microwave or in a small pot on the stovetop, and pour that in. Whisk to combine. Next, add the flour mixture and stir with a wooden spoon or silicone spoon until well combined. The consistency will be fairly thick.

Drain the can of corn and pour it into the batter, stir and fold to combine. The corn fritter batter is ready to go. Easy right?

Use two spoons and scoop some batter into the hot oil. Add a few more, but don't overcrowd them in the pot. Fry them for a few minutes per side until golden brown. Remove them from the oil with a spider strainer or metal slotted spoon or tongs, and place on a plate with a paper towel or wire rack. You may need to wait and allow the oil to heat back up to temp before frying another batch.

Or use a skillet with about 1/4 inch deep oil, and with medium-high heat pan fry the fritters. Flatten them out a bit in the skillet with this method.

Now eat them however you like, with maple syrup, powdered sugar, or as a savory side dish. Enjoy!
Video
How to Make Corn Fritters | Easy Homemade Corn Fritter Recipe
Notes
Nutrition
Do you like this recipe? Pin it! And please give it a rating and comment down below, I really appreciate it. If you make it tag me on Instagram @inthekitchenwithmatt. Also, sign up for the newsletter so you won't miss out on any of my new posts and recipes.