Jump to Recipe
I just love this country fried potatoes recipe. I have been making diced hash browns or country fried potatoes for such a long time. They are so good with eggs and bacon or stuffed in a breakfast burrito.
Growing up potatoes were a big part of our family. I have fond memories of eating diced hash browns or just hash browns as we called them. Other parts of the country called them country fried potatoes and only shredded potatoes were called hash browns. The name doesn't matter, haha. Call them whatever you want.
My mom would often buy the Ore-Ida brand Potatoes O'Brien with was frozen diced potatoes, onions, and peppers. When I was little I didn't care as much for the onions and peppers back then, but now I absolutely love them.
We had many of breakfast that consisted of country fried potatoes, eggs, bacon, and toast. My all time favorite breakfast. I would cut the bacon and eggs up and mix it all together with the hash browns. Put on heaps of ketchup and feast. So yummy!
This recipe is really easy to make, and pretty versatile, if I can do it, you can do it. Let's get started!
Step 1: Gather the ingredients
In order to make country fried potatoes you need just a handful of easy to find ingredients:
Potatoes – You can use your favorite potato, I generally use Russets, but Yukon gold, red, and other varieties work great.
Kielbasa sausage – Or use another kind of meat like Italian or breakfast sausage (optional)
Onion – This is an optional ingredient.
Bell peppers – Or for some added heat add in some Jalapeno peppers.
Salt
Pepper
Garlic powder
Oil – Use something like canola, vegetable, clarified butter, avocado, coconut oil, etc.
Note: The sausage/meat, peppers, and onion, are completely optional, you can make country fried potatoes with just potatoes and a bit of oil. But those extra ingredients kick the dish up a notch.
Tools
Knife
Skillet (cast iron or nonstick works great)
Spatula
Step 2: How to make country fried potatoes at home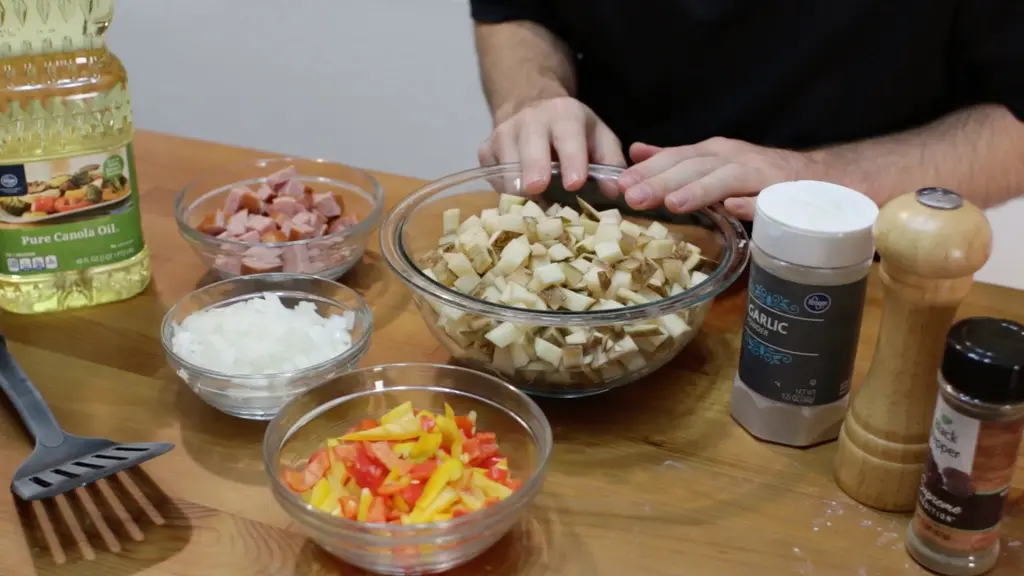 Begin by washing, drying, and peeling (if desired) the potatoes. Then cut them up into cubes, and place them in a bowl. I like to keep the cubes fairly small, but you can make them as large as you want. Smaller cubes brown/cook faster.
Sometimes I will let the potato cubes soak in saltwater for about 20 to 30 minutes to remove the starch which will help them get crisper. Or I will boil them in water for 3 minutes. And sometimes even put them in the microwave for 3 minutes. But these extra steps aren't necessary.
If you do soak them or boil them, make sure to dry them after on some paper towels. Water and oil don't mix together very well.
Chop up the onion and the bell peppers and even a jalapeno or two if you like.
Cut up the kielbasa sausage into small chunks as well.
While you are cutting things up, put about 3 to 4 tablespoons of oil in a skillet, and set the heat on the burner to medium to medium-high.
Step 3: Cook the onions, peppers, and sausage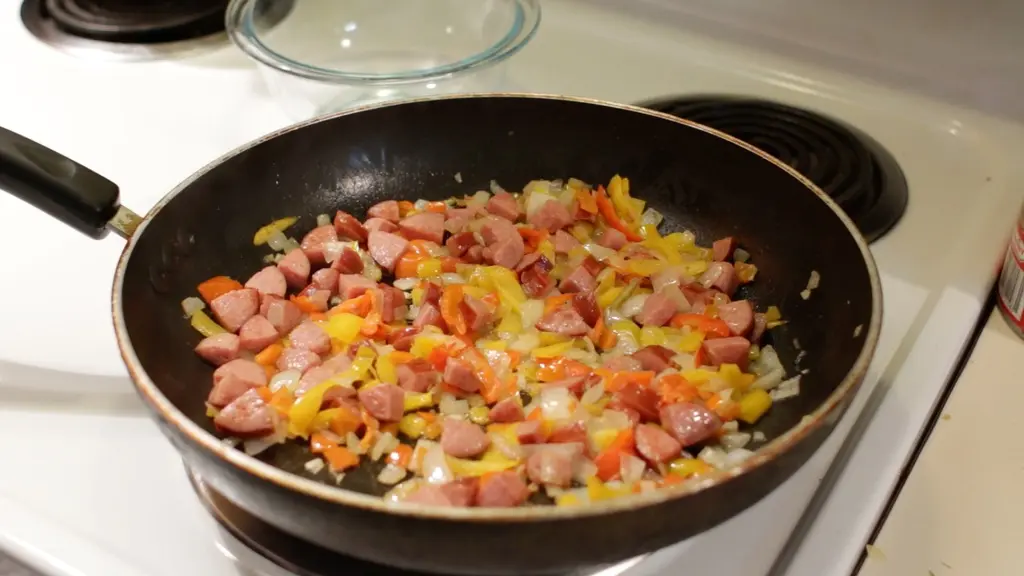 Cook the onions and peppers together for a few minutes, make sure to stir and flip with a spatula so they cook evenly. Use a cast-iron skillet or your favorite non-stick skillet.
Next, add in the kielbasa or your choice of meat. This particular kielbasa sausage comes pre-cooked so I am just warming it up and browning it a bit. If you use an uncooked sausage you will need to cook it longer, and probably want to do that in a separate pan, so you can discard the extra grease that it will produce.
Alternatively , you can start with uncooked sausage/meat in a pan, and once it is almost fully cooked, discard all but a few tablespoons of the grease and then add the onions, and peppers, and cook them with the meat, instead of using any extra oil. It all depends on the meat you decide to use if you decide to use meat at all.
Once slightly browned remove the mixture from the skillet and place in a bowl while you start cooking the potatoes.
Step 4: Cook the potatoes and finish off the homemade country fried potatoes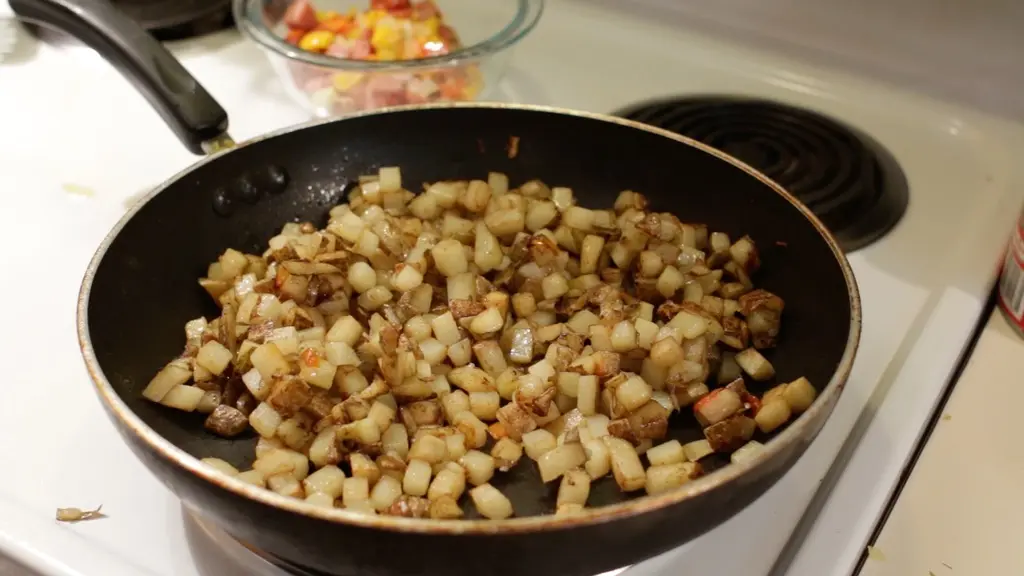 Add the diced potatoes to the skillet and start cooking them until they are browned and crispy. The longer you cook them the more crisp they will get. Stir them and flip with with a spatula as necessary to cook them evenly. Season them with salt, pepper, and garlic powder as desired.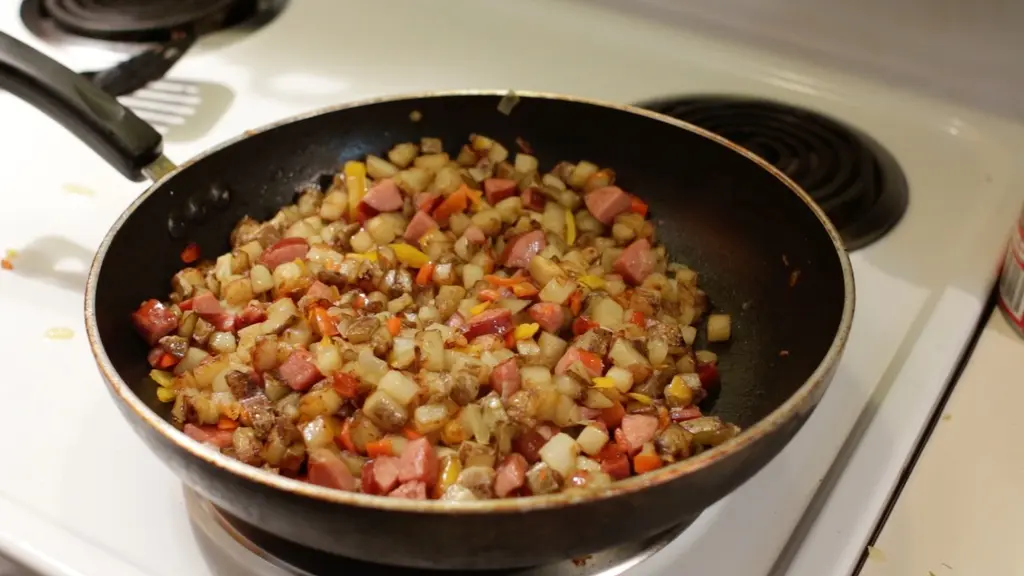 Add back in the onions, pepper, and Kielbasa sausage mixture and continue cooking for a few minutes. Give them a taste with a spoon, (blow on it to cool it), if needed add more salt, pepper, and garlic powder.
After that, they are finished and can be eaten as a meal by themselves or served with bacon and eggs, etc. You may even want to put them in a breakfast burrito with a homemade tortilla. Enjoy!
How long to homemade country fried potatoes last?
Store any leftovers in an airtight container or ziplock back in the fridge for a few days. Reheat in the microwave or oven when ready to serve them again.
Here are a few other recipes you may like:
How to Cook Eggs in a Mason Jar Ring
Country Fried Potatoes
Dice Hash Browns or Country Fried Potatoes, whatever you want to call them, they are so yummy and easy to make. Serve them in a breakfast burrito, or eat them as a meal by themselves, or on a plate with eggs and bacon.
Equipment
Knife

Skillet (cast iron or nonstick works great)

Spatula
Ingredients
4 to 5

medium potatoes

washed, and peeled if desired

1

cup

diced kielbasa sausage

but you can use whatever meat you want (225g)

1/2

large onion diced

1/2

cup

of diced bell peppers

75g

Oil

canola oil, vegetable oil, shortening, clarified butter, avocado oil, coconut oil (a few tablespoons)

Salt

Pepper

Garlic powder
Instructions
Wash and dry the potatoes, peel them if desired. Cut them up into small cubes.

If you want them extra crisp, boil them in water for 3 to 4 minutes. This will remove the starch, or soak them in saltwater for 30 minutes. Then dry them.

Add the oil to a skillet, and set on the burner, and heat it up with medium to medium-high heat.

Now dice up the onions, peppers, and the sausage or whatever meat you are using, if you are using meat.

Add the onions and peppers to the hot skillet and cook them for a few minutes. Then add in the sausage. Keep cooking until the sausage is lightly browned. The type of Kielbasa I use comes precooked, you just need to brown it.

Remove the sausage, onions, and peppers and place in a bowl.

If using a meat that isn't precooked, and is fatty, like breakfast sausage, you may elect to cook that in the skillet first, without oil, then remove a bit of the oil, before adding in the onions and peppers.

Add the potatoes to the skillet and cook them until browned evenly. It will take a while, especially if you didn't pre-boil them first, which I don't always do. Season the potatoes with salt, pepper, and garlic powder.

Once the potatoes are nearly all browned, add back in the sausage, onion, and peppers mix and continue cooking everything until the potatoes are soft in the center and browned/crispy to your likely.

Take a spoon and taste it (blow on it first, it will be hot), if needed add more seasonings.

Serve with eggs, bacon, fruit, put in a breakfast burrito, etc. Enjoy!
Video
How to Make Hash Browns | Easy Country Fried Potato Recipe
Notes
Nutrition
Do you like this recipe? Pin it! Please give it a rating and comment down below, I really appreciate it. If you make it tag me on Instagram @inthekitchenwithmatt. Also, sign up for the newsletter so you won't miss out on any of my new posts and recipes.