Jump to Recipe
Looking for a healthy semi-salty and flavorful snack? Try making this crispy chickpeas recipe. They turn out so yummy and are super crispy, crunchy, and delicious.
In this article, I will show you how to make crispy chickpeas roasted in the air fryer and the oven. Time to get your healthy snacking on!
I usually post and write about treats, desserts, bread, etc. But it is nice to mix it up a bit and put some healthy recipes out there.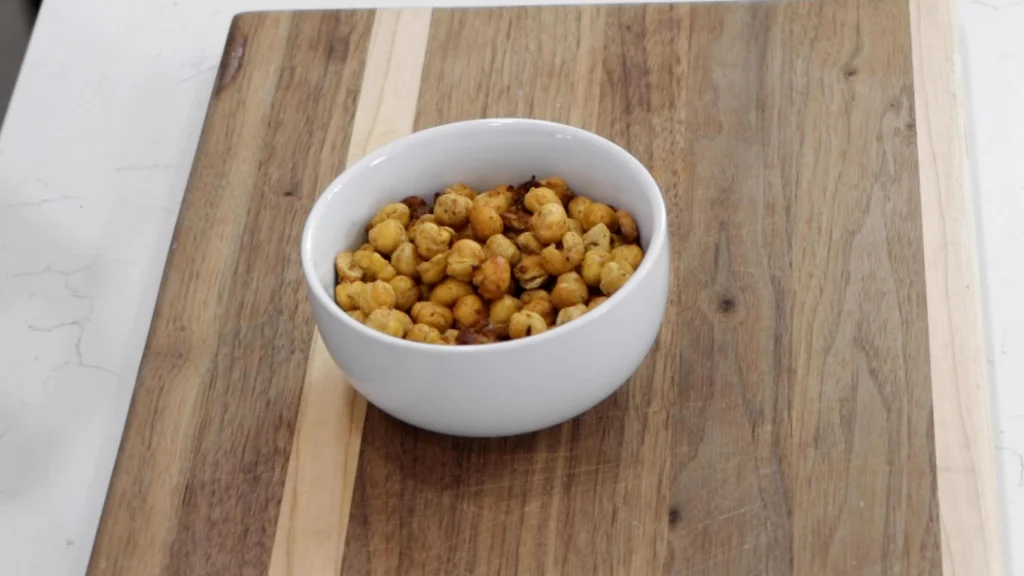 If you are a fan of chickpeas, then you are going to love this recipe! I can't stop eating them, they are that good. One batch usually only lasts me a day or two. I still eat my chips and other unhealthy salty snacks, but, every once in a while, I throw these into the mix.
Also, you can add these roasted chickpeas on top of your salads, put them in soups, etc. Usually, when I think of making something with chickpeas I think of homemade hummus. I love hummus, but when I am craving crunchy crispy salty snacks and want them a tad bit healthier, roasted chickpeas are my go-to snack, besides almonds.
I just really like the texture these crispy chickpeas give me, something different than the normal chickpea texture. Let's get started!
Ingredients and Equipment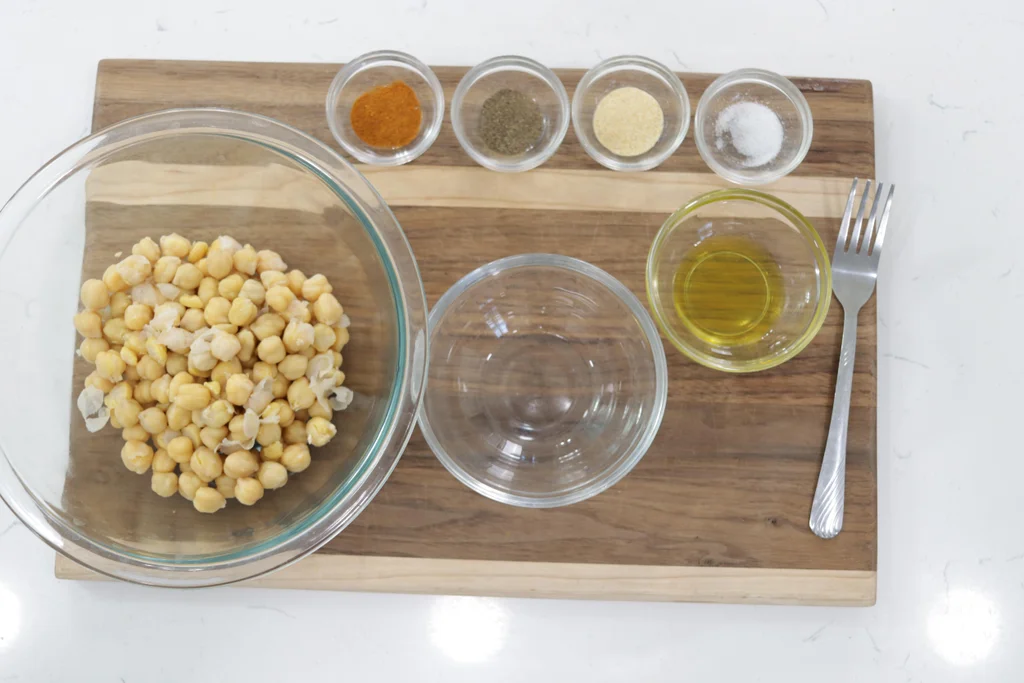 In order to make these crispy crunchy roasted chickpeas you need just a handful of ingredients:
Canned chickpeas (Garbanzo beans) – The star of the dish. Just grab a can out of your pantry. I like to stock up on them so I can make hummus and of course, this tasty snack.
Salt
Garlic powder
Ground black pepper
Paprika
Olive oil – You can use other oil if you like, coconut oil and avocado oil are great options. The oil helps them get extra crispy and adds a little flavor.
Equipment
Airfryer – I really like this linked air fryer. I have had it for over three years and use it weekly.
Bowl
Fork
Sheet pan, if doing these in the oven
How to make roasted crispy chickpeas in the air fryer or oven
Begin by mixing the salt, pepper, paprika, and garlic powder in a small bowl. Use a fork or whisk to mix them.
Other spices you may want to try include onion powder and chili powder. And of course, any other spices not listed can be added.
Open the can of chickpeas and pour them into a sieve or colander. Rinse them really well with water.
Pour them out on a few sheets of paper towel and pat them dry. Make sure you don't skip the drying part. This will help them get crispier and will also allow the spices and oil to stick to the chickpeas.
Add them to a medium bowl.
Drizzle on the olive oil and then sprinkle on the spices. Stir well or put a lid on the bowl and shake it, so the oil and spices evenly coat the chickpeas.
TIP: You can also just put everything in a bag and shake it.
Use this preparation regardless if you cook them in the air fryer or the oven.
Roast the chickpeas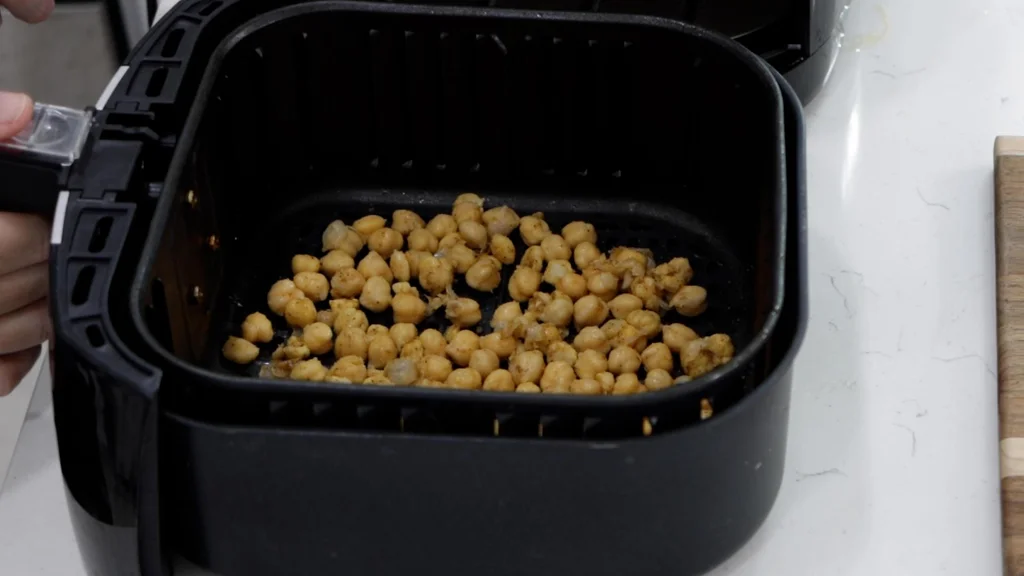 Add the seasoned chickpeas to your air fryer basket. Make sure they are in one layer. If you have too many, roast the chickpeas in stages.
Put the basket in the air fryer and set the temp to 400F/205C. Cook for 12 to 15 minutes until crunchy.
At the 6 or 7-minute mark remove the basket and shake it which will promote even roasting or "air frying".
Feel free to try one to test its crispiness. You can always cook it a little longer if needed. Just blow on it before tasting it, it will be hot!
For crispy chickpeas roasted in the OVEN:
Place the seasoned chickpeas on a sheet pan and preheat the oven to 425F/218C.
Roast chickpeas in the oven for 20 to 35 minutes until crunchy. Remove them at the 10-minute mark and shake the pan a bit to promote even cooking.
Put the hot chickpeas in a bowl and serve. If you like you can sprinkle on a bit more seasonings or add new seasonings like the ones you use for popcorn (ranch, cheddar, etc.).
Enjoy!
How long do crispy chickpeas last?
While they are best the day of, you can store them covered or in a bag at room temperature for a few days. They will lose their crispiness after a while.
Best way to eat roasted chickpeas?
After you make them, serve them warm as is, or sprinkle them on a salad for a nice crispy element.
What are the health benefits of chickpeas?
Garbanzo beans or chickpeas as they are commonly referred have long since been a staple in many Middle Eastern diets. They are loaded with nutrients.
Some of the nutrients and health benefits of chickpeas include:
High in plant protein – 1 cup contains about 15 grams of protein.
Good source of fiber
Good source of helpful minerals like Manganese, Copper, Iron, Zinc, and a few others.
Helps you stay full longer
May help you manage your weight
Can help support blood sugar
May help against diseases like heart disease, cancer, and type 2 diabetes
They are very inexpensive and easy to add to the diet
For more in-depth health information visit this Healthline article.
Here are other healthy recipes you may like:
Crispy Roasted Chickpeas (Air Fryer or Oven)
This crispy roasted chickpeas recipe is so good and super easy to make. If you like chickpeas, you have got to try this recipe! They are ready in under 20 minutes.
Equipment
Airfryer

Bowl

Fork

Sheet pan, if doing these in the oven
Ingredients
1 16

oz

can of chickpeas

garbanzo beans 440g

1/8

tsp

of salt

less than 1g

1/2

tsp

of garlic powder

2g

1/4

tsp

of ground black pepper

1g

1/4 to 1/2

tsp

of paprika

1g

1

Tbsp

of olive oil

15ml

optional spices could include onion powder, chili powder, etc.
Instructions
Pour a can of chickpeas into a colander or sieve and rinse really well. Then pat dry with a paper towel or clean cloth. Place in a medium bowl.

Mix together all the spices (salt, pepper, garlic powder, and paprika) in a small bowl with a fork or whisk.

Drizzle the olive oil over the chickpeas and sprinkle the spices on top. Cover the bowl with a lid and shake to evenly coat the chickpeas, or throw all the ingredients into a bag and shake it.
Cooking chickpeas in Air Fryer
Add the seasoned chickpeas to the air fryer basket and spread them out in one layer.

Set temperature to 400F/205C. Add the basket to the air fryer and cook for 12 to 15 minutes until crispy. Check at the 7-minute mark and shake the basket to promote even roasting.

Taste for crispiness and cook longer as needed.
Cooking chickpeas in Oven
Preheat oven to 425F/218C.

Add the seasoned chickpeas to a baking sheet and place them on the middle rack in the oven. Cook for 20 to 35 minutes until crispy.

Add the chickpeas to a bowl and serve as is or use it for a salad or another recipe. You may also sprinkle on additional spices at this time. Enjoy!
Video
Crispy Crunchy Chickpeas Recipe Air Fryer or Oven
Notes
NOTE: You can easily add a little more or less of any of these spices or any other spices as desired according to your taste.
Nutrition
Do you like the easy shortbread cookies recipe? Please give it a rating and comment down below, I really appreciate it. Save the Pin to Pinterest! If you make it tag me on Instagram @inthekitchenwithmatt. Also, sign up for the newsletter so you won't miss out on any of my new posts and recipes.
Check out my other website 101 Creative Dates for fun date ideas. Food and dating go hand in hand!