Jump to Recipe
I just love this crispy fried shrimp recipe. It is so incredibly quick and easy to make with only a handful of ingredients. I you love shrimp you have got to try this!
Growing up I didn't like a whole lot of seafood, but I always loved crispy fried shrimp. I remember having it at Sizzler for the first time when I was really young, it was amazing!
Popping them into my mouth after dipping them in ketchup was such a treat for me. We didn't have it often, but it was awesome when we did. Now I make it at home. If I can do it, you can do it. Let's get started!
Step 1: Gather the ingredients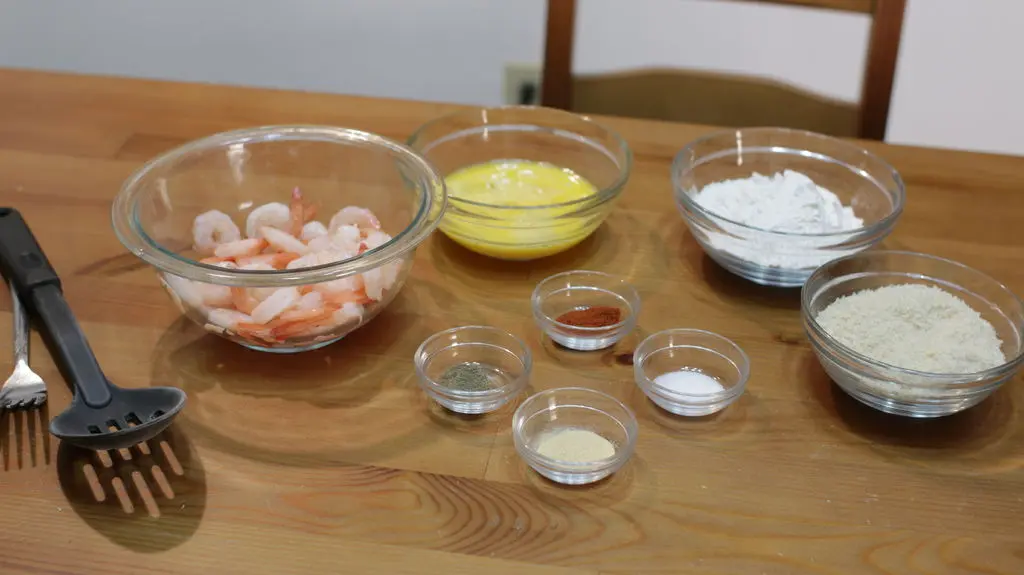 In order to make this yummy crispy fried shrimp you need just a handful of spices and other ingredients:
Shrimp – Use precooked or uncooked peeled and deveined shrimp, with the tails still on.
Salt
Ground black pepper
Garlic powder
Paprika
All-Purpose/Plain flour
Bread crumbs – I like to use Panko bread crumbs but traditional bread crumbs will work too.
Oil – I generally use vegetable oil, but canola, coconut, etc. will work too.
Step 2: How to make crunchy deep-fried shrimp
Begin with a large pot on the stovetop. Add enough oil to fill up at least an inch on the bottom. Set the heat to medium and allow the oil to heat up while you prepare the shrimp. The oil should be around 350 F/176 C. Check it with a candy thermometer.
In a small bowl combine the flour and the paprika and set aside.
Step 3: Toss those shrimp in the spices
Prepare the shrimp by peeling and deveining them or use precooked shrimp which has already been peeled and deveined. I like to leave the tails on, but you can take them off if you like.
Next, mix together the pepper, salt, and garlic powder with a fork and add half of it to the bowl of shrimp. Give the bowl of shrimp a good toss in the spices and then add the other half of the spices and toss or stir with a fork.
Step 4: How to fry shrimp and get them crispy
Take a bowl and whisk two eggs. Now take the shrimp and dip it into the flour then into the egg, and then into the bowl of bread crumbs. I find panko bread crumbs get a little more crispy than traditional bread crumbs. Make sure the shrimp gets fully coated.
Hold the shrimp by the tail right near the top of the oil and then drop it in. You can do 5 to 7 at a time. Don't over crowd them otherwise they will get stuck together.
Fry the shrimp until they get golden brown and are crispy, usually a few minutes. If they are uncooked shrimp they will take a little longer to cook, but only around 3 minutes or so to get nice crispy fried shrimp.
The oil temp may drop after a few batches, if that occurs, allow it come back up to temp before frying some more.
Remove the shrimp with tongs, slotted spoon, or spider strainer. Spider strainers are awesome because they are super safe in hot oil. Tongs will be as well. Just be careful if using any plastic utensils that they are safe to put in hot oil.
Place the shrimp on a plate lined with paper towel and let it cool for a few minutes before serving. Dip them in your favorite sauce and enjoy!
Can I bake these crispy fried shrimp?
Yes! You can definitely bake these shrimp in the oven. Preheat the oven to 400 F/205 C. Add the shrimp to a sheet pan with a silicone mat or spray it with cooking spray. Bake until brown and crispy about 10 to 15 minutes.
Can I cook this shrimp in the air fryer?
YES! To make air fryer fried shrimp all the prep will be the same. After dipping them in the bread crumbs, lay them in a single layer on the bottom of your air fryer basket.
I do recommend doing a light spray of oil on the breadcrumb shrimp but it isn't necessary. Then set the air fryer to 390F/200C for 2 to 3 minutes then flip the shrimp over to the other side and cook another 2 minutes or so. Just until golden brown and crispy. There you go crispy fried shrimp made in the air fryer.
How can I keep the fried shrimp crunchy and crispy?
It is a good idea to keep the fried shrimp in a single layer on the plate after frying. If you stack them too much the ones on the bottom may or may not get a little soft.
How do I store shrimp after it has been fried?
Take your crispy fried shrimp and place it in an airtight container and put it in the fridge. It will get soft but you can store it for a few days in the fridge. When you want to eat them, place them on a sheet pan and reheat them in the oven at 350F/176 C for 5 to 10 minutes until warm.
Crispy Fried Shrimp
I just love eating shrimp, especially this crispy fried shrimp. It is so yummy and perfect to have with homemade french fries. Dip them in your favorite sauce and you are good to go! If you like shrimp, give this recipe a try!
Equipment
Large Pot

Bowls

fork or whisk

tongs or spider strainer
Ingredients
1/2 to 1

pound

of medium shrimp

can use any size, peeled, deveined or precooked (225 to 450g)

1/2

tsp.

of salt

2.5g

1/2

tsp

ground black pepper

2.5g

1/2

tsp

garlic powder

2.5g

1

tsp

paprika

5g any other spices you like

1

cup

all-purpose flour

128g

2

large eggs

beaten with fork or whisk

1 to 1.5

cups

of panko bread crumbs

50 to 75g

Vegetable oil for frying

enough to cover the bottom of the pot at least one inch deep
Instructions
Begin by adding enough oil to a large pot to fill it up an inch to 1 inch and a half deep. Set the burner to medium heat and heat the oil to 350F/176C.

In a small bowl whisk together the paprika and flour and set aside. Mix the salt, pepper, and garlic powder together in a different bowl. You can also just mix the spices in with the flour and paprika, but I like to do them separate.

Take a bowl and whisk the two eggs. And place the panko bread crumbs in another bowl. Lots of bowls.

If using uncooked shrimp, make sure to peel and devein them but leave the tails on. Add the spices to the bowl of shrimp and give them a toss. Do half at a time.

Dip the seasoned shrimp into the bowl of flour, then into the egg, then into a bowl of bread crumbs. And place on a plate.

Then gently drop about 6 or 7 of the shrimp into the pot of oil and cook them until golden brown and crispy. It will take about 1 to 2 minutes if the shrimp are precooked and 2 to 3 minutes if they are not precooked.

Stir the shrimp with your tongs or spider strainer then remove them and set on a plate lined with a paper towel or a wire rack to dry. Allow them to cool for a few minutes then serve. Enjoy!
Video
How to make Fried Shrimp | Easy Fried Shrimp Recipe
Notes
The nutritional facts are based upon eating 8 to 9 pieces of shrimp for a serving.
Nutrition
Do you like this recipe? Please give it a rating and comment down below, I really appreciate it. If you make it tag me on Instagram @inthekitchenwithmatt. Also, sign up for the newsletter so you won't miss out on any of my new posts and recipes.
Here are a few more recipes you may like: