Growing up as a kid, I have fond memories of eating Danish Butter Cookies around the holidays. Without fail it seemed we would have a neighbor drop off a round tin of Royal Dansk cookies. I looked forward to them every year.
Buttery, crunchy, and sweet Danish butter cookies are similar to shortbread cookies, so if you like shortbread, you will love these. Making homemade Danish butter cookies is super easy! And they make perfect gifts or just eat them yourself.
If you are fond of cookies and easy recipes, you have got to make some homemade butter cookies. If I can do it, you can do it. Let's get baking!
Step 1: Gather the Ingredients and Equipment
In order to make Danish butter cookies from scratch, you need just 5 ingredients, and you can even make them with only 3 ingredients!
Butter – You can't make butter cookies without butter. Use a good high-quality butter, unsalted or salted is fine.
Sugar – I typically use powdered sugar, because it dissolves better in the butter and produces a little nicer texture to the cookie, but granulated sugar is suitable as well.
Vanilla extract – This optional ingredient really enhances the flavor. I say "optional" but I never leave it out.
Salt – Only add the salt if you are using unsalted butter. The salt will enhance the flavor and bring balance to the sweetness.
Flour – Use all-purpose/plain flour or you can also use cake flour. Don't use self-rising flour.
Tools/Equipment
Mixer
Bowl
Sifter
Spatula
Fork
Sheet pan
Parchment paper or silicone baking mat
Piping bag and tip, optional
Step 2: How to make homemade Danish butter cookies
Preheat the oven to 325 F/162 C
Add the softened butter to a large bowl along with the powdered sugar. You can use granulated sugar, if you do, I recommend only using 1/3 cup. But you certainly can use a half cup of it as well.
TIP: If you forget to set your butter out to soften, you can put it in the microwave on defrost mode for 20 or 30 seconds to soften it up.
Mix the butter and sugar together for about 5 minutes. This will give it enough time to get light and fluffy and the sugar will dissolve in the butter creating a better texture for the cookie. Use a hand mixer or a stand mixer.
Step 3: Finish the butter cookies dough
Next mix in the vanilla extract. Add the flour to a sifter along with the salt or just add them to a separate bowl and give them a good mix with a whisk.
Add about a third of the flour mixture to the large bowl and mix, then repeat until all of the flour is incorporated and you have nice soft cookie dough.
TIP: You can add an egg to the dough, which will produce a smoother texture and make it easier to pipe, but you can also keep it entirely eggless if you want.
Form the dough into a long loaf which makes it easier to put in the piping bag.
Step 4: Pipe the cookie shapes and bake them
Add the cookie dough to a piping bag with a large tip. I typically use the Wilton 1M or the Ateco 847.
Then you can pipe your circle design on a sheet pan lined with parchment paper or a silicone baking mat. If you don't want to use a piping bag, take a small amount of dough and roll it into a ball. Then press it flat with your palm. Use a fork and press it around. That is one design you can do.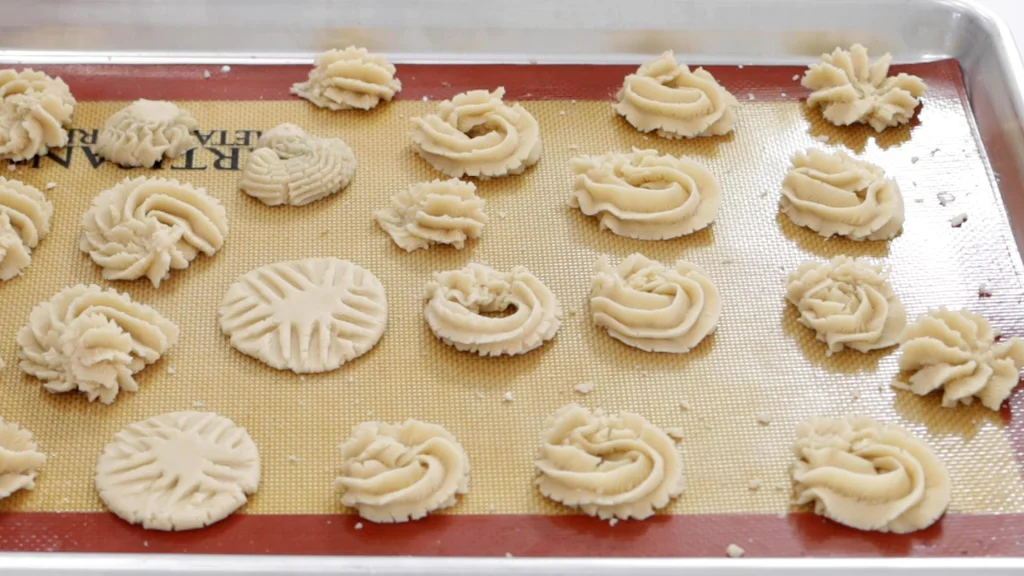 Danish Butter Cookies come in all sorts of designs, but the wreath shape or "flower" shape is probably the most common. Make them however you want. 🙂 Head over to the Royal Dansk website to see some common shapes.
A lot of times they have large granulated sugar sprinkled on as well. You can certainly do that if you like or use normal granulated sugar.
Bake on the middle rack at 325F for 12 to 18 minutes until slightly golden brown on the edges. Don't let them get too dark.
Step 5: Let the homemade Royal Dansk style Danish butter cookies cool then serve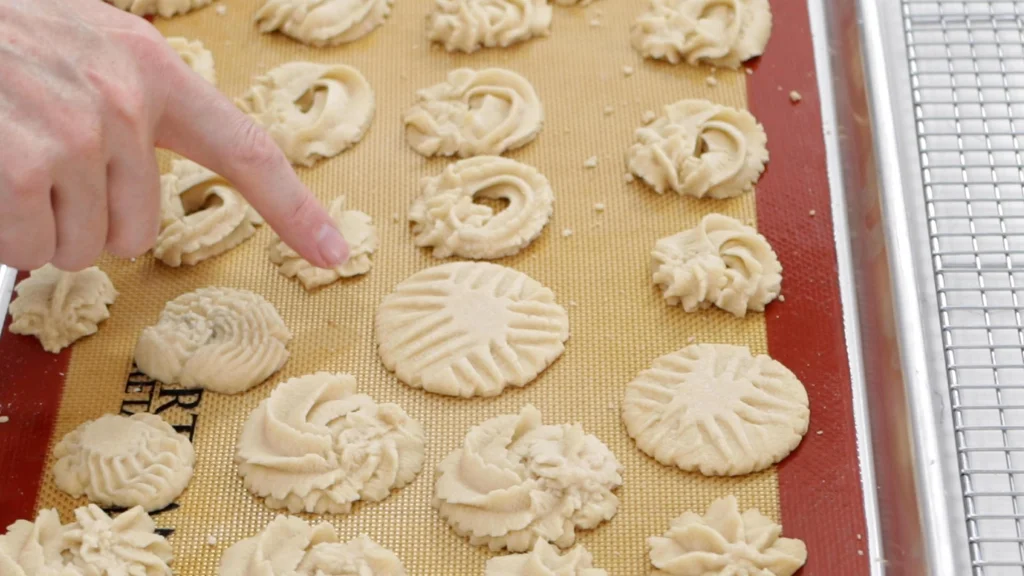 Once the cookies come out of the oven let them sit and cool for about 5 minutes then remove them and place them on a wire rack to cool completely.
They should be light, firm, and crunchy. Top with powdered sugar if you like, or you can even dip half of it in chocolate.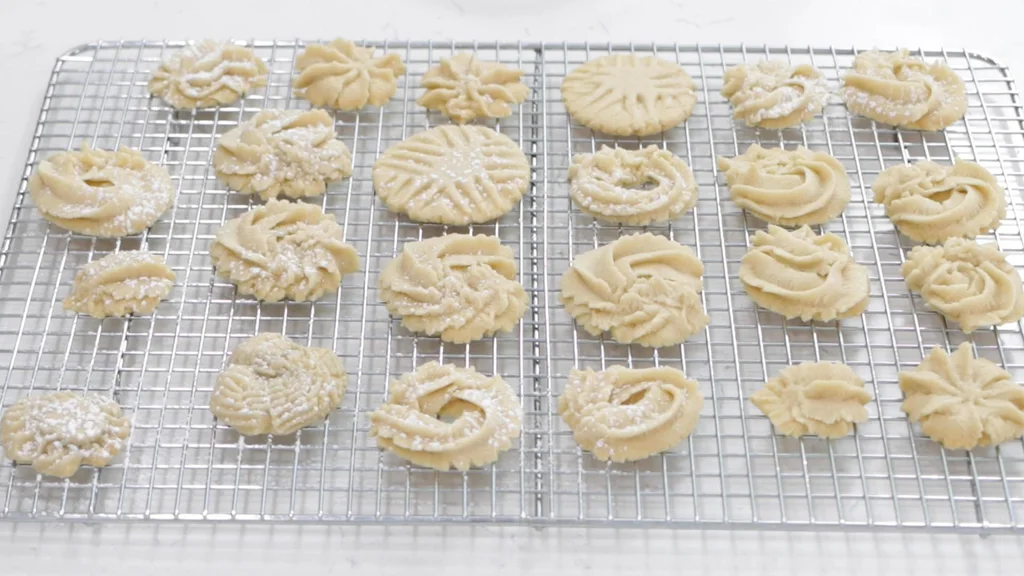 This recipe makes around 24 cookies depending on the size you make them. I make some small and some large, depending on the design I want to do.
If you want to get a little fancy, go to the nearest dollar store like Dollar General and buy the round tins they have, usually around Christmas time, but they may have them year-round. Then place cupcake paper cups on the bottom, and add a homemade Danish butter cookie to each paper cup. Add a round piece of parchment paper or wax paper on top, then add another layer. A fun gift to give to your neighbors, friends, and family.
Enjoy!
How long do homemade Danish butter cookies last?
Store the Danish butter cookies in an airtight container or zip lock bag at room temperature for up to about 10 days. You can also freeze them for several months. I doubt they will last long in your home though!
Here are other cookie recipes you may like:
Danish Butter Cookies
These homemade Danish butter cookies are so yummy and incredibly easy to make with just 5 simple ingredients. They are sweet, buttery, and crunchy. Delicious!
Equipment
Mixer

Bowl

Sifter

Spatula

Fork

sheet pan

parchment paper or silicone baking mat

Piping bag and tip, optional
Ingredients
1/2

cup

of softened

unsalted butter, can use salted (113g)

1/2

cup

of powdered sugar

granulated sugar can be used (50g)

1/2

tsp

of vanilla extract

you can use 1 full tsp as well (3ml)

1/8

tsp

of salt

less than 1 g

1

cup

of all-purpose or cake flour

120g

1

egg, optional
Instructions
Preheat the oven to 325 F/162 C

Cream together the butter and the sugar in a large bowl with a mixer for about 5 minutes until pale and fluffy.

Mix in the vanilla extract. And add the egg if you want to. If you don't eat eggs don't worry about it. I originally made this to be "eggless".

Add the flour and the salt to a sifter or whisk them together in a separate bowl. Mix it into the butter mixture a little at a time until all combined and soft cookie dough has formed.

Form the dough into a loaf shape, it makes it easier to fit in the piping bag.

Add the cookie dough to a piping bag fitted with a large tip like the Wilton 1M or Ateco 847. Pipe round shapes of dough on a sheet pan lined with parchment paper or a silicone baking mat.

In lieu of the piping bag, just form shapes with small chunks of dough with your hands. Or roll it out and use cookie cutters.

Sprinkle on some large finishing coarse sugar if you want.

Bake at 325 F for 12 to 18 minutes until slightly golden on the edges. Let cool for a few minutes then transfer to a wire rack to cool completely.

Serve plain or sprinkle on some powdered sugar or dip half of the cookie in melted chocolate. Enjoy!
Video
How To Make Danish Butter Cookies | Easy Butter Cookies Recipe
Notes
TIP: You can add an egg to the dough, which will produce a smoother texture and make it easier to pipe, but you can also keep it entirely eggless if you want.
Nutrition
Do you like the recipe? Please give it a rating and comment down below, I really appreciate it. Save the Pin to Pinterest! If you make it tag me on Instagram @inthekitchenwithmatt. Also, sign up for the newsletter so you won't miss out on any of my new posts and recipes.
Check out my other website 101 Creative Dates for fun date ideas. Food and dating go hand in hand!