Jump to Recipe
Let's be honest I am a dessert junky, but every once in a while I do showcase healthier recipes like this date caramel. It is naturally sweet and you don't have to cook anything or use a candy thermometer or anything like that.
Are you a fan of dates? Are you trying to eat a little more healthy but still have a craving for something sweet? Then this date caramel may be right up your alley. It is a healthy caramel substitute. It is amazing how close to the real thing it actually tastes.
There are obviously texture differences, and flavor profile nuances, but all in all it is a fantastic substitute. You can use it just like you would caramel, although you may need to play with the consistency a bit to get it to your liking. It is very easy to do, if I can do it, you can do it. Let's get started!
Step 1: Gather the ingredients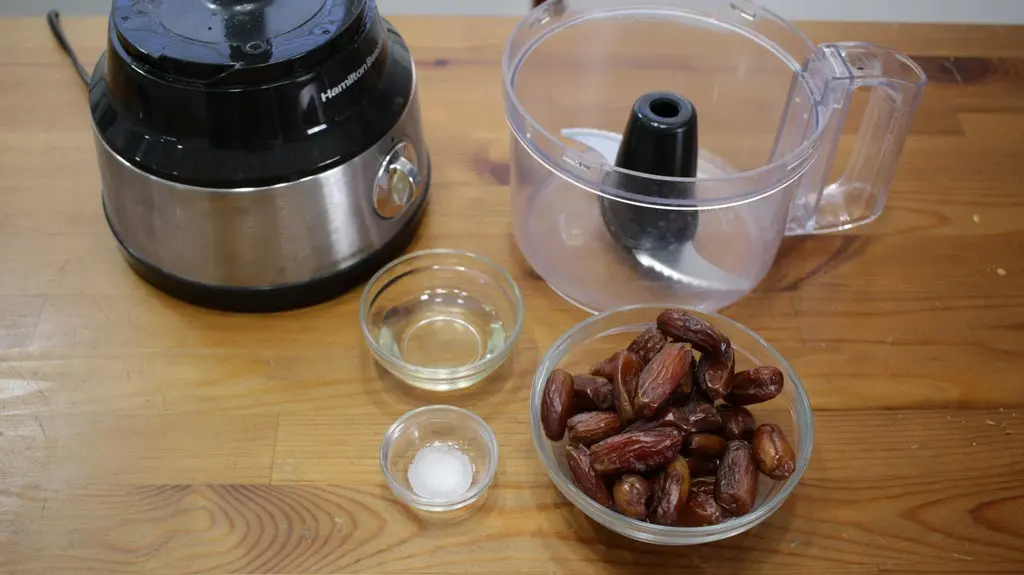 In order to make this homemade date caramel, you need just 3 to 4 ingredients:
Pitted dates – I like to use Deglet Noor or Medjool dates, but Barhi, and others will work great too. Make sure they are pitted!
Coconut oil – You can also use a different oil like olive or vegetable oil.
Salt – Just a bit of salt to balance out the sweetness.
Hot water or even almond milk
Tools
Step 2: How to make date caramel at home
This recipe is super easy. But it may take a little time depending on the type of dates you are using. Some dates are naturally softer than others and blend up easier in the food processor without any "extra" help.
Add the dates to the food processor, along with half of the oil to start. Then add in the salt. And blend! It can be that easy, but chances are you may need to do a few other things. Depending on your food processor as well.
If the dates just move and shake around inside the food processor and are not breaking up, then you will need to do the next step, which is common, so don't worry about it if it happens. Or you can just start with cutting up the dates and not try to blend up the whole dates.
Add the dates to a cutting board and cut them into chunks, then add them to the food processor along with the salt and all the oil, then blend.
NOTE: You can also soak them in water for 10 to 15 minutes or longer to soften them up before trying to blend them. Just drain them before putting them in the food processor.
Blend on medium to high speed and the dates will begin to break down further. Add hot water or almond milk a little at a time to get the consistency that you want.
Use a spatula to scrape the sides of the bowl once or twice. Then blend again, etc. Until you have a thick or thin date caramel. If you want it thinner, add more water, you can also add a bit more coconut oil too if you like.
It is really that easy, no cooking, no candy thermometers, etc. You may need to adjust the amount of water, oil, and salt according to your tastes.
TIP: You may want to soak the dates first in warm water to soften them up before or after cutting them. Sometimes it is hard to tell just how well the whole pitted dates will do in the food processor.
Now you can enjoy the date caramel however you like. Use it in the same way you would real caramel. I really like to dip fresh green tart Granny Smith apples in it, so yummy! Enjoy.
How long does homemade date caramel last?
If you store the date caramel in a bowl covered with plastic wrap or a lid, or an airtight container it will last a few weeks in the fridge.
Here are some other recipes and info you may like:
Date Caramel A Healthy Caramel Substitute
Do you like sweet things but are watching what you eat? Do you love caramel? Try out this easy date caramel. It is amazing how close to the real thing it tastes.
Equipment
Food processor or high powered blender

Spatula

Knife
Ingredients
2

cups

of pitted dates

roughly chopped (Deglet Noor, Medjool Barhi, etc.)(175g)

2

Tbsp

of coconut oil

or use vegetable, olive, etc. (30ml)

1/8

th tsp of salt

less than 1 g

3

Tbsp

to 1/2 cup hot water or almond milk

45ml to 120ml, can even add more if needed
Instructions
Soak the dates in warm water for 10 to 15 minutes. Or you can try skipping this and blending them whole.

Chop the dates up into small chunks. Or you can try skipping this and blending them whole.

Add the dates, half of the oil, and salt to a food processor or high powered blender and blend. Add hot water as necessary and the rest of the oil and keep blending to get the consistency that you want. You may also use almond milk.

You may need to scrape the inside of the bowl between blending. Add more water or almond milk to make it thinner.

Easy right? Now serve it with sliced apples, on top of ice cream, spread on toast, etc.
Video
How to Make Caramel With Dates Easy Healthy Caramel Substitute Recipe
Notes
*Note: These ingredients don't have to be exact, you may need more oil, more or less water, etc. Or maybe you want to add a bit more salt. Depending on the consistency that you want.
Tip: Different dates are softer than others, so you may or may not need to chop them up or soak them in water before blending them.
Nutrition
Do you like this recipe? Share and Pin it! Please give it a rating and comment down below, I really appreciate it. If you make it tag me on Instagram @inthekitchenwithmatt. Also, sign up for the newsletter so you won't miss out on any of my new posts and recipes.