Jump to Recipe
I just love this easy basic cornbread recipe. And I love cornbread in general. This recipe is a little bit different than my sweet moist cornbread. There is always room for one more cornbread recipe!
Growing up we had cornbread quite a bit, probably because it is so hearty and incredibly easy to make. It is the perfect side dish for chili, barbecued meats, beans, chicken, or by itself with butter, honey, jelly and jam.
And I love how simple it is to make, it comes together in minutes and doesn't take a super long time to bake. If I can do it, you can do it. Let's get baking!
Step 1: Gather the ingredients
In order to make this homemade easy basic cornbread you need just a handful of ingredients:
Butter – Unsalted or salted butter
Milk – I generally use whole milk, but other milk can be used including Almond milk if you are looking for a dairy-free option.
Egg
Sugar – The white granulated sugar can be adjusted for overall sweetness. If you like it less sweet divide it in half.
Salt
Flour – All purpose/plain flour
Baking powder
Cornmeal – Use store-bought cornmeal or this awesome homemade cornmeal which is made from everyday popcorn kernels.
Tools
Step 2: How to make homemade easy basic cornbread
Preheat the oven to 400 F/205 C. Melt the butter either in the microwave or in a pot on the stovetop. Pour the melted butter into a large bowl. Add the milk and the egg and mix until combined. You can use a hand mixer, whisk, or wooden spoon.
Now time to finish the cornbread batter. Add the rest of the ingredients, the sugar, salt, flour, baking powder, and of course the cornmeal. You can also mix those ingredients together separately in a different bowl first, but I don't normally do that. I just dump them in, haha.
Mix all those ingredients together with the mixer, or wooden spoon. And just like that the batter is done. Easy right? I think so.
NOTE: Make sure to scrape the sides of the bowl with a spatula and then mix a bit more, to ensure all the ingredients get mixed.
Step 3: Bake the homemade basic cornbread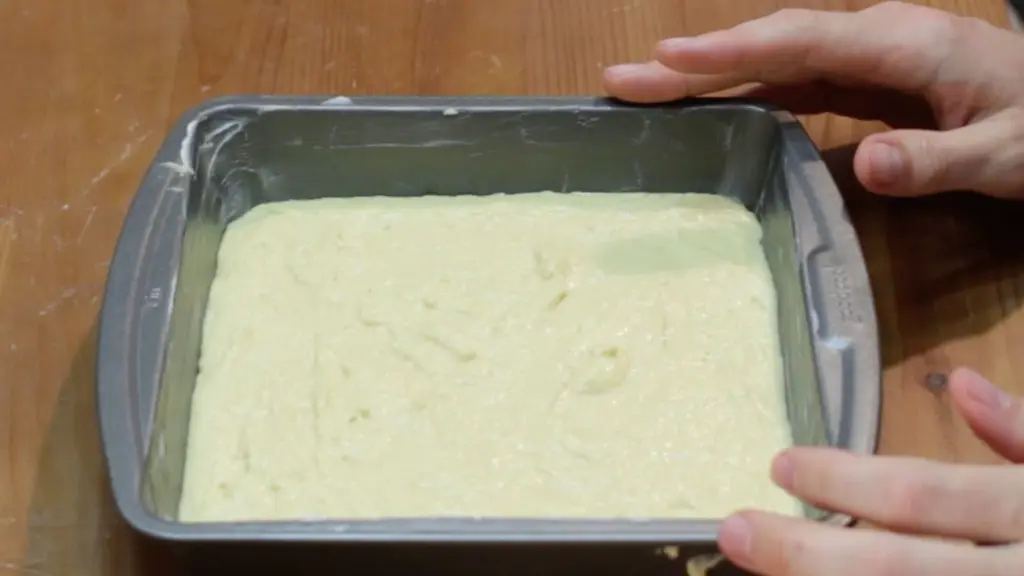 Grease an 8×8 inch pan with shortening or spray it with cooking spray. You can also use a cast iron pan too if you like.
Add all the batter to the pan and spread it out evenly with a spatula. Bake it in the oven for 20 to 25 minutes until a toothpick comes out clean when poked in the middle.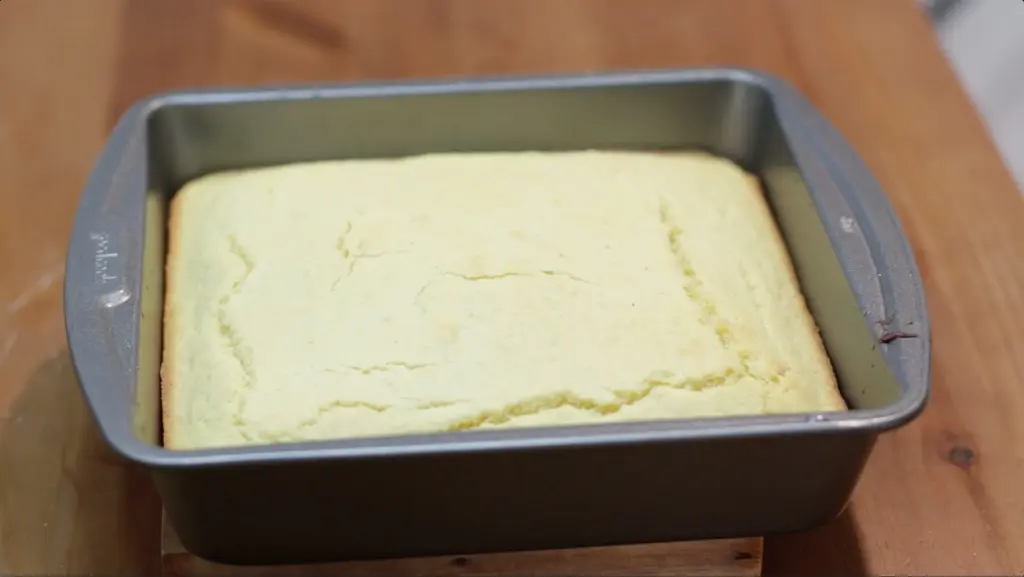 The edges of the cornbread will be lightly golden brown as well when it is done. Remove it from the oven an allow it to cool for 15 to 20 minutes and then cut it into squares and serve.
There are so many ways to serve it. You can spread butter on it and honey, jelly, jam, etc. Enjoy!
How long does basic cornbread last?
If stored in an airtight container it will last a few days at room temperature or about a week in the fridge. You can also wrap it tightly in foil or plastic wrap and freeze it for a few months.
Here are some other recipes you may like:
Easy Basic Cornbread
One of my favorite comfort food side dishes. This easy basic cornbread comes together in minutes and start to finish is ready in about an hour. Spread butter and honey on it, eat it with chili, etc.
Equipment
Hand mixer

8×8 baking pan or cast iron pan

Spatula

Bowls

Shortening

whisk or wooden spoon
Ingredients
1/4

cup

of melted unsalted butter

57g

1

cup

of milk

240ml

1

large egg

1/4

cup

of white granulated sugar

50g

1/2

tsp.

of salt

2 g

1

cup

of all-purpose flour

120g

1

Tbsp.

of baking powder

12g

1 1/4

cup

of cornmeal

150g
Instructions
Preheat the oven to 400 F/205 C. With main rack in the middle position. Melt the butter and place it in a large bowl. Then add the milk and egg and mix together.

Next, add the rest of the ingredients, the sugar, salt, flour, baking powder, and cornmeal. If you want your cornbread to be sweeter add 1/2 cup of sugar instead of 1/4 cup of sugar. For less sweet only do 2 tbsp of sugar. Mix until all combined, scrape the sides of the bowl as needed.

Grease an 8×8 inch baking pan or cast-iron skillet with shortening or with cooking spray.

Spread the batter out evenly in the pan and bake for 20 to 25 minutes until the sides are golden brown and a toothpick comes out clean when poked in the middle.

Allow the cornbread to cool for about 15 minutes or so, and then slice it and serve. Enjoy!
Video
How to Make Cornbread - Easy Amazing Homemade Cornbread Recipe
Notes
Nutrition
Do you like this recipe? Share and Pin it! Please give it a rating and comment down below, I really appreciate it. If you make it tag me on Instagram @inthekitchenwithmatt. Also, sign up for the newsletter so you won't miss out on any of my new posts and recipes.