Jump to Recipe
One thing I can eat at any time of the day is a nice big yummy breakfast burrito. This easy breakfast burrito really hits the spot. When I am craving bacon, eggs, and hashbrowns, often I will wrap it all up in a tortilla, add some cheese and call it good.
There are a number of varieties of breakfast burritos out there in the world. But generally, they are a flour tortilla wrapped around different breakfast items like eggs, bacon, sausage, potatoes, chorizo, cheese, onions, bell peppers, etc.
And there are healthier versions with spinach, kale, mushrooms, tomatoes, all of which can be added in a classic breakfast burrito. You really can't go wrong with this crowd-pleaser. They are very easy to make, if I can do it, you can do it. Let's get started!
Step 1: Gather the ingredients and tools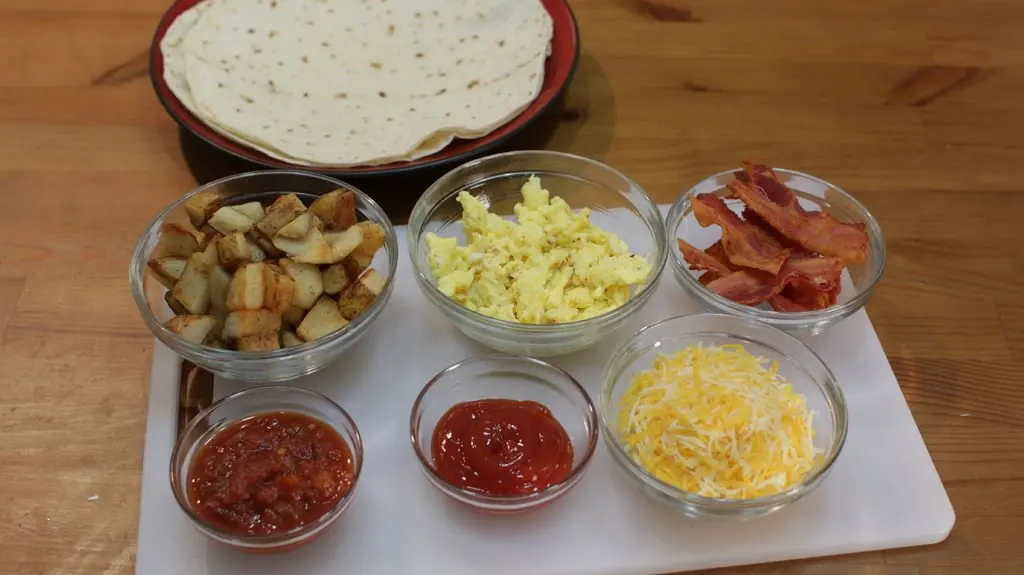 My favorite breakfast burrito includes the following ingredients:
Tortillas – Flour tortillas are generally used. You can use storebought or make your own homemade tortillas.
Potatoes – I like to make mine from scratch, but you can buy frozen cubed potatoes if you like.
Scrambled eggs – In my mind, you can't have a breakfast burrito without scrambled eggs.
Bacon – I am addicted to bacon, gotta have it.
Cheese – I love a good mild cheddar and jack cheese mix. But go crazy and use whatever cheeses you like.
Salsa – Salsa adds a nice flavor profile to the breakfast burrito as well as adds moisture so it isn't too dry.
Ketchup – I usually will make one with ketchup and one with salsa.
Tools
Step 2: How to make an easy breakfast burrito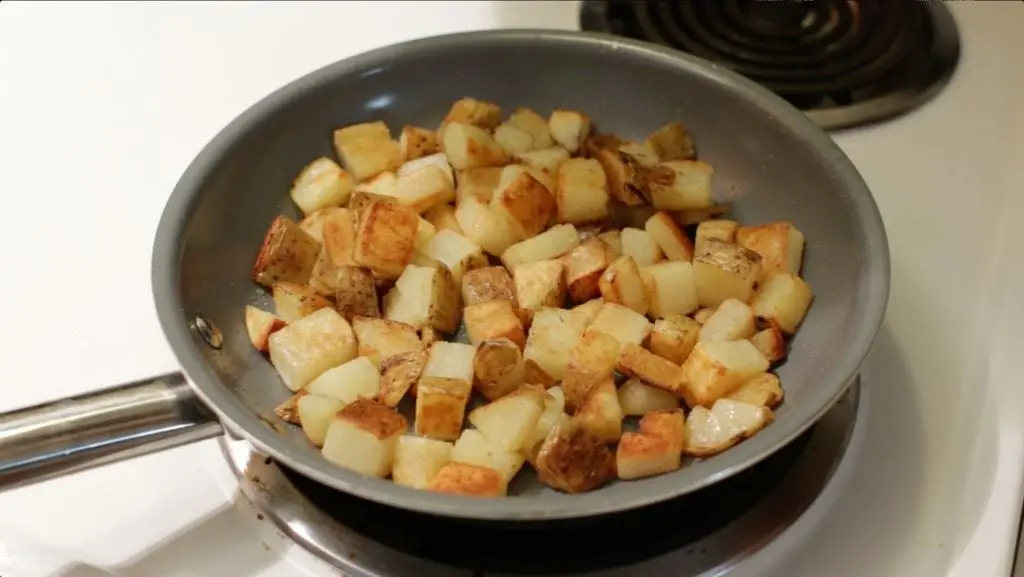 First, start with the potatoes since they take the longest to cook. Wash the potatoes and peel them if you like. I rarely do. Next cut them up into chunks, whatever size that you like. Heat water up in a pot and bring it to a boil.
Then place the potatoes in there and let them boil for 4 to 5 minutes. This will soften them up more quickly. Optionally you can use leftover baked potatoes from the previous night's dinner.
Drain the potatoes then place them in a skillet with oil or butter and brown them. Flavor the potatoes with a pinch of salt and pepper and garlic powder if you like.
Step 3: Oh yeah, crispy bacon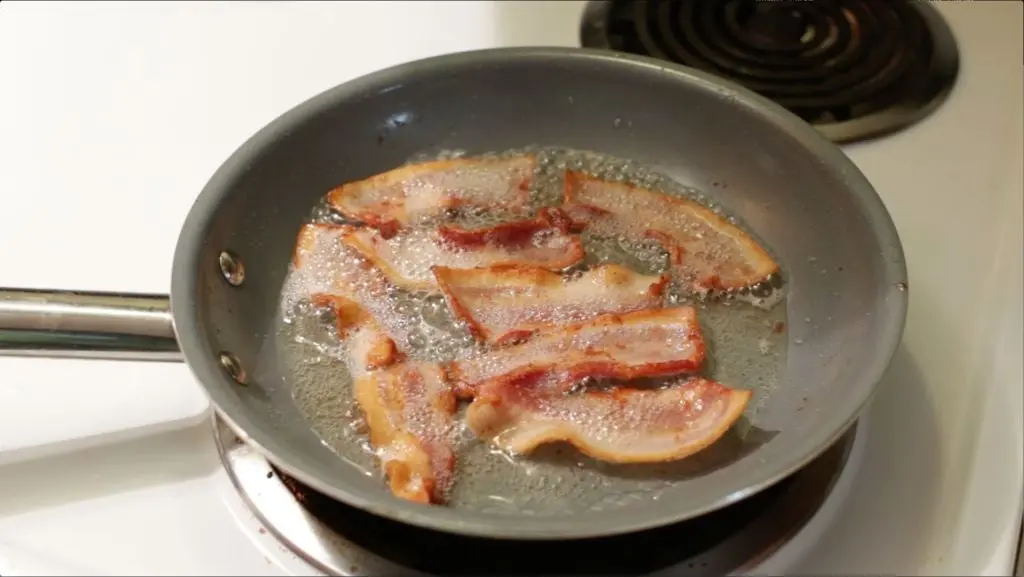 In a separate skillet cook up your favorite kind of bacon. I love a nice thick-cut applewood smoked bacon. Set the stovetop to medium and cook up a few slices, depending on how many you want to make. You can add a bit of this bacon grease to the potatoes if you like.
Step 4: Scramble those eggs
Time to make those scrambled eggs. Take your eggs and place them in a bowl and then whisk them up. Heat a skillet on medium heat with a bit of oil or butter.
Pour the eggs into the skillet and move the spatula around until the eggs are scrambled. Remove them from the heat. You may flavor them with salt and pepper if you like.
Step 5: How to you fold and roll a breakfast burrito?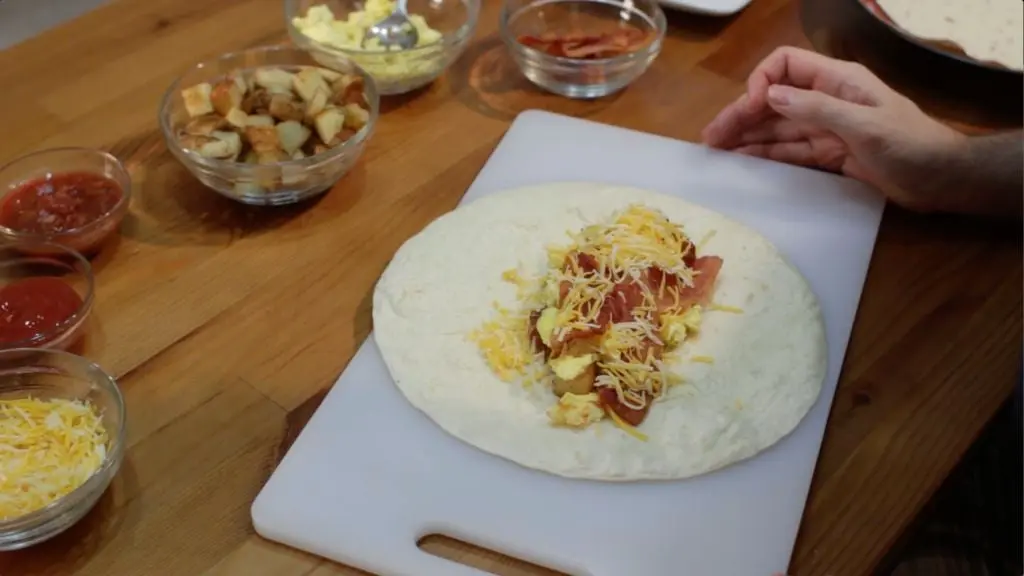 Time to assemble it. Take your flour tortilla and place it on the cutting board or plate. Add your eggs, potatoes, bacon, and cheese. Then add the salsa or ketchup if you like.
Next, grab the sides of the tortilla and fold them in towards the middle.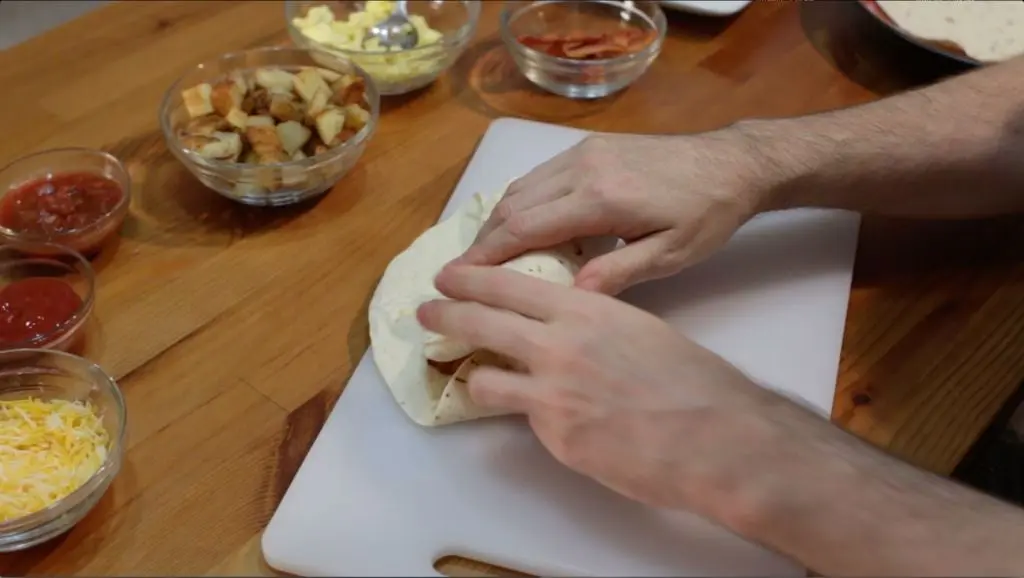 Holding the sides in place fold over the bottom part of the tortilla and then start to roll the burrito.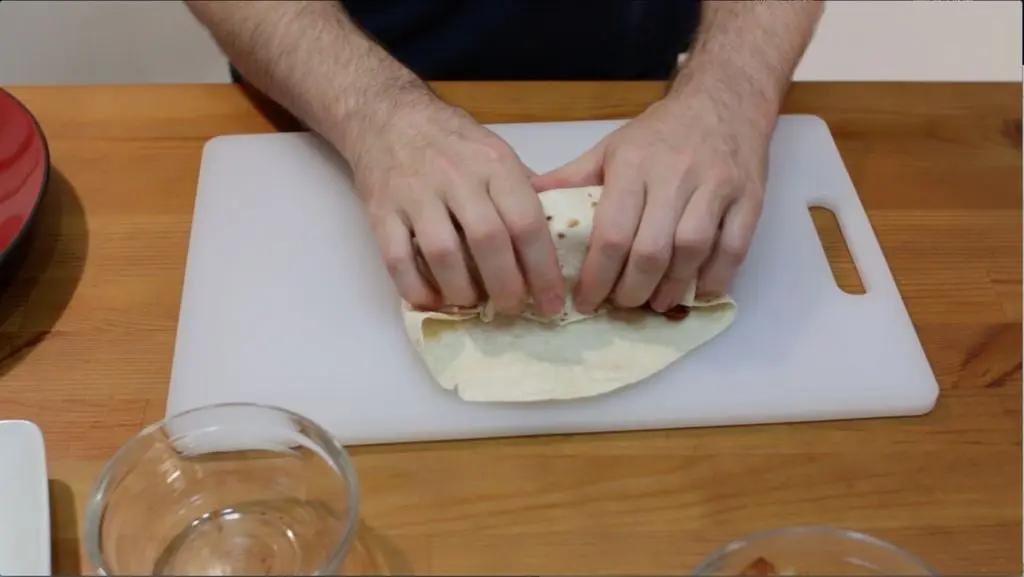 Use your fingers and hands to pinch and tuck the tortilla to get a nice tightly wrapped breakfast burrito.
Step 6: Serve up that easy breakfast burrito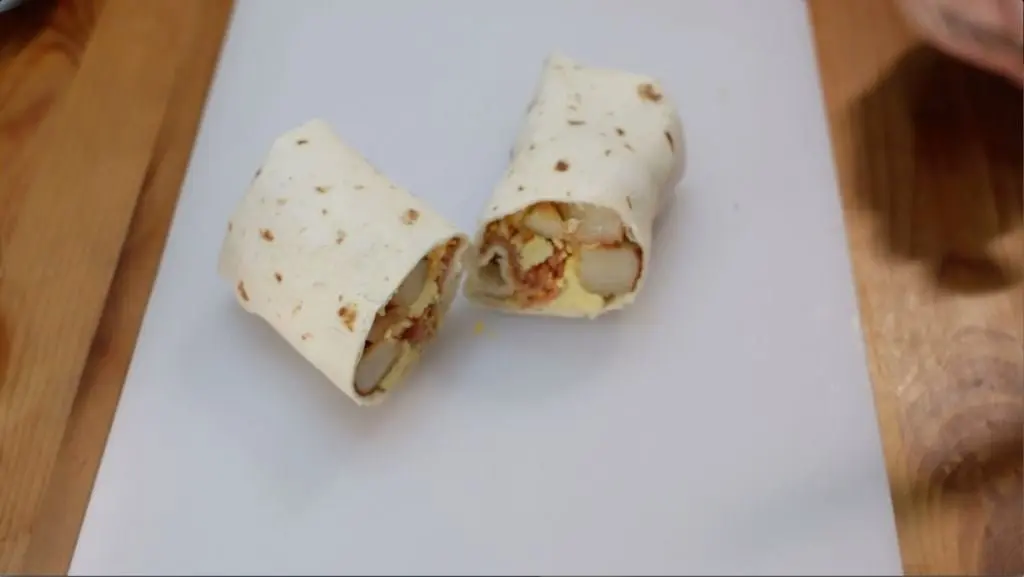 Now you are ready to dig into it. Pretty easy right? Serve them with a bowl of fruit and you have yourself the ultimate breakfast.
What is your favorite kind of breakfast burrito? Let me know in the comments.
How long can breakfast burritos be stored?
If you cover them with plastic wrap and store in the fridge they will last a day or two. For longer storage, they may be frozen. Wrap them in plastic wrap and place them in a freezer bag.
Easy Breakfast Burrito
Homemade breakfast burritos are super easy to make and oh so delicious. This recipe has all my favorite ingredients in it, potatoes, bacon, eggs, and cheese. Of course, there are a number of amazing other ingredients you can add, but this will definitely get you started.
Ingredients
4

flour tortillas

2

medium potatoes

3

large eggs

8

strips of bacon

1/2

cup

shredded cheddar cheese

1/4

cup

salsa

1/4

cup

ketchup

2

tbsp

oil
Instructions
Begin with cooking the potatoes. Wash and peel them, then cut them up. Boil them for a few minutes before browning them in a skillet.

Cook your bacon, sausage, or chorizo. In a skillet on medium heat.

Crack the eggs into a bowl and whisk them. Then add them to a skillet with a bit of oil set to medium heat. Scramble up the eggs.

Once you have prepped all of the ingredients it is time to assemble the breakfast burrito. Take a large flour tortilla and add the potatoes, eggs, bacon, cheese, and salsa or ketchup or both, and any other ingredients. Fold in the sides of the tortilla. Then fold over the bottom part of the tortilla. Tuck the tortilla around the ingredients allowing you to roll it up tightly. There you have it, a nice easy yummy breakfast burrito. Enjoy!
Video
How to Make a Breakfast Burrito | Easy Breakfast Burritos Recipe
Notes
These nutritional facts are based on if you used all the ingredients for 4 very large burritos. You can spread out the ingredients and make smaller ones if you like with additional tortillas.
Nutrition
Do you like the recipe? Please give it a rating and comment down below, I really appreciate it. If you make it tag me on Instagram @inthekitchenwithmatt. Also, sign up for the newsletter so you won't miss out on any of my new posts and recipes.
Here are a few more recipes you may like: