Jump to Recipe
One of my favorite foods to eat is pizza. It never gets old. To mix it up a bit I love eating these homemade easy calzones.
A calzone is pretty much a pizza folded onto itself and originated in Italy. It is made with salted bread dough or of course homemade pizza dough, and stuffed with all the classic pizza toppings, and baked in the oven.
They are normally shaped into a crescent but also sometimes look like a misshapen ball. If you are making pizza why not switch it up a bit and make some delicious calzones. If I can do it, you can do it. Let's get baking!
Step 1: Gather the ingredients
In order to make these easy calzones you need the following ingredients:
Frozen store-bought bread dough – Or use homemade bread dough, homemade pizza dough, or store-bought pizza dough.
Pizza Sauce – You can use homemade pizza sauce or your favorite store-bought pizza sauce.
Cheese – I always use mozzarella, but ricotta, parmesan, and pecorino are great choices as well, or a blend of some or all of those.
Whatever fillings/toppings you want – I love sausage and olives.
Egg
Water
Step 2: How to make easy calzones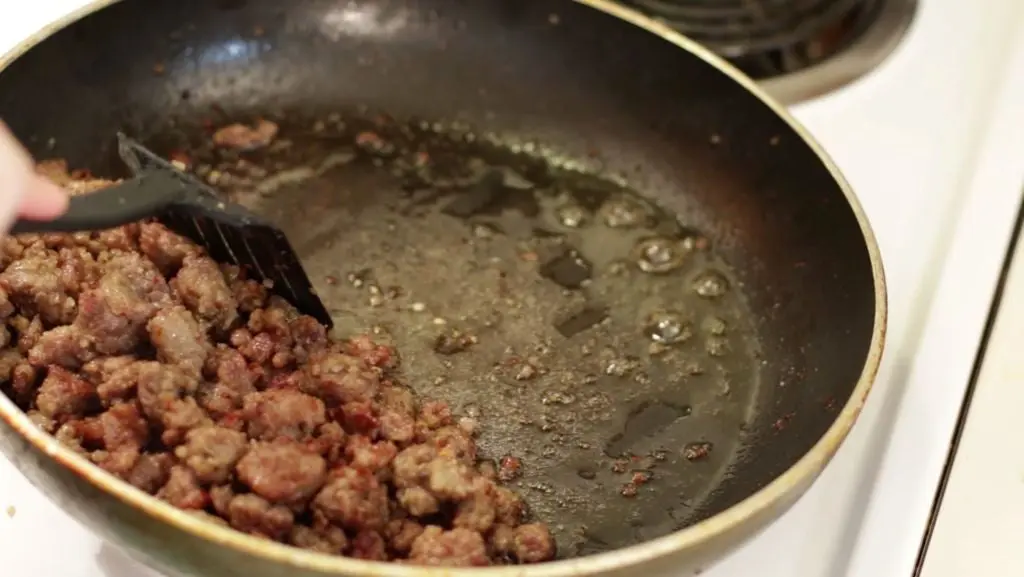 Begin by thawing out the frozen bread dough if using that or making the homemade bread dough or pizza dough and let it rise for an hour.
Preheat the oven to 350 F/176 C.
If using Italian sausage, heat a skillet on medium heat, then add the sausage. Sprinkle on a pinch of salt, garlic powder, and pepper. Use a spatula to break apart and flip the sausage until evenly browned. There should be no pink on the inside when broken a part.
Now drain the sausage, if you want some yummy sausage gravy you can use the leftover grease for that.
Step 3: Working with the dough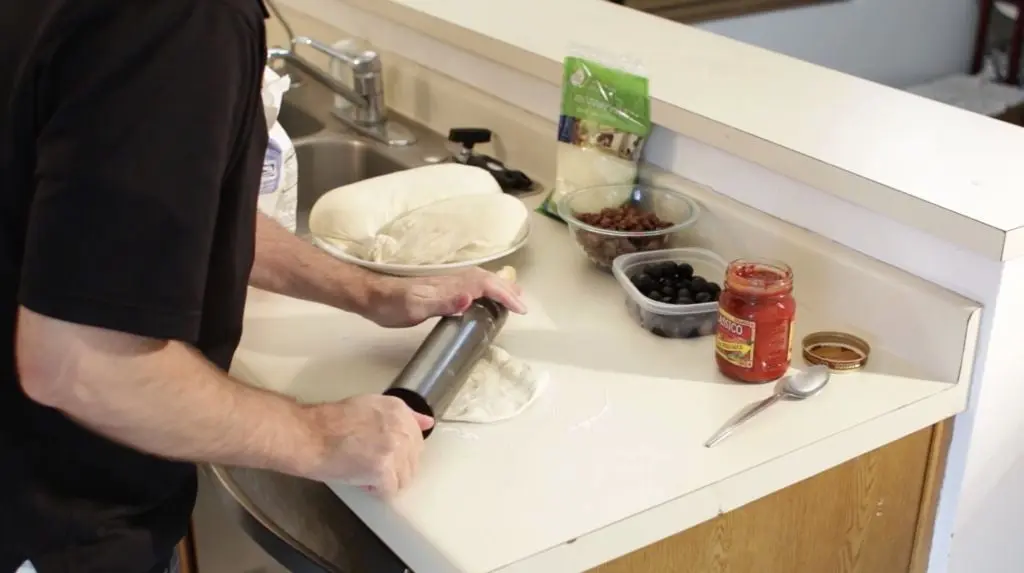 Now cut the dough with a dough cutter or a knife, into large pieces, about 4 to 6 equal pieces for a pound of bread dough. But you can make them whatever size that you want.
Roll out the dough into a circle 6 to 8 inches on a floured surface with the rolling pin.
Step 4: Calzones filling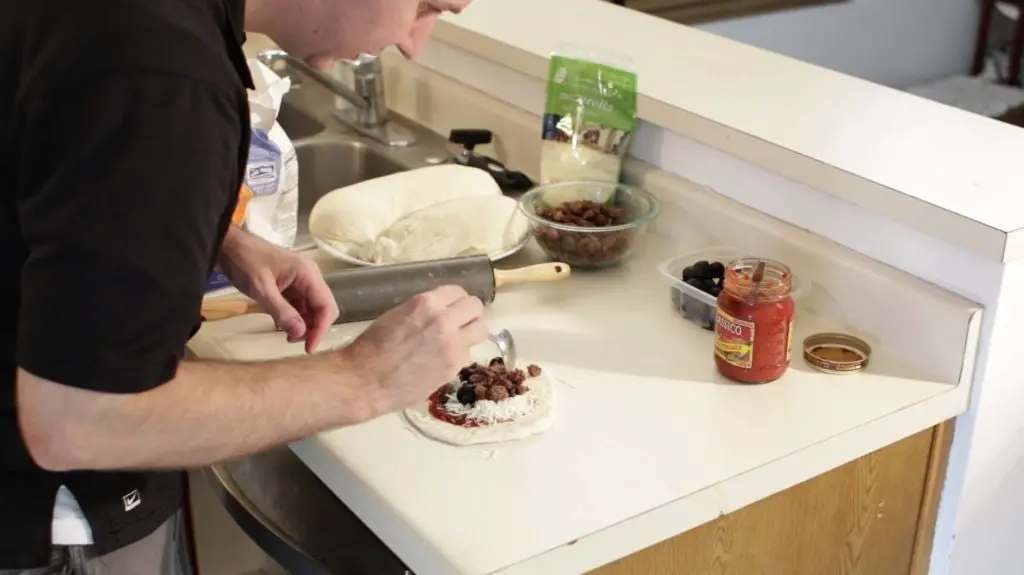 Spread on your favorite pizza sauce or tomato sauce. Don't go all the way to the edge however. Then sprinkle on some grated cheese. I love to use mozzarella.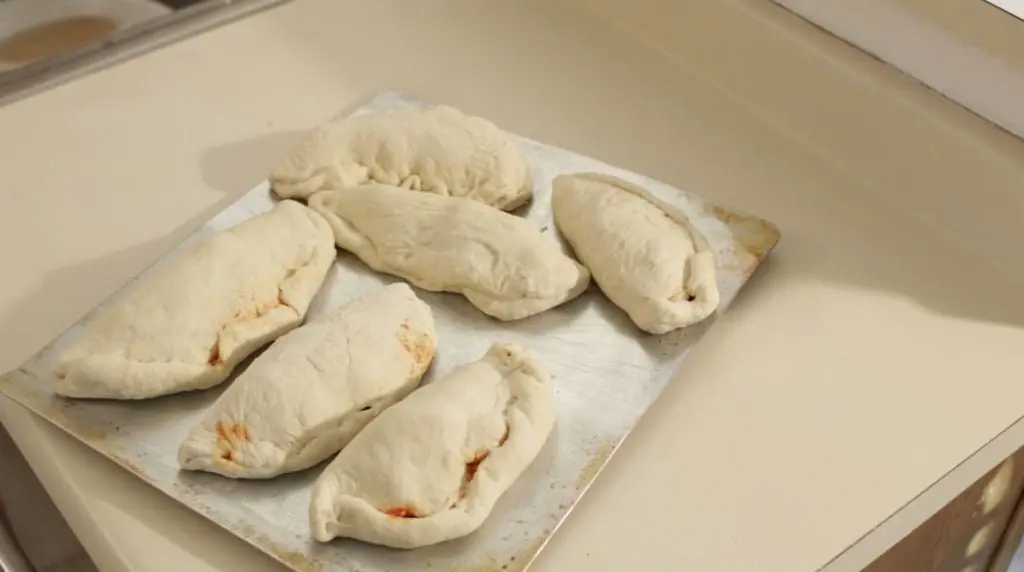 Fold the dough over and pinch to seal it. Then baste the tops with a simple egg wash by mixing 1 egg and 1 tsp. of water. This will give the calzones a really nice color when baked, or you can also use milk.
Place them on a sheet pan or cookie sheet. I don't normally spray the pans with cooking spray, but you can if you like.
Step 5: Bake those easy to make calzones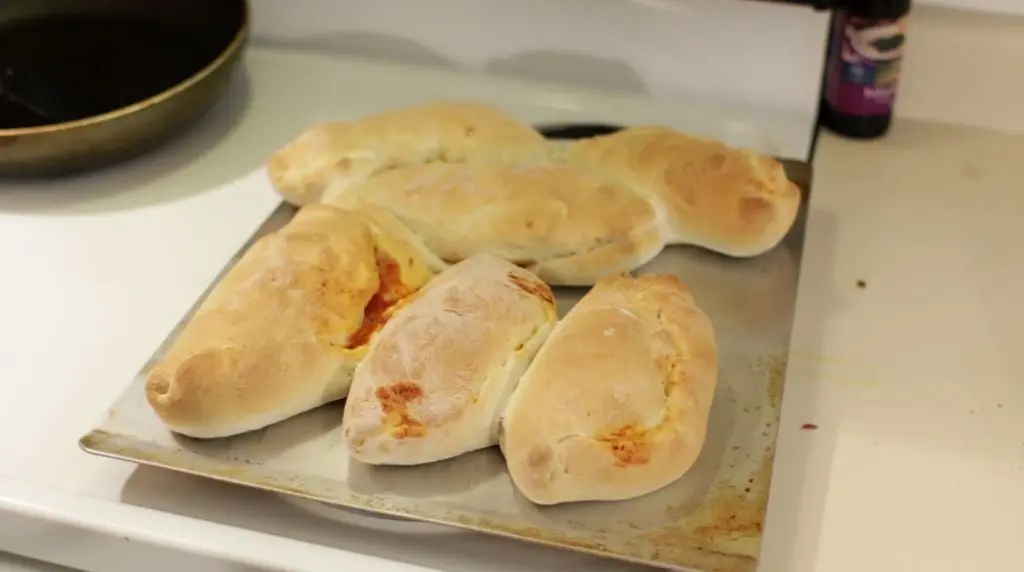 Now bake those calzones in the oven for 20 to 30 minutes until nice and golden brown on top. This is such a fun activity to do with kids or with the family. I feature this recipe in a group date idea in a creative dates book I wrote as well.
Allow the homemade easy calzones to cool for a bit and then serve them up. Enjoy!
Easy Calzones
Calzones are so easy to make and versatile. You can use your favorite homemade white bread dough, or of course, your favorite pizza dough, or to make it even easier, use a premade store-bought frozen bread or pizza dough. If you love pizza, make some calzones! If I can do it you can do it. Let's get baking!
Equipment
Dough cutter/scraper or knife

rolling pin

sheet pan

Basting brush

Fork
Ingredients
2

lbs

frozen bread dough

1

can of olives

1

jar pizza sauce

2

cups

shredded mozzarella cheese

1

lb

of ground Italian sausage

pinch

garlic powder

pinch

salt

pinch

ground black pepper

1

large egg

1

tsp.

water
Instructions
Make or thaw out your bread or pizza dough.

Heat a skillet on medium heat. Then add in the Italian sausage along with a pinch of salt, garlic powder, and pepper. Brown the meat until there is no pink, stir and flipping with a spatula or wooden spoon.

Preheat the oven to 350 F/176 C. Divide the dough into 6 pieces or whatever size that you want. It doesn't have to be exact. Roll out the dough into a 6 to 8-inch circle on a floured surface.

Spread on some marinara or pizza sauce, but don't go to the edge. Then sprinkle on the cheese, cooked Italian sausage, and olives in the middle.

Fold the dough over in half and then pinch and crimp the edges to seal it. Place the unbaked calzones on a sheet pan or cookie sheet.

Take one egg and whisk it together with a teaspoon of water. Baste the tops of the calzones with the egg wash. (optional)

Bake for 20 to 30 minutes until nice and golden brown. Let cool then serve. Enjoy!
Video
How to Make Calzones - Easy Calzone Recipe
Notes
Note: The amounts do not have to be precise for these. It's very simple take some dough roll it out, add the toppings and fold. The amounts will vary greatly depending on how you make them. 🙂 
Also the nutritional facts will vary greatly depending on how large you make them and of course the toppings/fillings you use. 
Nutrition
Do you like this recipe? Please give it a rating and comment down below, I really appreciate it. If you make it tag me on Instagram @inthekitchenwithmatt. Also, sign up for the newsletter so you won't miss out on any of my new posts and recipes.
Here are a few more recipes you may like: