Jump to Recipe
This easy cream puffs recipe is amazing! How can you go wrong with delicious homemade cream puffs? The short answer is you can't. The long answer is, well the same as the short answer, you can't! No more buying those frozen cream puffs from the store!
I love these tasty little treats with nice crispy choux pastry shells filled with homemade whipped cream or custard. It really is a party in your mouth with every bite.
They might seem like a difficult treat to make, but don't let that stop you. This easy cream puffs recipe is very simple and easy to make, if I can do it, you can do it. Let's get baking!
Step 1: Gather the ingredients and tools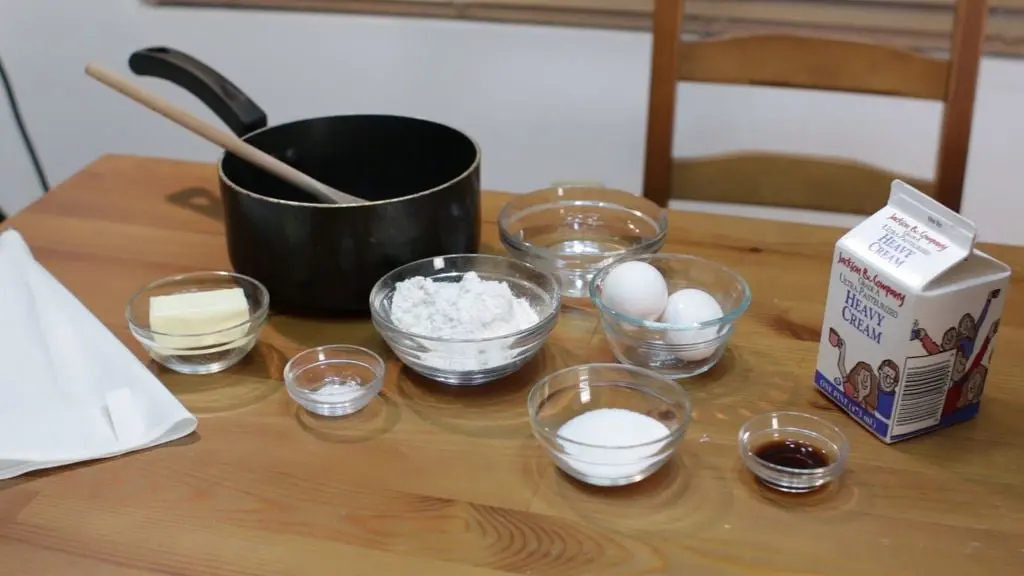 In order to make this easy cream puffs recipe, you will need the following ingredients and tools:
Choux pastry:
Water – I always use filtered water, because my tap water tastes terrible.
Unsalted butter – You can use salted too if you like, just reduce the additional salt if you do.
Salt – The ultimate flavor enhancer.
Flour – This is the main ingredient in this choux pastry.
Eggs – The eggs will give the dough structure as well as help with the leavening. The steam as it bakes will provide the most leavening.
Sweetened Whipped Cream:
Heavy whipping cream
Vanilla extract
Granulated sugar
Tools
Step 2: How to make this easy cream puffs recipe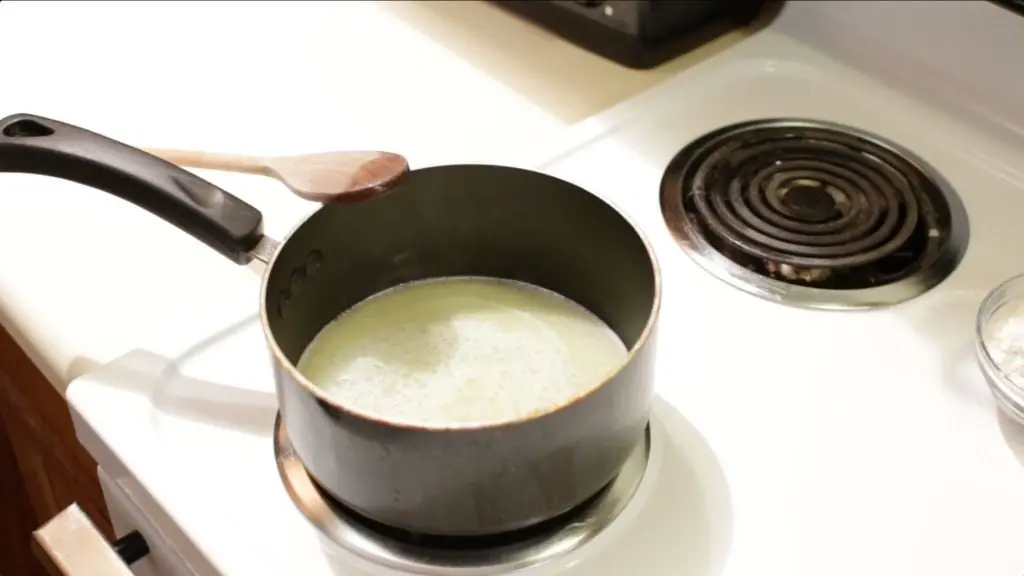 First, we will start by making our choux pastry. Choux is pronounced "shoe." Choux pastry or pâte à choux is pastry dough that is light and airy and is used in such pastries as cream puffs and eclairs as well as others.
To make the choux pastry take a medium-sized pot and place it on your stovetop and set it to medium heat. Preheat the oven to 400 F/204 C.
Add the water, butter, and salt to the pot. Stir the ingredients occasionally until it starts to boil. Once it starts to boil remove it from the heat.
Step 3: Flour time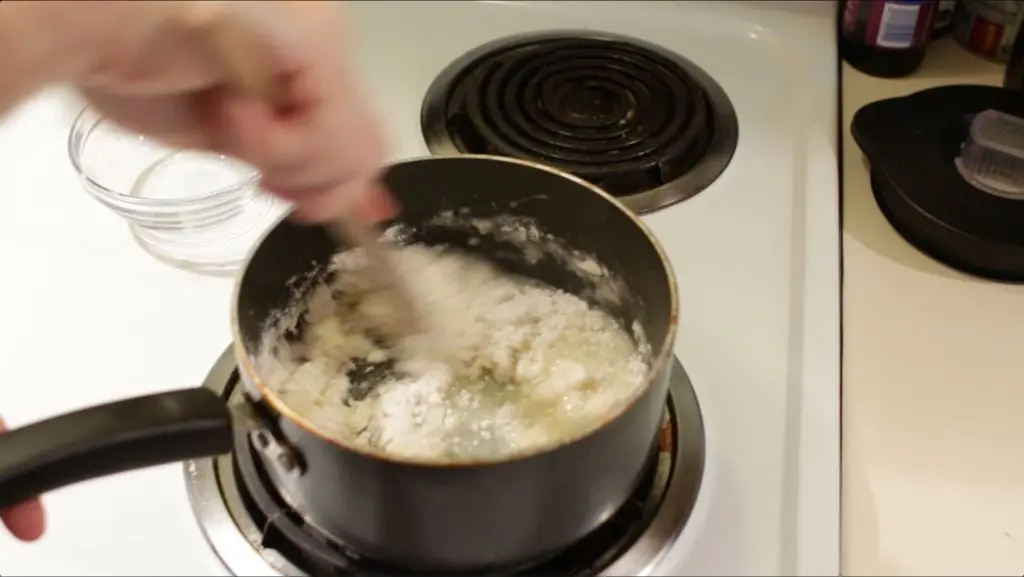 Now, dump in all the flour and once and stir really quickly. Eventually, it will come together and create a nice dough. It will not take very long for the dough to form.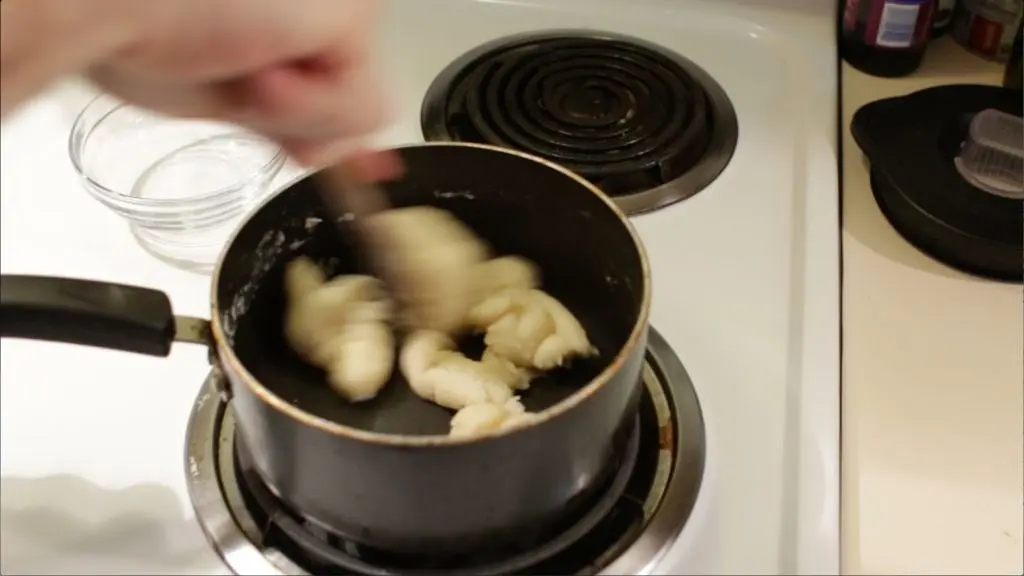 Step 4: Add the eggs to the cream puffs dough
Next, the dough will very warm, so place the dough in a large bowl and use a wooden spoon and mix the dough around to release some heat and allow the dough to cool to room temperature. It should be warm to the touch but not hot, if it is too hot it will cook the eggs.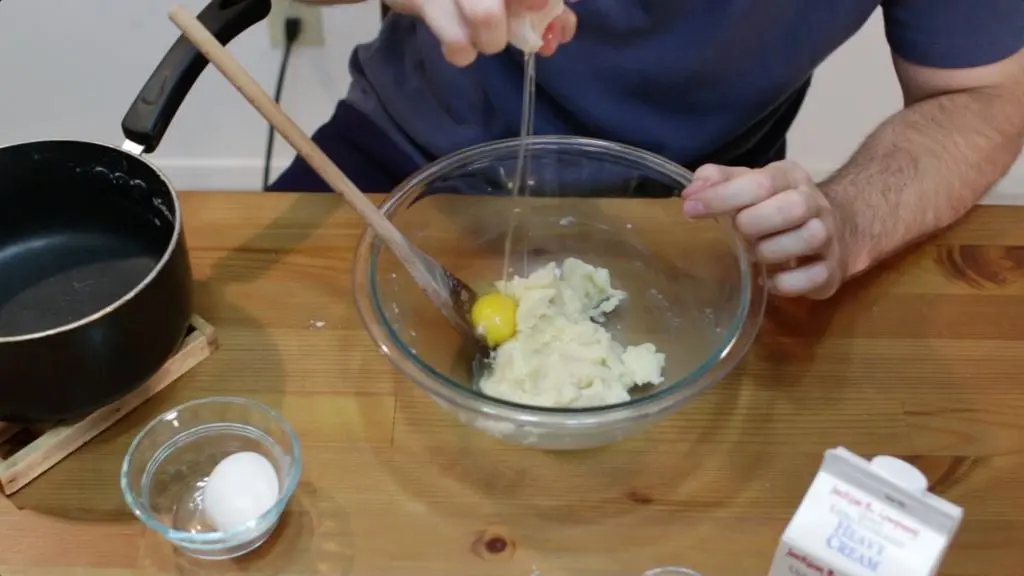 Add one egg in and mix it in with the spoon. At first, it will seem like it is not going to mix in with the dough but after a while, it will.
Then add in the next egg and repeat until both eggs have been incorporated leaving you with a nice smooth cream puffs dough, choux pastry.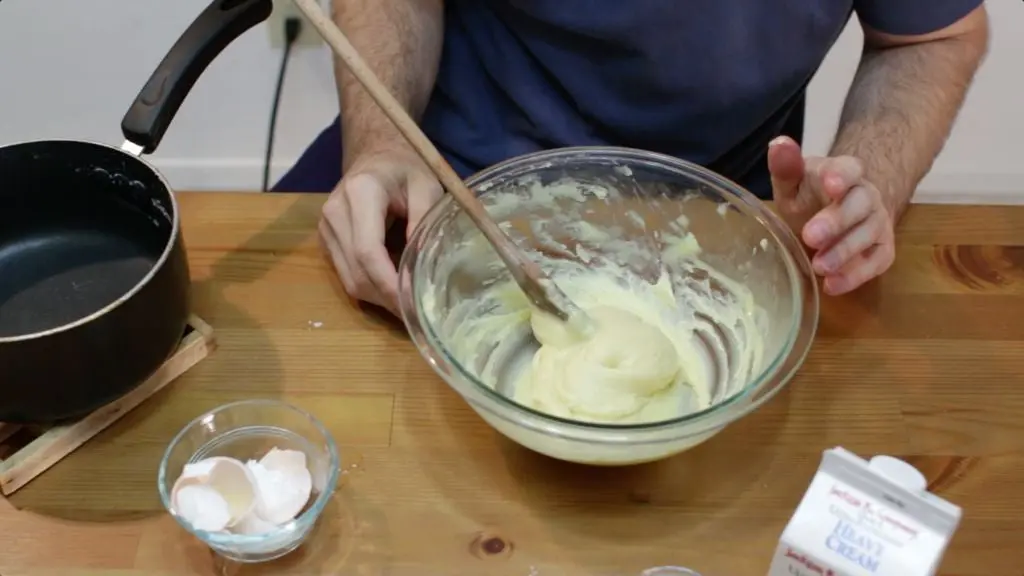 Step 5: Pastry bag it is!
Next, fill up your pastry bag or plastic bag with your choux pastry dough and use a round cake tip. Use a tall glass and put the bag in it, then fold the bag around the rim of the glass which will hold it open.
Then place the choux pastry in the bag. If you use a plastic bag, just snip off the corner with scissors.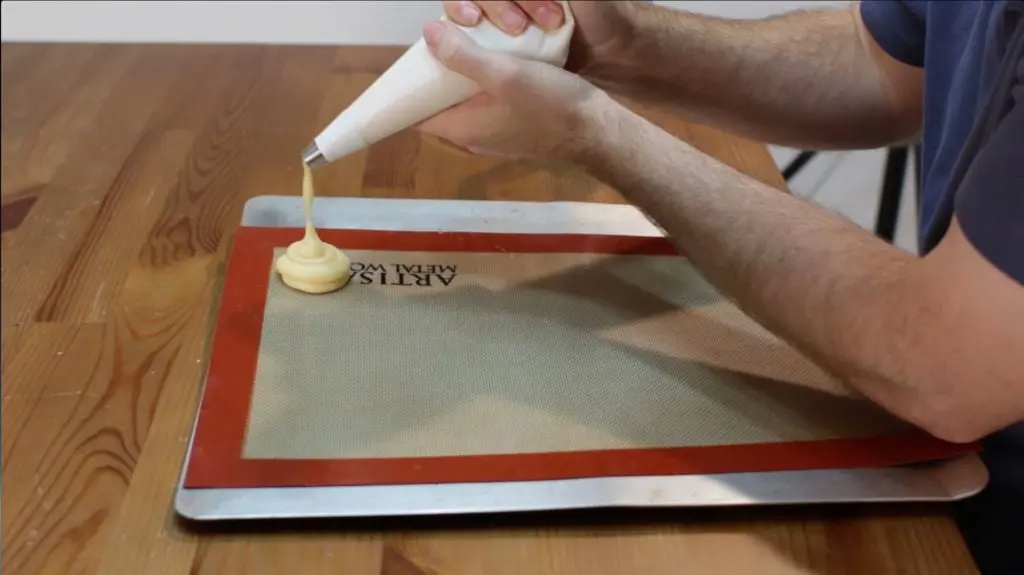 Pipe in a circular motion about an inch and a half round circle of dough onto a cookie sheet lined with parchment paper or a silicone mat. The result will be nice mound or "hat."
This should make about 12 medium-sized cream puffs. Next bake them in the preheated oven, 400 F/204 C for 15 minutes, then turn down the oven to 350 F/176 C and bake them for an additional 30 minutes.
Do not open the oven until near the end to check on them, if you open it too soon they may not puff up as nicely. They should be golden brown on the top.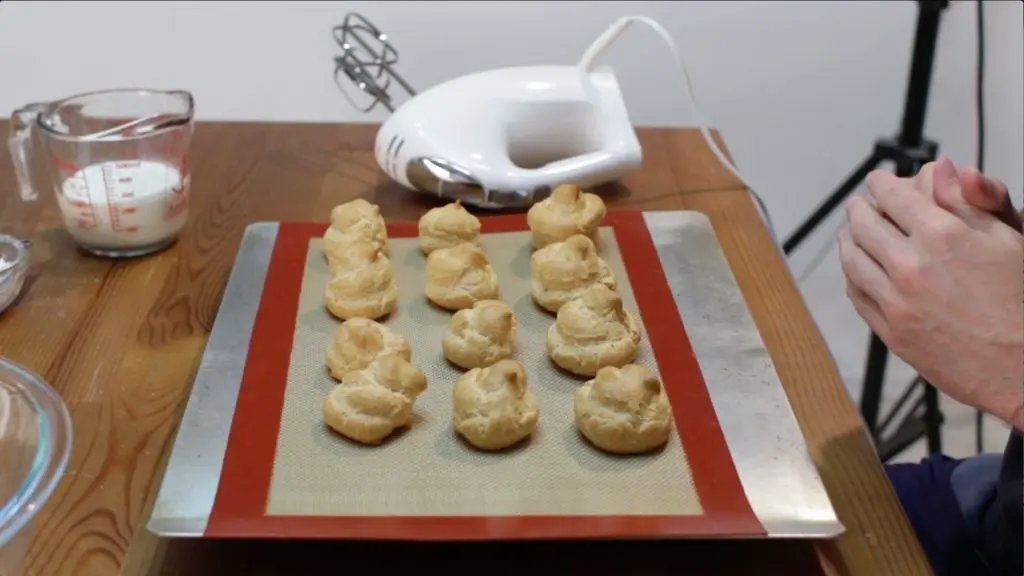 Step 7: Make that yummy homemade whipped cream for the cream puffs
Next, while the cream puff shells are cooling, time to make the delicious sweetened whipped cream. If you prefer, you can make a custard too, I generally do either or depending on my mood.
To make the whipped cream, take the heavy whipping cream and place in a large bowl. Add the sugar and the vanilla extract and mix it with a hand mixer or stand mixer until peaks form.
After that, you are ready to fill up those choux pastry cream puff shells.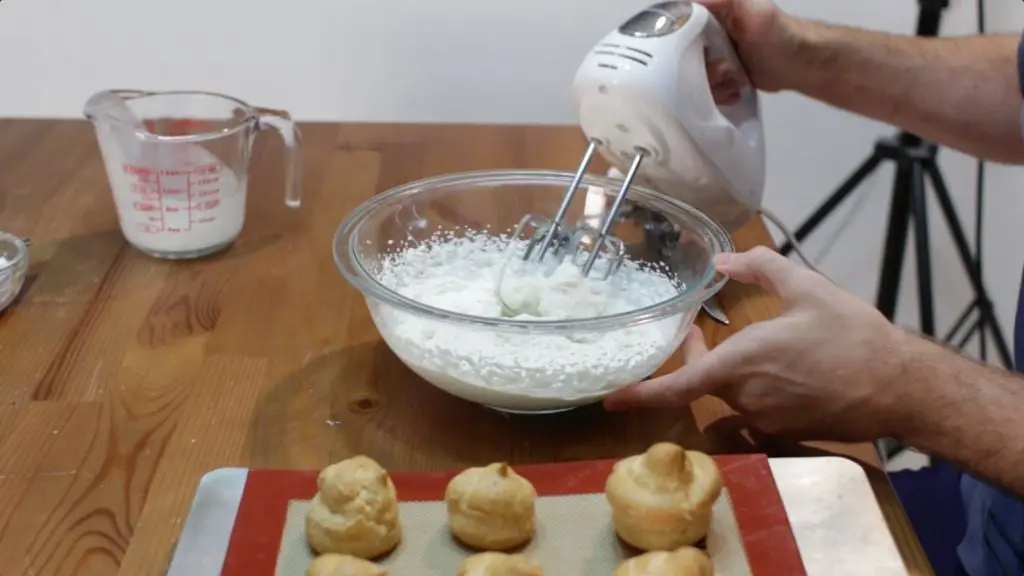 Step 8: Filling the cream puffs up
Now time to fill up those yummy easy cream puffs! There are a couple of ways that you can do this. You can poke a hole in the bottom and pipe in the whipped cream or custard if you like. Or just cut them in half with a knife, then scoop the whipped cream onto them and place the top half.
Then all you need to do is dust the tops with powdered sugar! Or maybe you want to make a chocolate ganache and drizzle that on top? Or better yet, dip the tops in it.
Yummy! Easy right? I told you this easy cream puffs recipe was simple to make. Now serve those yummy homemade cream puffs up.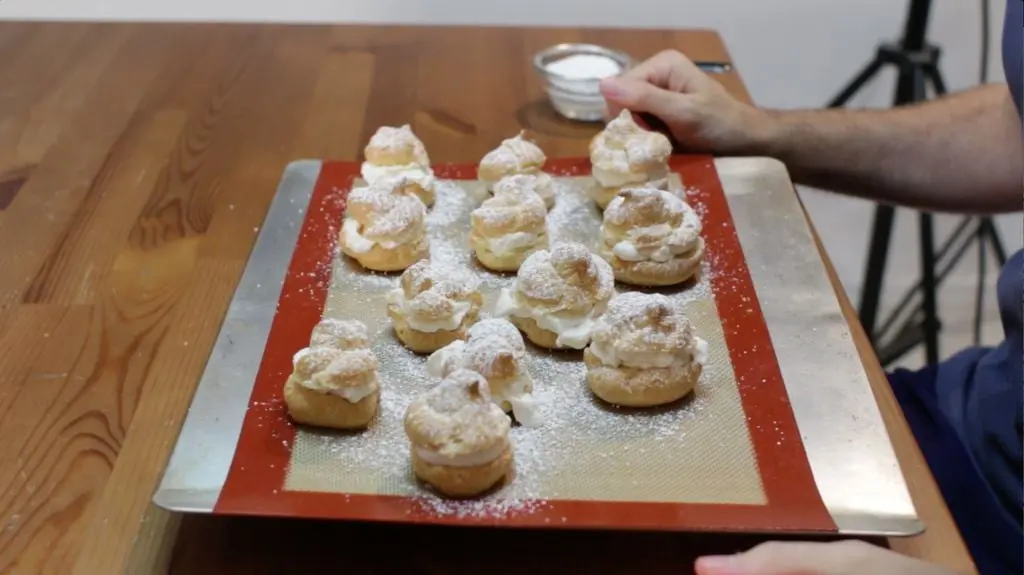 *Note – Once you cut the choux pastry shells in half, they may be a bit damp/undercooked. If that happens just place all the halves back on the cookie sheet and put them in the oven at 350 F/176 C for 5 minutes.
What happens if my cream puffs didn't rise?
Did you make sure to let the water and butter boil before adding the flour? Did you open the oven too soon to look at them? Those are a few troubleshooting tips.
Why did my cream puffs go flat?
If they go flat after baking, next time, poke a hole in the top right after they come out of the oven, this will release any excess steam in the middle which can cause them to collapse.
Can I make the cream puffs ahead of time?
Sure! Usually making cream puffs up to a day in advance will work fine. You can assemble them and place them in the fridge covered loosely with plastic wrap. You can also freeze them for long term storage. Place in a freezer bag and get as much air out as possible then freeze them.
You can store the shells by themselves. If they soften while being stored, place them in the oven at 350 F/176 C for about 5 minutes to crisp them back up. Then fill them with cream or custard.
Easy Cream Puffs Recipe
Homemade cream puffs are amazing and this recipe is so easy to make. They are a crowd-pleaser for sure! Using just a few simple ingredients you probably already have at home. This recipe will teach you how to make the choux pastry shells and the sweetened whipped cream which will be used for the filling. I also give a few tips to help you along the way troubleshoot any issues that may arise.
Equipment
pot

Wooden spoon

pastry bag and round tip or plastic bag

baking sheet

silicone baking mat or parchment paper

spoon

Knife

glass

Hand mixer
Ingredients
Choux Pastry
1/2

cup

of water

120ml

1/4

cup

of unsalted butter

55g

1/4

tsp.

of salt

1.5g

1/2

cup

of flour

60g

2

large eggs
Sweetened Whipped Cream
1

cup

heavy whipping cream

240ml

1/2

tsp.

vanilla extract

3ml

2

tbsp

granulated sugar

25g
Instructions
Make the Choux Pastry
Preheat the oven to 400 F/204 C. Begin by adding the water, butter, and salt to a medium pot. Place it on the stovetop and set heat to medium heat. Bring the ingredients to a boil stirring occasionally.

Remove the pot from the burner and add in the flour all at once and stir quickly until a nice dough forms.

Place the dough in a large bowl and continue to stir the dough until it becomes warm to the touch. Then add in one egg and stir it in. It will seem like it doesn't want to combine at first, but it will. Then add in the second egg and repeat until completely combined.

Add the choux pastry to a pastry bag or zip lock bag with a round tip. Pipe the pastry onto a parchment paper-lined cookie sheet or sheet pan using a circular motion to create a little mound. You should be able to create 12 medium-sized mounds of dough.

Bake the choux pastry mounds in the oven for 15 minutes. Then turn the oven down to 350 F/176 C and allow them to bake for another 30 minutes. Do not open the oven too soon or it may cause the puffs to collapse or not rise at all. They should be nice and golden brown on the top when done. Remove from the oven and allow them to cool while you make the sweetened whipped cream.
Sweetened Whipped Cream
In a large bowl combine the heavy whipping cream with the sugar and vanilla extract. Whip it with a mixer until nice peaks form or your desired consistency.

To fill the cream puffs you can either poke a hole in the bottoms and pipe the cream in or cut the shells in half and scoop it in. Either way works great! Dust the tops with powdered sugar and serve!
Notes
Nutrition
Do you like the recipe? Please give it a rating and comment down below, I really appreciate it. If you make it tag me on Instagram @inthekitchenwithmatt. Also, sign up for the newsletter so you won't miss out on any of my new posts and recipes.
Here are a few other recipes you make like: