Jump to Recipe
Did you know you can make bread in a crockpot (slow cooker)? This easy crock pot bread recipe is incredible and super easy to make.
Why might you want to make bread in a crock-pot? Well for a variety of reasons. Maybe you have a small flat and don't have room for an oven. Maybe you have an RV and don't have an oven in there. Or maybe you just don't want to turn on the oven. Whatever the reason is you can make bread in your crockpot. It is a fun experiment and oddly satisfying. This method for baking homemade bread should work fine with any bread dough that you make. If I can do it, you can do it. Let's get started!
Step 1: Gather the ingredients and tools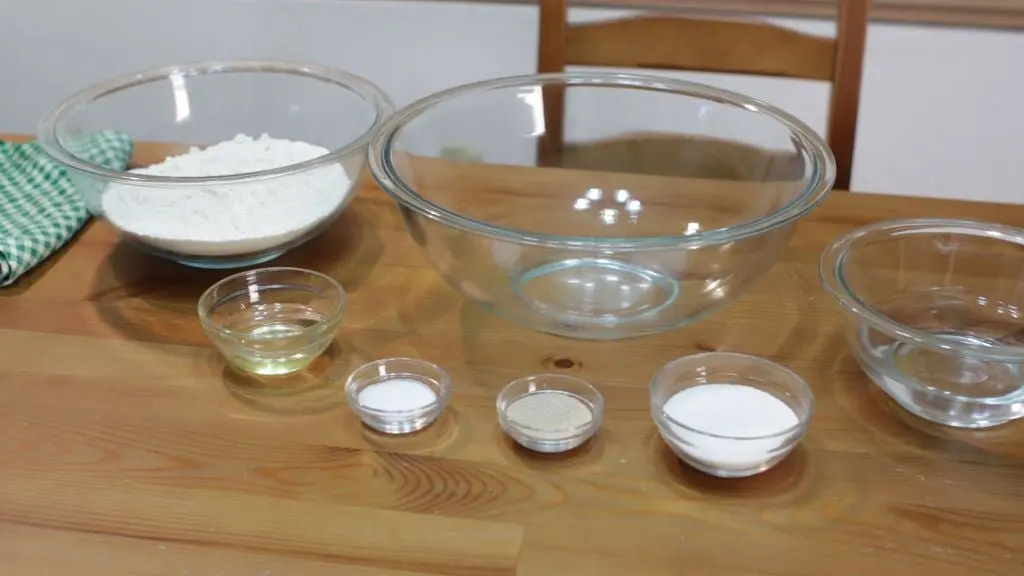 First, gather up your ingredients and tools. In order to make crock pot bread you first need some awesome homemade bread dough. I am not going to go into all the steps for making the bread dough, just choose your favorite and use it. Here are the ingredients for my favorite bread dough:
Water
Yeast – I usually use active dry yeast.
White Granulated sugar
Oil (Canola or Vegetable oil)
Bread Flour (you can use all-purpose)
Salt
Tools
Wooden Spoon
Bowls
8×4 inch bread pan, if you want a classic looking loaf, or don't use a pan at all.
Whisk
Fork
parchment paper, if not using a bread pan
Step 2: How to make homemade bread in a crock pot (slow cooker)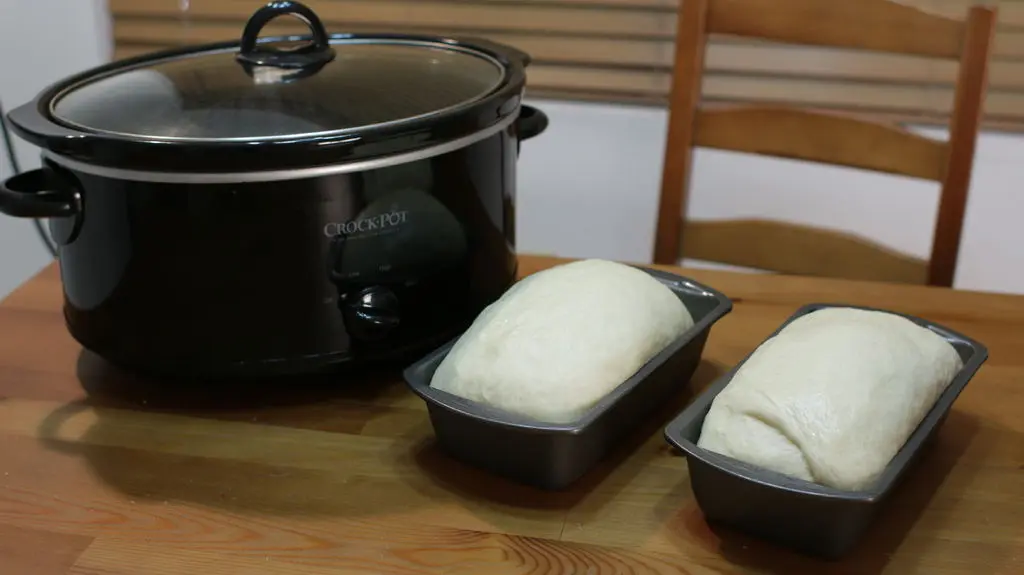 Start by making your bread dough. Use this recipe or one of your own. Follow all the same steps, allowing the dough to rise twice. Once after kneading, and then after placing it in the bread pans. Or if you aren't using a bread pan you will place the dough inside your parchment paper-lined crockpot.
Step 3: Using the crock pot
Divide your dough into two loaves or you could make one giant loaf by forming the dough into a ball and then placing it into the crockpot. Use a bread pan that is small enough to fit inside your crock pot. Or use parchment paper. I will use 8×4 pans because those fit very nicely in my slow cooker. After placing the dough in the crock pot cover it with the lid. Next, turn the crockpot on "High". You will bake it for 2 to 3 hours depending on the size of your loaf. You can put a little bit of water in the crockpot as well to created more steam. Bake it until it is golden brown on the top. Or if you like you can check the internal temperature of the bread with a thermometer. The temp inside should be around 200 F. (93 C)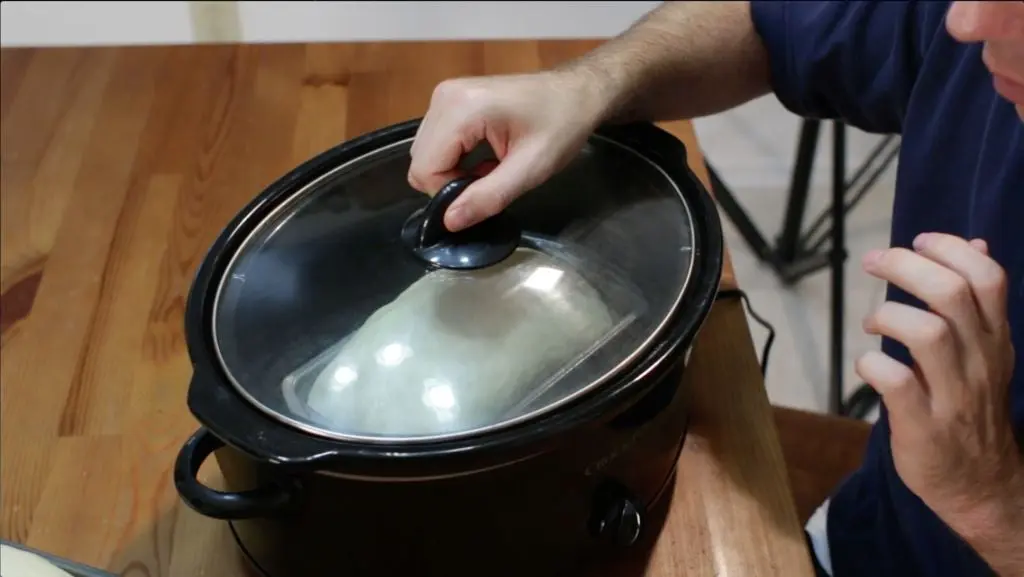 Step 4: Remove the loaf of bread from crockpot
After the time is up, take off the lid and avoid getting blasted by the steam. Or place your face over it and get a free facial. Use oven mitts and dig out that bread loaf pan. Or grab the parchment paper and lift the larger loaf out. Then let the bread cool on a wire rack. There you go easy crock pot bread.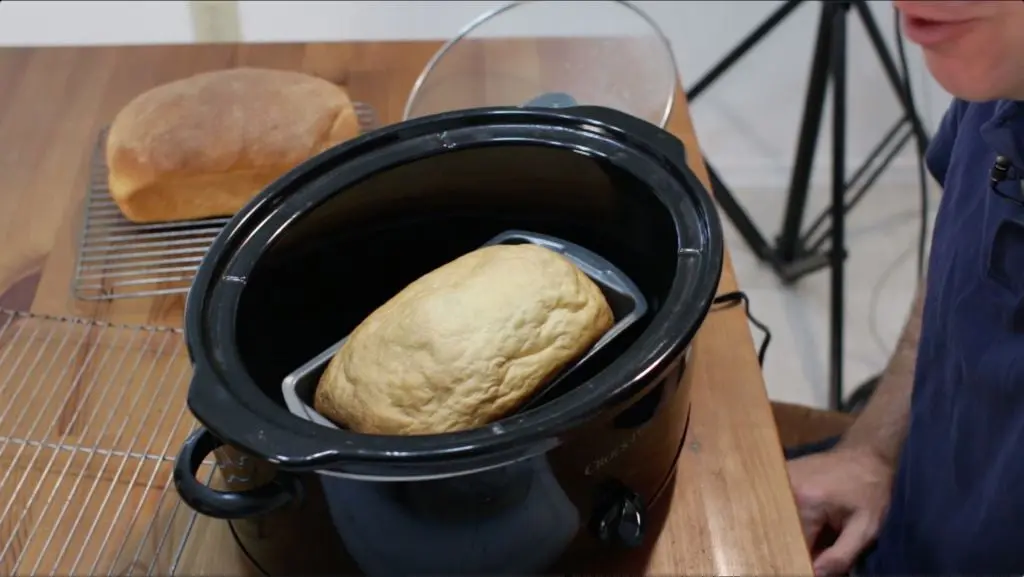 How does a traditional bread loaf compare to a crock pot bread loaf?
Let's do a side-by-side comparison. Using the same exact dough I baked one loaf in the oven, which is the traditional method. And then I baked the other loaf in my crock-pot.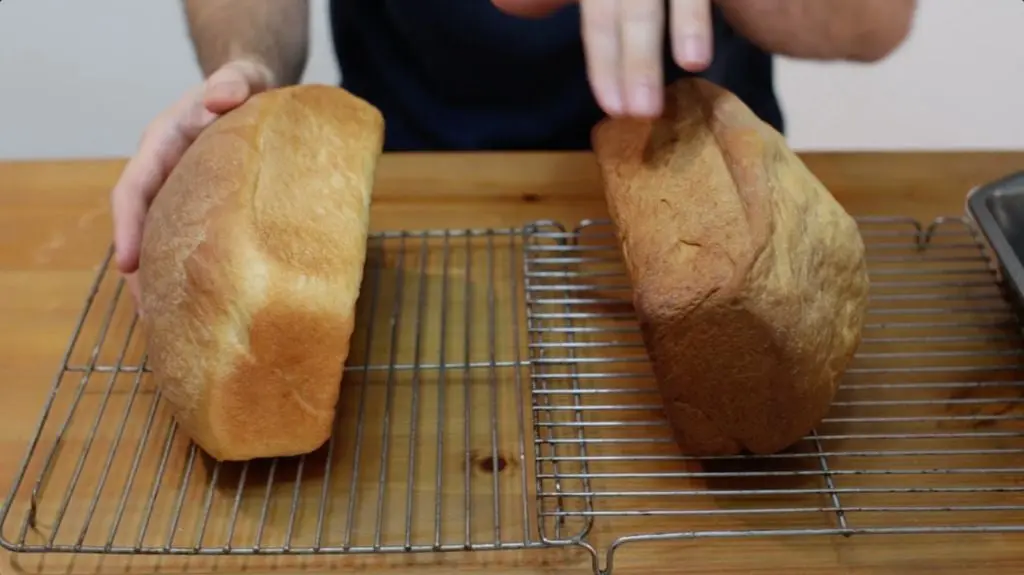 The first thing you will notice is that the crockpot bread takes much more time to bake in the oven than a traditional loaf. The sides of the loaf of the crockpot bread are a bit browner than the other loaf. Your results will vary.
The tops of the bread look a bit different as well. This is because of how much steam is created in the crockpot. Again results will vary depending on the loaf.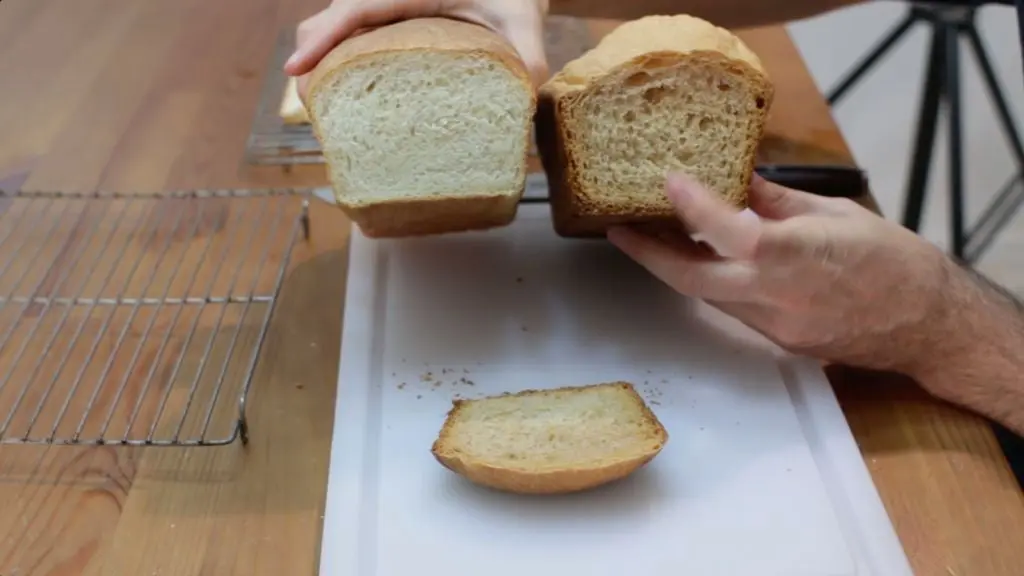 After cutting into each loaf you will notice a big difference. The crockpot bread is a bit darker with more airy holes.
How does it taste?
Slice up the bread and give it a taste. It is amazing how different the two loaves of bread turned out. However they still both taste yummy. This crockpot bread is a little crunchy on the outside but nice and soft on the inside. Amazing.
It's your turn!
Now it is your turn to try baking a loaf of bread in a crockpot. Good luck and have fun!
Easy Crock Pot Bread
Did you know you can bake bread in a crockpot? Pretty cool right? So if you don't have an oven don't let that stop you! Or if you just want to experiment try this recipe out. It is super easy to do, if I can do it, you can do it.
Equipment
Crockpot (Slow Cooker)

Wooden spoon

Bowls

8×4 inch bread pan

Whisk

Fork
Ingredients
1

cup

of water

235ml

2 1/4

tsp.

of active dry yeast

7g

1/3

cup

of granulated sugar

66g

2

Tbsp.

of Canola or Vegetable oil

30ml

3

cups

of Bread Flour

you can use all-purpose (360g)

3/4

tsp

of salt

(4g)
Instructions
First, prepare your bread dough. Add the water to a bowl and heat it to 100 to 110 degrees F. Then add in a pinch of your sugar. After that add the yeast and let the mixture sit until it gets nice and foamy. About 5 to 10 minutes.

Next add all but 1 cup of the flour, the rest of the sugar, the salt, and the oil. Mix it with a stand mixer or wooden spoon until the dough comes together. The dough will be tacky. Pour it out onto a floured counter or table and knead the dough for 8 minutes. Adding more flour as necessary. Once the dough is kneaded place it in a bowl that has been lightly sprayed with kitchen spray, cover it, and let it rise for one hour or until doubled.

After the dough has risen, divide it in half and place it in 8×4 bread loaf pans. Or form the whole amount of dough into a ball. Place a piece of parchment paper in the crockpot and then add the dough to that. Cover the loaf pans or crockpot and allow the dough to rise again, for about 1 hour.

Place the loaf pan in the crockpot and cover it with the lid. Some people will also add a bit of water to the bottom of the crockpot. If you are doing the whole loaf method without the pan, then you won't add any water. Turn the crock pot on high and allow it to bake for 2 to 3 hours. It will be done when it is nice and golden brown on the top. Or check it with a thermometer. The internal temp should be around 200 F. (93 C).

After the bread is done, using hot mitts remove the bread from the crockpot and place on a wire rack to cool completely. Then slice into it and eat! Enjoy!
Video
How to Make Bread in a Crock Pot | Easy Crockpot Bread Recipe Demonstration
Notes
Nutrition
Do you like the recipe? Please give it a rating and comment down below, I really appreciate it. If you make it tag me on Instagram @inthekitchenwithmatt. Also, sign up for the newsletter so you won't miss out on any of my new posts and recipes.
Here are a few other recipes you make like: