Jump to Recipe
Warm or cold? How do you like your egg custard? Do you like to make a pastry cream with it or just eat it out of the bowl? Whatever the case, this easy egg custard recipe is fantastic! It is a yummy light dessert with a bit of protein as well.
Egg custard is a classic treat that has quite a bit of use. Although most of the time it is just called custard there are eggless varieties of custard as well, so to make sure there isn't any confusion, this is a recipe for egg custard. You can use it to make a pastry cream filling by combining it with homemade whipped cream. A less sweet variety of custard is used for making quiches and other savory dishes. We will only be using five ingredients and no baking involved! It is super easy to make, if I can do it, you can do it. Let's get started!
Step 1: Gather the ingredients and tools
First, we need some ingredients and tools to make this easy egg custard recipe. You will need the following:
Milk – I generally use whole milk, but you can use 2% or 1% as well.
Sugar – The granulated sugar will be the main sweet element.
Vanilla extract – This will add immense flavor.
Egg yolks – Only the egg yolks are used in this recipe, save those egg whites for omelets or meringues!
Cornstarch – The cornstarch is the main thickening agent.
Tools
Step 2: How to make this no-bake easy egg custard recipe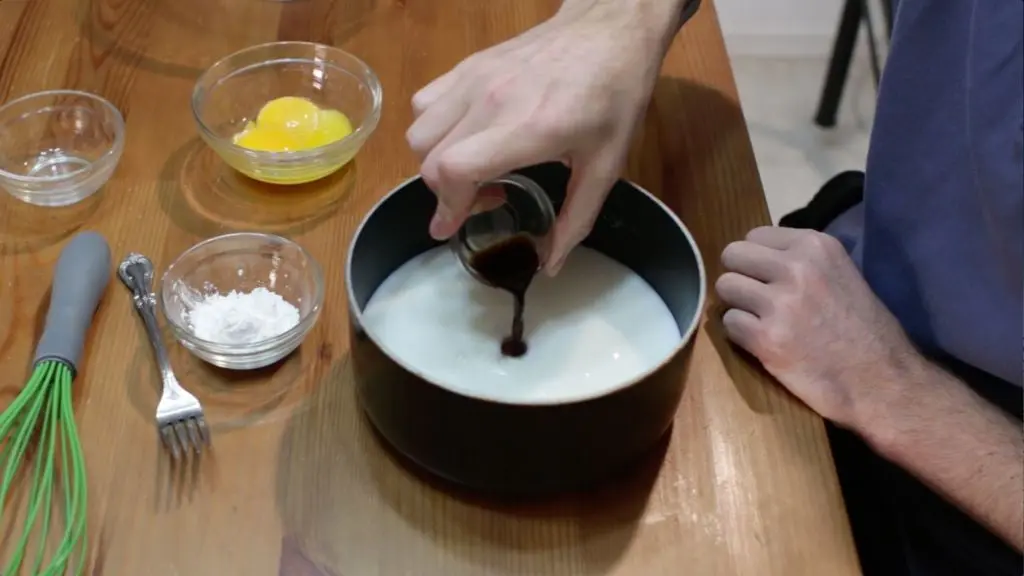 In a medium-sized pot add the milk, sugar, and vanilla extract. If you would like the custard to be less sweet you can halve the sugar. I recommend making it as is the first time then adjust as you like.
Step 3: Prepare the egg yolks
Next, in a small bowl add the egg yolks and the cornstarch. Mix them together with a whisk or fork until the cornstarch is completely incorporated. The result will be like a paste.
Step 4: Warm the milk on the stovetop
Place the pot on the stovetop at medium heat. The hot milk will dissolve the sugar. Stir the milk occasionally until you see little bubbles form around the edges of the milk. It does not need to be scalding or boiling, that is too hot.
Step 5: Add milk to eggs
Next, add a little bit of the milk to the eggs and stir quickly, then add a little more, it is important to stir quickly so the eggs don't cook. Do this until about half of the milk has been added.
Step 6: Thicken up the egg custard
Now we add the pot back to the stovetop then pour the egg and milk mixture into the pot. Keep heating and stirring the egg custard until it becomes a nice thick pudding consistency. When it starts to do a rolling bubble/boil on the top it is done.
Step 7: Serving up some of that easy egg custard
Pour the egg custard into some bowls to cool. It will make enough to fill 4 small/medium-sized ramekins. Or right around 2 cups worth. Let it sit for a few minutes and eat it warm or cover it with plastic wrap and place it in the refrigerator to chill to eat later. Add some fresh berries on top too if you wish. Enjoy!
How long will the egg custard store in the fridge?
If kept in the refrigerator the custard will last for 3 to 4 days, but most likely it will be eaten all up before then.
How do I make a pastry cream with the custard?
For the pastry cream, combine equal amounts of egg custard with freshly whipped heavy cream. This will produce a light and delicious homemade pastry cream that you can use with eclairs, cream puffs, etc.
Easy Egg Custard Recipe
I love homemade egg custard and this recipe is super easy to make and only uses 5 ingredients. And there is no baking involved! It is made in around 30 minutes as well! Serve it warm or allow it too cool for later.
Ingredients
2

cups

plus 2 Tbsp. Milk

500 mL

1/2

cup

white granulated sugar

use less if you want it less sweet (115 g)

1

tsp

of vanilla extract

5 mL

3

egg yolks

3

tsp.

cornstarch

15 g
Instructions
In a medium-saucepot add the milk, sugar, and vanilla extract.

In a small bowl combine the egg yolks and cornstarch and mix together with a fork or whisk until it becomes a smooth paste.

Heat the milk up, medium heat, until it gets hot and the sugar dissolves. Don't let it get too hot, not scalding or boiling, just really warm.

Take the pot off the stovetop and pour a few tablespoons of it into the bowl of egg yolks. Stir the egg yolks really quickly, this will help prevent them from cooking. Then pour in a little bit more and keep stirring, etc. until half of the sugar milk has been incorporated. Replace the pot back on the stovetop.

Pour in the egg/milk mixture into the pot and stir until it is all combined. Keep heating and stirring until it thickens up and comes to a rolling boil. This process will cook the eggs and give a nice thick pudding type consistency.

Pour into small bowls and serve warm or cover them with plastic wrap and chill in the fridge for later. Enjoy!
Video
How to Make Egg Custard | Easy Egg Custard Recipe (no bake)
Notes
Nutrition
Do you like the recipe? Please give it a rating and comment down below, I really appreciate it. If you make it tag me on Instagram @inthekitchenwithmatt. Also, sign up for the newsletter so you won't miss out on any of my new posts and recipes.
Here are a few other recipes you make like: