Jump to Recipe
Yes, I will admit, I am addicted to bread. I love it! It is one of my favorite things to eat. While I do prefer bread that has been made with yeast, I also love this super easy flatbread recipe.
There is a variety of flatbread in the world. This homemade naan recipe is a very common Indian flatbread. It requires yeast and takes quite a bit more time to make. Tortillas are also another type of flatbread. Some varieties will have leavening either yeast or baking powder, and some will not have any at all.
Pizza and pita bread are also common types of flatbread. There are countless varieties, almost every country has their own version of this delicious bread.
I love that this particular easy flatbread only requires 2 ingredients and comes together in about 30 minutes. If I can do it, you can do it. Let's get started!
Step 1: Gather the ingredients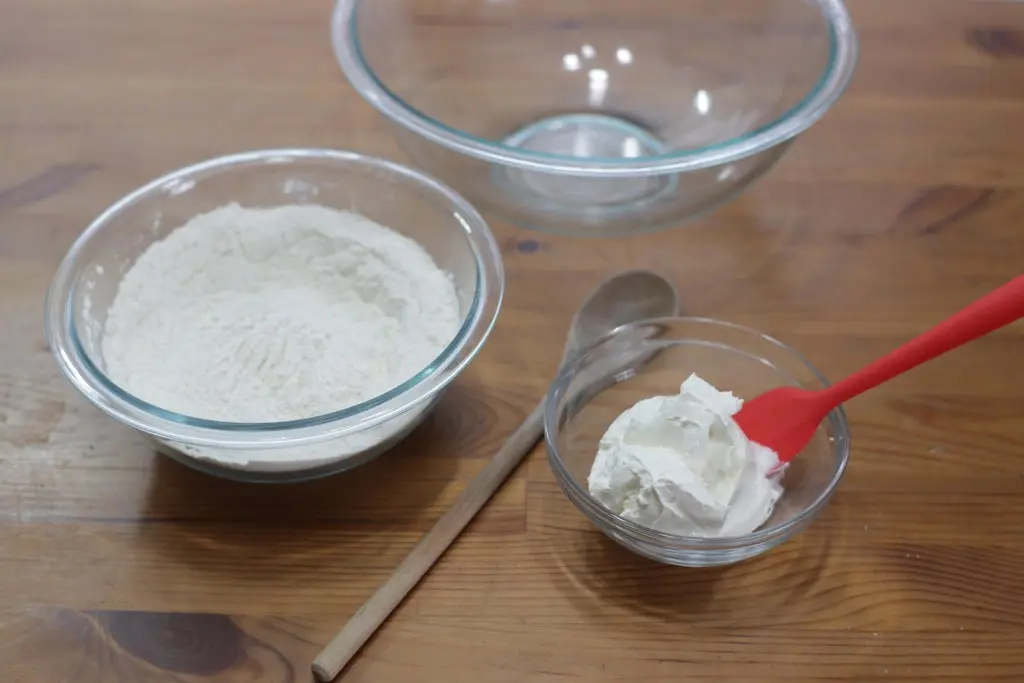 Yes! You really only need two simple ingredients to make this recipe, and if you don't have self-rising flour then you only need 4 ingredients:
Self rising flour or All-purpose flour, with baking powder, and salt. Self-rising flour already has the leavening agent in it, meaning it already contains baking powder and it also contains salt.
Sour cream – You can also use plain yogurt like Greek yogurt. Or this sour cream substitute.
Tools
Bowl
Wooden spoon
Skillet – I like using my cast iron skillet. But you can use nonstick or stainless steel skillets as well.
Paper towel or cloth
Plate
Rolling pin
Step 2: How to make easy 2-ingredient flatbread at home
Begin by placing the sour cream, yogurt, or homemade sour cream in a large bowl. Then add about a third of the self-rising flour to the bowl and start mixing those two ingredients together with a wooden spoon or other sturdy spoon.
Add about another third of the flour and mix it in, the dough should come together at this point and still be a bit tacky.
DO NOT dump all the flour in at once, you may not wind up using it all.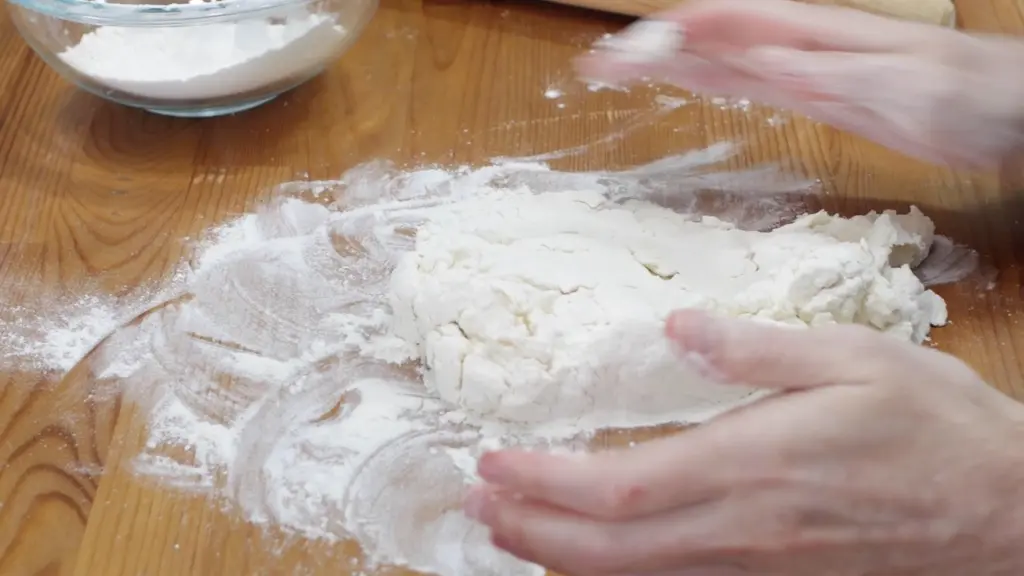 Once the dough comes together in the bowl, dump it out onto a floured surface. Now knead the dough for 2 to 3 minutes. Add more of the flour as necessary until the dough is no longer sticky but still soft.
If you like you can do this in a stand mixer with a dough hook as well.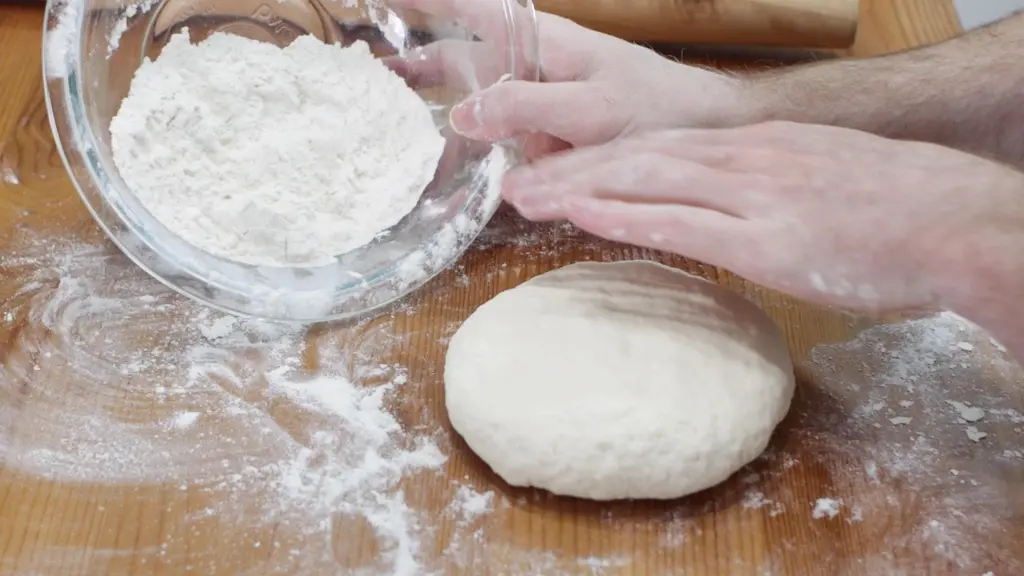 You will probably have some flour left over which is completely fine.
Shape the dough into a fat disc. Then cover it with a damp paper towel or cloth and let the dough rest for 15 to 20 minutes. This will relax the gluten and produce a better flatbread.
Once the time is up, you can set the burner to medium heat to medium-high heat and start heating up your skillet while you roll out the dough.
Remove the cloth or paper towel and then divide the dough into 6 to 8 equal parts. It all depends on the size you want to make your flatbread. I like them on the smaller side personally. But again you made adjust the size to fit what you are using it for.
I like to use my dough cutter and divide the dough in half, then in half again then, each piece in half one more time, giving me 8 pieces.
Step 3: Roll and cook the bread
Now roll the each dough piece into a ball. Then roll it out flat with a rolling pin until it is about 1/8th to 1/4th of an inch thick. Depending on how thick you want your finished flatbread to be.
Now place 1 to 3 flatbread dough pieces onto the bottom of your hot skillet or hot pan. I usually use my cast iron pan for this but you can use a non-stick pan as well. The flatbread cooks really fast, you only need about 30 to 60 seconds per side.
NOTE: You will use a dry pan, you won't use a little butter or a little oil.
Cook them until each side is nice and golden brown. You can use tongs to flip them, or if you are careful some people (myself included) like to just flip them with their hands.
Watch me do this in the video tutorial. Find that in the printable version of the recipe further down in the post.
Place the finished homemade easy flatbread on a plate and serve. You can serve it with curries, eat it plain, along side other Mediterranean recipes, etc. Maybe you want to spread some butter on it and add jelly/jam, honey, or cinnamon and sugar for breakfast flatbread.
There are so many uses for this versatile bread. Enjoy!
FAQS
Do I have to use self-rising flour for this flat bread recipe?
No! You can use all-purpose flour, mixed with baking powder, and salt. Which is what self-rising flour is. For every 1 cup of all-purpose flour, add 1 teaspoon of baking powder, and 1/4 teaspoon of salt.
How long does homemade flatbread last?
If stored in a ziplock bag or an airtight container it will stay fresh for 4 to 6 days. You can also freeze this bread for a few months as well.
Can I use whole wheat flour for this easy flatbread recipe?
Yes! You can use whole wheat flour, however, the ratio will be a little different, you may need a little more sour cream or plain Greek yogurt.
Can I make this recipe non-dairy?
You can definitely try something like coconut yogurt, it will behave pretty much the same way. So it makes a great alternative to yogurt or sour cream.
Here are other bread recipes you may like:
Easy Flatbread Only 2 Ingredients
If you like flatbread, you have got to try this incredily easy recipe. It only requires two ingredients, yes only 2! They are so soft and delicious, perfect for a variety of uses.
Equipment
Bowl

Wooden spoon

Skillet

Paper towel or cloth

Plate

rolling pin
Ingredients
2

cups

self-rising flour or

2 cups All-purpose flour, 2 tsp baking powder, 1/2 tsp salt (240g)

1

cup

sour cream or plain greek yogurt

240g
Instructions
Add the flour a third of it at a time to a large bowl with the sour cream or yogurt. Mix with a wooden spoon or clean hands until a tacky dough forms.

Pour the dough onto a floured surface and knead the dough for only about 2 to 3 minutes, adding more of the flour as necessary to keep it from sticking. Shape into a fat disc.

Cover the dough with a damp paper towel or cloth and allow it to rest for 15 to 20 minutes.

Divide the dough into 6 to 8 equal pieces, depending on how large you want the flatbread.

Then roll each piece of dough into a ball and then roll it out flat with a rolling pin until it is around 1/8th of an inch thick.

Preheat the skillet on medium heat. Cook each flatbread for 30 to 60 seconds on each side until there are golden brown spots. Then place them on a plate.

Serve them however you like. Enjoy!
Video
How to Make Flatbread Without Yeast | 2 Ingredient Flatbread Recipe
Notes
Note:
If you don't have self-rising flour, just make your own with 2 cups of flour, 2 tsp of baking powder, and 1/2 tsp. of salt.
Store in a ziplock bag or an airtight container for a few days at room temperature, 5 to 6 days in the fridge, or a few months in the freezer.
Nutrition
Do you like this soft flatbread recipe? Share and Pin it! Please give it a rating and comment down below, I really appreciate it. If you make it tag me on Instagram @inthekitchenwithmatt. Also, sign up for the newsletter so you won't miss out on any of my new posts and recipes.