Jump to Recipe
Would you like to learn how to make easy fluffy pancakes? Look no further! This recipe for homemade pancakes is so simple to make using ingredients you probably already have at home.
Pancakes are an American staple for breakfast. Did you know the Famous IHOP restaurants combined serve 700 million pancakes a year? And that is only one chain! There are several other restaurants that serve this yummy breakfast, not to mention all the households that do as well.
That gives you some idea of just how popular these stacks of flapjacks are. It helps that they are versatile and can be served in so many ways. Fluffy pancakes are incredibly easy to make. Who doesn't like yummy old fashioned pancakes? If I can do it, you can do it! Let's get started!
Step 1: Gather the ingredients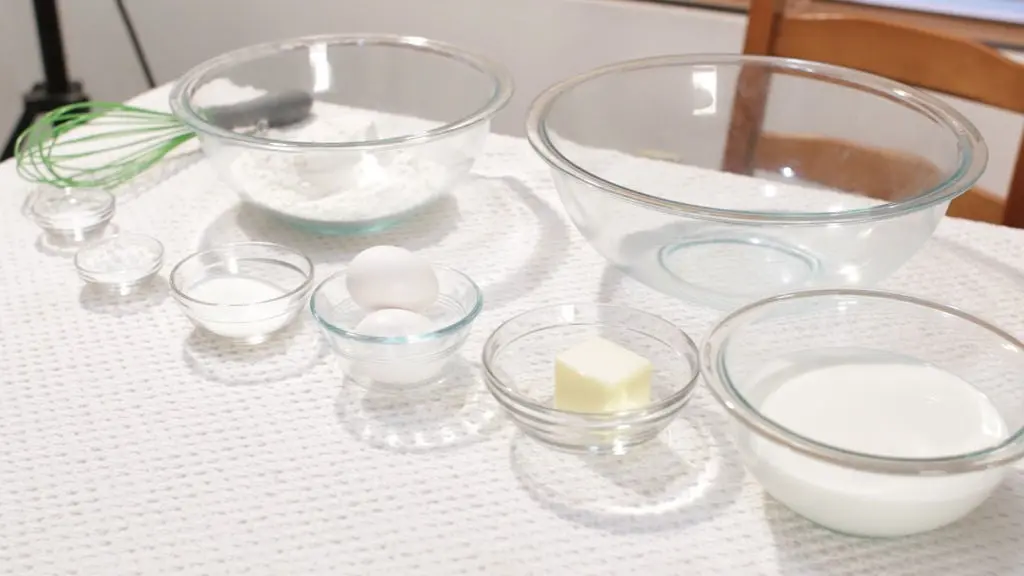 In order to make these classic old fashioned easy fluffy pancakes from scratch you will need the following readily available ingredients:
Flour – I normally use all-purpose/plain flour, but bread flour can be used as well for a slightly different texture.
Salt
Baking powder
Granulated sugar
Eggs
Milk – I normally use whole milk, but 2%, 1%, almond, soy, etc. can be used as well.
Butter – Salted or unsalted butter
Vanilla extract – This optional ingredient adds more flavor but isn't necessary.
Tools
Skillet or griddle
Cooking spray or butter
Whisk
Bowls
Spatula
Step 2: How to make thick fluffy pancakes from scratch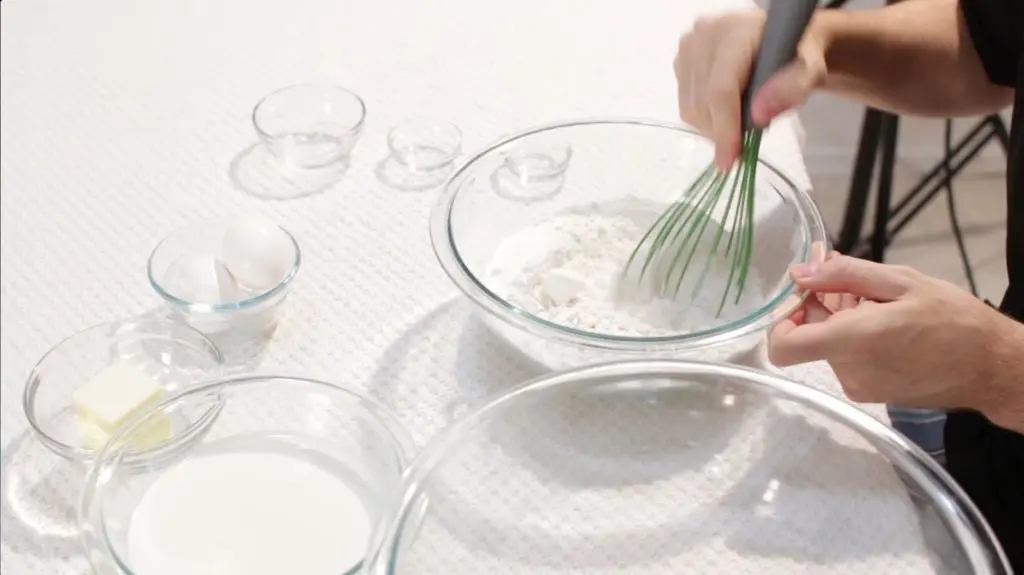 In a medium bowl whisk together the flour, salt, and baking powder, and sugar.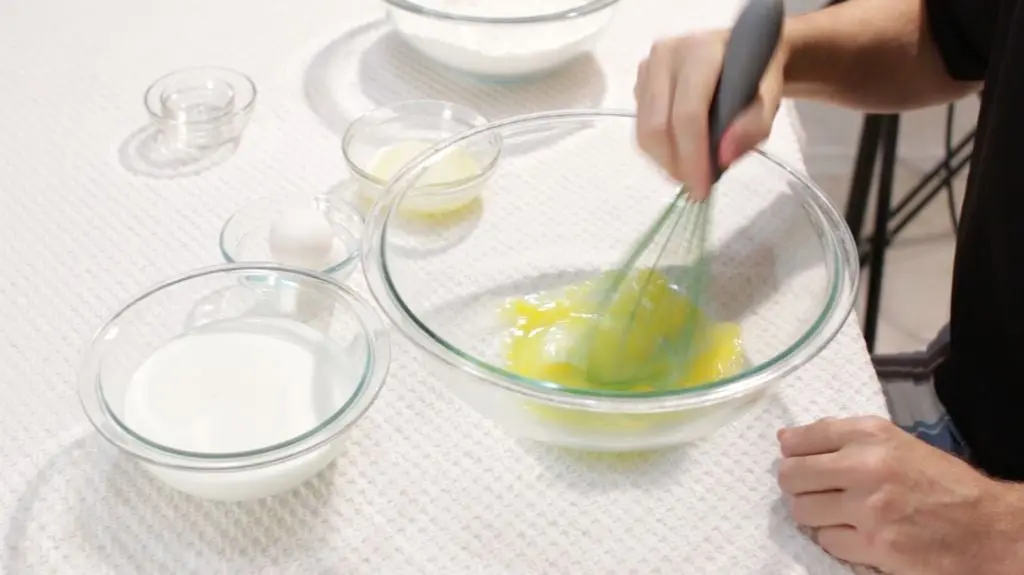 Next, take a separate large bowl and add the two eggs. Whisk those eggs together.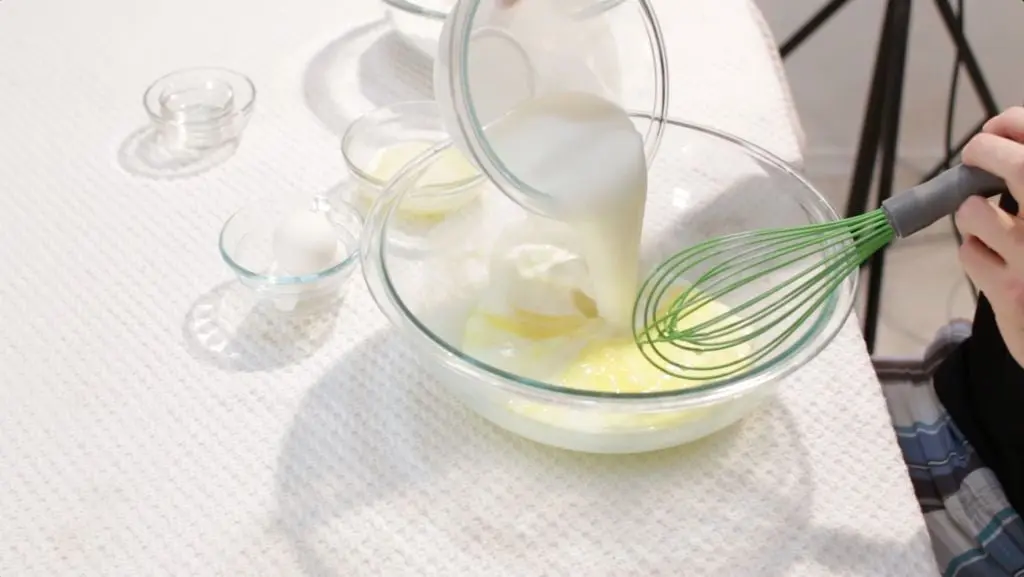 Now pour in the milk and melt the butter until just melted and pour that in as well. If you are using vanilla extract, add it in as well. Whisk until those ingredients are well combined.
Note: I normally use a whisk when I make pancakes, electric mixers can over mix the fluffy pancakes batter, resulting in not as light pancakes. But you can use a mixer if you like.
Step 3: Finish the homemade fluffy pancakes batter
Next, add in the flour mixture about a third of it at a time, whisking it in until combined. The result will be a nice thick pancake batter.
If you would like to get more pancakes out of the batter you can add additional milk and thin it out a little bit. I tend to leave it as is.
Step 4: How to cook pancakes
Time to cook up those homemade pancakes until they are nice and fluffy. Take a skillet or griddle and heat it up. If using a skillet on the stovetop set the heat to medium. If using a griddle set it to 350F/176 C.
Spray the skillet or griddle with cooking spray or use a dab of butter. Pour in about a half cup worth of pancake batter. If you are using a griddle you can cook several pancakes at a time. Which works great for larger families.
Cook the pancake on this first side for a minute or two until tiny bubbles form and the batter looks a little dry around the edges.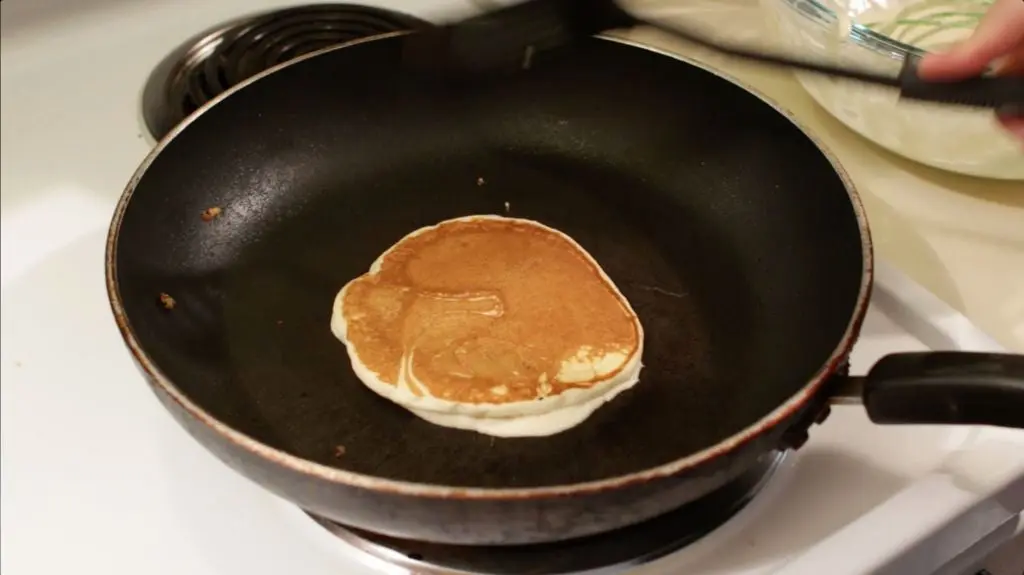 Check underneath the pancake with a spatula, when it is golden brown, flip it over and cook the other side. The other side will take less time, usually around half as much, so around 30 to 45 seconds. The pancake will raise and get nice and thick.
Step 5: How to serve homemade fluffy pancakes
Again if you want thinner pancakes you can add more milk to the batter. Add the cooked pancakes to a plate and serve. I love to add butter and maple syrup to mine. But there are so many other awesome toppings that you can use.
Other popular pancake toppings include, whipped cream, boysenberry syrup, blackberry syrup, strawberry sauce, cool whip, powdered sugar, etc. Enjoy!
Can you freeze pancakes? How long do they last?
You can store the pancakes in the fridge for 4 to 5 days. Store them in an airtight container or ziplock bag. Yes you can freeze the pancakes as well.
Place them in a freezer bag with a piece of parchment paper or wax paper in between each of them and store them in the freezer for a few months. Reheat them in the microwave, oven, or toaster.
Here are a few more breakfast recipes you may like:
Quick Cinnamon Rolls Without Yeast
Easy Fluffy Pancakes
A staple among many families around the world, these easy thick fluffy old fashioned pancakes are so yummy and simple to make, you probably already have all the ingredients at home to make them. If I can do it, you can do it.
Equipment
skillet or griddle

cooking spray

Bowls

Whisk

Spatula
Ingredients
2

cups

of all-purpose/plain flour

240g

1

tsp

of salt

5g

2

tbsp

of baking powder

28g

3

tbsp

of granulated sugar

38g

2

Large Eggs

1 3/4

cup

of milk

438ml

1/4

cup

of melted butter

55g

1

tsp.

vanilla extract

5ml (optional)
Instructions
In a medium bowl whisk together the flour, salt, baking powder and sugar.

Next, take a large bowl and add the eggs and whisk them. Then add the milk. Melt the butter in the microwave or on the stovetop until just barely melted, but not super hot. Add that into the bowl and the vanilla if you are using it, and whisk.

Add the flour mixture about a third at a time, whisk it into the large bowl until all combined resulting in a nice thick pancake batter. If you like your pancakes thinner, you can add a few tablespoons more of milk even up to 1/4 cup or so.

Set the stovetop burner to medium or if using a griddle set it to 350 F/176 C. Spray it with cooking spray or use a bit of butter. Pour some pancake batter into the pan or on the griddle. I generally use a 1/2 cup measuring cup for nice large pancakes.

Cook the pancakes for 1 to 2 minutes on the first side until tiny bubbles form and the edges appear dry. It should be nice and golden brown on the bottom. Flip the pancake and cook the other side for 30 to 45 seconds, until golden brown.

Once cooked stack them on a plate and serve them with your favorite pancake toppings. Enjoy!
Video
How to Make Fluffy Pancakes | Easy Amazing Homemade Pancake Recipe
Notes
This recipe makes 6 to 8 pancakes depending on how large you make them. 
The nutritional facts are based on having 2 pancakes per serving. 
Nutrition
Do you like this recipe? Please give it a rating and comment down below, I really appreciate it.  If you make it tag me on Instagram @inthekitchenwithmatt.
Also, sign up for the newsletter so you won't miss out on any of my new posts and recipes.