Jump to Recipe
This easy fry bread recipe is so versatile. You can make it sweet and have it for breakfast or add taco toppings for a Navajo taco and eat it as a savory dish.
I just love bread and fried dough. Fry bread is a type of flatbread that can be prepared with toppings like honey, butter, jam, and powdered sugar, or traditional taco toppings.
Did you know fry bread is the state bread of South Dakota? Fry bread or frybread is very prominent in Native American cuisine. Here in Arizona, you can find Navajo Taco, (fry bread with beans, meat, cheese, lettuce, tomato, etc.), stands scattered on the reservations.
It is incredibly easy to make traditionally with just flour, sugar, salt, and lard, with several variations. If I can do it, you can do it. Let's get started!
Step 1: Gather the ingredients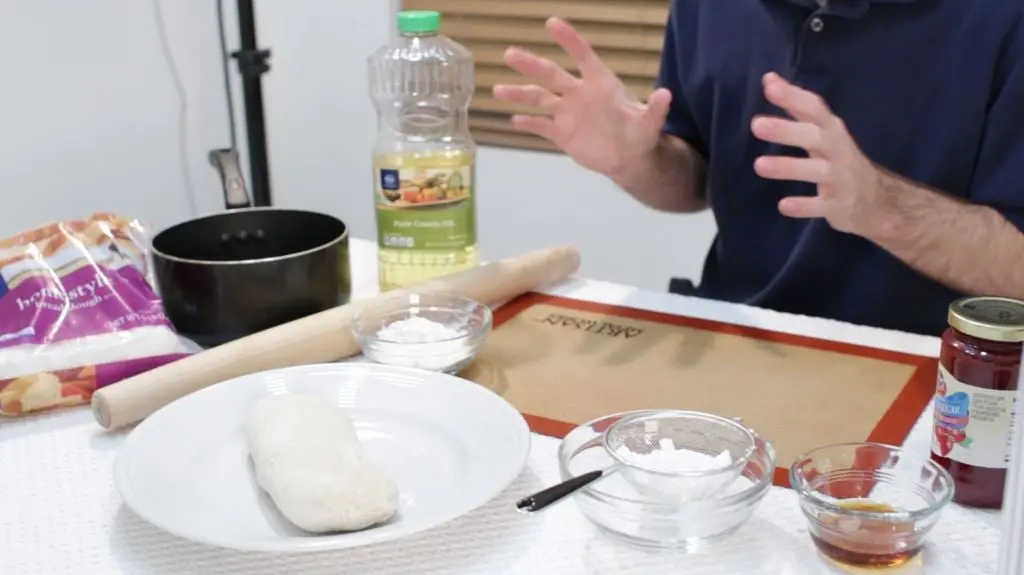 There are several ways you can make this fry bread here are a few:
Bread dough – Either frozen store-bought bread dough or homemade bread dough.
Oil – For frying, use something like (vegetable oil, canola oil, peanut oil, coconut oil, etc.)
Or a simple from scratch dough
Flour
Baking powder
Salt
Water
Step 2: How to make easy fry bread
Begin by deciding on what kind of bread dough you want to use. I have done this with traditional yeast bread dough, frozen store bought bread dough, and a basic baking powder dough.
The absolute easiest is just to use a pre-made dough. Although the from scratch baking powder dough is easy too. Thaw out the frozen bread dough. After the dough has thawed, take a medium to large pot and add enough oil to be and inch to an inch and a half deep.
Place the pot of oil on the stovetop set to medium heat. The temp should be around 350 F/176 C. If you are making the dough from scratch, wait until the dough is ready before heating up the oil.
Step 3: Prep the bread dough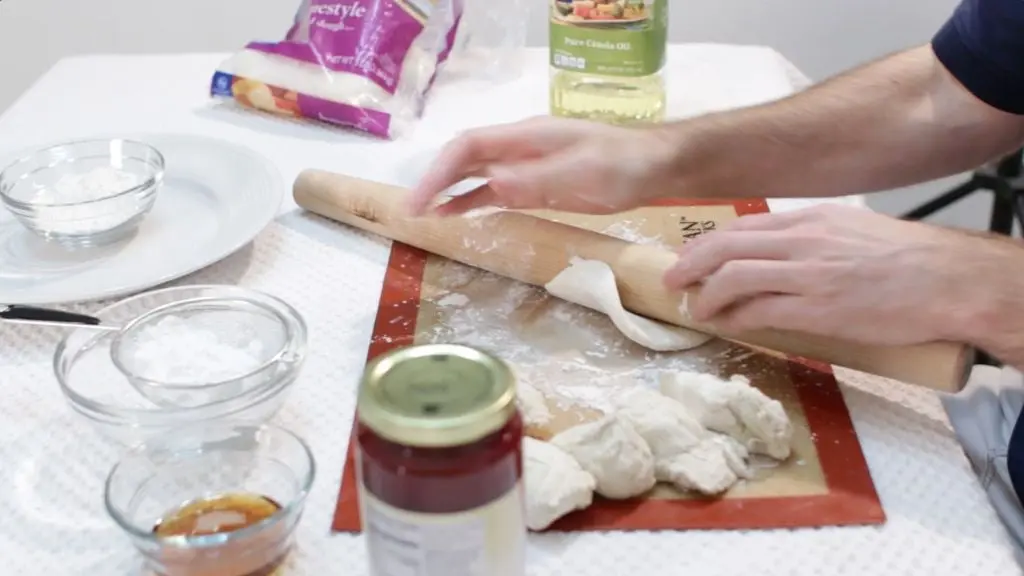 If making the baking powder dough recipe add the flour, salt, and baking powder in a large bowl. Then add the water until the dough comes together. Knead it on a surface for a few minutes until it is all combined.
It may be slightly sticky. Cover the dough loosely with a cloth or plastic wrap and allow the dough to rest for 30 minutes to an hour.
Use a dough cutter or knife and break the dough into small pieces. Then flour the surface and roll the dough out about 1/4th of an inch thick in a circle.
You can make these as large as you want. I usually make them around 4 inches in diameter. Then stack them on a plate.
Step 4: Fry the bread dough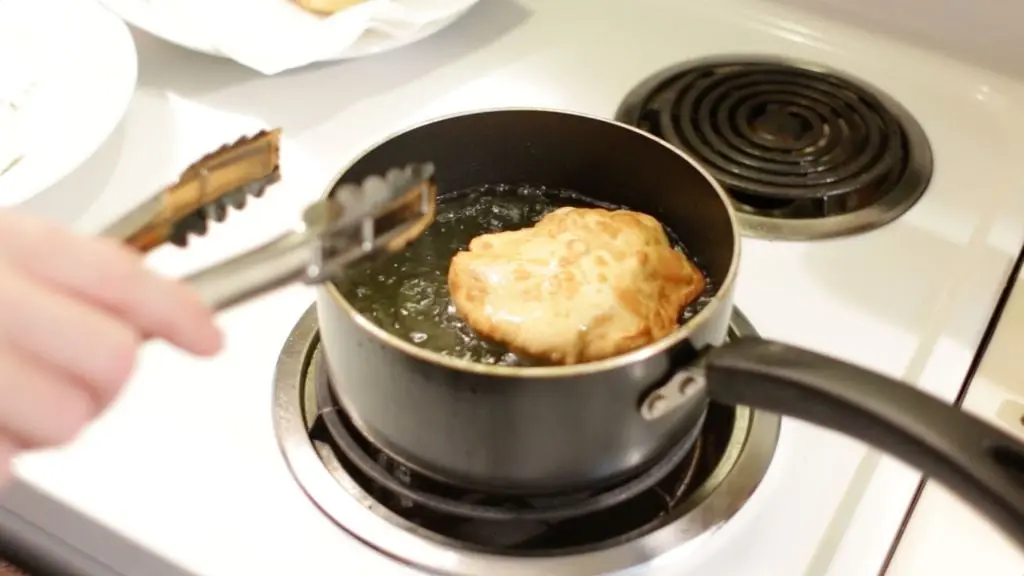 Once the dough is prepared and the oil has heated to temperature, gently drop in some dough. Depending on how wide the pot is and how large your dough is, you may only get one or maybe two pieces in there at a time.
It will take 30 seconds to a minute per side until it gets nice and golden brown. Once done, place it on a wire rack so it can drain. Or a plate with paper towel. Fry up the rest of the dough.
Step 5: Fry bread toppings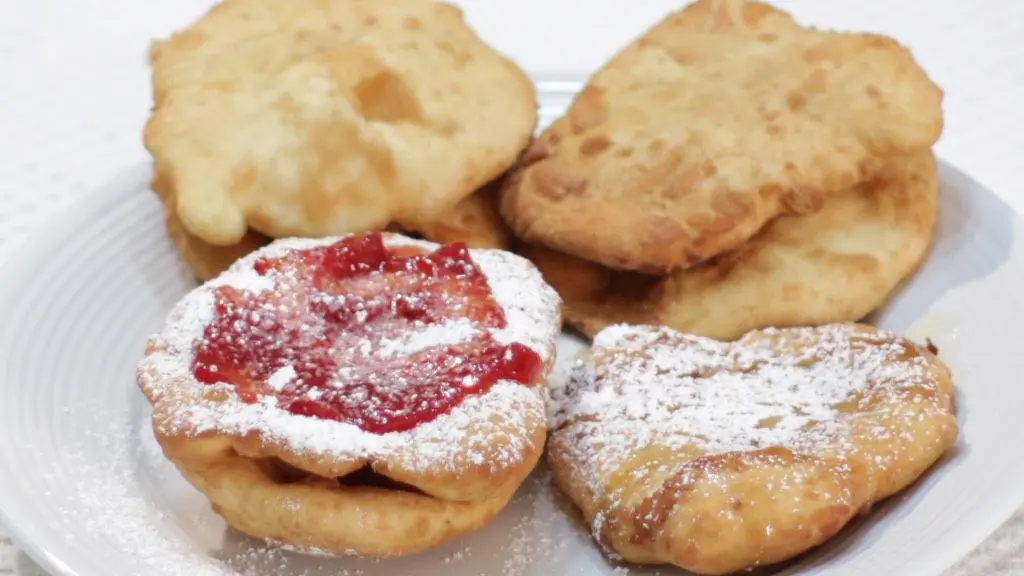 Now you are ready to add some topping. If you want to make these sweet, add things like syrup, jam or jelly, butter, honey, and powdered sugar.
If you would like to make these savory, use this instead of a tortilla and then add your favorite taco toppings on top, like meat, cheese, lettuce, tomatoes, beans, etc.
Serve and enjoy!
What is your favorite way to eat fry bread? Drop a comment down below and let me know.
How long does fry bread last?
Place it in an airtight container or zip lock bag and you can freeze it for a few months. Or it will last a few days in the fridge. Fry bread is best fresh however.
Easy Fry Bread
This fry bread is so easy to make using either homemade yeast dough, frozen store-bought dough, or an easy baking powder dough. Top it with sweet toppings like jelly and powdered sugar, or savory traditional taco toppings. It is so yummy!
Equipment
rolling pin

Plate

Paper Towel

Strainer

Tongs

Wire rack
Ingredients
Store-bought frozen dough

Homemade bread dough

Oil for frying (canola, vegetable, peanut, coconut, etc.)
From Scratch Baking Powder Dough
2

cups

All-purpose/plain flour

(240g)

1 1/2

tsp

baking powder

(6g)

1/2

tsp

salt

(2g)

1

cup

water

(240ml)
Instructions
Begin by prepping the dough. If you are using frozen dough thaw it out. If you are using your favorite yeast-based dough, make that.

For the baking powder dough, mix together the flour, salt, and baking powder. Then add the water and mix with a wooden spoon until the dough comes together. Knead the dough for a few minutes on a floured surface. Then let it rest for 30 minutes to 60 minutes.

Cut the dough into small equal pieces. Roll them out on a floured surface in a disc, until they are 1/4th inch thick. I make them about 4 inches in diameter.

Pour the oil into a large pot until it is about 1 inch to 1.5 inches deep. Heat it on medium heat until it reaches 350 F/176 C.

Fry the dough for 30 seconds to 1 minute per side until nice and golden brown on each side. Then place them on a paper towel-lined plate or on a wire rack. Finish frying the rest.

Once done, top with syrup, butter, jelly, powdered sugar, honey, etc. Or for savory use your favorite tacos/burritos toppings, like beans, meat, lettuce, tomato, sour cream, etc. Enjoy!
Video
How to make Fry Bread | Easy Fry Bread Recipe
Notes
*Note: These nutritional facts are based on the from scratch baking powder dough only, since the nutritional will vary depending on the toppings. It will also vary depending on the dough you use. 
Nutrition
Do you like this recipe? Please give it a rating and comment down below, I really appreciate it. If you make it tag me on Instagram @inthekitchenwithmatt. Also, sign up for the newsletter so you won't miss out on any of my new posts and recipes.
Here are a few more recipes you may like: