Jump to Recipe
I love bagels! This easy homemade bagels recipe is so fantastic. Cut them in half and smother them with butter, peanut butter, cream cheese, or use them as bread for a sandwich, so yummy!
For awhile I was on a bagel kick where I would eat at least one bagel every morning. I would toast them and then add butter and honey to them. What is not to like about bagels? They are so versatile and can be used in so many ways, or just eat them plain!
Bagels are really easy to make, using everyday ingredients. If I can do it, you can do it. Let's get baking!
Step 1: Gather the ingredients and tools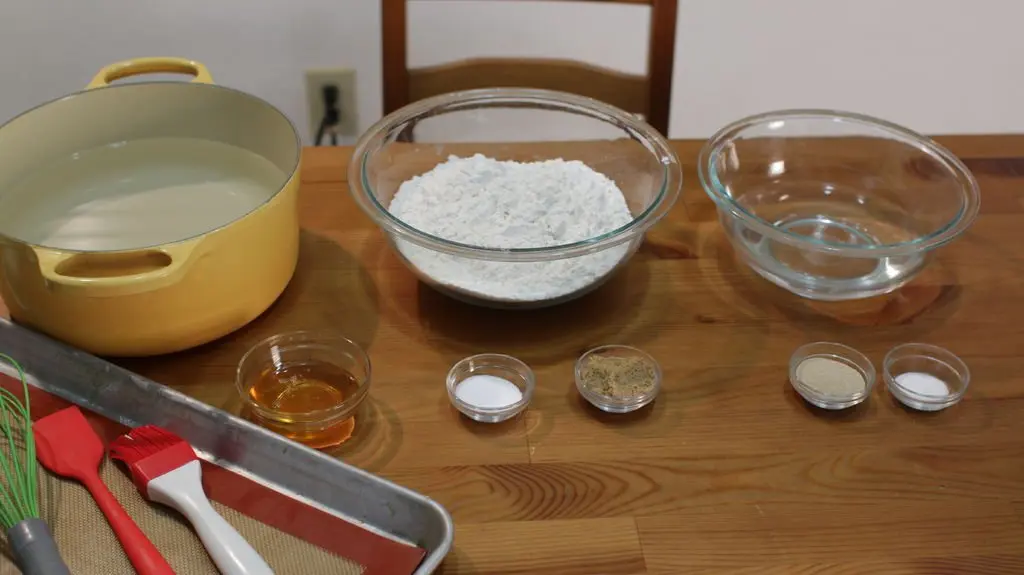 In order to make this easy homemade bagels recipe you will need the following ingredients and helpful tools:
Water – You will need water for the dough, water for the egg wash, and water for boiling. I always like to use filtered water, since my tap water tastes terrible.
Yeast – I use active dry yeast, but rapid-rise or instant yeast will work fine too.
Sugar – Just a touch of sugar to act as food for the yeast.
Flour – Bread flour works great in this recipe but all-purpose/plain flour will work great too.
Brown Sugar – This will add a hint of sweetness to the dough.
Salt – The salt will add balance and enhance the flavor of the other ingredients.
Egg – This will be used for the egg wash to give a nice shine to the bagel.
Honey – The honey is added to the water that the homemade bagels will be boiled in.
Tools
Large pot
Whisk
Slotted spatula or spider strainer
Basting brush
Bowls
Sheet pans
silicone mats or parchment paper
Wire rack
Plastic wrap
Damp dishcloth
Step 2: How to make easy homemade bagels
Begin with the yeast. Heat up the water between 100 and 110F (37 to 44 C). Add in the granulated sugar. The sugar will be food for the yeast. It isn't always necessary to add the sugar but I always do. Now add in the active dry yeast and agitate it a little bit with a fork or whisk.
Let the yeast sit for 5 to 10 minutes until it gets nice and foamy. After 10 minutes if the yeast hasn't done anything, then you need to start again. The yeast could be bad/old, or maybe the liquid was too hot or too cold.
Step 3: Make that homemade bagels dough
Add the brown sugar to the yeast mixture. Then in a large bowl whisk together the flour and salt. Slowly add in the flour to the yeast mixture. I normally do it about a third at a time.
Use a wooden spoon to mix the ingredients or use a stand mixer. Eventually, the dough will come together and get tacky.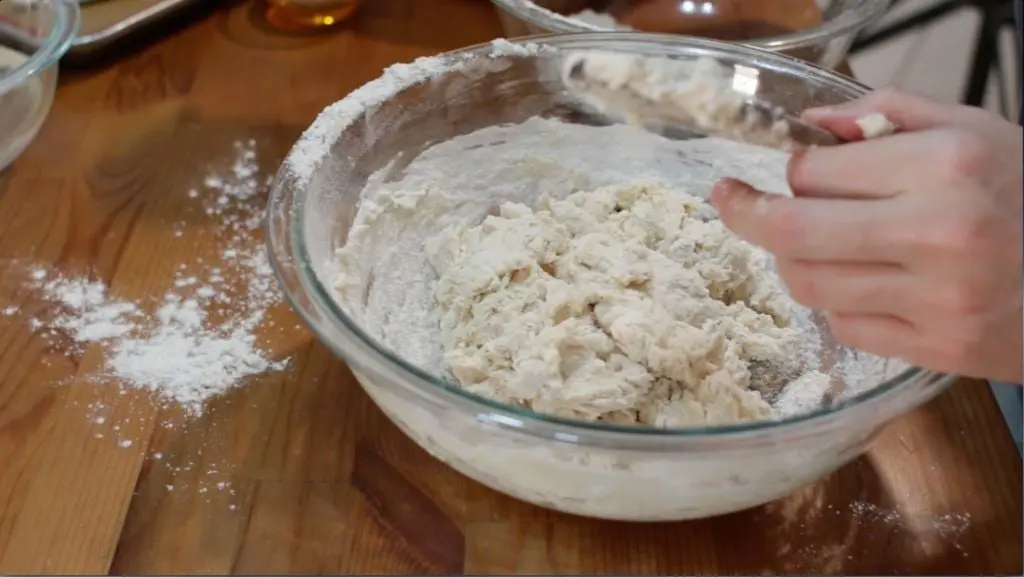 If you want to make cinnamon raisin bagels or blueberry bagels add them in right when the dough gets tacky. Use about 1/2 cup of raisins or blueberries and 2 teaspoons of cinnamon added in with the flour.
Step 4: Knead the dough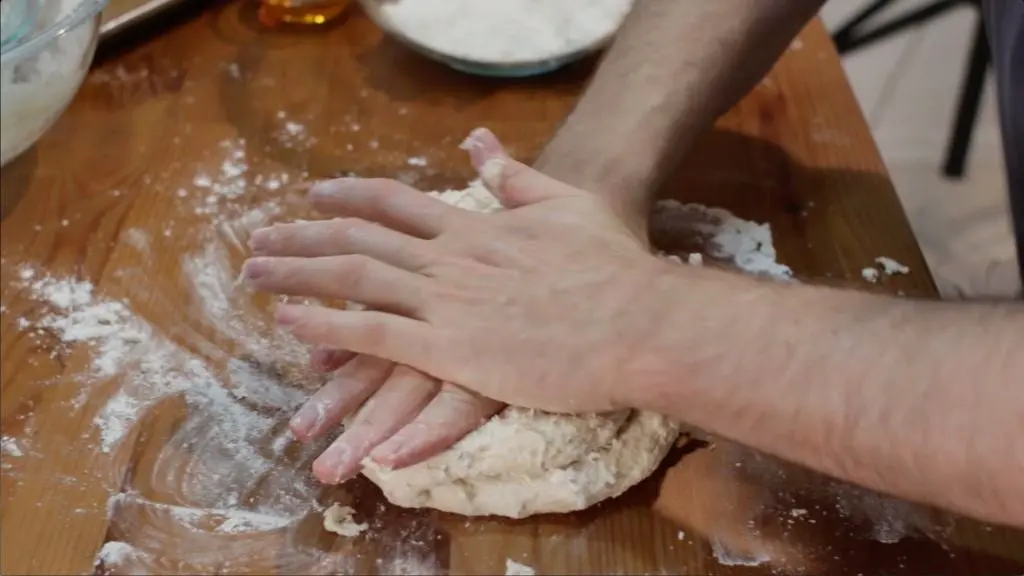 Place the dough onto a floured surface and knead the dough for 6 to 8 minutes adding in more of the flour as necessary to keep it from sticking to your hands and the table. You may or may not wind up with some flour mixture leftover.
Knead the dough by hand or use a stand mixer with a dough hook. To hand knead, fold the dough over onto itself and then push down and out with your palms of your hands stretching the dough. Then turn the dough a quarter turn and repeat.
Step 5: Let it rise
Shape the homemade bagels dough into a ball and place it into a lightly oiled boil. Cover the bowl with a damp cloth or plastic wrap and place it in a warm place to rise for an hour and a half to two hours. Or until it has doubled in size.
Step 6: Cut and Shape the homemade bagels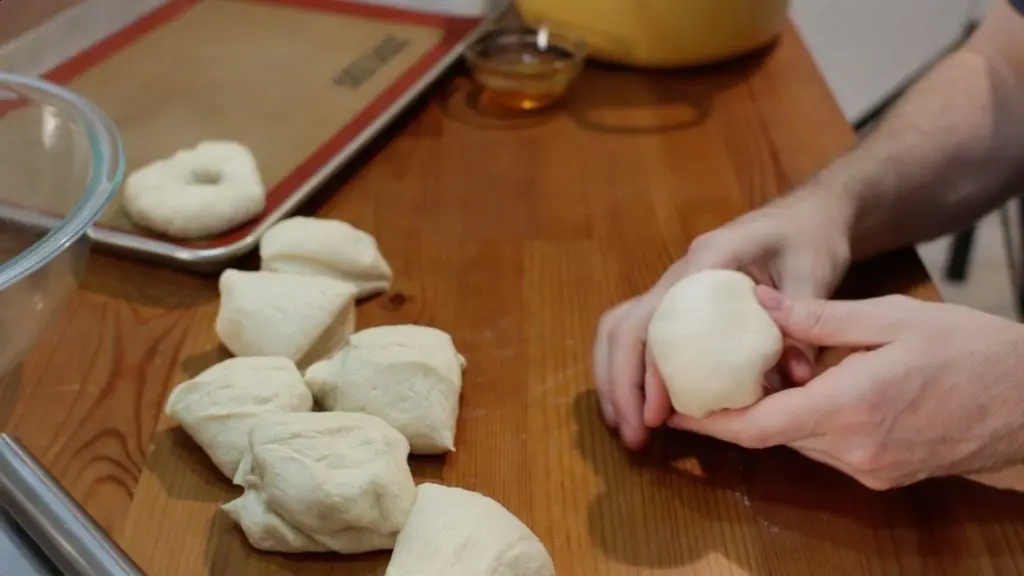 There are many ways that you can shape your dough into the classic bagels shape. First, divide the dough into 8 equal pieces. It helps if you stretch the dough out into a log and then cut it with a knife or dough cutter.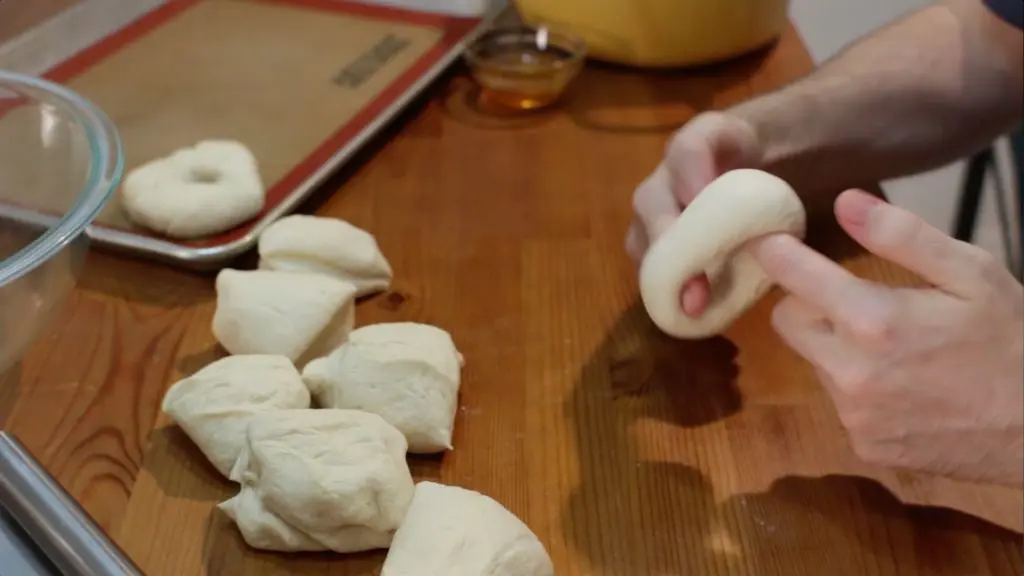 One way to shape it is you take the dough and roll it into a ball and then just poke a hole through it with your thumb.
Another way is to grab it and fold the dough edges underneath which will make the top smooth and then place your thumb in the middle of the ball and press and rotate, eventually, the thumb will create a hole. Now use your fingers and stretch and turn until you get the desired size of the hole.
Step 7: Let it rise…again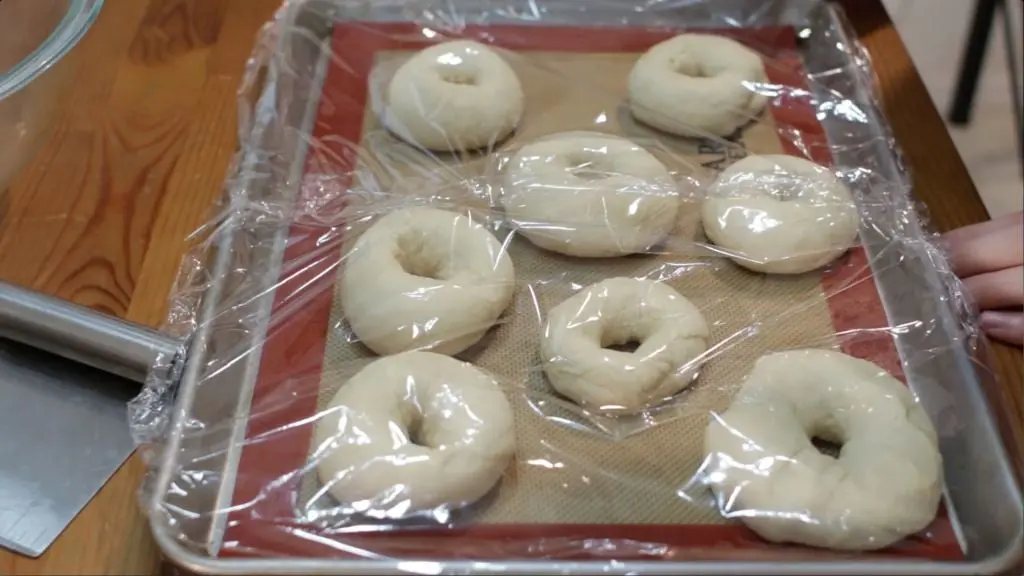 Place the bagel dough onto a sheet pan lined with parchment paper or a silicone baking mat. Cover them with plastic wrap and allow them to rise for about 30 minutes or so.
Step 8: Boiling the homemade bagels
Take a large pot and add enough water to fill it half-way. Around 2 liters or so. Add the honey to the water and bring it to a boil. Some people will also add baking soda to the water. I normally just use honey, however.
Once the water boils, add 2 or 3 bagels to it. Boil them for a minute on each side.
Once they are done boiling, lift them out of the water and allow the excess water to fall into the pot. Then place them on a wire rack resting on top of a sheet pan.
Step 9: Bake those bagels!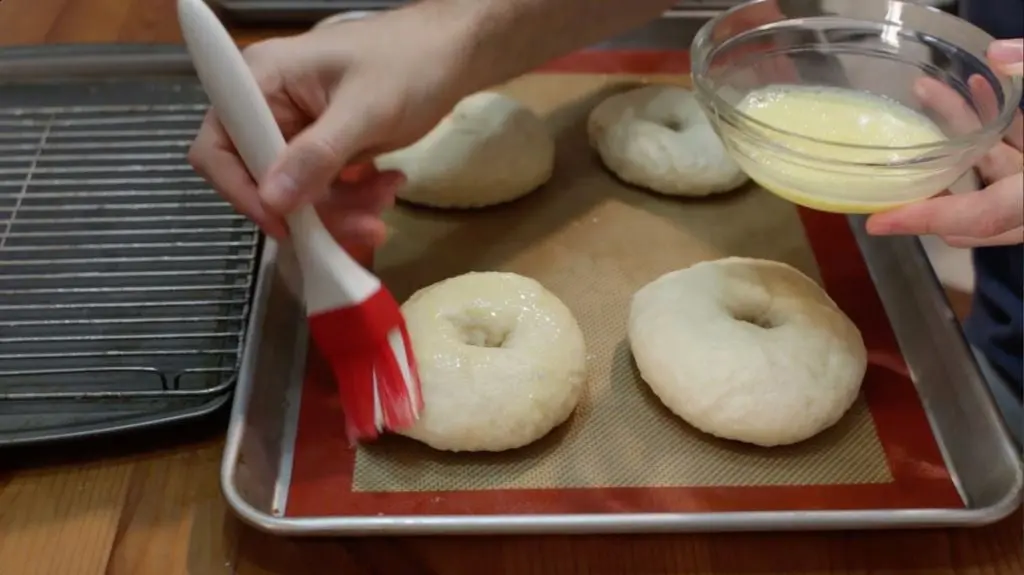 Preheat the oven to 425 F/218 C. Make a simple egg wash by beating together the egg and a little bit of water. Then use a basting brush and baste the tops of the boiled bagels with the egg wash.
If you would like sesame seeds, poppy seeds, or garlic flakes or other toppings, add them to the tops of the bagels now. They will stick to the egg wash.
Once done bake them in the oven for 20 to 25 minutes. After about 10 minutes of being in the oven rotate the pan to ensure even browning and baking.
After the easy homemade bagels come out of the oven place them on a wire rack to cool completely.
Step 10: Serve those homemade bagels up!
Now after the bagels have cooled a bit you can slice them in half and serve them with your favorite toppings or eat them plain. One of my favorite toppings is cream cheese, but I have many favorite toppings. I also love them toasted with butter.
What is your favorite way to eat a bagel? Let me know in the comments. Enjoy!
How long do homemade bagels last?
You can store homemade bagels in a ziplock bag in the pantry at room temp for 5 to 6 days. They may start to go stale after 3 or 4 days however. For longer term storage place them in the freezer. They will last 4 to 5 months in the freezer.
Easy Homemade Bagels
I love bagels. There are so many ways to eat them. These homemade bagels are super yummy and very easy to make. They go great with butter, peanut butter, cream cheese, or even plain! Let's get baking!
Equipment
Large Pot

Whisk

Slotted spatula or spider strainer

Basting brush

Bowls

Sheet pans

Silicone mats or parchment paper

Wire rack

Plastic wrap

Damp dishcloth
Ingredients
Dough
1 1/2

cups

of warm water

100 to 110 F / 37 to 44 C (375ml)

3

tsp.

of active dry yeast

9g

1

tsp.

of white granulated sugar

4

cups

bread flour or

all-purpose/plain You may only wind up using about 3.5 cups. (512g)

1

Tbsp.

of brown sugar

15g

2

tsp.

of table salt

8g
For Boiling
2

quarts

water

(about 2 liters, depending on size of pot)

1/4

cup

honey
Instructions
Start by prepping the yeast. Heat the water between 100F and 110F (37 to 43 C). Then add the white sugar and the yeast. Allow the yeast to sit for 5 to 10 minutes until it gets foamy.

Add the brown sugar to the yeast mixture. Then in a separate bowl whisk together the flour and the salt.

Gradually add the flour mixture in with the yeast mixture. Use a wooden spoon to combine the ingredients. Keep adding the flour until a tacky dough forms.

Knead the dough on a floured surface for 6 to 8 minutes. Or knead it with a stand mixer. Cover the dough with a damp towel or plastic wrap and allow it to rise for 90 minutes to 2 hours, or until doubled.

Cut the dough into 8 equal pieces. Then shape them into bagels. The easiest way is to roll the piece of dough in a ball and then poke a hole in the middle with your finger or thumb and then stretch out the hole a bit to make it larger. Watch the video to see how I do it.

Place the bagel shaped dough onto a sheet pan lined with parchment paper or a silicone mat. Then cover them with plastic wrap and allow them to rise for 30 minutes.

Fill a large pot halfway full of water. Then add the honey to it. Bring the water to a boil. Boil the bagel dough on both sides for 1 minute. Don't overcrowd the bagels.

Place the bagels on a wire rack to drain and cool. Then place them back on the sheet pan and baste them with an egg wash, created from the egg and water.

Preheat the oven to 425 F/218 C. Don't overcrowd the bagels on the pan, 4 to 5 bagels for each pan. Bake them for 20 to 25 minutes until they are golden brown. Rotate the pan after 10 minutes to ensure even baking and browning. Once they are finished baking remove them from the oven and allow them to cool for 10 minutes before serving. Enjoy!
Video
How to Make Bagels | Easy Homemade From Scratch Bagel Recipe
Notes
Nutrition
Do you like this recipe? Please give it a rating and comment down below, I really appreciate it. If you make it tag me on Instagram @inthekitchenwithmatt. Also, sign up for the newsletter so you won't miss out on any of my new posts and recipes.
Here are a few more recipes you may like: