Jump to Recipe
You can't go wrong with this buttery, soft, easy homemade biscuits recipe. These classic from scratch southern biscuits are amazing.
Eat them plain, slather butter and honey or jelly on them, add gravy to them, whatever you like. I love how incredibly easy they are to make with just a handful of ingredients. With this easy homemade biscuits recipe you will be making perfect biscuits every time.
No more going to the store to buy those premade biscuits in a can or the frozen biscuits. Time to make them fresh and totally from scratch. If I can do it, you can do it. Let's get baking!
Step 1: Gather the ingredients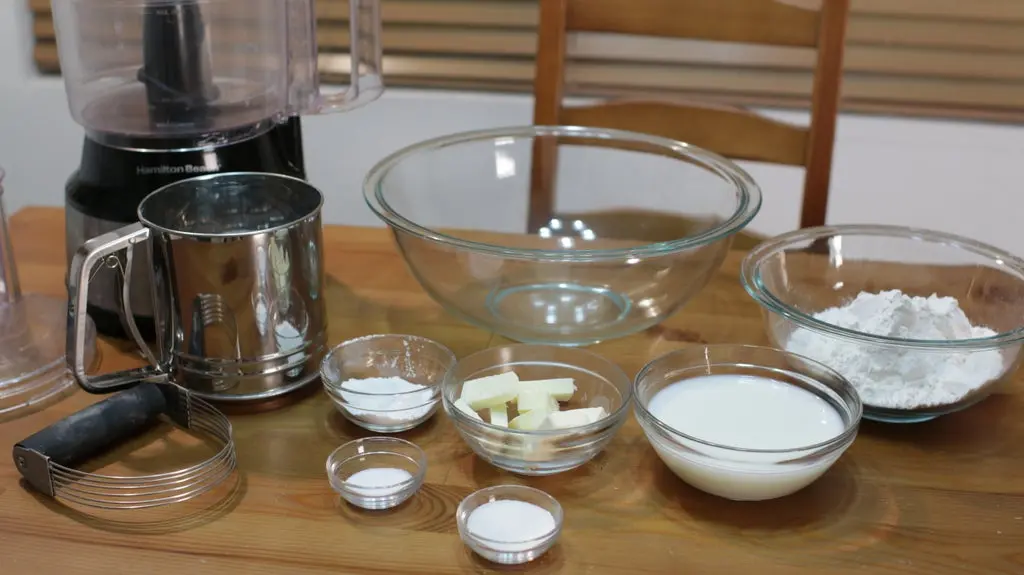 In order to make these amazing homemade biscuits you need just 6 ingredients! Isn't that awesome? Chances are you already have the ingredients in your house.
Flour – Use all-purpose/plain flour
Baking powder
Salt
Sugar – The sugar is optional and not traditionally added to biscuits, but I add just a bit.
Butter – The butter should be really cold.
Milk – The milk should be really cold. I always use either whole milk or buttermilk, but other milk will work as well.
Tools
How to make homemade biscuits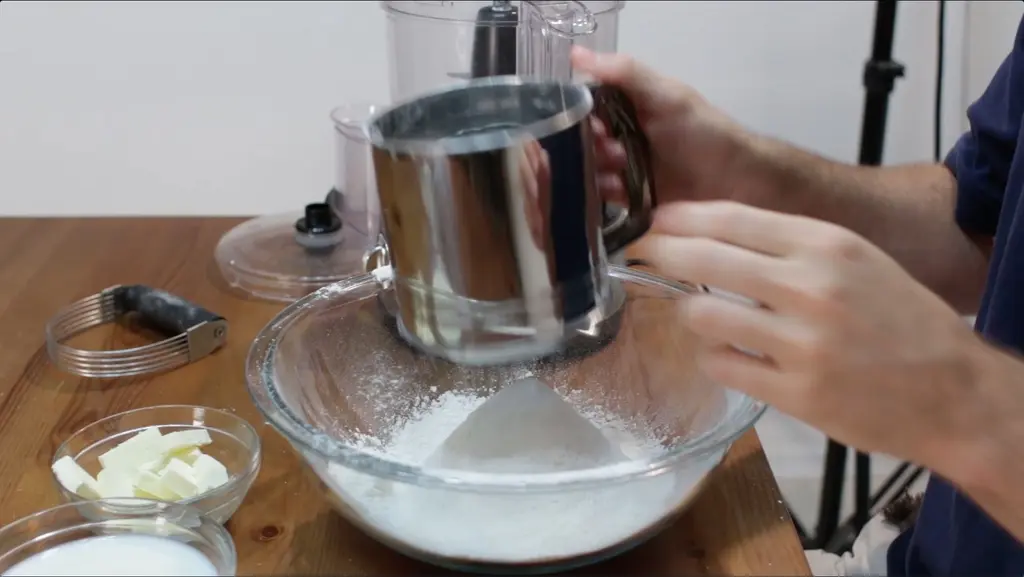 Begin by shifting together the flour, sugar, salt, and baking powder. Or you can just add them all to a bowl and whisk them together. It is always a good idea to whisk or sift the dry ingredients, this reduces the chances of getting any lumps and of course helps to combine them evenly.
It also make the mixture a bit lighter and easier to mix in with the butter and milk.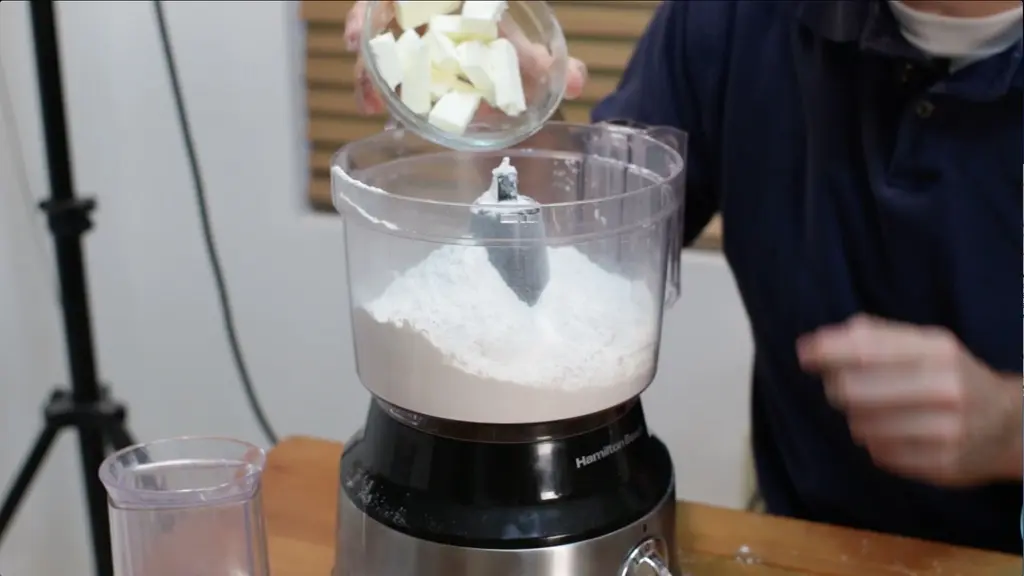 Time to cut or mix the cold butter with the flour mixture. You can do this several ways. The quickest and easiest way is to just pour the flour mixture into a food processor along with the butter and pulse to combine.
Another method which I show in this blueberry scones recipe is to cut in the butter using a pastry blender or a fork. Either method works great.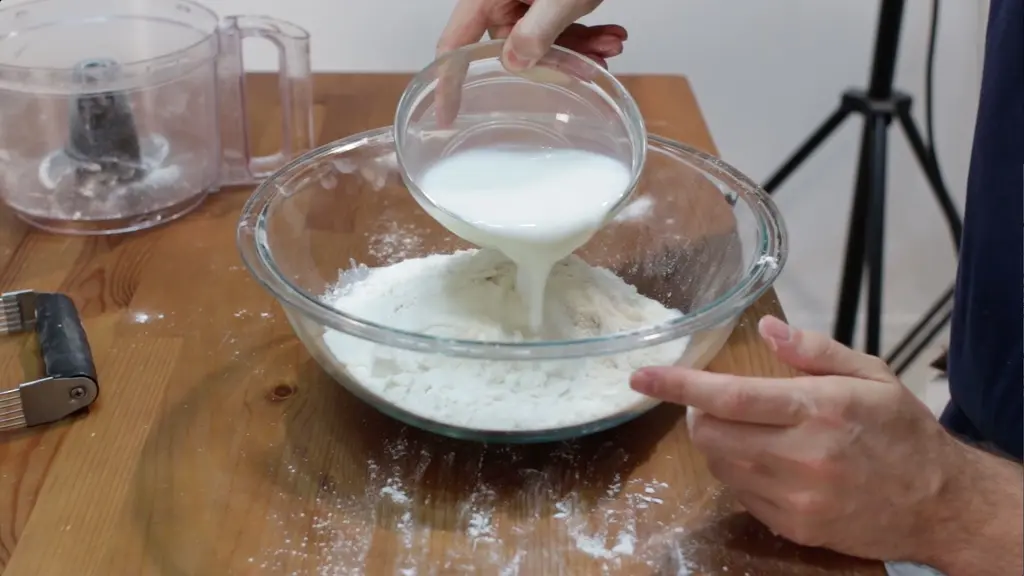 Next, time to add the liquid. You can use milk or buttermilk. I regularly use both, and buttermilk is so awesome in these. Whole milk is great too, but you can use 2%, 1%, Skim, or even almond milk if you like.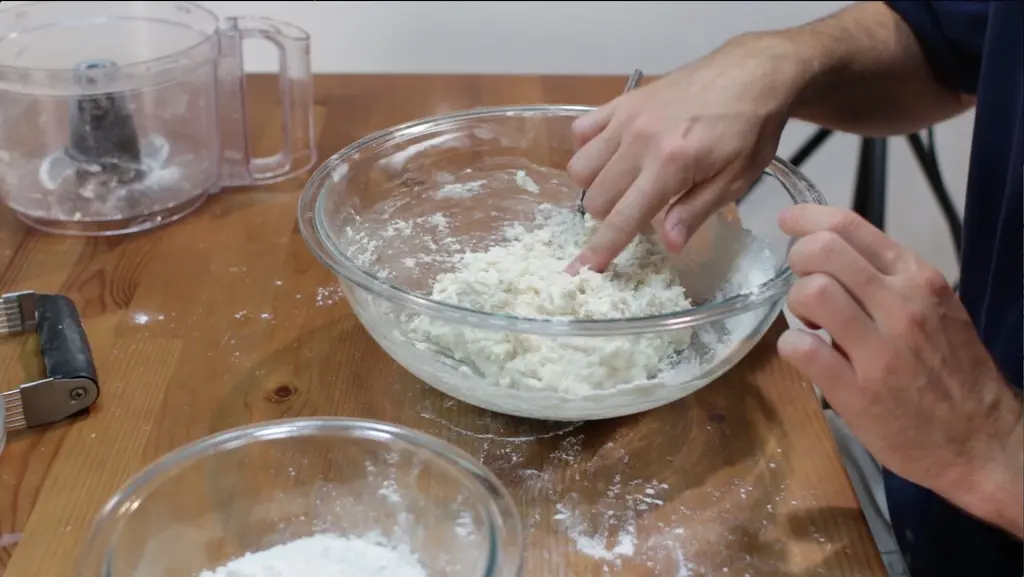 Pour all the milk in and then mix it together with a wooden spoon until a dough forms. The dough may be fairly sticky, if so, just add a tablespoon extra flour, mix it in, then another, until the dough is only just slightly sticky.
Step 3: Resting the dough
Dump the homemade biscuits dough onto a floured counter or table. Knead the dough for 30 seconds to make sure it comes all together. Fold it over a few times onto itself.
Then shape it with your hands into a rectangle that is roughly 1 inch thick. Cover the dough with plastic wrap or a cloth and allow it to rest for 20 to 30 minutes.
Step 4: Shape and bake the homemade biscuits
Preheat the oven to 425 F/218 C. Then cut out the biscuits from the dough. If you don't have a handy biscuit cutter you can use a glass. Just press down and it will cut the dough into a circle.
Place the cut-out homemade biscuits onto an ungreased cookie sheet or sheet pan. Ball up the dough scraps, push them together and pat it down flat so you can cut out more biscuits. Space the biscuits an inch or two apart. You should be able to get 10 to 12 biscuits depending on the size that you make them.
You can baste the tops of the biscuits with butter or milk before baking if you like.
Bake the biscuits in the oven, middle rack position, for 10 to 15 minutes until they turn nice and golden brown and puff up. Remove them from the oven and allow them to cool for a few minutes. You can baste the tops now with butter as well if you like.
Serve them as is, or cut them in half and spread butter and honey or jelly on them. Or maybe you want to add some cheese, bacon, sausage, and egg to it. It is totally up to you. Enjoy!
How long do homemade biscuits last?
If you store them in an airtight container or ziplock bag homemade biscuits will stay fresh about 2 days at room temperature or about a week in the fridge. You can also wrap them individually with plastic wrap and freeze them for a few months.
Can I make biscuits with self-rising flour?
Sure! If you do use self-rising flour, leave out the salt and baking powder, since it is already part of the self-rising flour. Everything else will be the same.
Here are some other recipes you may like:
Easy Homemade Biscuits
These homemade basics are so easy to make and taste amazing. And you only need a handful of everyday ingredients. Eat them plain, add butter and honey, jelly, gravy, etc. Enjoy!
Equipment
Sifter

Food processor or Pastry blender

Bowls

Fork

Plastic wrap

Biscuit Cutter or Glass

baking sheet
Ingredients
2

cups

all-purpose flour

240g

2

tbsp

baking powder

30g

1

tsp.

salt

5g

1

tbsp.

sugar

13g (optional)

5

tbsp.

cold butter

salted or unsalted (70g)

1

cup

cold milk

buttermilk or whole milk (240ml)
Instructions
Add the flour, sugar, salt, and baking powder to a sifter and sift those ingredients into a large bowl. Or just add them to a bowl and use a whisk.

Take the cold butter and cut it up into small chunks, or you can freeze it and shred it with a box grater. Add the flour mixture to a food processor with the butter and pulse until well combined. The flour mixture should change colors from white to blonde. Or use a pastry blender.

Pour in all the milk or buttermilk and mix with a wooden spoon or fork until a dough forms. If the dough is super sticky add another tablespoon of flour and mix it in, then a little more until the dough is only slightly sticky.

Pour the dough onto a floured surface and knead it for 20 to 30 seconds. Using your hands shape the dough into a rectangle that is about 1 inch or so high, it really doesn't matter a whole lot. Cover it with plastic wrap or a cloth and allow the dough to rest for 20 to 30 minutes.

Preheat the oven to 425 F/218C. Use a biscuit cutter or a glass and cut out the round shapes and place them on an ungreased sheet pan or cookie sheet, about 1 inch apart. You will have 10 to 12 depending on the size. Baste them with melted butter or milk if you like.

Bake them on the middle rack position for 10 to 15 minutes until they puff up and are golden brown. After they are done baking, allow them to cool for a few minutes, before serving. Enjoy!
Video
How to make Basic Biscuits | Easy Awesome Homemade Biscuit Recipe
Notes
Note: This recipe will make 10 to 12 biscuits depending on the size. The nutritional facts are based on 10 biscuits. 
Nutrition
Do you like this recipe? Please give it a rating and comment down below, I really appreciate it. If you make it tag me on Instagram @inthekitchenwithmatt. Also, sign up for the newsletter so you won't miss out on any of my new posts and recipes.