Jump to Recipe
No need to make brownies from a box, when these easy homemade brownies are simple to make at home from scratch. They are fudgey and full of chocolate flavor.
Growing up I loved eating, cakes, cookies, and of course brownies. Whether from a box or from scratch, I really didn't care. To this day, I am not really picky, although I do prefer this easy homemade brownies recipe to the boxed brownies.
They are so simple to make with easy to find ingredients. If I can do it, you can do it. Let's get baking!
Step 1: Gather the ingredients
In order to make these delicious easy homemade brownies, you will need just and handful of ingredients:
Sugar
Oil – I generally use something like vegetable, canola, olive, or coconut oil.
Eggs
Vanilla extract
Flour – Use all-purpose/plain flour
Salt
Baking powder
Cocoa powder
Chocolate chips – The chocolate chips aren't required, but I love adding them. Use dark, semi-sweet, or milk chocolate. Or break up chocolate bars into chunks.
Nuts – Chopped walnuts or pecans, optional.
Tools
Step 2: How to make easy homemade brownies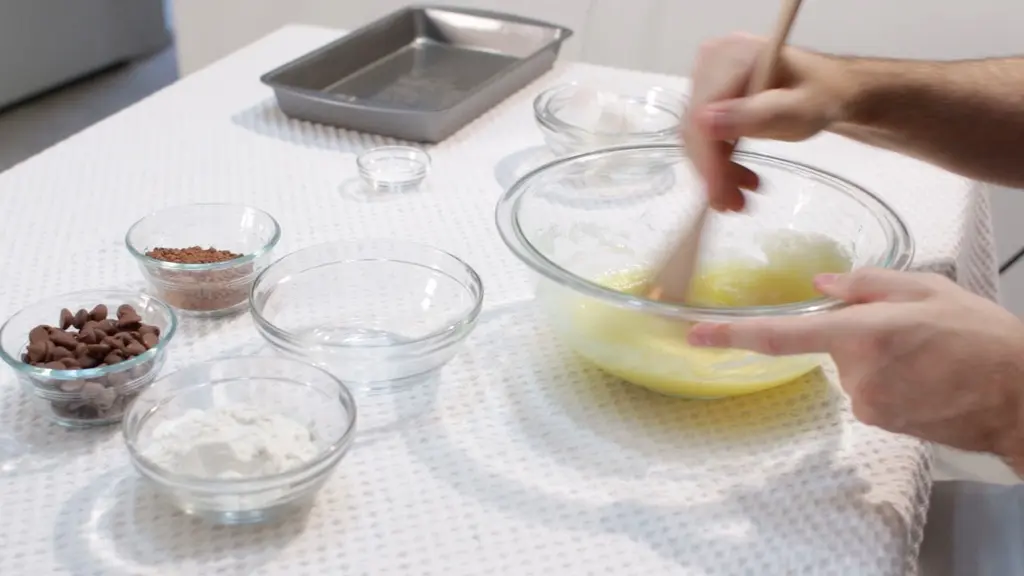 Begin by preheating the oven to 350 F/176 C. In a large bowl, add the sugar and the oil and mix those together with a whisk or wooden spoon.
Add the vanilla extract and the eggs and mix those in.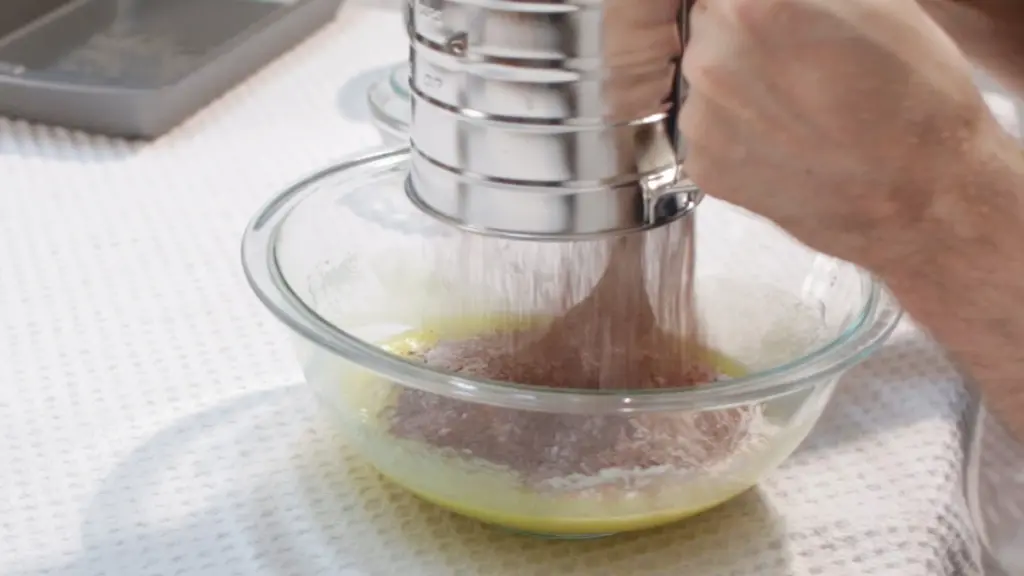 Add all the dry ingredients, the flour, salt, baking powder, and the cocoa powder to a sifter and shift into the bowl with the batter. You may also whisk the dry ingredients together in a separate bowl first, if you don't have a sift.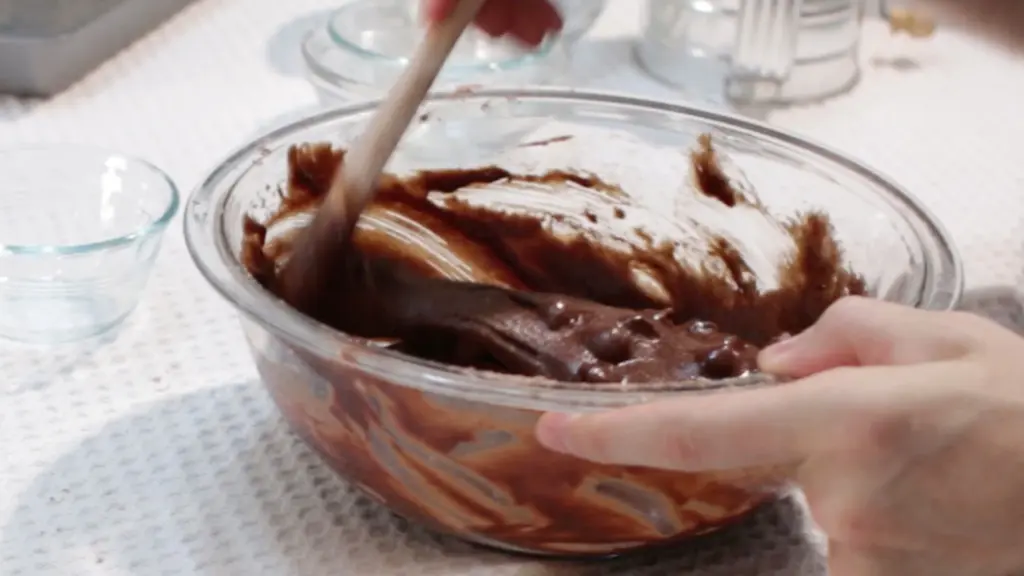 Stir it all together with a wooden spoon until well combined. Scrape the sides of the bowl with a spatula as necessary. Then add in the optional chocolate chips and nuts. I don't always add the nuts, but sometimes I do, for an added crunch.
You can use whatever kind of chocolate chips you want, milk, dark, semi-sweet, butterscotch, white, etc. Milk chocolate chips are my favorite, but that is just my personal preference.
The easy homemade brownies batter is ready to go. Super easy right?
Step 3: Bake the easy homemade brownies
Take an 11x7 inch baking pan or an 8x8 inch baking pan and spray it with cooking spray or grease it with shortening.
Pour the homemade brownie batter into the pan and then level it out as needed with a spatula.
Bake it in the oven for 18 to 22 minutes, until when you poke it in the middle with a toothpick, it comes out clean. If you like your brownies a little more gooey, bake them for 16 to 18 minutes.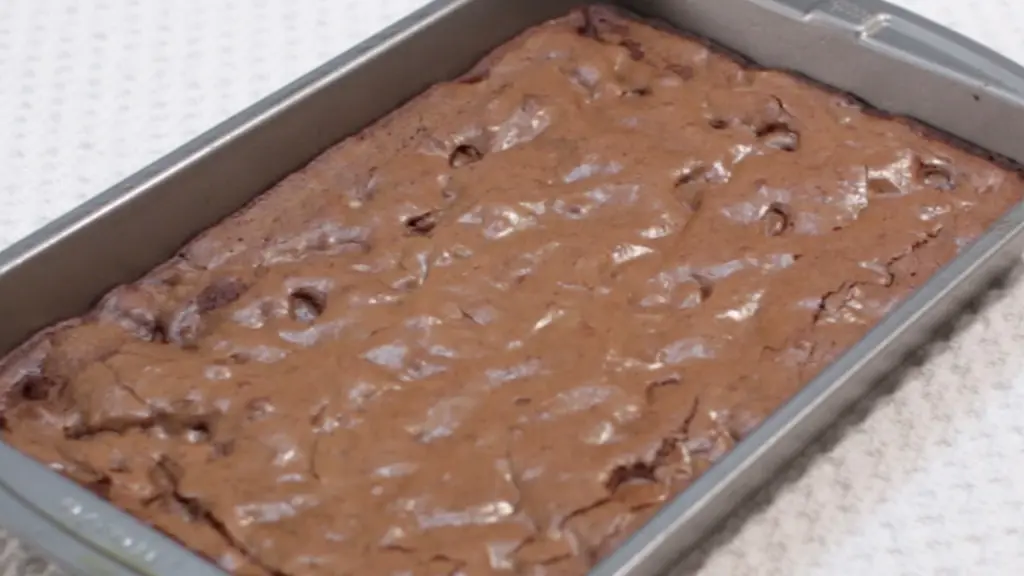 After they come out of the oven, allow the pan to cool for 20 to 30 minutes. If you try and cut them when they are warm, the brownies, won't keep their shape as well.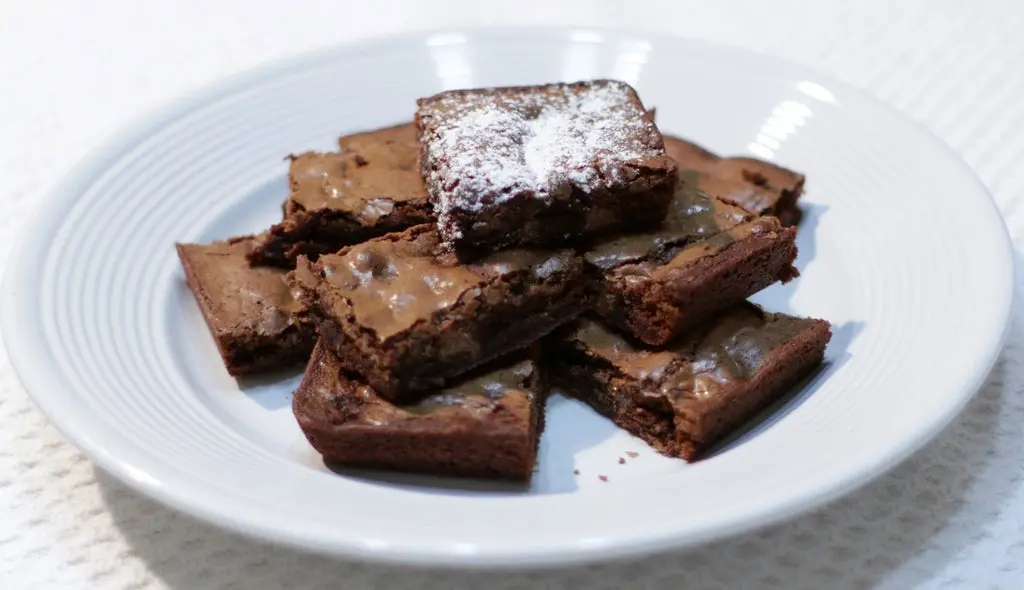 Once the pan has cooled you can cut it up into squares. Cut them as big as you like. If you want top them with powdered sugar, frosting, sprinkles, coconut flakes, or just eat them plain.
These homemade brownies also go really well with a scoop of vanilla ice cream. Enjoy!
How long do homemade brownies last?
If stored in an airtight container they will last 3 to 4 days in the pantry or on the counter. Or about a week if stored in the fridge. Although, if you vacuum seal them, they can be stored at room temperature for much longer. And you can always freeze the cooked brownies if you like. They will last a month or two frozen.
Here are some other brownie recipes you may like:
Red Velvet Cheesecake Brownie Bites
Easy Homemade Brownies
If you are a fan of brownies but don't want to use a box mix, make these easy homemade brownies from scratch. They are so easy to make with just a handful of simple to find ingredients.
Equipment
11x7 or 8x8 inch baking pan

Sifter

Bowls

Wooden spoon

Whisk

Spatula
Ingredients
1

cup

of sugar

200 g

1/2

cup

of canola oil or vegetable oil

120 mL

2

large eggs

1

tsp

of vanilla extract

5 mL

1/2

cup

of flour

60 g

1/4

tsp

of salt

1.5 g

1/4

tsp

of baking powder

1.5 g

1/3

cup

of cocoa powder

35 to 40 g

6

oz

of half a bag of chocolate chips

optional (168 g)

1/2

cup

chopped nuts

walnuts, pecans, etc. (55g)
Instructions
Preheat the oven to 350 degrees F. (177 C) Next, mix the oil and the sugar together in a large bowl. Use a whisk or wooden spoon. Then add the eggs and the vanilla extract.

Add the dry ingredients to a sifter, the flour, baking powder, salt, and cocoa powder and sift them into the bowl with the batter. You can combine them in a separate bowl before adding if you don't have or don't want to use a sifter. Then stir it all together.

You can leave the batter as is or add chocolate chips and nuts.

Spray an 11x7 or 8x8 pan with cooking spray or grease it with shortening. Pour the brownie batter into the pan and spread it out with a spatula.

Put the pan in the oven and bake it for about 18 to 20 minutes, until a toothpick comes out clean. Once it is done, let it cool for about 20 to 30 minutes. This way when you cut into it, it will keep its shape.

Eat the brownies as is or top them with powdered sugar, frosting, sprinkles, coconut flakes, or eat them with some vanilla ice cream. Enjoy!
Video
How to make Brownies from Scratch | Easy Homemade Brownie Recipe
Notes
Note: I just want to point out the nutritional facts will vary depending on if you add chocolate chips and pecans/walnuts, powdered sugar, etc. And of course, how large you make the brownies.
Do you like this recipe? Share and Pin it! Please give it a rating and comment down below, I really appreciate it. If you make it tag me on Instagram @inthekitchenwithmatt. Also, sign up for the newsletter so you won't miss out on any of my new posts and recipes.