Jump to Recipe
Meringue cookies are a classic dessert that can really spruce up that treat table. They are super light and don't have a ton of calories in them per cookie. This easy meringue cookies recipe only requires 4 ingredients as well, although technically you can even make them with only 2 ingredients.
In this step-by-step recipe, you will be making amazing meringue cookies that are sure to impress your friends and family. They taste so yummy too! Have you ever had Lucky Charms cereal? Do you know the little colored marshmallows in it? These cookies kind of taste like a giant version of those. If I can make them, you can make them. Let's get baking!
Step 1: Gather the ingredients and tools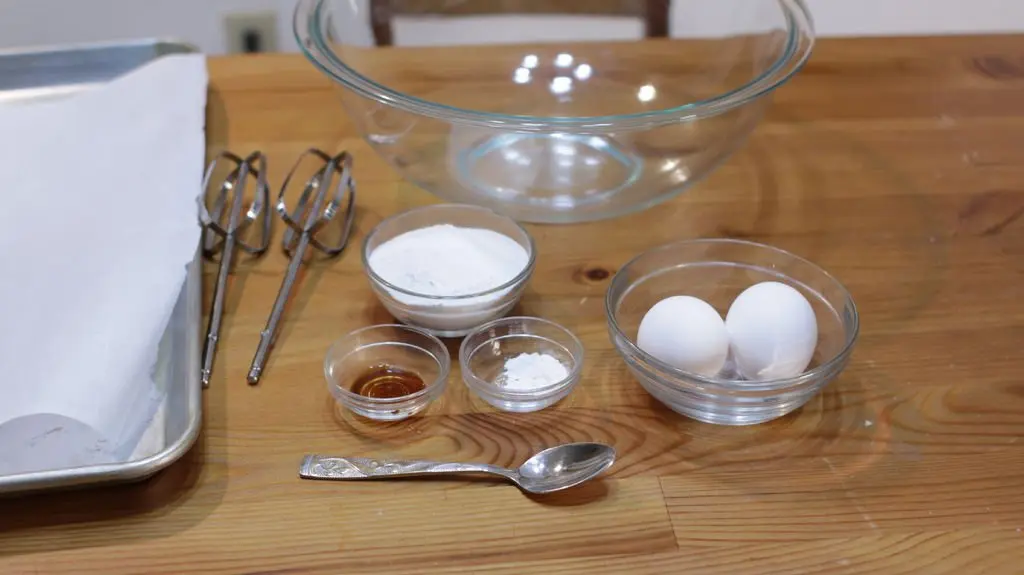 In order to make these amazing meringue cookies you will need the following ingredients and tools:
2 Large eggs – You will only use the egg whites. Save the yolks and use them in something else if you like.
Cream of Tartar – This optional ingredient helps to stabilize the egg whites allowing them to whip up easier and better.
Superfine/Caster Sugar – It is important to use really fine sugar, so it dissolves easier in the egg whites creating the perfect texture for the meringues. If there are large sugar crystals, they can melt and brown in the oven discoloring the cookies. Tip: If you don't have access to superfine sugar, add granulated sugar to a food processor and turn it on for 30 seconds to a minute. There you go!
Vanilla extract – This optional ingredient adds a bit of flavor. You can also use other extracts instead if you like.
Tools
Hand mixer or stand mixer
Bowls (ideally glass or metal) plastic bowls don't work as well
Parchment paper
Baking sheet pan or cookie sheet
Spoon
Piping bag or plastic bag with any tip you want (optional)
Step 2: How to make easy meringue cookies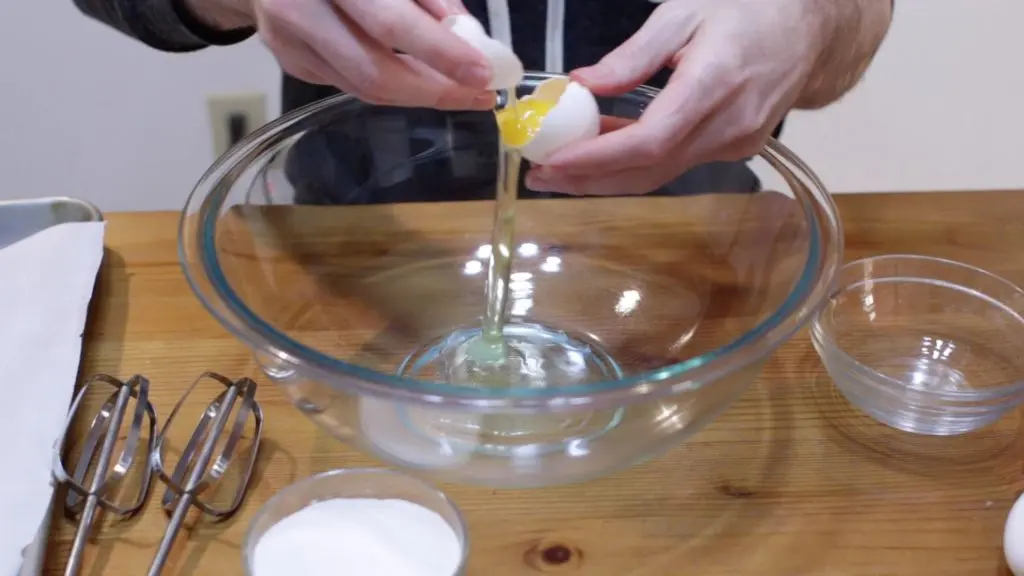 Begin by preheating the oven to 200 F/93 C. Separate the egg whites into a large bowl. I usually just use each shell half and shuffle the egg white back and forth between them allowing the egg white to fall into the bowl. You can also use an egg separator if you like.
Step 3: Soft peaks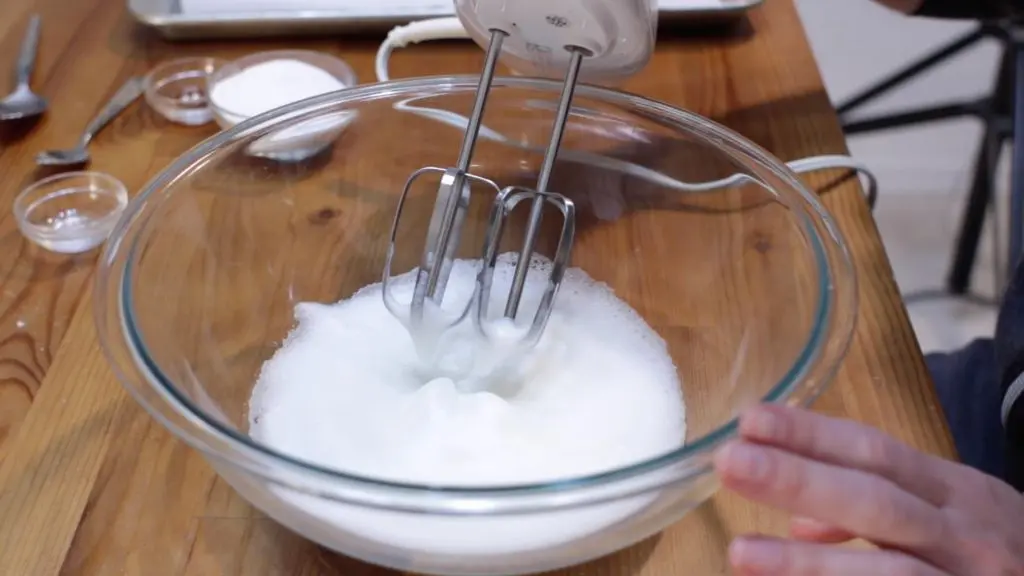 Next, mix the egg whites with a hand mixer or stand mixer until they are really frothy. Then add in the cream of tartar. Continue mixing on medium speed until soft peaks form. There will still be lots of tiny bubbles but little peaks will form when you lift out the beaters. They will fold over easily.
Step 4: Adding in that sugar and getting the perfect meringue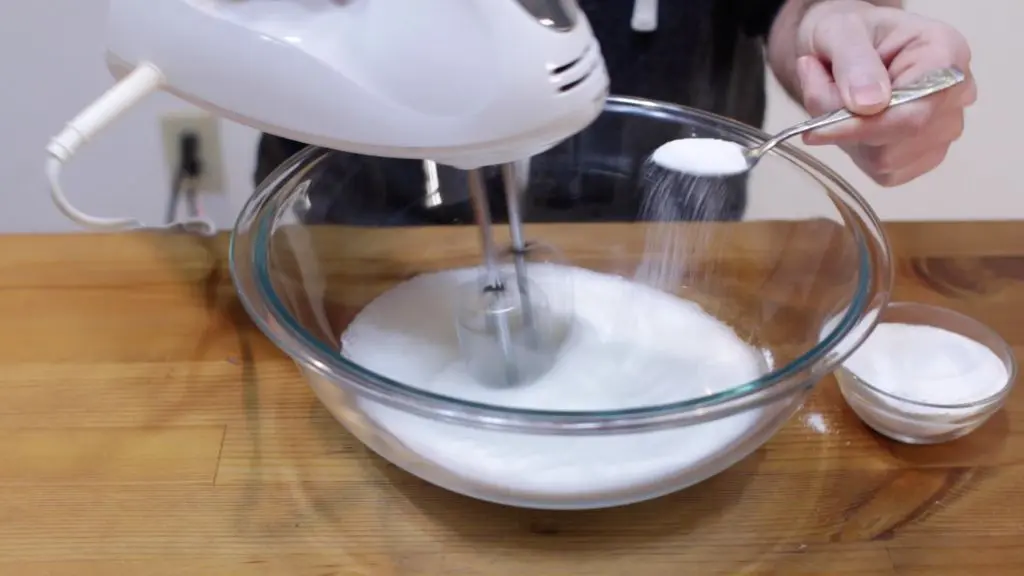 In order to get a perfect meringue, the sugar needs to be added slowly. This allows the superfine sugar crystals to dissolve. A gritty grainy meringue just won't do. Turn the mixer on high and add in the sugar a teaspoon at a time, and wait until it is incorporated before adding the next teaspoon.
Step 5: Completing the Meringue with Stiff Peaks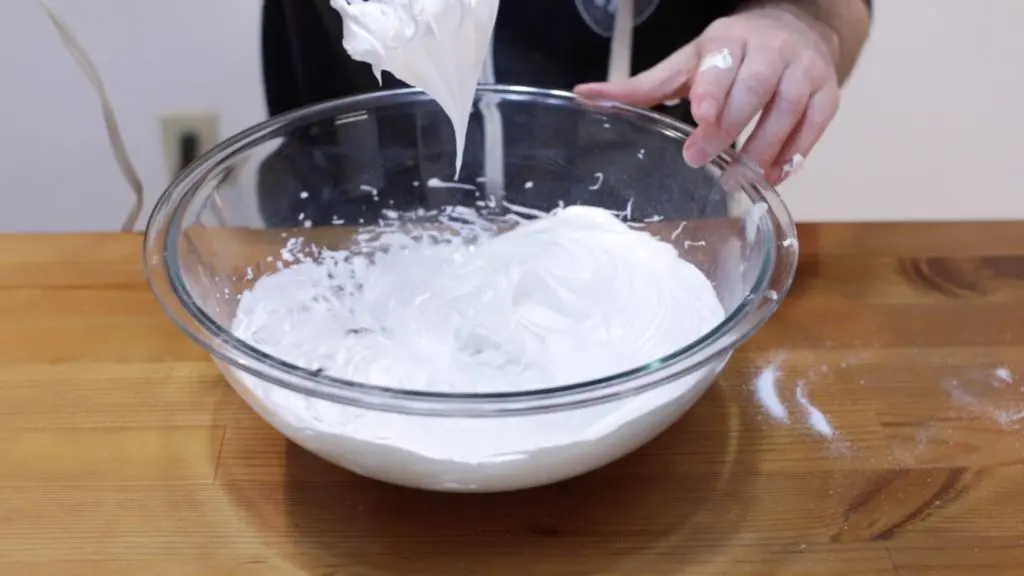 After the sugar has been incorporated completely, add in the splash of vanilla extract or if you would like to use a different flavored extract use that. Mix some more on high until you get stiff peaks. When you pull out the beaters the resulting peaks will stand up proudly with only the tips bending possibly.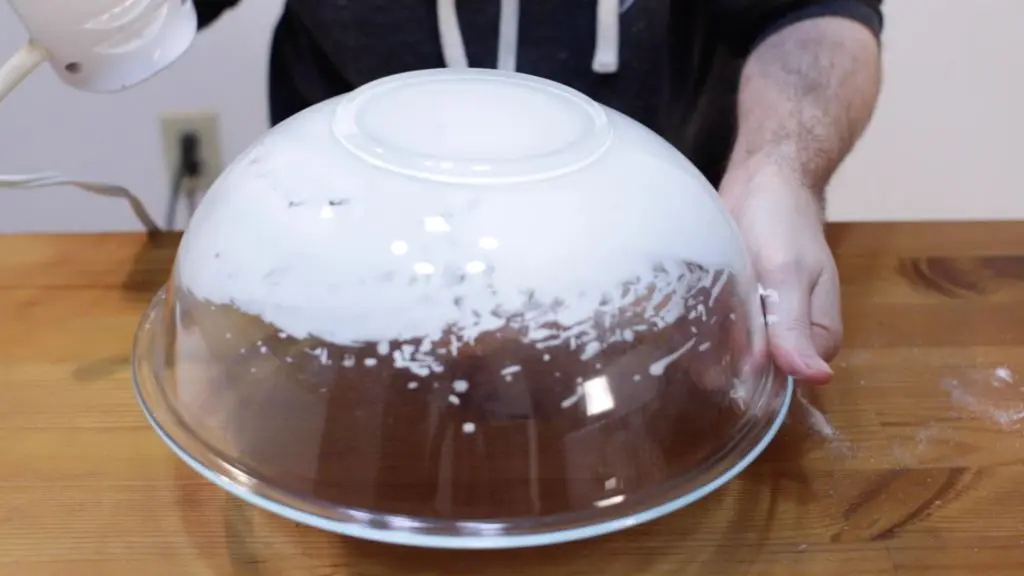 Also, if you hold the bowl upside down, none of that yummy meringue will fall out. Pretty awesome right? It will look glossy as well and resemble shaving cream. Also when you touch a little bit of the meringue and rub it between your fingers it should be smooth with no grains of sugar. If you feel some grains, continue mixing for 15 to 20 seconds. There you go the meringue is finished and ready to be made into cookies.
Step 6: Piping out the easy meringue cookies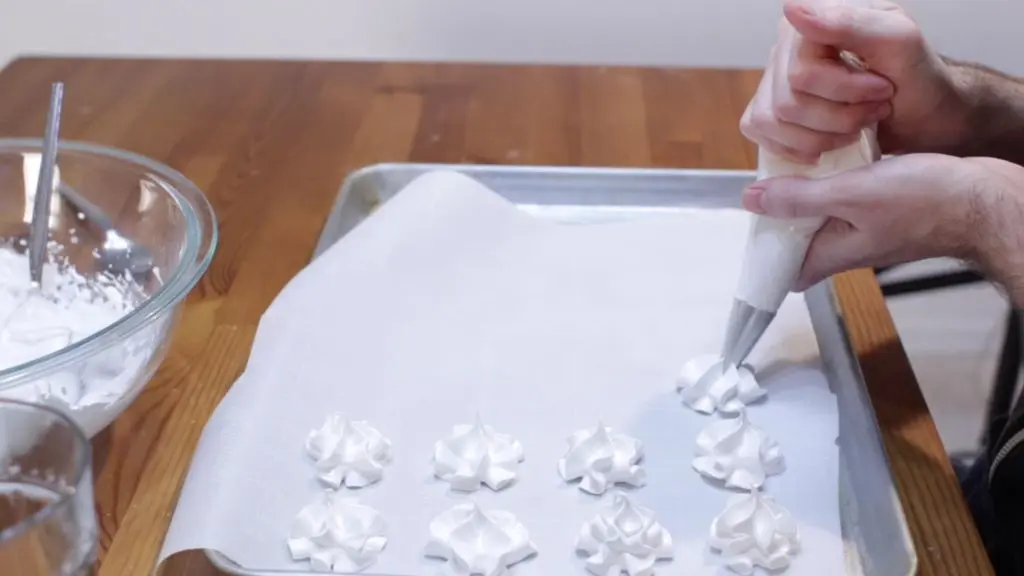 Next preheat the oven to 200 F/93 C. We will be baking these cookies low and slow. Prepare a baking tray or cookie sheet with parchment paper. Add the meringue to a piping bag with a large tip or use a ziplock plastic bag. You may also just scoop them on with a spoon or small ice cream scoop if you like. Meringue cookies really hold their shape well so got nuts if you like with the designs of them. Let that creativity shine! Pipe out the cookies, they can be close together, because the cookies will not spread. Once you are done baking them in the middle rack position for 60 minutes. Then turn off the oven and allow them to cool in the oven for another 30 to 45 minutes. Do not open the oven until then.
Step 7: Beautiful Meringue Cookies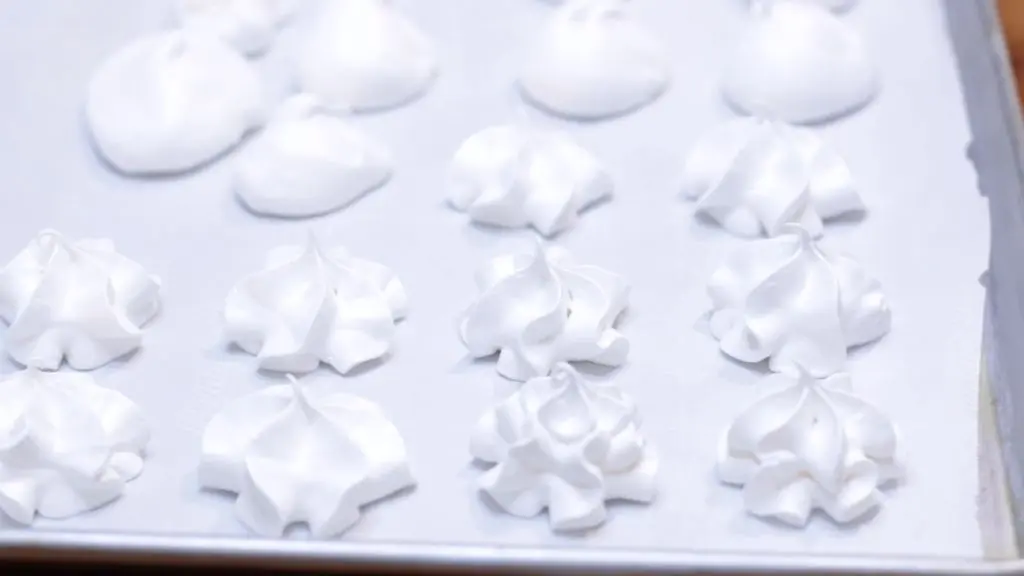 When the meringue cookies come out of the oven they will have held their shape. They won't have any brown on them either.
When you bite into one of them they will have a slightly crisp outer shell and then be almost like a marshmallow on the inside. So tasty! Time to enjoy those amazing easy meringue cookies.
How do I store meringue cookies?
Place the cookies in an airtight container. They can be stored at room temperature for a few weeks. If they last that long! You may also freeze them where they will last several months.
Why did my meringues collapse?
It is possible that you used older egg whites or you let them cool too quickly each one of those things can cause meringue cookies to collapse. Remember don't open the oven and allow them to cool naturally in the closed oven. Always use fresh egg whites if possible.
Easy Meringue Cookies
These easy meringue cookies are light, airy, and oh so delicious. Spruce up your treats table with these delectable desserts. And it only takes 4 ingredients to make them! You probably already have those ingredients at home. If I can do it, you can do it. Let's get baking!
Equipment
Hand Mixer or Stand Mixer

Bowls (ideally glass or metal)

parchment paper

Baking sheet pan or cookie sheet

spoon

Piping bag or plastic bag with any tip you want (optional)
Ingredients
2

large eggs

egg whites only

1/4

tsp.

cream of tartar

optional (1g)

1/2

cup

superfine white sugar/caster sugar

115g

1/8

tsp.

vanilla extract

optional
Instructions
Separate the egg whites from the yolks using the shells or an egg white separator. Place the egg whites in a large bowl.

Using a hand or stand mixer beat the egg whites until frothy. Then add in the cream of tartar. This stabilizes the egg whites. Technically you can leave it out, but it is recommended to use it to get the perfect meringues. Continue beating on medium speed until you get soft peaks.

Turn the mixer on high and slowly add in the superfine sugar 1 tsp. at a time, allowing a few seconds in between scoops of sugar. If you add all the sugar in at once it will mess up the meringue.

Once the sugar has all been incorporated add in your vanilla extract. You may also use a different flavored extract if you like. Mix for a few more seconds until stiff peaks are formed.

Preheat the oven to 200 F/93 C. Line a baking tray with parchment paper then add the meringue to a piping bag or plastic bag with whatever design tip that you like. You may also just use a spoon. Pipe out the meringue cookies. They can be pretty close together. Then bake them for 1 hour. After the hour is done, turn off the oven and allow them to cool slowly inside the oven for 30 to 45 minutes. Do not open the oven this may cause them to collapse.

Once the time is up, they should all be the same shape as they were when they were put in. Also, they shouldn't have any brown on them. There you go perfect easy meringue cookies. Enjoy! 🙂
Video
How to Make Meringue Cookies | Easy Meringue Cookie Recipe (4 Ingredients)
Notes
Nutrition
Do you like the recipe? Please give it a rating and comment down below, I really appreciate it. If you make it tag me on Instagram @inthekitchenwithmatt. Also, sign up for the newsletter so you won't miss out on any of my new posts and recipes.
Here are a few more recipes you may like: