Jump to Recipe
This easy sponge cake recipe is a cinch to make and is a perfect base cake for so many recipes. And it only requires 3 ingredients, how awesome is that?
If you follow my YouTube channel and my blog you know I love cake. I have several cake recipes here already, but no collection is complete without a homemade sponge cake recipe.
Also, the really cool thing about this cake, is not only does it only require three ingredients, those ingredients are readily available and chances are you already have them in your house. Time to make this awesome sponge cake. If I can do it, you can do it. Let's get baking!
Step 1: Gather the ingredients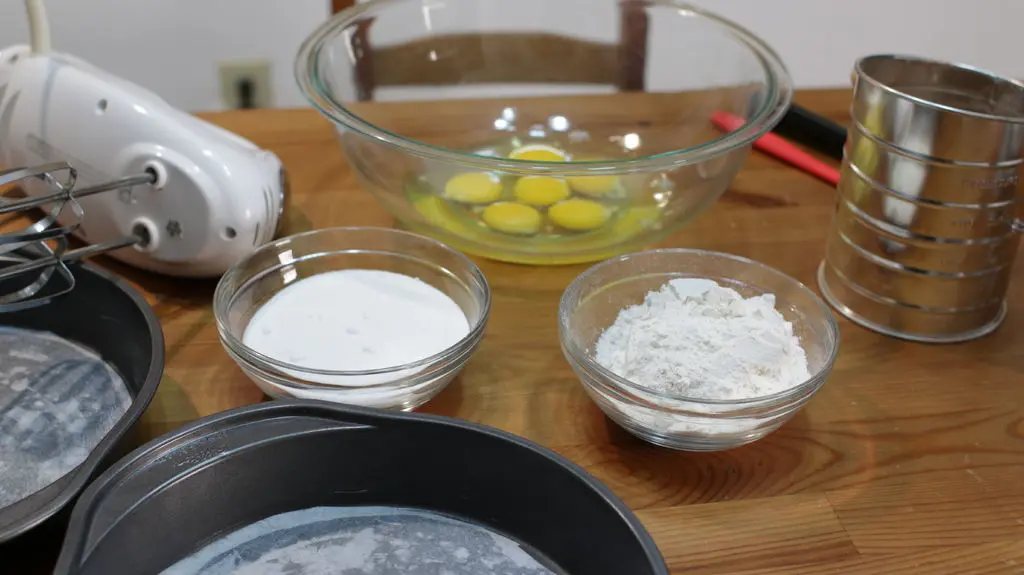 In order to make this simple sponge cake, you just need the following three ingredients:
Eggs – The eggs are the star of the dish and are what gives the cake its lift and light spongey texture.
Flour – Cake flour is preferred but all-purpose flour will work as well.
Sugar – The white granulated sugar will add just the right amount of sweetness and aid in the overall texture and browning of the cake.
Tools
Hand mixer or stand mixer
Large bowl
Spatula
2×9-inch round cake pans
Cookie rack
Parchment paper
Sifter
Step 2: How to make 3-Ingredient Sponge Cake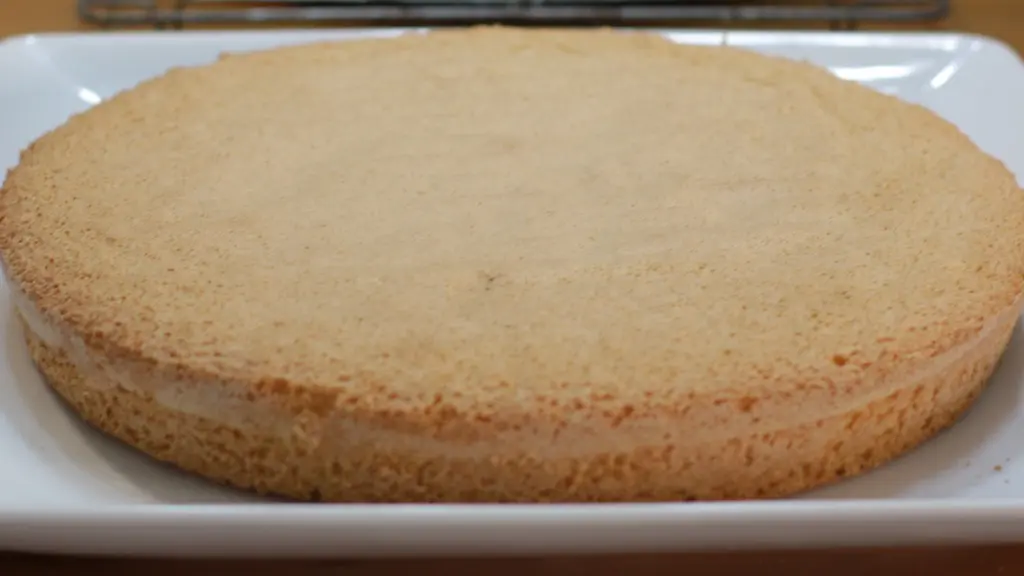 Begin by preheating the oven to 350 F/176 C. Now add the room temperature eggs to a large bowl. Beat the eggs with a stand mixer or hand mixer for several minutes. Start the speed of the mixer on medium then after a few minutes move it to medium high.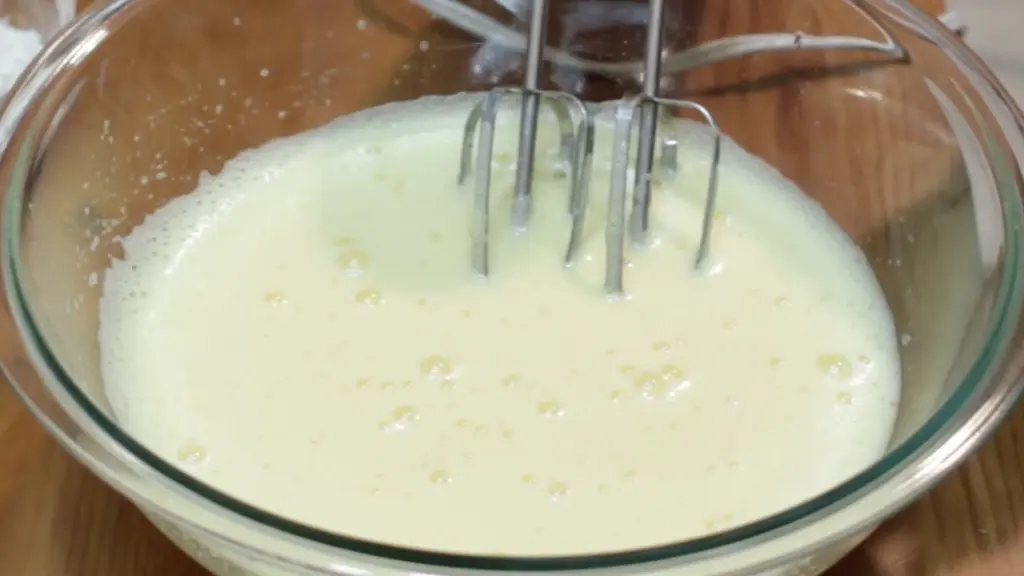 Beat the eggs for around 5 minutes, until the eggs turn very pale yellow and the volume of the beaten eggs increases. This is important because we are incorporating air into the eggs which helps make the cake light and spongey.
Step 3: Sugar and more mixing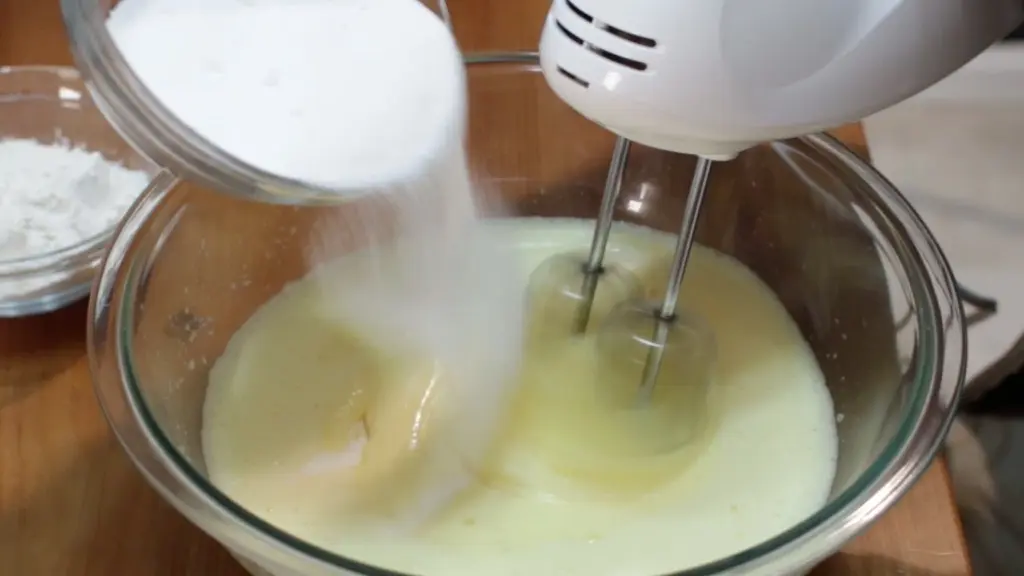 Now continue mixing the eggs while slowly adding in the sugar a little bit at a time. Add in a few tables spoons and mix them in, a few tablespoons, mix them in, etc. Mix the batter for 10 to 15 more minutes.
Why so much beating of the eggs, you may be wondering. This is where the food science comes into play. This spongecake recipe doesn't have any baking powder or baking soda in it, so the leavening is purely coming from the eggs.
Also, for sponge cakes, the air bubbles that are created should be really really small, if you don't beat the batter long enough the bubbles will be too big, which will change the structure of the baked cake.
One way to tell if you have beaten the mixture long enough is when you pull up the beaters, the mixture will fall down like a ribbon and the mounding ribbon batter will keep its shape for a bit before dissipating back into the main batter.
If the ribbon of batter dissipates really quickly, keep mixing, for 2 to 3 more minutes.
Step 4: Finish off the homemade sponge cake batter
Once the mixture has been beaten long enough you will notice how much more volume that was created. This is a nice airy fluffy batter base. Time to finish it off with the flour. Cake flour is recommended but all-purpose/plain flour will work just fine.
FOLD the flour in little by little. I generally will use a sifter and sift some in, then fold, sift some in then fold it in, etc. Until the flour is all incorporated into the cake batter. Using the spatula go under the cake batter and then turn it onto itself and repeat.
Why are we folding and not using the mixer or stirring it? Folding helps make sure you don't ruin all those tiny bubbles you created. Using at mixer at this point or stirring it can cause you to lose the bubbles.
Make sure that all the dry flour is incorporated, once that is done, give it a few more folds and then stop. The 3-ingredient sponge cake batter is complete and ready to go.
Step 5: Bake the sponge cake
Take two round 9-inch cake pans, and spray them with cooking spray or use some shortening. Then cut a round piece of parchment paper and add it to the bottom. This is a precaution to make sure the cake doesn't stick.
Pour the cake batter evenly into both of the pans. Then smooth out the top with a spatula.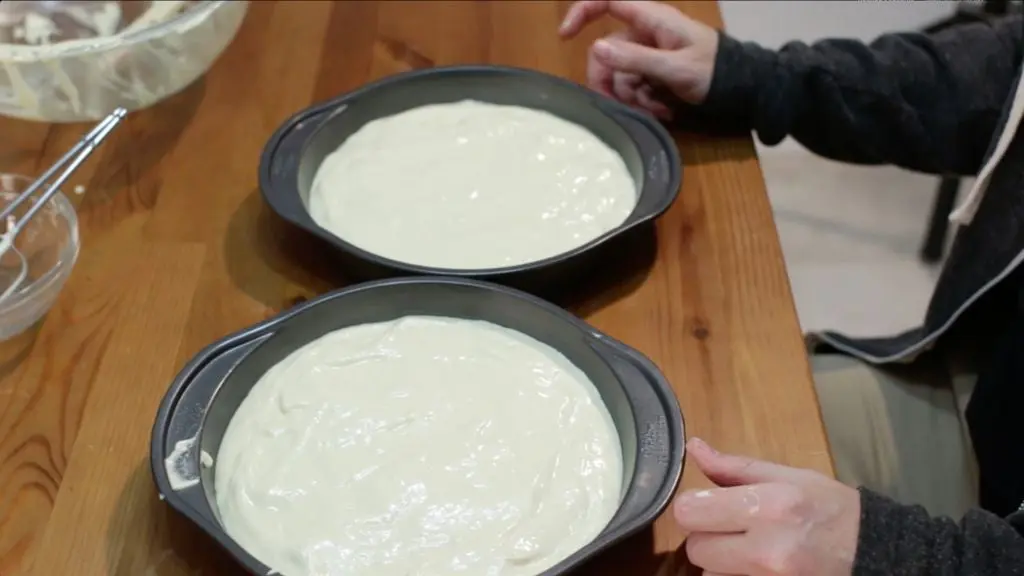 Bake both of the cake pans on the middle rack position side by side for 23 to 28 minutes. In my oven they are done right around 25 to 26 minutes. Bake them until they are nice and golden brown on the top.
Don't check them before 23 minutes, if you check them too early you run the risk of the inside temp changing too much which may cause the cakes to deflate a bit.
After the cakes come out of the oven allow them to cool in their pans for a few minutes. Then run a butter knife or cake spatula around the edges of the cake.
Place a wire rack on the top and then using two hands to flip them over. And then remove the parchment paper. Then let the cake layers cool until they are room temperature.
There are so many ways you can use this cake. You can decorate it by layering it and frost it like a classic layered cake. Or maybe you just want to serve it as is with fresh sliced strawberries or make a homemade strawberry sauce and whipped cream. Enjoy!
How to store sponge cake
To store the cake wrap each individual layer in plastic wrap tightly and store it in a cake keeper or ziplock bag at room temp for up to 4 to 5 days.
For longer life store it in the fridge for up to 7 to 10 days. Once frosted the cake will last 4 to 5 days as well if covered in an airtight container and kept in the fridge. If not wrapped well, it may dry out and get hard.
You can also freeze the unfrosted cake as well. Place the individually wrapped layers in the freezers which will extend the shelf life to 5 to 6 months.
Here are a few more recipes you may like:
Cheesecake Stuffed Chocolate Dipped Strawberries
Easy 3-Ingredient Sponge Cake
This sponge cake is so light and fluffy and can you believe it only requires three ingredients? It is a great base cake that can be used with a variety of dishes. If I can do it, you can do it. Let's get baking!
Equipment
Hand Mixer or Stand Mixer

Large bowl

Spatula

9-inch round cake pans (2)

cookie rack

parchment paper

Sifter

Shortening or cooking spray
Ingredients
6

large eggs

room temperature

1

cup

of white granulated sugar

200g

1

cup

of cake flour or all-purpose

plain flour (125g)
Instructions
Preheat the oven to 350 F/176 C. Add the room temp eggs to a large bowl and beat them on medium speed with a mixer for a few minutes then on medium-high speed for another few minutes until they turn pale.

Next, slowly add in the sugar a few tablespoons at a time while beating the eggs. Continue beating until all the sugar is incorporated. You will wind up beating it for 10 to 15 minutes. Keep beating until when you lift up the beaters a ribbon of batter falls to the bowl and piles up for a few seconds and keeps its shape before dissipating into the batter.

Sift the flour and FOLD it into the batter a little bit at a time. Don't use the mixer and don't stir it in. This ensures that you aren't destroying those little air bubbles you worked so hard to create.

Prepare two round 9-inch cake pans by spraying them with cooking spray or using shortening. Add a piece of round parchment paper on the bottom as well for an added precaution.

Evenly fill up the cake pans, they will be about 2/3rds full. Spread out the tops so they are level, then bake the pans in the preheated oven on the middle rack for 23 to 28 minutes.

Don't check the cake before 22 or 23 minutes, this may cause it to deflate. They will be done when they are nice and golden brown on top.

Remove them from the oven and allow them to cool for a few minutes in the pan. Then remove the cake layers from the pans and take off the parchment paper. Set them on a cookie rack to cool completely.

Frost the cake, or serve it with strawberries, whipped cream, etc. Totally up to you how you use this cake. Enjoy!
Video
How to Make Sponge Cake | Easy Three Ingredient Sponge Cake Recipe
Notes
These nutritional facts are for the cake itself and don't include any toppings like frosting, fruit, whipped cream, etc. 
Nutrition
Do you like this recipe? Please give it a rating and comment down below, I really appreciate it. If you make it tag me on Instagram @inthekitchenwithmatt. Also, sign up for the newsletter so you won't miss out on any of my new posts and recipes.