Jump to Recipe
I really enjoy eating Vietnamese spring rolls. These easy spring rolls are amazing with lots of veggies rolled up in rice paper, with some protein like shrimp or pork, amazing.
Vietnamese spring rolls also known as fresh spring roll, spring roll, or rice paper rolls are a popular dish originated in Vietnam. There are so many variations that you can do to make them your own. And you can pick a number of sauces to dip them in.
If you want a different texture you can fry them or leave them fresh. They are so easy to make, if I can do it, you can do it. Let's get started!
Step 1: Gather the ingredients and tools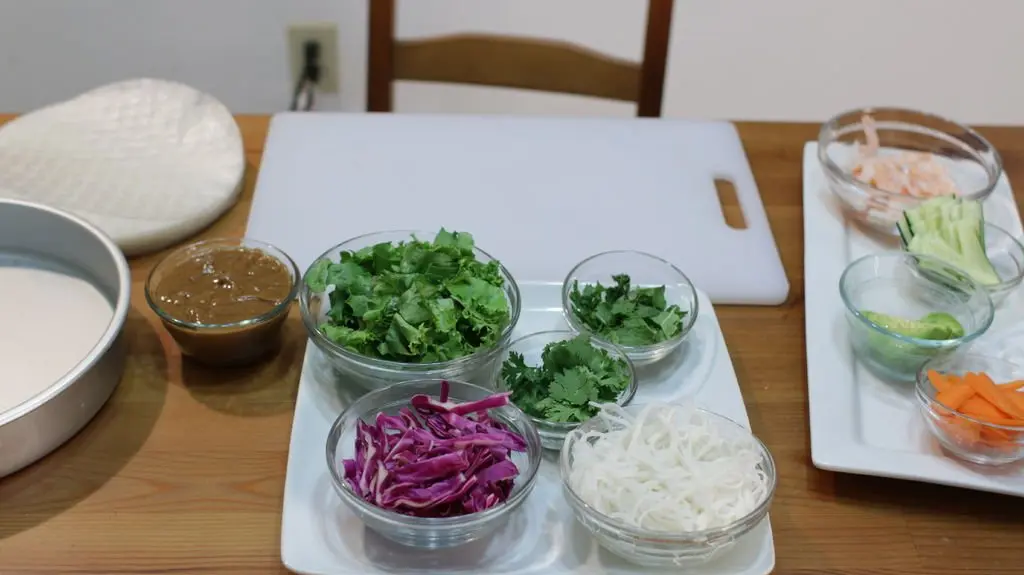 In order to make this recipe you just need a few simple ingredients and tools:
Rice paper – Rice paper is the main wrapper for spring rolls.
Rice vermicelli – Thin noodles made from rice and not flour and common in Asian cuisine.
Lettuce
Mint
Cilantro
Purple cabbage
Carrots
Cucumber
Avocado
Shrimp or pork or bacon – Bacon isn't traditional at all, but I love to add it. My own little spin on them.
Tools
Deep pie pan with water
Cutting board
Knife
Step 2: How to make easy spring rolls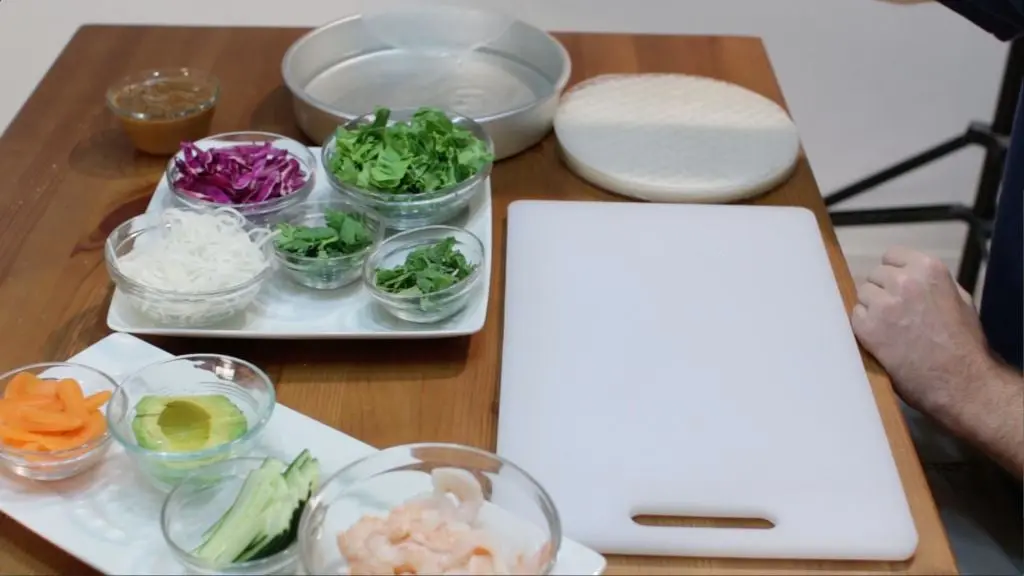 First cook your vermicelli rice noodles. Usually you just boil some water and drop them in, they cook in a minute or 2, really fast. Next chop and slice up all of your ingredients.
Some other ingredients I like to put in are red cabbage, cilantro, mint, green lettuce, carrots, cucumber, shrimp, avocado, and bacon. Avocado and bacon aren't really traditional ingredients, but I like to add them.
Then soak a piece of rice paper in the water. Dip it in the water for about 5 seconds, then flip it over and soak for 5 seconds. If you soak it too long it will fall apart. If you don't soak it long enough, it won't roll up.
Step 3: Roll up them up!
Place whatever ingredients you want in the middle of the soaked rice paper. Whatever you want to show the most add that last. For example, I like to have my shrimp showing the most, so I add that last.
Fold the right and left edges in over the mound of ingredients. Then grab the top and fold if over tightly towards you. Then roll it towards you. Tuck the ingredients in a bit as you roll, so you wind up with a nice tightly rolled spring roll.
Step 4: Serve up those easy spring rolls
Once you have your spring rolls done, you can serve them as is, but normally there is some kind of sauce that you dip them in. You can buy the sauce, usually found in the Asian section of the supermarket. Or you can make your own. Garlic soy and Peanut, as well as Hoisin, are classic dipping sauces.
For the dipping sauce add all the ingredients together and whisk to combine, easy as that! Enjoy.
How long do spring rolls last?
Vietnamese spring rolls are best fresh, but they will keep in the refrigerator for a few days. It is best to wrap them individually with plastic wrap and then store in an airtight container.
Can I fry these?
Yes you can fry these. Add a bit of oil to a skillet about 1/2 to 1 inch deep and heat it up on medium heat, then fry them until golden brown. Or you may throw them in the deep fryer.
Easy Spring Rolls
These Vietnamese fresh spring rolls are amazing! You can put whatever you want in them and make them your own. Leave them fresh or fry them up, totally up to you!
Equipment
Cake pan or pie pan with water

Cutting board

Knife

Mandolin Slicer
Ingredients
Rice paper

Vermicelli

Lettuce

Mint

Cilantro

Purple cabbage

Carrots

Cucumber

Avocado

Shrimp

Bacon
Peanut Dipping Sauce
1/4

cup

peanut butter

65g

2

tbsp

honey

85g

1

tbsp

soy sauce

45ml

1

tbsp

hoisin sauce

1

tsp

minced garlic

2

tbsp

water, to thin it as needed
Instructions
Boil some water and cook the vermicelli. It cooks very fast a few minutes tops.

Chop up and slice the ingredients.

Take a large cake pan and fill it with water. Dip a rice paper in the water for 5 seconds per side then lay it flat on a cutting board.

Add whatever toppings you like into the middle, don't add too many. Then fold the edges in and then roll it up tightly. It can be eaten fresh or fried.

For the peanut dipping sauce, add all those ingredients into a bowl and whisk them together. Enjoy!
Video
How to Make Spring Rolls | Easy Spring Roll Recipe
Notes
The nutritional facts will vary depending on what ingredients are added to the spring roll. This nutritional information is for 2 large spring rolls. 
Nutrition
Do you like this recipe? Please give it a rating and comment down below, I really appreciate it. If you make it tag me on Instagram @inthekitchenwithmatt. Also, sign up for the newsletter so you won't miss out on any of my new posts and recipes.
Here are a few more recipes you may like: