Jump to Recipe
I promise you will have so much fun with this edible sugar glass recipe. It looks like glass, behaves like glass, but it is candy!
Have you ever seen a movie where a piece of glass was broken over someone's head? Or maybe it was a beer bottle or another kind of bottle that was broken? Or maybe you saw a person put glass in their mouth and they started chewing it? Chances are it was edible sugar glass. Are you a fan of the TV show Breaking Bad? Blue sugar glass or rock candy was used in that! It is so fun to make and the recipe is easy. You can make all kinds of things with it, movie props, bottles, a variety of candy shapes, or make an edible stained glass window held together with royal icing. You get the idea. If I can do it, you can do it. Let's get started!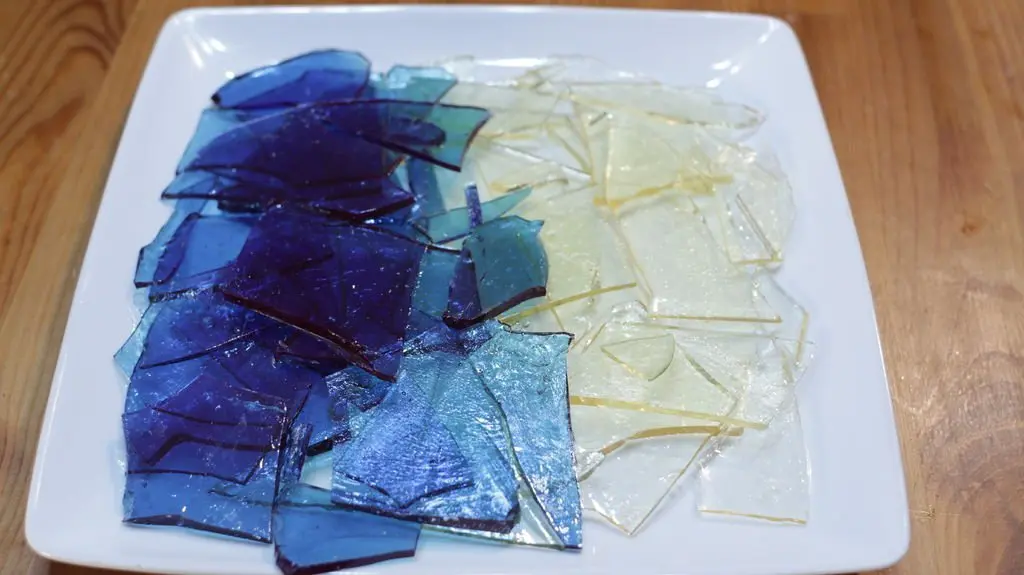 Step 1: Gather the ingredients and tools
In order to make edible sugar glass, you just need a few everyday household ingredients. No fancy ingredients are needed. You will need the following:
White granulated sugar – Sugar is the main ingredient in sugar glass? Imagine that.
Corn syrup – Liquid Glucose or corn syrup is used to help keep the sugar from becoming crystals again. It will help to make it more stable.
Water
Cream of tartar – this is an optional ingredient. But helps turn the sugar into fructose and glucose.
Food coloring – You will need food coloring to get your desired color or colors
Flavored Extracts – There are all kinds of flavored extracts that you can use.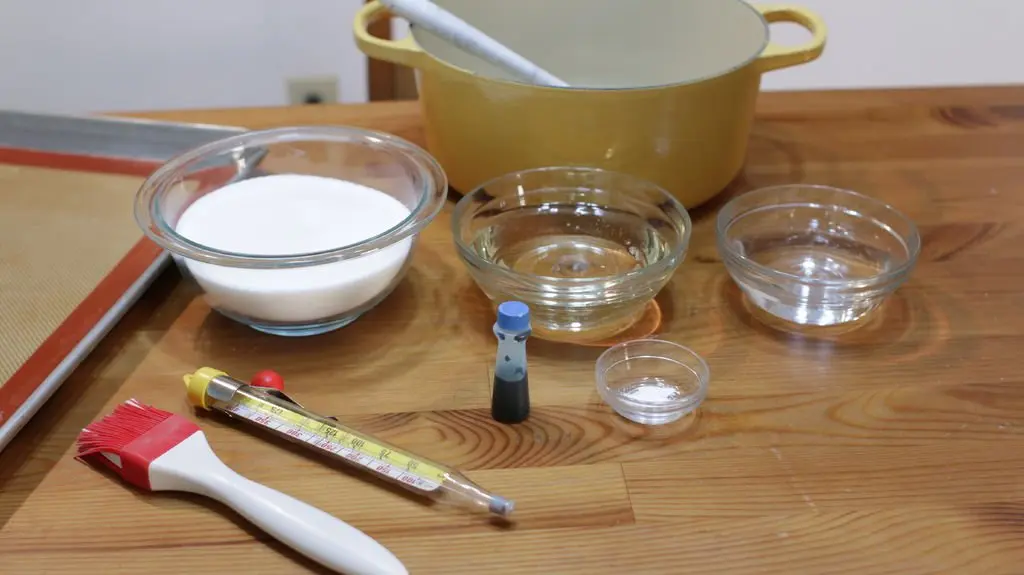 Tools
bowl
pot or deep skillet
wooden or silicone spoon
sheet pan
kitchen spray or a silicone mat
candy thermometer (optional)
Step 2: How to make edible sugar glass
To begin, place water, sugar, corn syrup (liquid glucose), and cream of tartar in your pot or deep skillet. While the sugar doesn't bubble up too high it is always a good idea to have something deep enough. A medium-sized pot works fine for this amount. But I generally just used my dutch oven or my stainless steel skillet.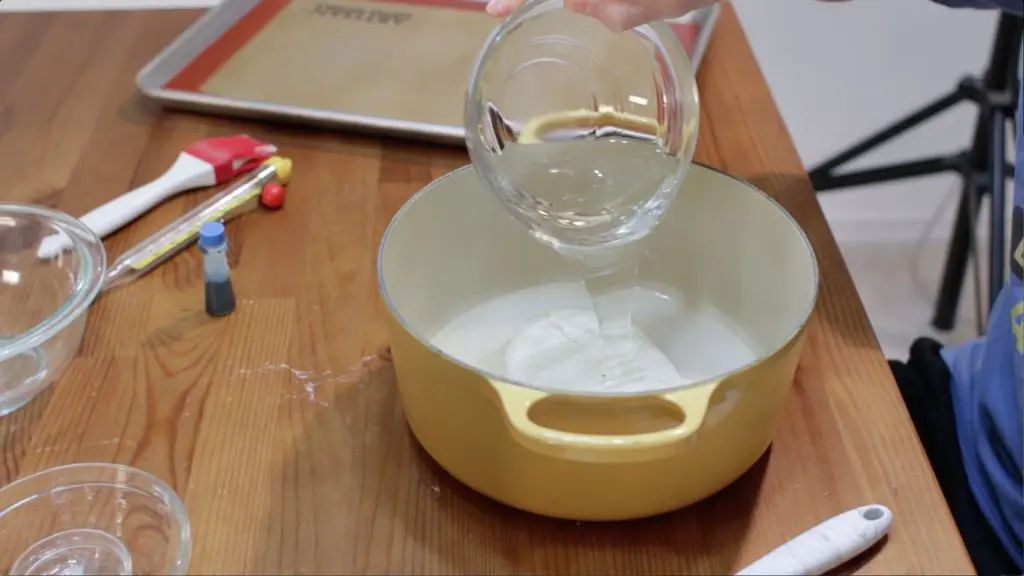 Step 3: Prepping the pan
Next prepare the pan that you are going to put the hot liquid sugar "syrup" in once it is ready. I use a sheet pan lined with a silicone mat. Or I just spray the pan lightly with kitchen spray. While I do love my silicone mat it will have a texture to that side of it. You can also use something like shortening on your pan.
Step 4: Stirring and heating the sugar
Now place the pot on the stovetop. With the heat set to medium-low gently stir the mixture until it starts to boil. It is important to not heat it up too quickly because the sugar is liable to caramelize. Which if you are making a dark glass it won't matter. The goal is to heat the sugar mixture to the "hard crack" stage which is around 290 to 300 F (145 to 150 C). If you are using a candy thermometer make sure it still registers the correct heat. My thermometer is old and is several degrees off so I generally just eyeball it.
Once the sugar starts to boil you can stop stirring and just let it sit for 10 to 15 more minutes. Right, when the mixture starts to turn slightly yellow it is ready to go. Another way to tell is to drop a spoonful of it into a bowl with ice-cold water. It will instantly harden up and you can check out easily it breaks.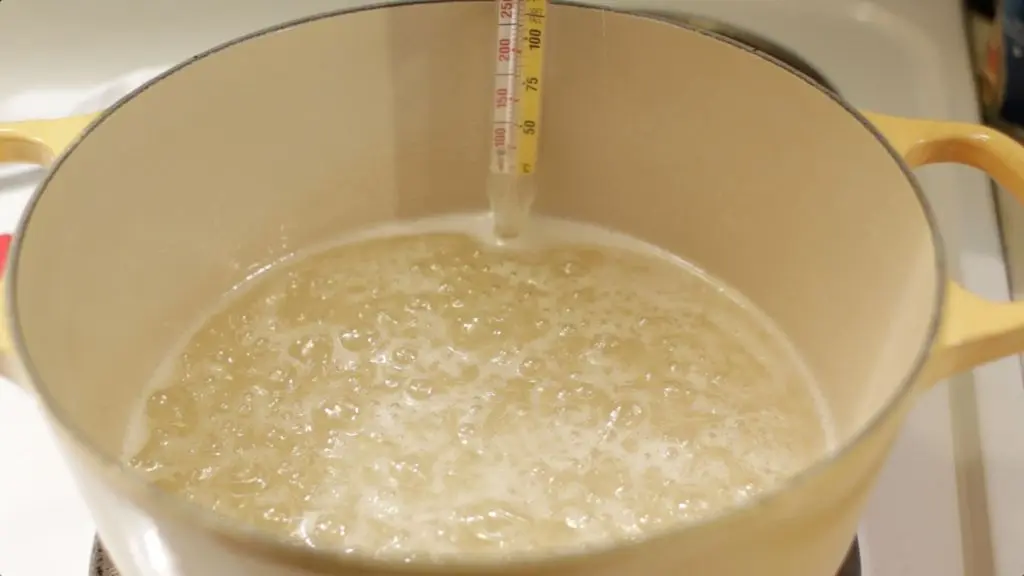 Don't be alarmed if it takes awhile. This whole process takes somewhere between 30 and 45 minutes. Here is an example of what it will look like if you let it boil too long or too quickly. It will be a nice amber color. But you can still definitely use it at this phase.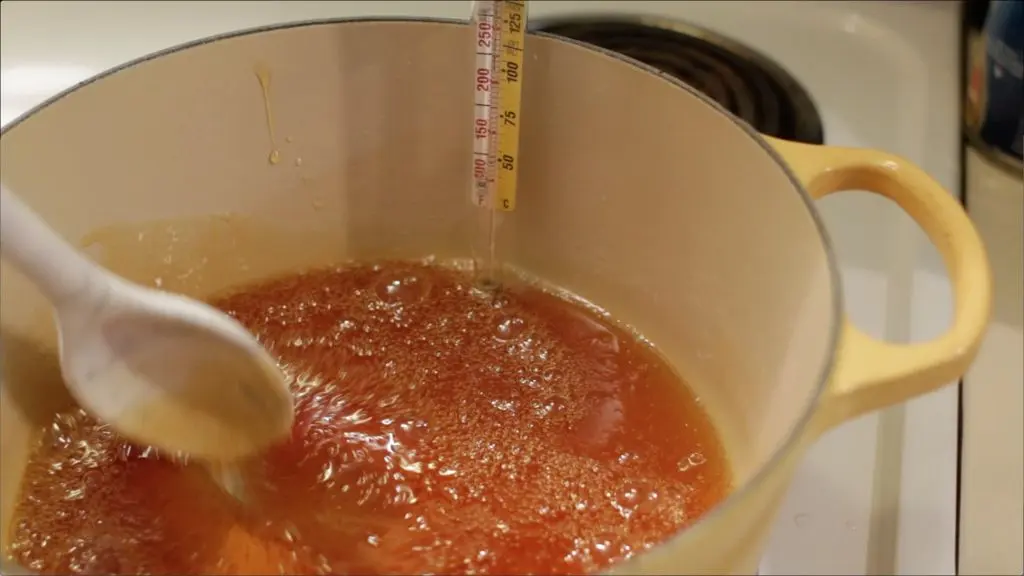 Step 5: Remove the boiling sugar
Once you get the boiling sugar to the proper temperature, remove it from the heat. Then add in your food coloring and any flavored extracts that you want to use. Stir them in really well. The sugar cools quickly and thickens up quickly so you need to work fairly fast.
But BE CAREFUL this sugar syrup is extremely hot and will burn you if you touch it. If you are a young person please make sure you have adult supervision when making this.
Step 6: Pour and wait
Next, pour the hot sugar onto your prepared pan. If you want to make a pane of glass that will break when someone punches it or to hit someone over the head with it, make sure to pour it thin. Spread it out if necessary. Make sure the pan is level as well. Then wait until it hardens up. It usually takes an hour or two.
An optional step would be to pour the hot sugar into silicone molds. I have made some sugar glass lego men which were awesome! If you are going to go that route I recommend making a smaller batch and using a smaller pot, it will just make it easier to get into the mold.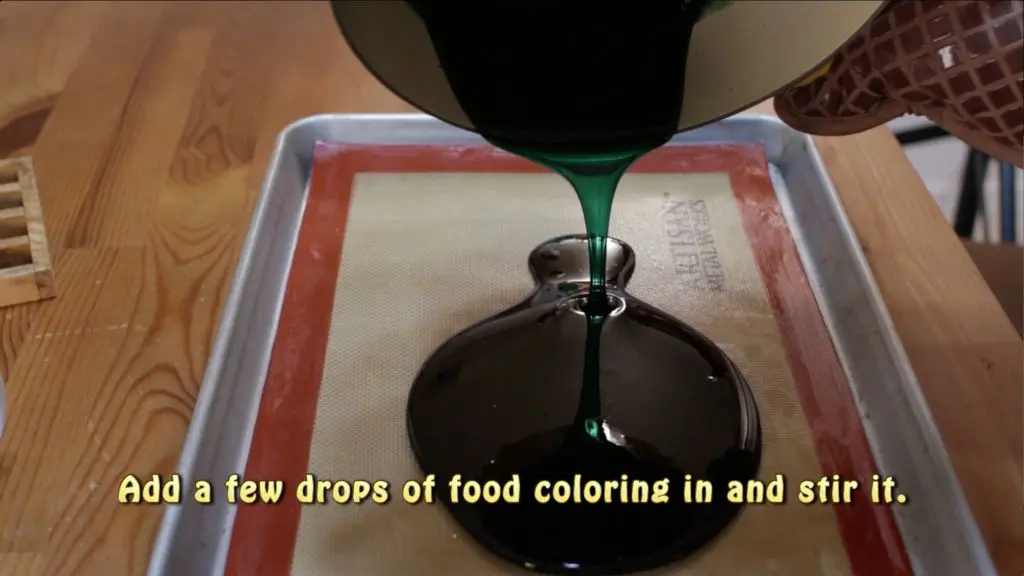 Step 7: Check out your awesome edible sugar glass
Once your edible sugar glass has cooled it is ready to play with. It looks like glass, it behaves like glass, breaks like glass, but it is definitely candy! Oh and more thing it is sharp like glass! So be careful. Use a mallet or something to crack that glass.
Step 8: Breaking Bad blue edible sugar glass and others
Any Breaking Bad fans? Instead of using the candy thermometer I took this batch off the stove right when it barely started to turn color. The blue food coloring worked perfectly. Doesn't this look awesome?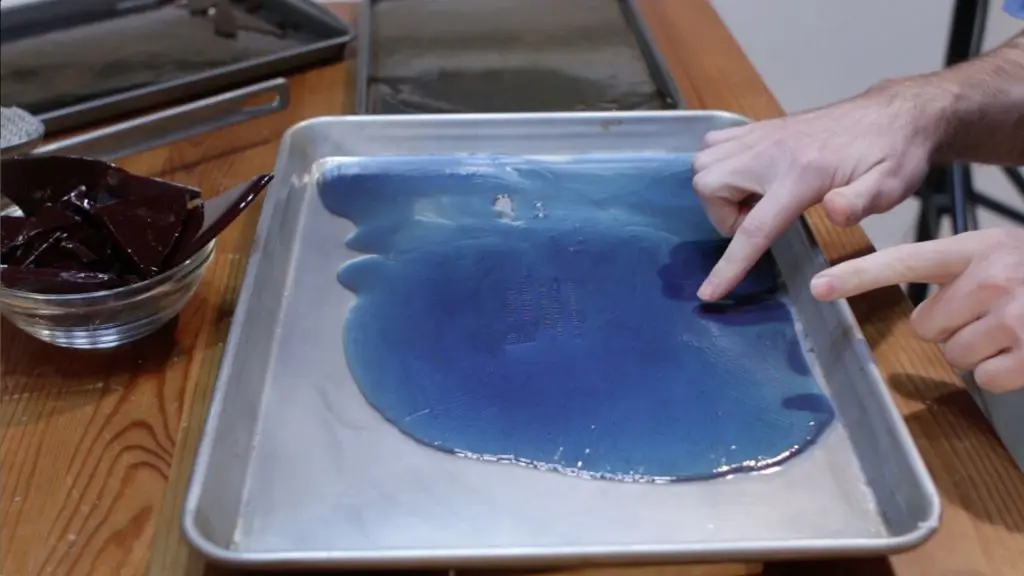 Or if you don't want to color it at all you can leave it as is and get a nice clear glass.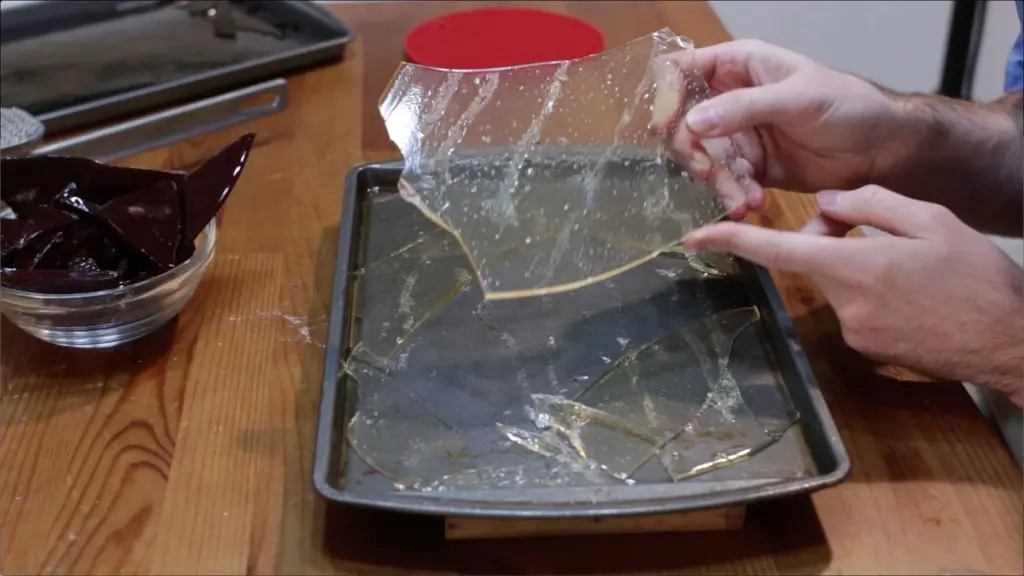 What if I burn my sugar can I still use it?
Yes! If you happen to walk away and come back and find that your sugar has gone beyond that hard crack phase and it looks burnt and smells burnt. You can still use it!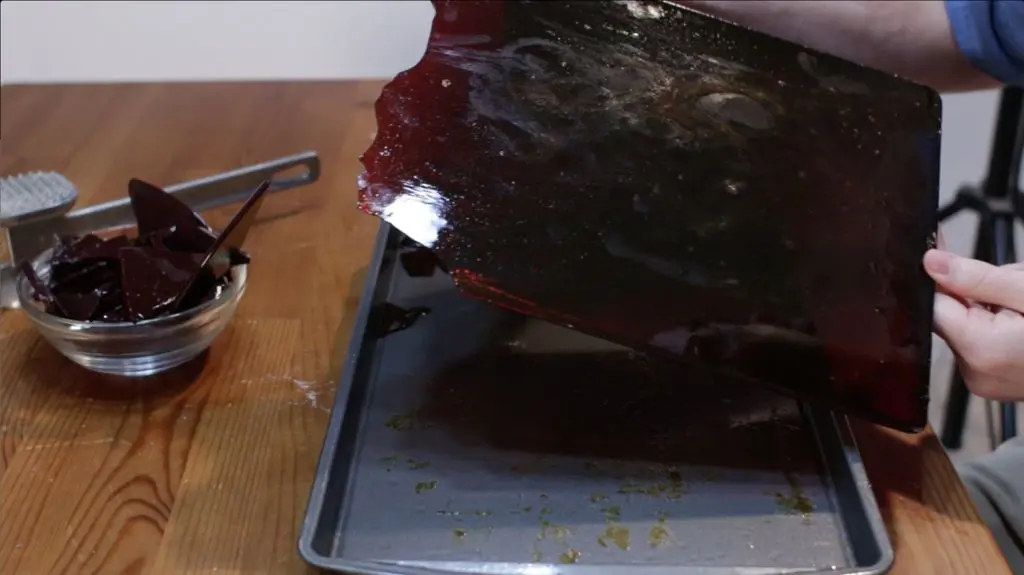 How do I store sugar glass?
Generally, it is best to use it within a few hours if it is in sheets. Because it can tend to warp as time goes on. I normally will just put the pieces in a ziplock bag and put them in my pantry. They can stick to each other though.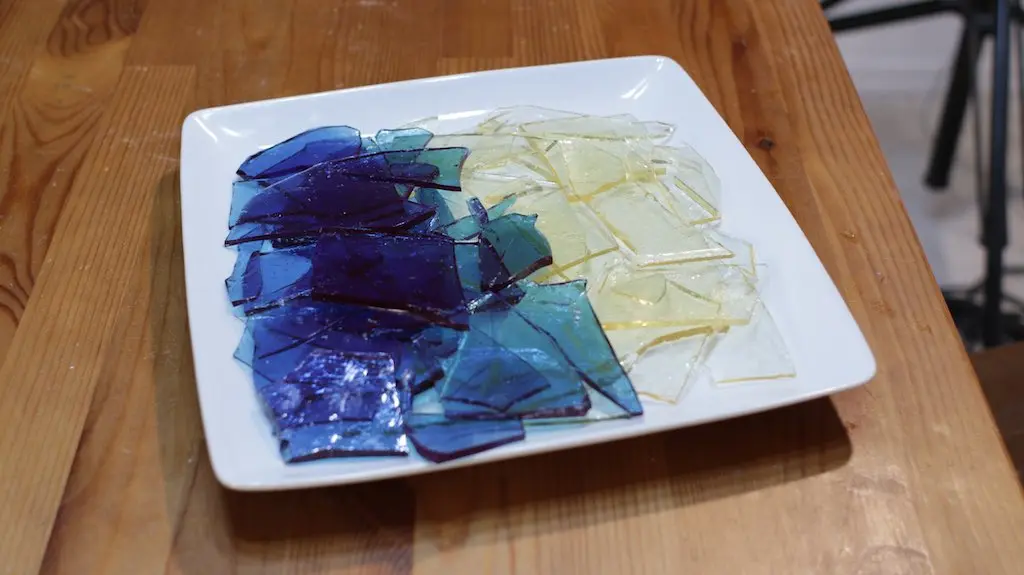 How does sugar glass taste?
Sugar glass tastes very similar to a jolly rancher if you have ever tried one of those, depending on the flavor used. It melts very easily in your mouth. Homemade lollipops anyone?
Edible Sugar Glass
Edible sugar glass is so fun to make and play with! Need prop glass to break? Maybe you want to make an edible stained glass window? Perhaps you want to make little glass candies with those silicone molds that you have? This recipe is really easy to make. If I can do you it, you can do it.
Equipment
Bowl

Pot or deep skillet

Wooden or Silicone spoon

sheet pan

kitchen spray or a silicone mat

Candy Thermometer
Ingredients
2

cups

white granulated sugar

450g

1

cup

of corn syrup

Karo syrup (300g)

1/2 to 1

cup

water

125 to 250ml

pinch

of cream of tartar

optional

1 – 2

tbsp

food coloring

use as much as you want to get the desired color

1 – 2

tsp

flavored extracts
Instructions
Prepare a sheet pan with a silicone mat or spray it lightly with cooking spray.

Add the water, sugar, corn syrup, and cream of tartar into your pot or skillet

Add the pot to the stovetop. Set the heat to medium-low and heat up the mixture. Gently stir until the sugar mixture starts to boil. After it boils you can stop stirring.

Allow the sugar syrup to reach 290 to 300 F (hard crack stage) (145 to 150 C). If you aren't using a candy thermometer right when it starts to turn yellow it is ready to go. You can also check it by dropping a spoonful into a bowl with ice-cold water. It will harder up instantly and then you can check out brittle it is. If it breaks easy it is ready to go.

Pour the hot sugar syrup onto your prepared pan or use a spoon and spoon it into your silicone molds. You will need to work fairly quickly because it thickens and hardens up fairly quickly.

Allow it to cool for an hour or two. Then you can smash it! Have fun! 🙂

***Be careful when preparing the recipe the sugar gets extremely hot and will burn you. If you are a young person please have adult supervision.
Video
How to Make Sugar Glass | Easy Edible Glass Recipe
Notes
These nutritional facts are based on 12 servings. If you are wanting to eat it instead of playing with it. 
Nutrition
Do you like the recipe? Please give it a rating and comment down below, I really appreciate it. If you make it tag me on Instagram @inthekitchenwithmatt. Also, sign up for the newsletter so you won't miss out on any of my new posts and recipes.
Here are a few other recipes you make like:
No-bake chocolate oatmeal cookies