I am a big fan of potatoes. There are so many recipes that involve using them, and probably one of the most popular uses for potatoes is French Fries. The key to making perfect homemade french fries is cutting them all uniform, which is hard to do with a knife. That is where this French fry cutter comes in handy. There are several French fry cutters on the market, but this review is particularly talking about the Natural Cut "As Seen On TV" Perfect French Fry cutter.
I have been using this French fry cutter for several years now. Any time I make French fries I use it, or I also use it for homemade hashbrowns or country fried potatoes, and when I am making this yummy homemade ham and potato soup.
In this review, I show the individual pieces for the gadget and show you how to use it, and where to buy it. Let's get started!
*Disclaimer: This is NOT a sponsored post.
Types of French Fry Cutters
There are a handful of different types of French Fry cutters on the market for home use. One design is like the Natural Cut French Fry Cutter. It has two main parts a top and a bottom. You push the potato through it and it cuts it into fries.
Another type is bigger and more sturdy with a handle. You put the potato in and then pull on the handle and it cuts the fries. For me personally, I like the first option because it takes up much less space in my kitchen. But it doesn't necessarily cut the potatoes any better. The hand option is a much better option for commercial use like in a restaurant.
How to use the Natural Cut Perfect Fries French Fry Cutter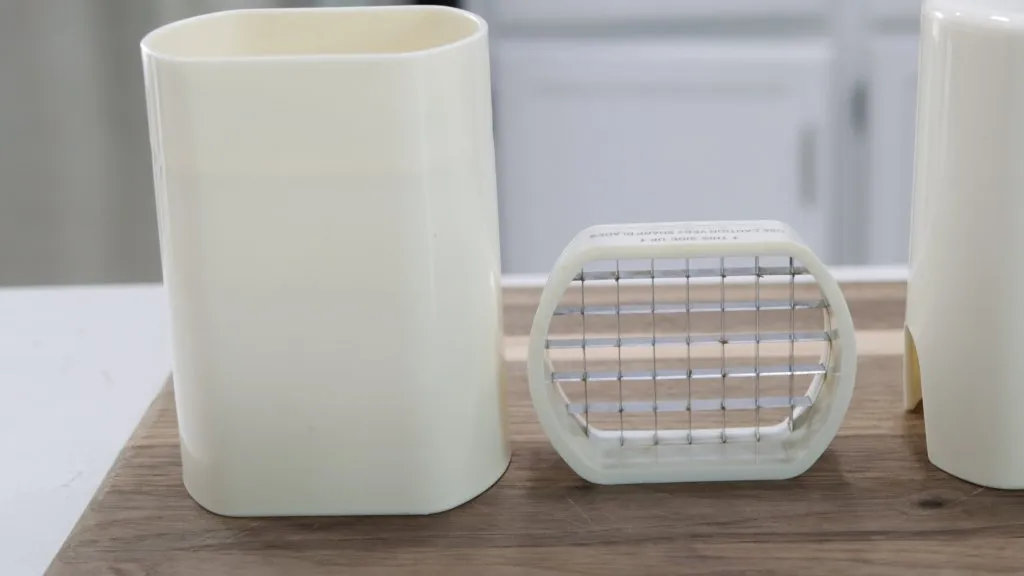 With this particular style of french fry cutter, there are two main parts with two additional parts that can be removed for cleaning.
The bottom part has the housing and also holds the blades, which are in a checkerboard pattern, and are very sharp. The idea is the potato is pushed through those blades which cuts them all uniformly.
The blades go on top of the housing and rest there.
The top main part is what you press on, and that force pushes the potato through the blades. There is a piece that goes inside that has parts that will be able to push the potato all the way through the grid of blades.
To use it, make sure it is all assembled. Then take a small or medium potato and put it on top of the blades. Take the top part and place it over it. Then push down firmly. This force pushes the potatoes through the blades, creating the fry shapes.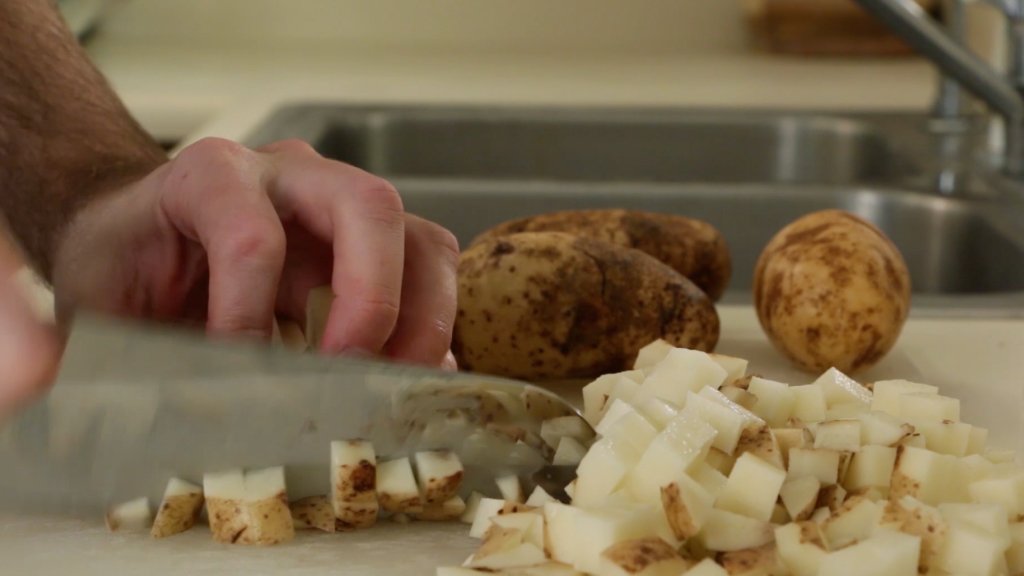 You can now make the French Fries or cut them with a knife to make cubes for hash or country-fried potatoes.
Now on to the pros and cons of the French Fry Cutter
PROS
Inexpensive cutter – This cutter and other very similar to it are pretty cheap, between $12 and $15.
Small – These are small and don't take up much room in the kitchen.
Easy to clean – The pieces come a part so you can clean them.
CONS
Takes a bit of force to push the potato threw it.
Can't use large potatos with it, only medium and small potatoes.
Sometimes the potatoes get stuck.
I really like mine. It isn't the highest-rated French fry cutter, but it gets the job done for the price. I do find that not being able to use larger potatoes is kind of annoying. This tower cutter may be larger and is similar in design. But it is also more than twice as much.
Having used mine for several years, I don't mind the cons. I also don't use it every single day. If you are making French fries every day or needing to cube potatoes, I recommend getting something larger, like this handle design french fry cutter.
They are definitely worth having. But you can certainly get away with just using a knife too if you are only going to make French fries a few times a year.
Where to buy it?
You can find it here on Amazon, or sometimes at the grocery store or Bed Bath and Beyond if they have an "As Seen on TV" section for kitchen gadgets.
I hope you enjoyed this review. If you own one, let me know how you like yours in the comments.