Jump to Recipe
I love fried eggs! One of my fondest memories is when I learned how to cook them when I was around 6 or 7. My mother was helping me in the kitchen to cook the eggs, I broke the yolk the first time, and cried. She allowed me to make another one, that second time, with no broken yolk! Ahh, the memories. I also love my air fryer. In this recipe, I will show you how to cook fried eggs in the air fryer. Let's get started!
Ingredients and Equipment
In order to make fried eggs in the air fryer you need just a handful of ingredients and tools/equipment. You will need:
Eggs – Of course, use whatever your favorite eggs are to buy and eat. If you have chickens, awesome! I am jealous.
Cooking oil – I always just use my cooking spray, but you can use any cooking oil not in spray form as well.
Salt
Pepper
Tools/Equipment
Air Fryer – This is the one I own and use. I love it, I have been using it frequently for over 3 years.
Spatula
Small cake pan or ramekin
How to cook fried eggs in the air fryer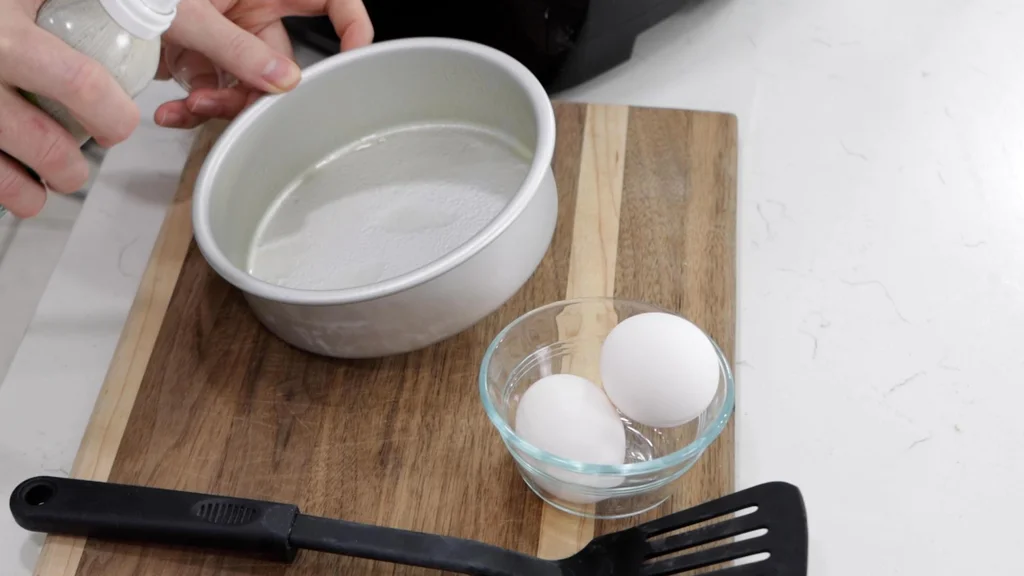 Begin by spraying your cake pan or whatever pan you are using that fits in your air fryer, with cooking spray. Or you can just pour a little cooking oil like olive oil, coconut oil, avocado oil, etc. And then baste it on the bottom.
This will help keep the egg/s from sticking.
Something like a ramekin will work too.
NOTE: You will need some sort of smaller pan to cook the fried egg in, don't just do it in your air fryer without a pan!
Crack the egg and place it into the pan. Place the pan in the air fryer basket and then into the air fryer itself.
TIP: If when you crack the egg a bit of shell falls into the egg. Just use one of the eggshell halves to scoop out that bit of shell. Don't try using your fingers.
Set the temp to around 360 to 375F. Then cook for 3 to 5 minutes. In mine 3:45 is usually good.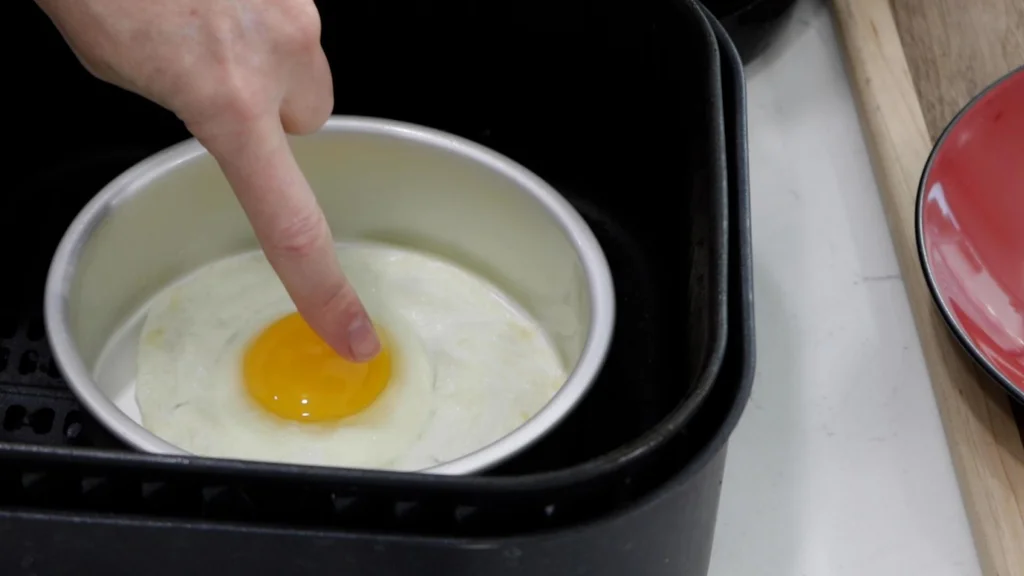 Check it at 3 minutes. If you notice I am pointing at the yolk, it is not quite done around the edges of the yolk. Just cook it for another 30 to 45 seconds. Although you could certainly still eat it like this.
I like to wait until there is a little bit of white creeping up the yolk.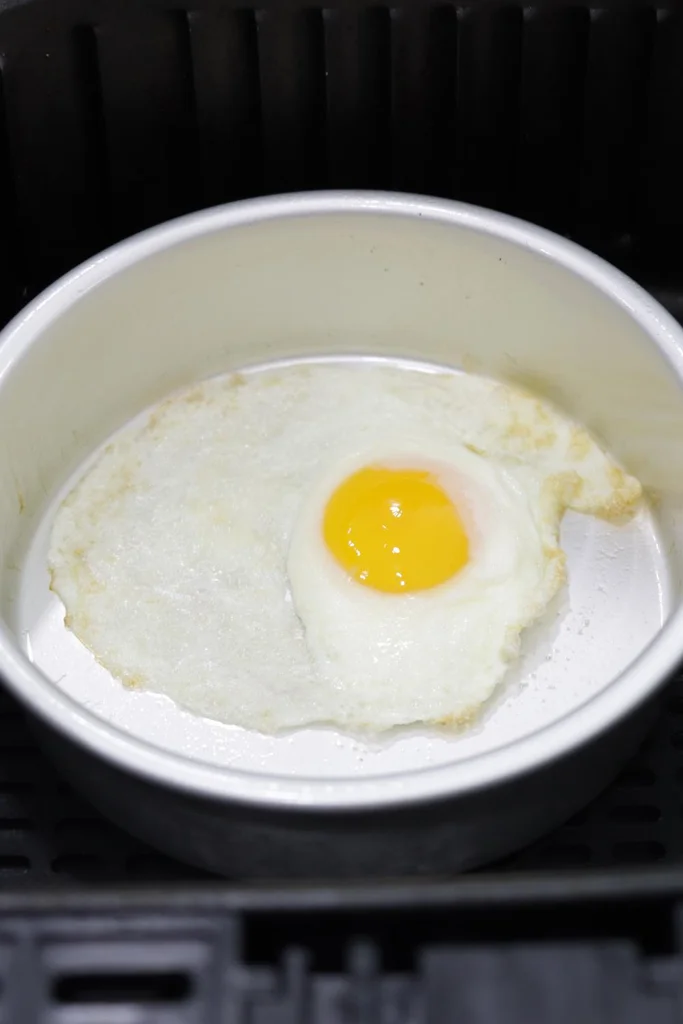 The fried egg is done, now use a spatula to get the egg out, it should come right out if you used a bit of oil.
Season and serve that fried egg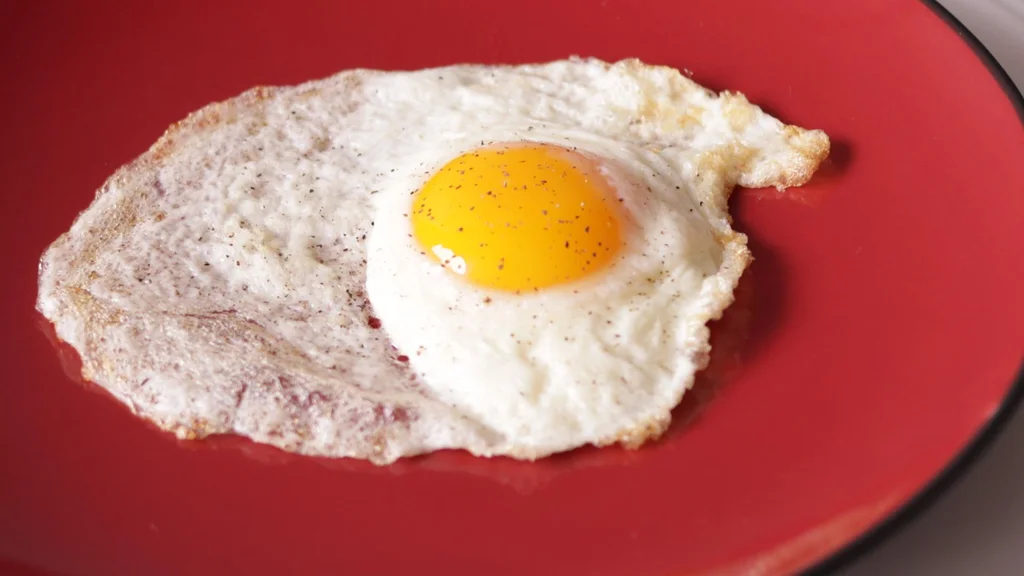 Time to serve up that fried egg/s. Place it on a plate and season with salt and pepper as desired.
NOTE: You can cook more than one egg at a time, it just depends on how large your cake pan is that fits in the air fryer basket.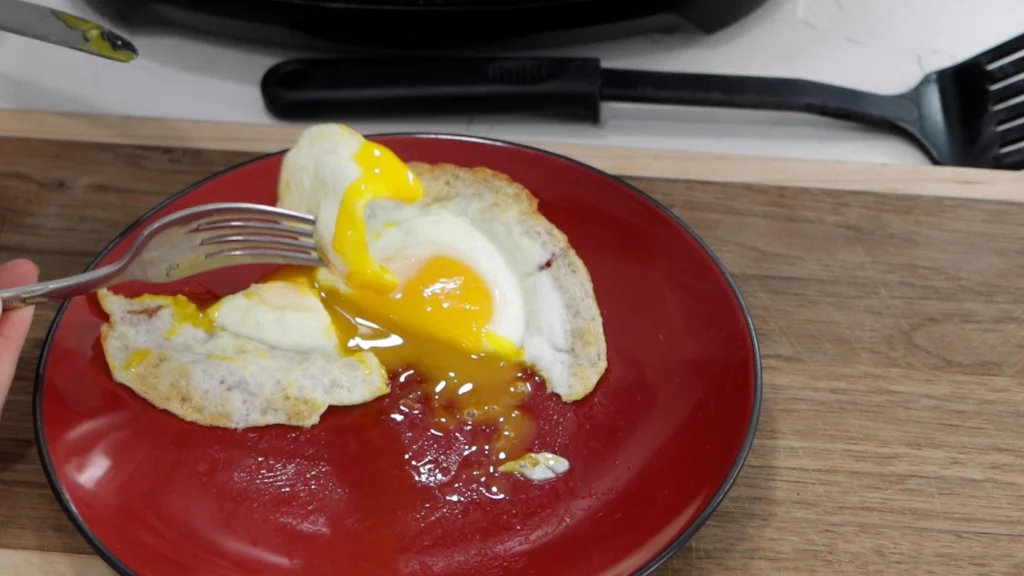 Now that is what I call a runny tasty yolk. If you would like your yolk more done and not runny, you will just cook it a bit longer.
NOTE: I do find that the longer you cook a fried egg in the air fryer the more "rubbery" it tends to get. Less so when cooking it traditionally in a skillet. I don't necessarily think the air fryer is the best method for cooking fried eggs, but it is definitely doable, and fun!
This method is great if you just want to cook one egg and put it on top of a juicy burger or avocado toast or something like that. Or if the burners on your stovetop are being used for something else and you want your fried egg or eggs done at the same time as everything else, the air fryer is a great option.
How long do air fryer fried eggs last?
Make sure to eat it within 2 hours of making it. Most people will eat it right away. It can go in the fridge for up to three days before it will need to be thrown out.
Here are other recipes you may like:
Crispy Chickpeas Made in Air Fryer
How to Cook Fried Eggs in the Air Fryer
Learn how to cook yummy fried eggs using the air fryer. Super quick to do. Start to finish you are eating fried eggs in under 5 minutes.
Equipment
Air Fryer

Spatula

Small cake pan or ramekin
Ingredients
Eggs

Cooking spray

or some kind of cooking oil

Salt

Pepper
Instructions
Spray your cake pan or ramekin with a bit of cooking spray or baste the bottom with a bit of cooking oil.

Crack the egg/s and place them in the pan. Set the pan in your air fryer basket.

Put the air fryer basket in the air fryer and set the temp to 360 to 375F (190C)

Cook the egg for 3 minutes and then check it. If the edges of the yolk are not fully cooked, cook for another 30 to 45 seconds or longer as needed. This is for a runny yolk. Cook it even longer for a firm yolk.

Use a spatula to get the fried egg or eggs out of the pan. Set on a plate and season with salt and pepper as desired. Enjoy!
Video
How to Make a Fried Egg in Air Fryer
Notes
Note: these nutritional facts are for 1 fried egg with 1 tsp of oil and a pinch of salt and a pinch of black pepper. 
Nutrition
Do you like the easy air fryer egg recipe? Please give it a rating and comment down below, I really appreciate it. Save the Pin to Pinterest! If you make it tag me on Instagram @inthekitchenwithmatt. Also, sign up for the newsletter so you won't miss out on any of my new posts and recipes.
Check out my other website 101 Creative Dates for fun date ideas. Food and dating go hand in hand!